Exclusive Interview With Jin Kim of Bread & Butter's L.O.C.K. Area
In this exclusive interview, you'll learn what the L.O.C.K means to Jin Kim and how he sees the future of heritage fashion
The L.O.C.K. and Fire Dept. areas at Bread & Butter houses the brands and goods that get a Rope Dye heart pumping. Presiding over the proceedings for the past 3 years, Product Manager Jin Kim has a unique perspective on the industry as a whole.
Originally from South Korea's capital Seoul, Jin moved to Canada at a young age. He studied design and production and went on to design shoes for Viberg. It was during his time with Viberg that he was first introduced to Bread & Butter.
When Jin looked for a new challenge in Europe, Bread & Butter were quick to recognize his potential and snapped him up.
Since Jin took charge we have seen the L.O.C.K area develop in a fascinating fashion. As heritage inspired fashion became ever more popular, Jin kept the brand portfolio at a level which would inform, inspire, and evolve the notion of heritage brands as an entity.
You can see some of the ethos of L.O.C.K. in Jin's personal style:
"My style changes often but I do have my "go to" pieces. Mostly it's very much focused on "contrast." I get excited about unexpected details of the garments."
The L.O.C.K. Area Will Continue To Develop In This Direction
As the cultural diversity of the brands showcased increases, naturally so shall the diversity of the products. These products will still adhere to the fundamentals that L.O.C.K. instill. But these are nuances of a product and not a specific aesthetic.
Jin does not see heritage or heritage inspired products as something old fashioned. He notes:
"If you think about all the garments we wear, every parts come from somewhere with certain history behind them."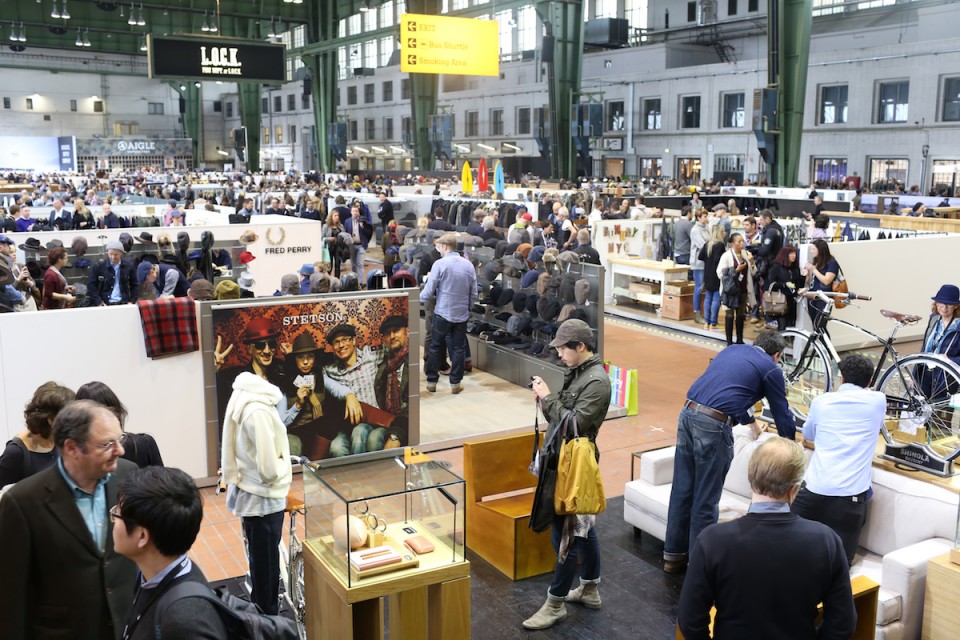 L.O.C.K. Garnered Its Reputation From Heritage Brands. But What Is A Heritage Brand Really?
They are products where quality and longevity are at the very heart of the item. They are things that will last, things that will endure. These qualities are not exclusive to products that adhere to an old fashioned aesthetic. They can be found in a diverse array of brands:
"It comes down to quality of products and craftsmanship within the direction we would like to pursue."
Diversity is the key notion in moving L.O.C.K. forward. This is assured by having a 25-30% refreshment of the brands showing.
We will see Sport and Street brands next to L.O.C.K. This diversity is an important distinction to make if heritage as a concept is going to continue to inspire and inform fashion as a whole.
This Year There Are A Couple of Exciting Developments
Hailing from Tokyo, Blue Blue Japan will be showcasing their collections for the first time outside of Japan. Blue Blue Japan is an incredibly well respected and well-loved brand in Japan. As yet, I have personally not seen an item in reality. But as Jin tells me all about them his face visibly lights up. I am very excited to see what they bring.
Another exciting development is the Inazuma festival. Run by Lightning Magazine, Inazuma is a well-established flea market in Japan. This summer we will be seeing it set up shop in the L.O.C.K. area.
In the aforementioned spirit of diversity, Jin has been working with the Seoul Metropolitan Government to bring 10 young designers over. They will showcase their emerging talents throughout the show. It is an exciting development as it will all be projected media.
Even a brief chat with Jin really got me fired up. Not just about Bread & Butter, not just about L.O.C.K., but about the future of heritage as an entity.
Although it is free from many of the burdens of seasonal fashion, it is still a commercial entity. Diversity and evolution is a necessary process if these brands are to continue to flourish.
And L.O.C.K will certainly be there to showcase the finest of them.