French Fashion Denim Brand, April77 Makes Jeans From Collect Denim – Here Are the Pros and Cons
For decades, the likes of Jacob Cohen, Adriano Goldschmied, and Marithé + François Girbaud have been outfitting a niche market with high-end designer jeans. With the ever-growing popularity of selvedge denim, it comes as no surprise that fashion brands are now also starting to offer it. One of the latest in the crowd to embrace premium denim is April77; a fashion platform and boutique founded by Brice Partouche. They got in touch with us to introduce their newly launched "Japan" jeans made of Japanese Collect denim.
The Style: They're Skin-Tight!
In the Japan series, two fits are offered; the skinny fit Joey and the slim fit Dictator. We picked the former, which is very much a European thing and not to be compared with heritage-inspired cuts that most of the brands we usually feature focus on.
The Joey easily mixes with a tailored jacket and slick trainers or formal shoes. It has a clean look with a low rise, a tight fit in the thigh, and a very narrow leg opening.
The Details Add A Touch of Rock 'n' Roll
The jeans are made from sanforized 13.5 oz. natural indigo rope-dyed denim. This traditional right hand twill is, as the spoiler above already revealed, woven by Collect from Okayama in Japan. The yarn composition is 95% cotton and 5% polyurethan (also known as PU), which gives the denim that bit of stretch you need in a fit this skinny.
With visible copper rivets on all pockets and a zip fly, the fitting and detailing emphasise clean and minimalistic aesthetics.
In case you want to spontaneously jam on your guitar, the coin pocket's small exterior pocket (an April77 signature) holds a plectrum for you. It's made from PU as the brand refrain from using leather in any of their products.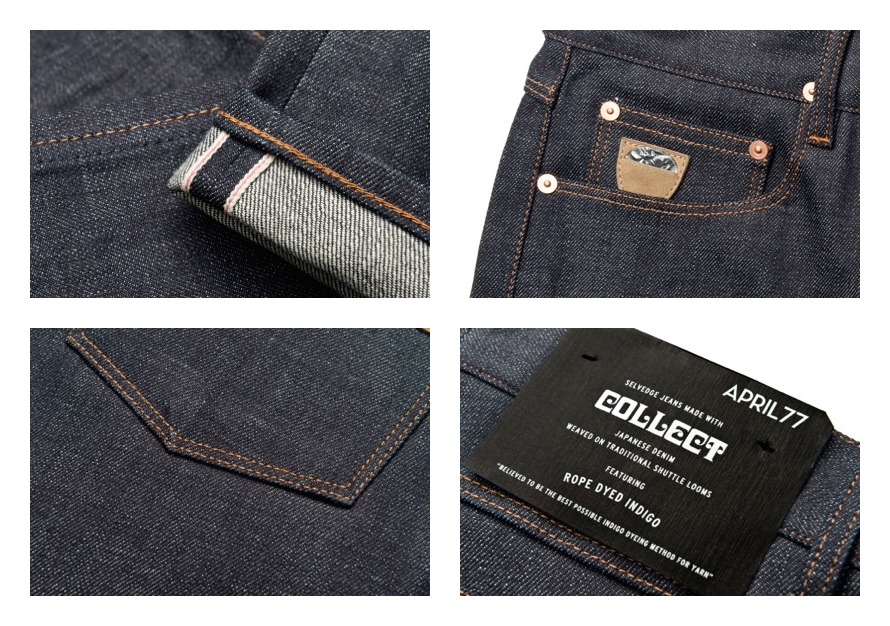 Pros of the Joey Japan Raw 
First of all, do not compare this style with any heritage cut! Some of our favourite features of the jeans are:
The rise, which is a bit lower than most denim brands and the fitting all around is perfect when you have a slimmer physique.
The visible rivets that give it a slightly iconic reference, which we enjoy.
The zip-fly, which is more useful in this specific fit compared to a regular button-fly that usually isn't too flattering on skinny jeans.
In terms of fabric, the Collect denim feels very comfortable when you wear the jeans; softer than expected, and definitely a necessity when opting for a skinny fit.
Cons of April77's Japanese Raw Denim Jeans
Unfortunately, there will always be downsides when high-fashion brands try to reinvent premium denim.
In this specific cut, the yoke is almost completely straight which makes the block fall flat from the top down. When wearing a skinny fit, this does not compliment your physique in any way.
Furthermore, the waistband is not fully chain-stitched and the buttonholes are poorly made.
Another downside is the usage of PU material for the back-pocket patch and "plectrum" pocket, instead of using genuine leather. It's a cheap solution to finish the jeans and does not enhance the look of the jeans. But, as mentioned above, there's a political reason for this choice. Nevertheless, we prefer the real deal.
Considering that these jeans retail for €220, one might expect a few more premium details in terms of construction and materials.
The Verdict: There's a Market – But It's Not Made of Purists
On the plus side, fit, feel, and look definitely speak in favour for the April77 Joey Japan Raw – especially for denim lovers seeking a skinny fit made from premium denim. However, the retail price, the straight yoke and the use of PU instead of leather, will give doubts to many aficionados.
Speaking with retail experience, we feel this product could have potential in the market if more attention had been paid to construction details, material use, and if offered at a lower price.
However, being a style that is often sought after in Europe, these jeans should be able to compete with the likes of Acne, Naked & Famous, and Scotch & Soda Amsterdams Blauw.
The Joey Japan Raw is available at select retailers and naturally at April77's own website.