SIGN on leather: The Polish Leather Artisans You Need To Know
Looking For New High-Quality Leather Accessories? Don't Miss Out On SIGN's Reasonably Priced Gear
I know you mustn't make wild promises – they might come back and bite you in the rear. But the reaction to a comment I made on an article about a German leather maker really caught me off guard.
Spontaneously, I recommended the products of my 'local leather dealer' and the response was immediate; the editors at Rope Dye wanted to know more.
So, this is my testimonial about SIGN, a leather maker from Warsaw that present a couple really strong sales arguments.
Do They Have Raw Denim in Poland?
I've been into raw denim for a few years. I have two pairs of well-faded jeans and another few waiting patiently for their turn in the closet. My Red Wing boots are slowly gaining character and my Tanner Goods accessories are getting a nicer every day.
But, I have to admit that despite being a citizen of the Polish capital, I find it difficult to find my favourite products or people who share my passion for denim .
A Leather Epiphany
A year ago, I found myself at a fashion show in Warsaw promoting Polish designers and slow fashion trends. That's when I came across a brand that really surprised me. For the first time from a Polish maker, I found the kind of products I usually had shipped in from other countries and even other continents.
Their wooden stand was full of belts, bracelets, wallets, organizers, and different kinds of accessories under the SIGN brand. Everything was made by hand from thick, high-quality natural vegetable tanned leather by two people infecting their customers with passion and fascination for the material they work with.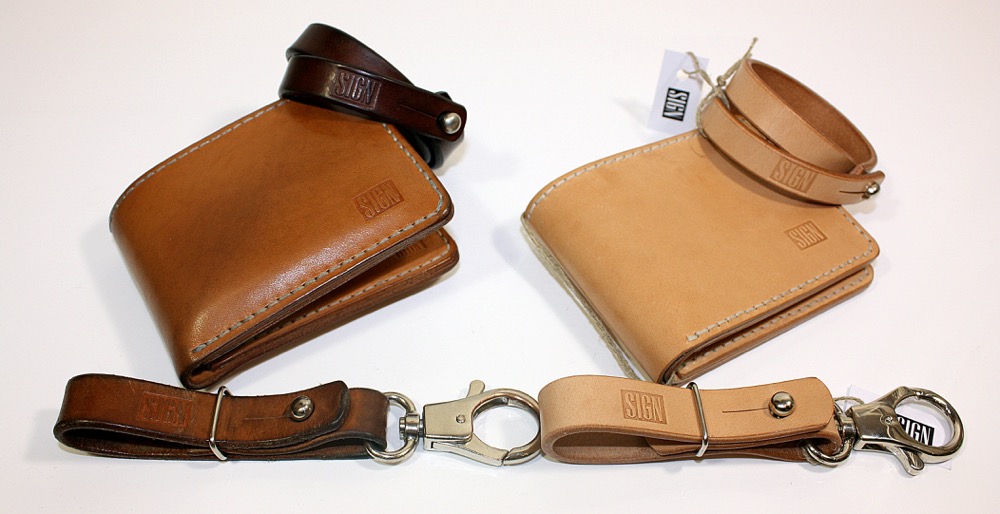 SIGN Has All the Accessories You Need
My first meeting with SIGN ended in the purchase of a keychain. Later, I couldn't resist their beautiful heavy duty belt, made of 4 mm thick veg-tanned cowhide, and recently I have armed my wrist with a massive bracelet. Now I'm thinking about their new mid sized wallet introduced earlier this year.
With all responsibility, I can and will recommend SIGN  brand. I am convinced that their hand sewing, well-burnished edges, and good leather quality will be appreciated by the users who love good, well-aging products, made to last for years.
Closing Argument – The Prices are Insane!
There is one more thing, which is pretty hard to ignore; I intentionally left the pricing as my closing argument. If you believe €150 is a reasonable prices for a belt, have a look at the prices of SIGN's gear (spoiler, you can get two belts and a couple beers at your local bar for that €150!).
The world should know about SIGN. The guys definitely deserve it. And you raw denim fans deserve to know SIGN. Check them out on www.signonleather.com.