Why Zace USA Doesn't Need Sugarcoating; It's the Real Deal
In This Exclusive Interview, Zach Myers of Zace USA Is Brutally Honest About His Successes and Failures
Denim is a subject fraught with hyperboles. 'Authenticity' and 'heritage' are often used to describe garments that in reality have little to do with the romantic imagery they claim to represent. Zach Myers is a working farmer and owner of Zace USA; he's a little different. In this rare, exclusive, and brutally honest interview, Zach shares his story and leaves us all a little wiser for it.
Zace USA Is Truly Authentic
Zace USA doesn't need rhetorical exaggeration. Zach has built more than one brand from scratch and felt what failure and success truly means.
Tell us a little about yourself Zach, where are you from and what do you do?
"I'm Zachary David Myers also known as Zace. I was born and raised in the desert of Arizona. I'm a father, a denim maker, a farmer, a moonshiner, and a painter!"
Zace USA was started in Los Angeles, California in 2001 and was originally a lingerie brand. A year later, Zach started working with denim. It wasn't until 2012 that the 'USA' was added to the name.
"It's important for me to never lose sight of keeping my production in the heartland of America – Ohio to be exact. Although, I do have plans for certain pieces to be produced in Italy."
Zace USA Garments Are Honest, Original, and Functional
Zach is a simple man. He requires one pair of jeans, one pair of overalls, a jacket, a hat, a wallet, and a shirt. For him, elaborate back pocket stitching, custom rivets, and other fancy design elements aren't necessary, they only distract you from what jeans are really made for. In his opinion, that is a difference between fashion and workwear.
Tell us about your garments. What is the process of designing and making at Zace USA?
"When it comes to designing my menswear it's simple: the best denim is turned into functional and durable garments. I always spend at least one year wearing each piece while working in the farm field and denim shop to make sure it exceeds my own standards of durability and functionality.
My ladies wear is a different story – women are a bit more complicated! Especially when it comes to fashion; the different body types, the grading that is involved in each pattern, the fabrics, and the fit are critical."
What items are you especially proud of that you produce?
"My jeans and overalls for men and women are very special to me. I've been doing this for half my life but the jeans and overalls haven't changed since the beginning. They feature my signature pocket shape, full coin pocket, and selvedge details in areas that are suitable for function and design. It makes me happy to see jeans I made over ten years ago that reflect the same design and structure."
One particular design more than any other is unique for Zace USA:
"The button bandana is my favourite in terms of my own accomplishments. It was invented out of necessity on the farm and in the field. I'm very proud that the design patent was filed and the trademark approved. Today, it serves as a symbol for my commitment to fight for food freedom and personal liberty around the world."
Obviously, Zach isn't much influence by trends or what others might think of his design. Each piece is made to have a functional purpose and excel when used by people doing their craft or labour-intensive job duties.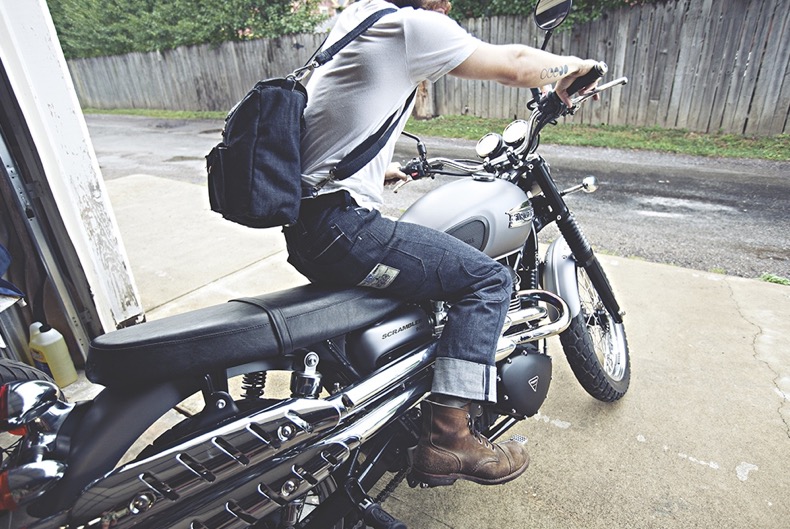 What inspires and excites you in terms of denim and workwear?
"I'm inspired by life. Waking up each day and knowing I have one more day to breath and live doing what I love most! To see the faces and smiles of the Amish families that sew with me and to create new pieces that will exceed anything ever produced for workwear is inspiring to me.
Also, my oldest son Denim and his brother Diesel truly inspire me to keep on sacrificing to do the right thing and never, ever give up!"
Zach Found His Simple Way of Life the Hard Way
Zach started working at the age of 12. He left home at 17 and started the brand Temple Industries, which focused on snowboarding.
"I started sewing snowboard mittens because I couldn't afford a new pair and I didn't want to get arrested for stealing! So, my mom taught me how to use a serger and a single needle."
Then, he moved to Eugene, Oregon where he cleaned screens for a T-shirt printer and sold his shirts, mittens and hoodies at Mt. Hood, Mt. Bachelor, and a local resort. This is when he got interested in the fashion business.
After living back in his hometown Phoenix for a short while, he moved to San Francisco and then LA where he launched Zace and his first jean brand called Eros Jeans. By then he was 23.
"I developed 25 styles of women's jeans and took the samples to the Magic show in Vegas. I sold about 1,000 units. The order was processed and jeans were sewn in Thailand. Shortly after they arrived and we shipped them and not one store paid us! We lost everything. It was then I really started to have a grasp on this business; without brand recognition you're screwed!"
Zach would walk up and down Melrose, Malibu, and the South Bay trying to sell his jeans to the boutiques. Realising it would take him a lifetime do make it like that, he moved to Ohio, bought the farm and his first six sewing machines and starting sewing 3,000 pair of women's jeans. It took him 3 years to finish!
"Once I finished, the market had shifted and all women's jeans were made from stretch denim. The 3,000 pair I had finished were 100% cotton! Once again, I failed – and lost $100,000 dollars."
Today, ten years later, Zach is still doing what he loves and doing it for the right reasons. Not for fame, not for money or to boost my ego; because they said I couldn't do it and that it was impossible to accomplish in Ohio – and because I fell in love with denim at the age of 5 when I saw my first pair of 501s. I knew then that denim was my destiny.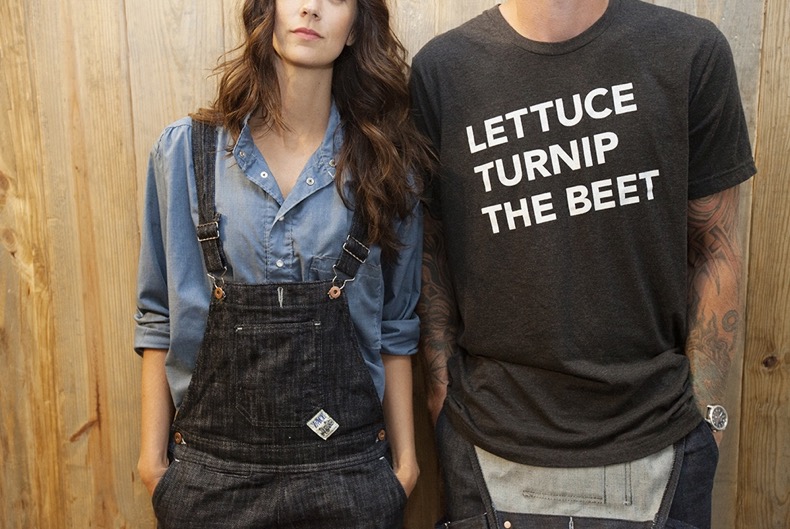 What advice would you give to someone who's trying to make it in the denim and workwear scene?
"Question your motives and why and what you're doing it for? I the resurgence of workwear that is unfolding around the world is great. To see reproductions of vintage pieces is cool. I don't exactly understand it; after all I'm a blue-collar worker who happen to make denim. But I know there's more to it than coming up with a catchy name and a cool logo.
I think that too many people hide behind the label and don't do enough product research and development to really understand what they are making. And then they outsource production and focus on sales. I salute those who are spending 8 hours at a time sewing jeans and dealing with the headaches involved in maintaining machines. This is love for the craft."
Lastly, as many other artisans and denim enthusiasts will surely recognise; any jean maker should accept that this path is expensive and consuming in so many ways.
"Never, ever look at it as if it's a way to make a living but rather a way to express oneself and use it a therapeutic way to cope with the struggles of life."
Head over to Zace USA's website to browse the collection and follow the brand on Facebook and Instagram to keep updated.