Lee 101 Logger From 2008: Let's Fade and Burn
Jamey Coppen of Daily Rush Has Faded (and Burned) His Lee 101 Logger For 7 Years With No Wash!
Back in March 2014, Dennis Odijk got in touch with us so we could all perv over his insanely nice Lee 101 Riders. Ever dedicated to the cause of great fades, Dennis has now been back on. This time it was about his boss, Jamey Coppen, and the fate of his 2008 first edition Lee 101 Loggers with a really impressive history.
Set On Fire But Never Washed
Jamey's 101 Loggers have seen some 900 days' battle-action but NEVER the inside of a bathtub, let alone been near an automatic washing machine.
They've had multiple repairs. The crotch has needed some work, of course, and there has also been a total replacement of the inside pockets.
On top of that, Jamey also stood too close to an electric heater, which burned his left ankle!
Dennis told Rope Dye with a wry smile,
"Although it might have hurt a bit, I still think the result is pretty amazing!"
Intrigued, we needed to know more and hunted Jamey down for the back story,
"It was about five years ago and in the middle of winter. The shop was bitterly cold and I managed to borrow an old electric heater out of my wife's grandmother's attic.

The thing was ancient even then and it stank every time we turned it on. I think that's why I didn't notice anything until suddenly, flames started shooting up my leg!"
It is a novel approach to adding even more character to your raw denim and who are we to disagree? Raw denim is all about the journey and everything that life can throw it.
A word of advice though; if you're going to set them on fire, please make sure you've paid for them first.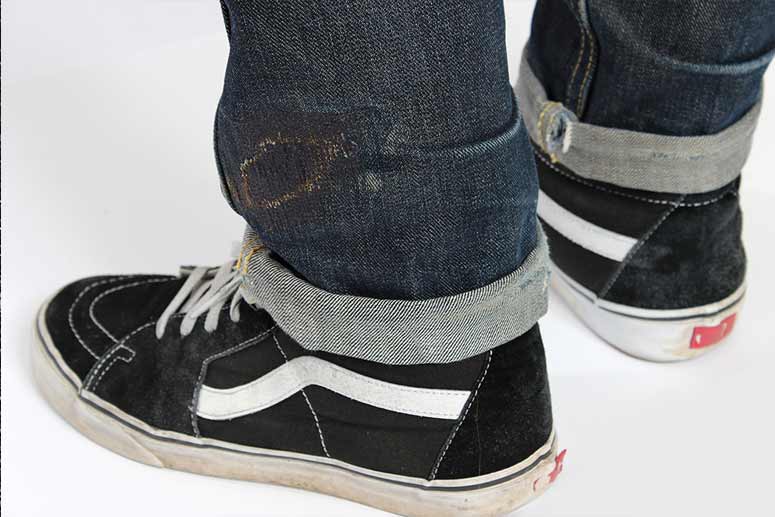 The Essentials of the Lee 101 Logger Jeans:
Lee 101 Logger, First Edition

Lefthand Twill 13 3/4 oz. Kaihara Denim, 13 dips

Original blue single line

Cotton mainly from USA

Yarns specially ring-spun for higher quality finish

The shuttle looms used to craft this fabric can only produce around 100 meters per 24 hour
See the Jeans in Real Life at Daily Rush
If you ask Jamey nicely, he might even let you see his Lee 101 Loggers at first-hand in his store, Daily Rush in Rotterdam, where he also holds impressive stocks of Big John, Eat Dust, Edwin, and Carhartt, amongst others. Here's the contact information for the store:
DAILY RUSH
Korte Hoogstraat 14
3011 GL Rotterdam
The Netherlands
T 010-2331853
W dailyrush.nl