Exclusive. Have We Discovered the Only Biker Jacket You'll Ever Need?
Vanson Leathers Go Commando With Left Field NYC
At first glance, Fall River is textbook Massachusetts and might as well be a million miles from the gritty New York borough of Queens. Neat, tidy rows of wooden-fronted houses, great seafood, modest and down-to-earth folk who live by the city's motto, "We'll Try."
This city of some 90,000 souls used to be at the forefront of the American textile industry, much of which relied upon the efforts of immigrants from Lancashire and Glasgow in the UK and Portugal who, it is believed, are the reason Fall River is one of the biggest football towns in the US – or soccer as the locals call it.
Major League Soccer might be on an ever upwards trajectory, however, just like Queens, Fall River's garment industry has fallen prey to the beast of globalisation and is but an echo rattling around the original 19th-century mills which still pepper the cityscape.
However, one of those mills is a hive of industry and where Vanson Leathers produces some of the finest-quality leather jackets available anywhere in the world today.
Introducing The Commando
As a company, Vanson is lean and nimble as well as dripping in tradition and we suppose that it is only logical that they have hooked up with Left Field NYC to produce their first ever denim collaboration, which today gives birth to perhaps one of the most striking classic biker jackets – The Commando – we have seen in many a moon.
The Leather Makes All the Difference
Vanson only uses leather made the old-school way; drum-dyed top grain cowhide that is finished and waxed by hand.
First, the leather is chrome tanned, which creates a strong and durable leather that can be dyed and will maintain its colour. Then, it's drum dyed meaning the leather is tumbled for up to six hours in a giant oak drum with a mixture of oils, dyes and hot water. This impregnates and nourishes the leather making it even stronger and more supple.
The Left Field Commando jacket is made with Vanson's 'X150 quality, which is is hot-stuffed (meaning it's stuffed with hot melt wax). It is 1.2 mm thick and the combination of heat and pressure used in the waxing process makes it tough and hard when new. As the leather breaks in, it will assume the character and fit of the owner.
TL;DR.
This monster will blow your socks off. Marlon Brando would have traded his grandmother for it.
We Speak Exclusively To Vanson's Main Man
Constantine Xanthopoulos, Vanson's impressively-bearded marketing manager gave us a photo-tour of the jacket in actual production and told Denimhunters,
"I have been admiring Christian's work for years. Every single piece in the Left Field line is exceptional because of the construction details, the quality of materials, the fit and presentation.

I associate heavy leather with heavy denim. It gets better with time and it can last you a lifetime. Since I started working at Vanson I have been thinking that if we were to collaborate with a denim brand it would have to be Left Field.

I travel to NYC often for work and in April that I decided to visit the Left field store in Queens for some personal shopping. That's when I met Christian and we started talking about the industry. Denim, leather, the beauty and the challenges of making in America.

Christian rides a Norton motorcycle and I was very happy when he told me he already owns a Vanson Jacket. I said 'hey man, it would be cool if we did a Left Field x Vanson collab'. A month later he drove up to the Vanson atelier in Fall River.

After hours of brainstorming we had come up with the design for the first prototype. By the end of July, the first prototype was ready. We looked at it and agreed we needed to tweak some things to make it perfect. The jacket had to have that distinctive Left Field fit.

We went back to the drawing board and made some changes to the pattern. When the second prototype came out we immediately knew that it was the one and we started sourcing materials to commence production looking forward to reveal the jacket at Inspiration NYC.
See the the Commando Jacket in production. Scroll down for the Essentials.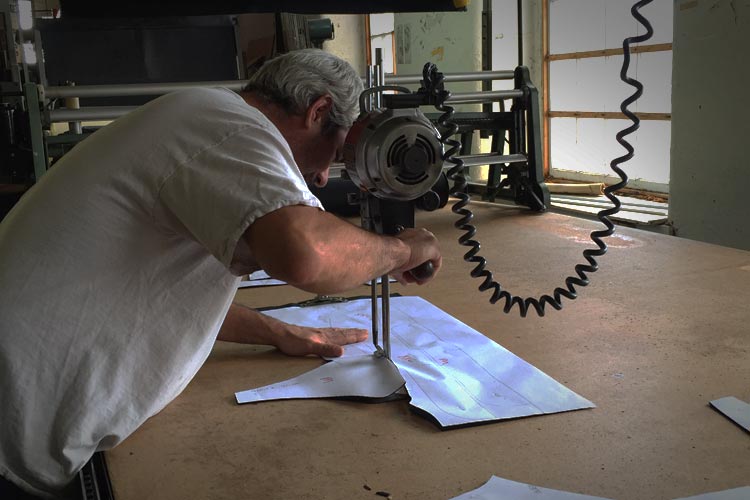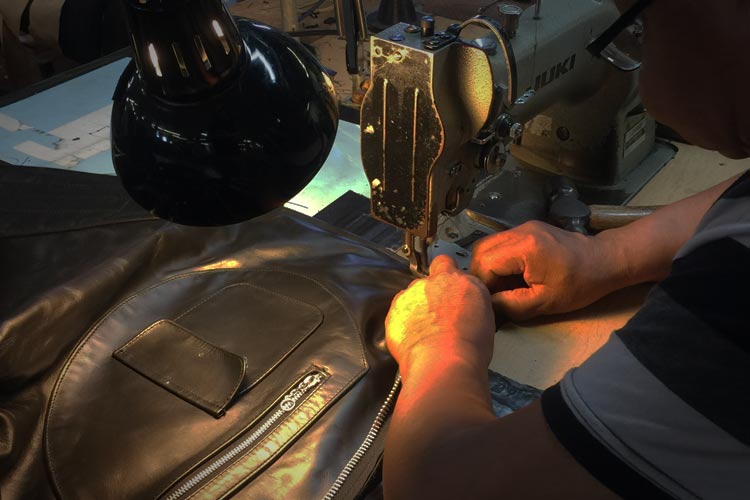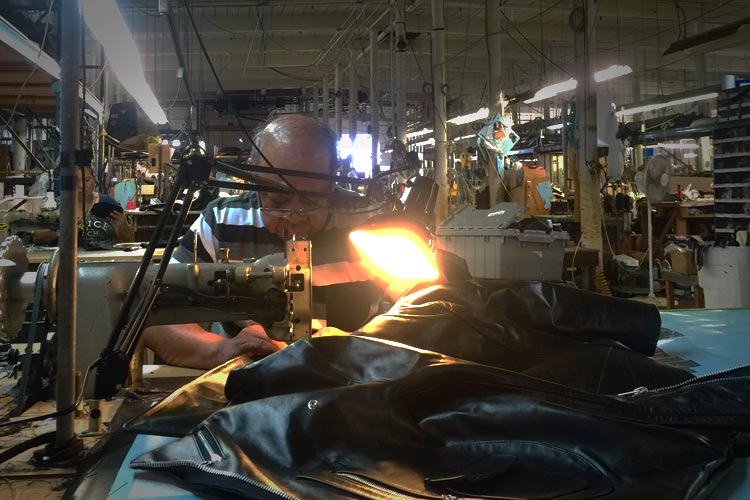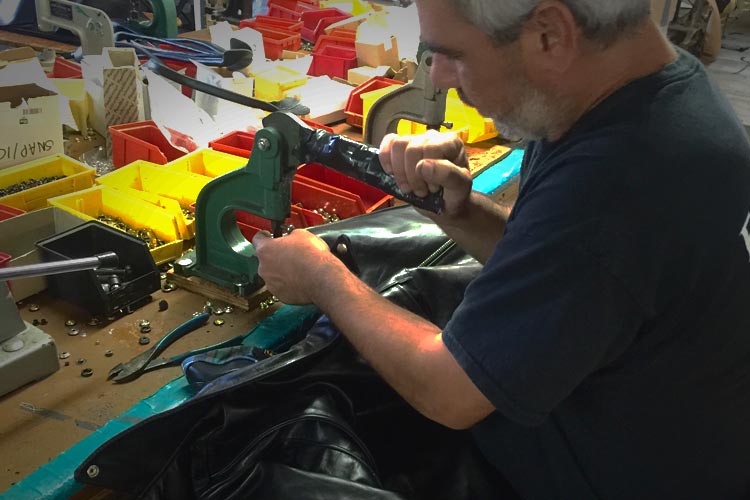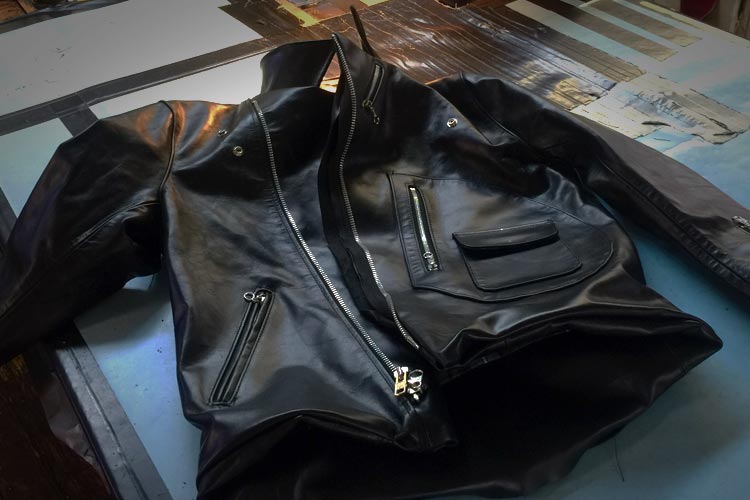 Constantine rounds off our conversation with a tease for the future of Vanson Leathers with Left Field NYC
We are now discussing future projects and collaborations, not only in leather but other traditional materials as well. Vanson and Left Field have similar DNAs. We make things that last, are functional, iconic and, of course, made in America, which matters to both of us. We will certainly be seeing more projects in the near future!"
The Vanson Leathers Left Field Commando collab jacket officially hits the road on October 17 during Inspiration in NYC. But, as is the nature of the beast, it is strictly limited in numbers.
The Essentials
[row][column size='1/2′]
Competition weight leather
Chrome excel style, waxed and oiled leather from local Massachusetts tannery
Nickel plated zippers
[/column] [column size='1/2′]
Heavy 12 oz. tartan twill lining including pocket lining
Hidden stash pocket under the lapel
Made in Fall River – Massachusetts – USA
Limited to only 20 pieces
[/column][/row]
Want One?
Buy the Vanson Leathers Left Field Commando online at Left Field NYC or in-store at 657 Woodward Avenue Ridgewood, NY 11385, USA.