How Evan Kinori Became Denim's New Wunderchild Overnight
Evan Kinori Went From College Student to Talk-of-the-Town Denim One Man Brand In Less Than 5 Years. Here's His Story
One of the greatest things about my job is that I get to travel the world and meet all these lovely people. During my last visit to San Francisco, I finally got to meet Evan Kinori and see his newly opened studio in the downtown Soma area.
I'd heard so much about Evan, mainly through my super-keen Denim Dudes photographer, Ulysses, who originally gave me the heads-up on Evan's move to Jack/Knife Outfitters back in 2013. After spending three hours with Evan in his studio, I got a sense of the dude behind the denim. I also got the undisclosed and quite fascinating story of how he went from college student to denim's latest talk-of-the-town in less than five years.
Evan Kinori's Background
I'm not going to talk about Jack/Knife or how sad it is they're not around anymore. I don't need to because everyone of merit seems to be going on to greater things and shit happens. Instead, I want to focus on Evan and what he's doing right now because his story is truly inspirational.
Evan's story is a purist, slow-fashion, one man brand kind of tale, but I found a great distinction between his work and other brands out there.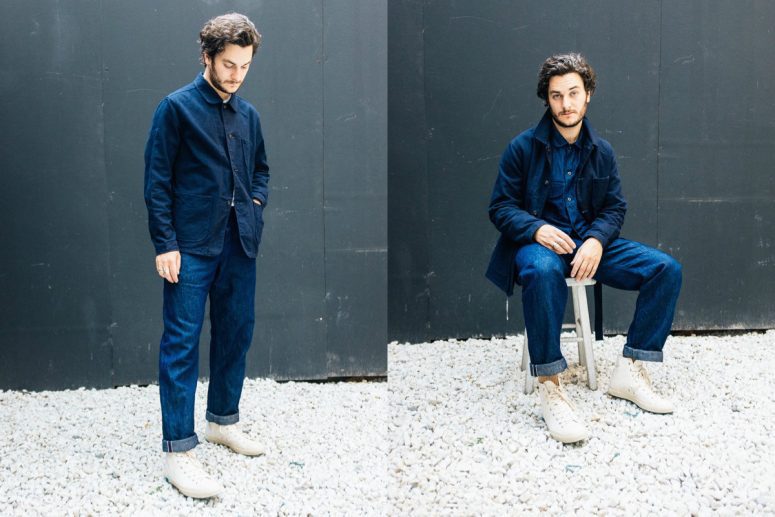 The look of the eponymous Evan Kinori collection is more contemporary, less tied to denim roots and more diverse in its inspiration. Evan's passion and skill for his craft are tangible and genuine. It gives me the feeling that he will be around for some time: what he's doing comes from the gut, not the glory, which is becoming more and more important in today's competitive apparel environment.
Evan told me about his first interaction with fashion was at the age of just 11 when he was obsessed with skateboarding:
"Skating was probably the thing I was first super fixated on. But I hated the sneakers. It the late 90s and early 00s and Vans weren't making any of their classics.

They were making the high-tech, puffy, styrofoam stuff and all this crazy shit that aged horribly. At least with a cotton canvas shoes, you can kind of glue 'em or tape 'em or patch 'em and they still look good. But styrofoam, or whatever it was, just ages terribly.

I just wanted a pair of sneakers that looked good all the time. And that got me thinking."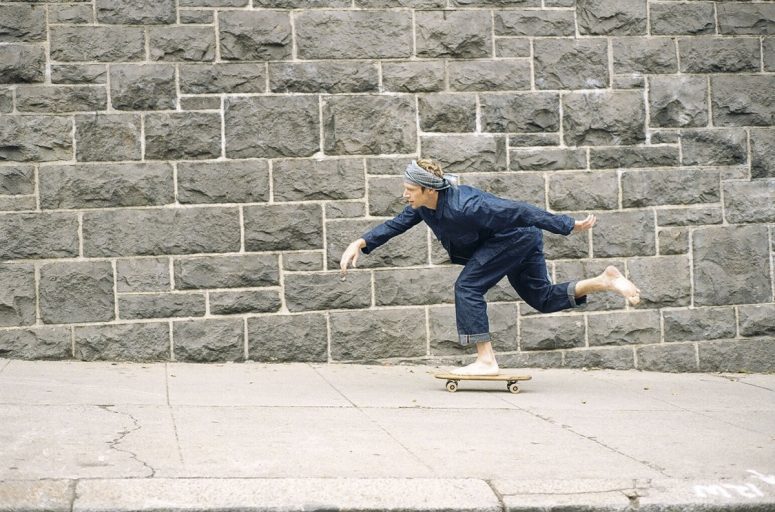 Finding His Way Into Denim and Fashion
It's funny when we look back on past experiences with hindsight and realise that these seemingly simple thought processes in our youth go on to make up the essence of who we are today.
Evan didn't realise it at the time, because who does at the age of 11? But, even back then, he was a fan of simplistic and classic quality pieces. Not knowing it, he had realised the age-old rule that classic design remains timeless and flashy design gets thrown in the trash.
Later in the conversation, while talking about his collection, he summed it up rather eloquently:
"These items in my collection have a deep place in the bedrock of clothing. The word 'timeless' is a little over-used but that's what I'm going for; it's not really seasonal, it's not too trend-driven.

I think that if these pieces could be worn 100 years ago they will probably be worn 100 years from now.

I'm a textile person first and foremost so everything comes from that focus: everything's clean and simple from the outside, the inside of the garments is where my work is done."
Evan grew up on the East coast but moved to San Francisco for college. He was actually in the middle of a bachelor's degree in French and Philosophy when the fashion nudge came a knocking:
"I think something told me to take a goofy fashion class and the task was to make a top out of bottoms. I was the only guy in the class and I did some really wacky Frankenstein-thing.

I couldn't sew so I stapled it, I taped it, but it felt way more at home to me than anything I'd done before and the next week I signed up at the fashion institute of design and merchandising for the pattern making class.

It clicked in ways that nothing had clicked before; I was top of my class and all that fun stuff. It was the first time I was fully able to discipline myself because it didn't feel like work."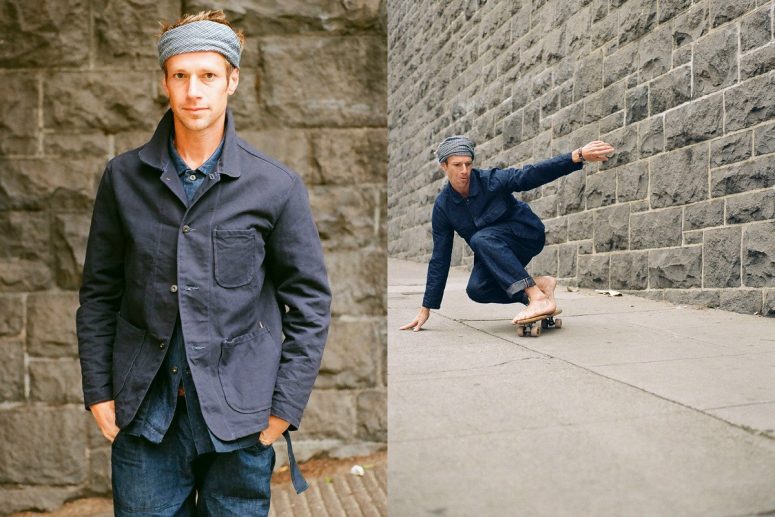 A Sure Sign He Was Onto Something
I really got the impression that Evan had been lucky enough at that early age to tap into something that he now knows was his calling. And, he's been working with garments and pattern cutting ever since.
He finished his training three years ago and, through friends, he was introduced to Nick at Jack/Knife Outfitters. Up until then, he'd worked mostly on womenswear as the programme had no menswear tutor and he'd focused primarily on shirts and jackets.
When Evan saw what Nick was doing with jeans at Jack/Knife, he was knocked sideways:
"By no exaggeration, Nick made the best jeans I've ever seen. It's hard to explain to even the best connoisseurs because it wasn't a smart idea, a genius business idea or a scalable model. But, if you bought one of the custom jeans, well.

I haven't seen anyone making anything better. It didn't look like any other product I'd touched or felt before; every seam hand felled, everything hand bound, so that it feels very different to anything else.

Nick was all about making the best product he could and so I studied and worked with him for a year. Going into it, I just wanted to make quality stuff. I didn't have so many hang-ups on construction methods as I do now."
A Treasure of Fabric From A Secret Brand Got Evan Kinori Started
So that's Evan's past. What happened next was really just a series of lucky coincidences that have meant Evan was able to fully launch his website in September this year.
At college, he won a competition where he had a cash prize of a few thousand dollars. It just so happened that a friend in the fabric business in San Francisco had a hook-up with factories in the area. One of them had a surplus of a certain 'shall remain unnamed' brand's fabrics: the rolls weren't big enough for bulk production but just the perfect size for a small start-up operation.
I don't know who the brand was but, boy, do they have great taste in denim! We're talking 7 oz. semi-sheer, butter soft indigo shirtings, insane Japanese wollen weaves with crazy structures and floating stitches, stunning linen selvedge 2x1s, indigo Oxfords, you name it.
Evan spent all his prize-money on these dreamy fabrics and started making. He played with made-to-order pieces for friends, who joked he was creating an EK Army in San Francisco.
For now, he focuses on four key pieces and has graded every item down to an XXS to make them dual gender; which works very well due to the simplicity and contemporary styles he has created.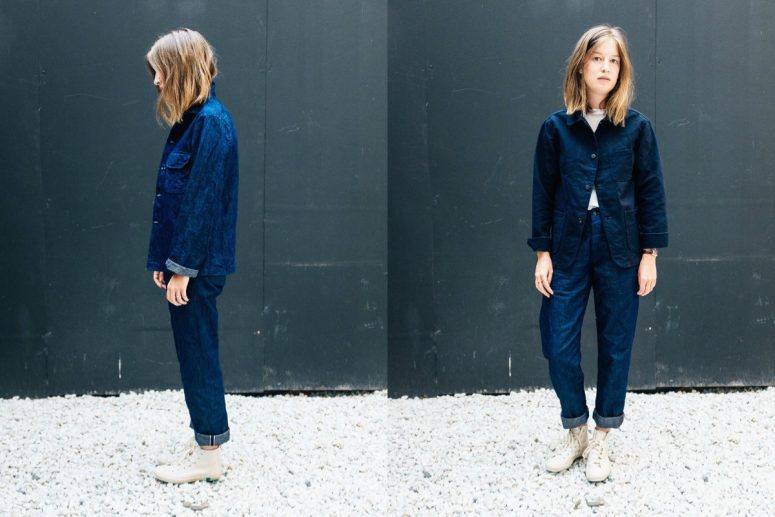 So What's Next For the Evan Kinori Brand?
Evan's just getting started. He already knows the next step for his business and how to take it:
"The next step is to do my research on retail. I like going into a store and I like how a store can tell a story. I want my products in stores throughout the world and I basically need to find partners that equal the passion I have for the product to slowly and carefully grow the wholesale.

I've heard so many sob stories of growing too fast. It's hard; I get so excited when some store in Japan responds to my work, but I have to pause and think: 'who else do they carry? How are they going to merchandise it?' and so on."
Just a few days before my visit, a few pieces went into Reliquary owned by Leah Bershad and I happened to stop by the day before to see it in all its glory in the beautifully curated space. It looked spot-on.
"Yes, that's a perfect fit, she's just launched a men's section and so I've been able to launch both men's and women's with her, that's the perfect store for SF and she's a good friend so it totally makes sense.
My first wholesale order outside of Reliquary is for a store that's opening in Tokyo this November. It's called Craft and Perma Culture Country Mall. For the first season, it's stocking all made in California brands.

I think I'm going to have some stuff in RTH (in Hollywood) this fall too. But, it is hard to think of what shops would work because at the moment in menswear; it's either black, stark and really modern or its very much part denim and heritage scene."
The No Man's Land Between Modern and Heritage
That got us into a big conversation about heritage, contemporary, quality and sustainability. Evan certainly knows the market he's getting into:
"Menswear really feels like it's having a struggle between two opposite poles: modern and heritage. Those seem like the only options. I hope to land in the middle; that's what I'm trying to do"
Where we really got into it was on the subject of one man brands and ethical manufacturing:
"People like to fetishise one man brands, but they don't know what goes into it. The general message from all these brands is to pay more, but buy less. This is not communism, I'm not going tell everyone they only get one pair of pants!

But it's so well represented by the beautiful aspects of indigo: you put the time and the energy into it and it becomes more beautiful with use. For me, that's the story right there.

It's a shame when things get twisted. Sometimes with crowd-sourcing and all these concepts, they're pushing the idea of 'look how cheap we've got these jeans for you' that you think you should buy 15 pairs of them. How are you going to appreciate the product when you have 15 pairs of them?!"
Although I felt a little guilty for owning way more than 15 pairs of everything, I completely understand his point and it's something I think a lot of us are considering at the moment. So I honestly think things are slowly changing for a better, more conscious world.