The 5 Basic Steps of How To Soak Raw Denim Before Wearing It
In our raw denim wash guide, we recommend you to give your jeans a quick soak in the sink before you start wearing them. In this article we'll take you through a step by step guide on how to do it.
The main reason to soak your jeans before you start wearing them is that they will simply last longer, as starch (and chemicals) are removed, which softens the fabric.
Please be aware that there are no right or wrongs in how you choose to wear in your raw denim jeans. But after years of experience, we've learned that this method works. Okay, let's get to it – here's what you do:
Step 1 to 3
Turn your jeans inside out.
Fill your sink (or wherever you wish to do the soak) with lukewarm water.
Use something to keep the jeans submerged. You might see bubbles in the water, which are caused by the air escaping the jeans.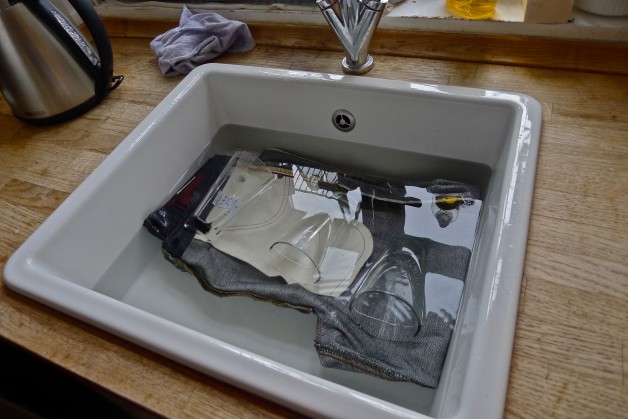 Step 4 and 5
Let the jeans soak for an hour or two. You might see a slight colour change of the water. This is completely normal and a result of starch (and a tiny bit of indigo) being washed out.
After the soak, hang your jeans to dry in the shower or outside if the weather allows it.