The Connoisseur and the 1966 501XX
It's time for you to get better acquainted with the second participant in our Levi's Vintage Clothing Wear & Tear Project. 26-year-old Simon Tuntelder wears the 1966 501XX and he's the clothing connoisseur of our little group of jeans lovers.
Tell us about yourself
I grew up in a small town in the northern part of Denmark, namely a small town called Sindal. After having moved around quite a bit, I now reside in Denmark's second largest city Aarhus, where I share a small town house with three very nice roommates.
I'm a student and I have a degree in retail management, but I'm currently studying Entrepeneurship. My main interest is clothing and pretty much every aspect of it ranging from history, style and manufacturing – this is also what I try to write about on my blog, After the Denim. I'm currently working on setting up my own company where I'll hopefully be able to sell some of the leather goods that I make myself. On top of this I'm hoping to add products by other makers from around Scandinavia, Europe and Britain, primarily. I've got this idea of setting up a shop that will sell the best products from around the world.
Why did you join this project?
I joined this project because I could get a free pair of jeans. Simple as that. I mean, who would pass on an opportunity like this?
Other than that I'm hoping to get rid of some of the anxiety, that people seem to have, when it comes to raw denim. There are so many myths, rumours and rules floating around, but for me it's very simple. Wash them, wear them, wash them, wear them, repair them, wear them som more, and then retire them, when they start to look too shabby.
I've been wearing Levi's Vintage jeans exclusively for many years, and I've worn through every model from the 1944 to 1978. I like the iconography of the Levi's arcuate, which is why, I rarely consider wearing jeans made by other makers. There are just so many connotations connected to the Levi's brand. It's just the one – at least for me. Although I've made myself a promise that the next pair of raw jeans that I'm getting aren't going to be Levi's. I'll probably try to make them myself.
What's your favourite outfit
I've found a uniform, that I basically stick to on a daily basis. It works for me because it's quite utilitarian, yet slightly dressed. I guess, some would define it as being "broken preppy" or "rugged trad." But it's basically a mix of especially American casual- and sportswear and British countrywear with a dash of a strong, eclectic Japanese influence. I always go for quality, country of origin, story/history, authenticity, function and design.
I almost always wear an OCBD (Oxford Cotton Button Down) shirt, a crewneck lambswool sweater, a pair of jeans, a pair of moccasin bluchers and then I mostly add a quilted jacket.
I try to keep it less boring by never wearing the same watch every day, but I think I'm the only one noticing that.
What do you love the most about denim?
It's hard to put it into words. It's just a very pure love to me. It's a love for the fabric, the details, the manufacturing, the way it ages, the history and the connotations. I would rather not go into more details because I'm not that good with words.
Do you collect anything?
Do I collect anything? I collect too many things to mention, and I've done so since I was a child. I think it is something, that I got from my parents. They've alway supported my hobbies or obsessions. When I was a child I collected fossils, militaria, stamps, coins and other stuff.
Nowadays I collect stoneware made by Danish makers like Kähler, Hjorth, Søholm, Knabstrup and so on.
I also collect vintage automatic watches, but I never go for the Rolex or Omega option, I go for lesser known makers. They're often cheap, but still beautiful and often quite good.
Other than that I collect stuffed animals, which is a bit bizarre, but I can't get enough. I collect clothing in the sense that I buy clothing because of interest, but I've given up on the idea of collecting vintage clothing for now, because I simply haven't got the room for it.
Mixing work and pleasure I also collect vintage fabrics, but I intend to use the vintage fabrics for actually making stuff. At the moment I mostly try to collect tools and other stuff for leatherworking. It's an obsession and when I discover new tools, I feel the instant urge of buying them. There are plenty of other things, that I would also like to collect in the future like native American silver jewellery, furniture, vintage industrial sewing machines and other stuff but I retain myself from beginning more collections at the moment because I neither have the room nor money to spend.
What did you dream of becoming as a boy?
I've been thinking about it quite a lot, and honestly I can't remember. I knew, I wasn't the best footballer, so that wasn't an option, and I liked starting fires, more than I enjoyed putting them out, so I never considered becoming a fireman either. I probably wanted to be a philosophical archeologist or something like that.
How do you wear your (dry) jeans – any special routines?
As mentioned there are too many myths floating around on how you're "supposed" to wear your jeans. It confuses people. I see jeans as a utilitarian product, which was originally intended for hard labour. Therefore, I don't treat it in any special way and I never "nurse" them. I use and abuse them.
So here's what I do:
I soak them in order to make them last longer by removing some starch (see pre and post measurements below). I sometimes wear them while damp to make the creases set and to soften them up a bit. I then wear them until they either need washing or when I feel like it. I don't count the days and number of wears, but I generally keep  count on the number of washes – just for the sake of the experiment, that a pair of new jeans always become. I'm in no way affraid of the washing machine and use it as frequently or infrequently as the jeans demand.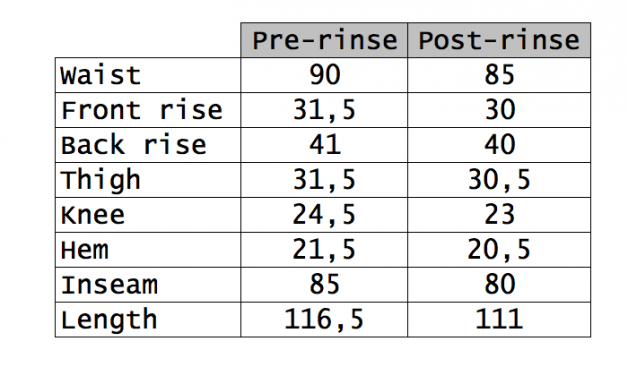 If there's a rip or a hole, I always mend it myself. I never try to hide the repairs, at all. I always repair them with longevity in mind. I mean, why try to hide the scars of your jeans? All scars tell a story and that's what's so great about denim. They tell stories – some more recent than others.
Anything interesting you plan to do while participating in the project?
I'll hopefully be setting up the company and focusing a bit more on the blog and the readers of it, whom I absolutely love. Meanwhile I would also like to become even better at working with leather, I'm hoping for more success and less failures in the future. I'll hopefully be able to invest more time in the craft itself and more money on tools and new leathers. Furthermore, I hope that I'll be doing a ton of interesting projects like visiting more local manufactures, collaborating with some good people, developing new projects and possibly working more with different medias.
I hope that I'll continue to meet lovely and interesting people and make more new friends. I hope that my curiosity will continue to push me in direction of  new, good music, concerts, books and films. Lastly, I hope that I'll be having some good meals and beers in company with the people that make up my world. Oh, and I hope that time and money permits me to finally go to Italy this summer to meet up with a dear old friend that I haven't seen for too long.
Like with Jan's 1954 501ZXX I also shot a few detail photos of Simon's jeans before he got them. The main characteristics of the 1966 501XX are the double sided red tab (Big E), no hidden rivets as they were removed in the mid-60s, leather-like two horse patch, and big square back pockets with flat arcuates. The fit is slightly tapered with regular rise.