The Price is Right – Benzak Brings Design, Sewing and Sourcing Back to European Shores.
Our Exclusive Interview With Lennaert Nijgh Of Benzak Denim Developers
Cast your mind back, way back to the very early days of Denimhunters. You may just remember we featured this long-haired, slightly dishevelled looking dude, prattling on in some strange language (Dutch) about his latest project. This guy's name was Lennaert Nijgh and his fledgeling brand, Benzak Denim Developers.
Since then, we have covered Lennaert and BDD as the brand grew and evolved.
We brought you the news a few months ago, that Lennaert was developing an entirely new line which would be designed, sewn and sourced entirely in Europe.
On the eve of the release of this new line of jeans and tops, it is only fitting that we take some time to chat with Lennaert about this leap forward, the reasoning and the rationale of bringing the manufacture back to European shores.
Leaps and Bounds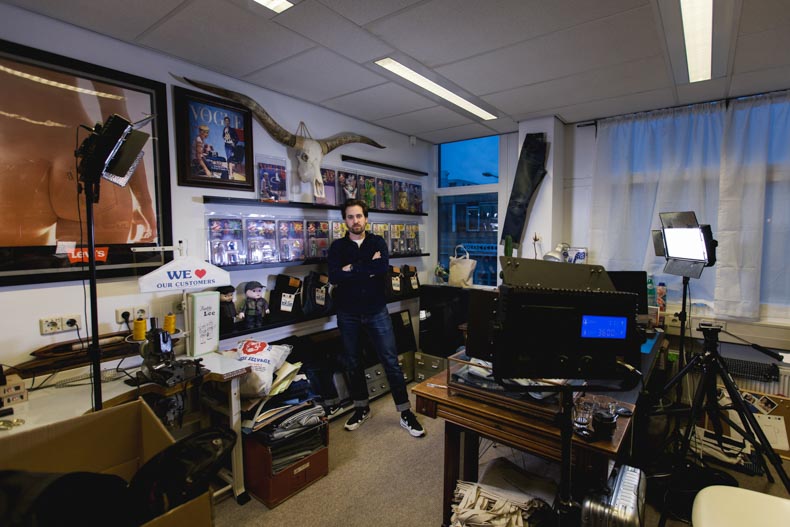 RD: This is quite a big leap forward for the brand in that you are introducing T's and Sweats and some new jeans. Can you give us an overview of the new collection?
LEN: The idea of developing the BENZAK – EUROPEAN MADE line arose from a growing demand for a more affordable Benzak Denim Developers (BDD) product. I received a lot of constructive feedback from people who liked and even understood the "Made in Japan" line, but claimed they would never buy a 300 EUR pair of jeans.
This made me realise that there should be a huge market, just under the top layer of the highest segment, where I could gain market share. So I went back to the drawing board and basically stripped down the "Made in Japan" product to a basic, but high-quality pair of jeans, keeping only the 3 major aspects: good fit, nice fabric, clean construction.
I reused my current BDD-016 fit to build the B-01 SLIM, and I used my new "regular block" BDD-707 for the B-02 REGULAR. 2 key fits combined with a 15 oz. indigo and a 13 oz. black fabric brings a total of 4 options: clear and simple setup, just like the design.
Next to that I always wanted to expand my brand with other product groups besides jeans, but somehow it didn't feel right to include tees and so on in my Japan line.
You see, I am a denim developer and with the JP line I try to make the best product there is, but that comes with a price.
For tops, I never really saw the need to geek out on the details, as I personally prefer to let my jeans stand out, and keep the rest clean and simple, but always in high quality.
With the introduction of the EU line, a sudden space for this kind of apparel items opened up, as I was already implementing this mind set on the new jeans. So I started developing a set of tees and sweats in Portugal (the jeans are also produced over there).
The result was 1 fit/block for tees (classic crew neck, slightly higher at the front neck, and a bit longer in length), in different variations: printed, with pocket, embroidered, and a few indigo dyed options. The indigo dyed (yarn dyed) jersey is about 150 gr and the other options are a heavy 210 gr.
Going Straight
RD: Ah, you have a straight fit, give us a few more details?
LEN: I would call it a regular fit actually, but the legs are quite straight, so you could call it straight as well. I introduced this fit to offer a wider range of fits within the BDD brand because I only did slim fits (aside of BDD-710, but that's a bit of a stand alone style anyway, due to its price).
RD: So is it based on anything particular?
I based the new regular (BDD-707 and B-02 REGULAR) on my favourite classic regular, the Levi's '47. I tweaked the top block a bit by adding a bit more shape to the top of the outseams (the selvedge doesn't go all the way up to the front pocket/back yoke, something I also did with my other cuts), I slightly changed the back yoke shape and back pocket shape.
So let's say it is my version of the classic, regular cut, that is meant to be worn higher (but sagging is possible as well).
Listening to Your Customer
RD: What made you decide on moving outside of Japan for manufacture?
LEN: With the EU line I  listened to the feedback of a great many people, and to lower the price (one of the key aspects) I had to move outside of Japan.
Producing over there (Japan) comes with a set of challenges. Once you have conquered the language and cultural barrier, then comes the price issue. Japan isn't cheap, combine the high labour costs with expensive fabrics and high import duties (for every product I import from Japan I need to pay 12-15% on top of the already increased buying price due to high shipping costs).
Don't get me wrong, the product is worth every cent, but to a lot of people the high price is a deal breaker. So if I wanted to expand the brand, I had to move elsewhere with this new product.
Due to a number of reasons, bringing production to the EU was the most logical choice. This doesn't mean I will stop producing in Japan. On the contrary, I want to expand my business in Japan as well. This month I will release the very first BDD exclusive fabric (special #1 low tension, in BDD-006 and BDD-707), made in collaboration with Collect and sewn by the Japan Blue Group.
Developing my own fabrics in Japan is something I would like to do only for my Japan line in few seasons. That will take the Japan line to a next level as well.
Denim Depth
RD: So, now let's talk a little more in depth about the jeans, tTell us about the denim fabrics used in the new collection?
LEN: all the denim from the BENZAK – EUROPEAN MADE line comes from Candiani in Italy. They are one of the best mills in the world, and only using their fabrics makes me able to say that the jeans are fully made in Europe. I use a 15 oz. indigo fabric, and a 13 oz. black fabric, both selvedge; I had to find a starting point for this collection so I decided to use 2 colours and 2 different weights.
The indigo is a very tight weave, few white weft yarns are visible outside. This keeps its body, but at the same time the yarns soften up: comfy and heavy. The black has the ability to fade to a grey, so you can treat it the same as you indigos. Next seasons the line will be expanded with a lot more different fabrics.
The Fundamental Features
RD: As I understand it, some of the particular features found on the Japan line are left out in the EU line. Can you tell us what these are and the thinking behind this?
LEN: I stripped down the product to the essentials: fit, fabric, construction (as explained above). The reason for doing this is to set the 2 lines apart. If you want a proper pair of jeans, without too many details and hidden features, then BENZAK – EUROPEAN MADE is yours.
If you care about all the small geeky features and if you are willing to spend the hard cash, then Benzak Denim Developers is for you.
The only unique feature I kept in the EU line is the hidden 6th pocket. This detail has grown as the signature detail of the entire brand, so I did not want to leave that out.
Cracking Up
RD: Now to a personal, particular favourite. The crack print on the Sweats. We are both kids of the 80s, is this a little bit of nostalgia from your side?
LEN: haha, probably. Ever seen my collection of 80s nostalgia..? Thinking about it, I never stopped wearing sweatshirts since I was a kid.
The print technique we are using now is called 'crackle print'. This has a vintage appeal and cracks by wear and wash. Basically the print chips and wears off, leaving a nicely worn in look that looks like vintage sportswear prints.
The idea about this print on tees is the same as with denim: the longer you wear it, the more character it gets.
RD: Plans for the future?
LEN: 1 word: washes…
Well, that's a hell of a place to leave it…. but, as I said, we have watched Lennaert develop this brand over the years. Like this introduction of the Europen Line, his decisions and care in developing BDD have always been well reasoned and astute.
If this die-hard denimhead is making the conscious decision to develop washes, then there is going to be an interesting story there. And it is one we are happy to tell when the time comes.
In the mean time, there are more plans in the pipeline which we do not have to wait too long to see. As Lennaert said, the Japan line is still alive and kicking. Benzak Denim Developers worked together with the famous Collect Mills in Japan to develop their very own proprietary denim.
Along with the release of the EU line, comes the first Japan-made jeans with this denim. Stay tuned for more on this, much more….