MFSC Californian Lot. 54
I've been waiting for this particular pair of jeans for a long time. Ever since I first saw them at the Mister Freedom website I've somehow been wanting a pair of my own, and now I finally have it. At first I thought they were a bit too much of it all with the big hand painted leather patch, the huge back pockets, and the high waisted 50s silhouette. But slowing I was drawn by all the classic details that I now value so much. Let me give you a little tour of this pair of truly authentically made in the U.S. of A. "new classic" jeans made with an unmatched eye for the detail, material, and quality.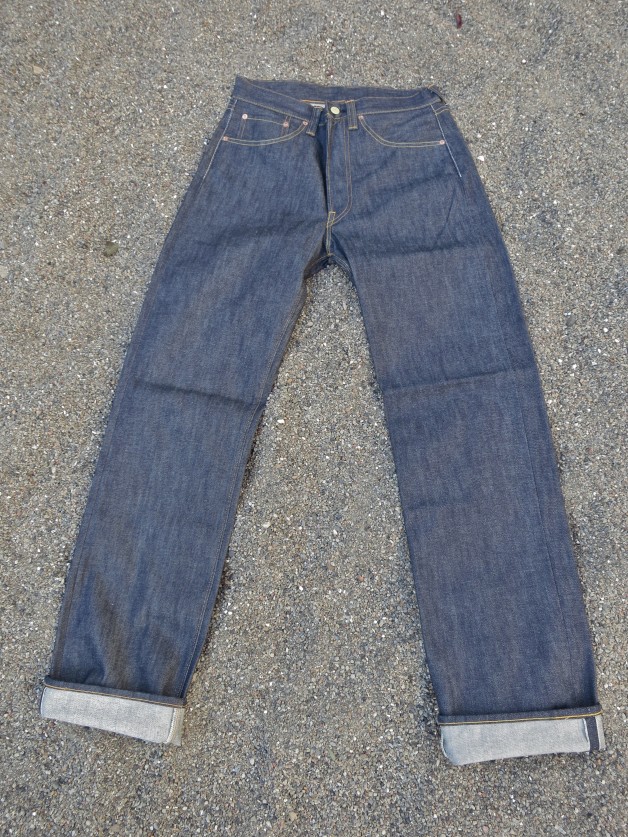 Now, there're so many things to love about these jeans. Like the fact that they're made in the US; that the fabric is an amazing "new old stock" 12 oz. Cone Mills selvage shrink-to-fit denim; the 12 types different gauge/colour combination of original non-colourfast Mister Freedom threads that are all 100% cotton (main colours are orange, yellow, and white); the beautiful unbleached bedford cord used for pocket bags, and the list goes on and on.
Regarding sizing the Californian is UNWASHED and "oversized" so that the measurements match the labeling AFTER shrinkage. I got mine in a size 30. I gave them an initial rinse (like I always do) and put them on while they were still dipping wet. Then I went for a long walk followed by a little trip by bike into town. When I came home the fit was perfect and they had almost already stretched out to what they started as. Which size works for you depends on how you like your jeans to fit. I'm thinking about getting a pair in size 32 as well to get that loose 50s look of it – the 30 is rather slim fitting on me.
Here are the measurements of the 30×32 in centimeters: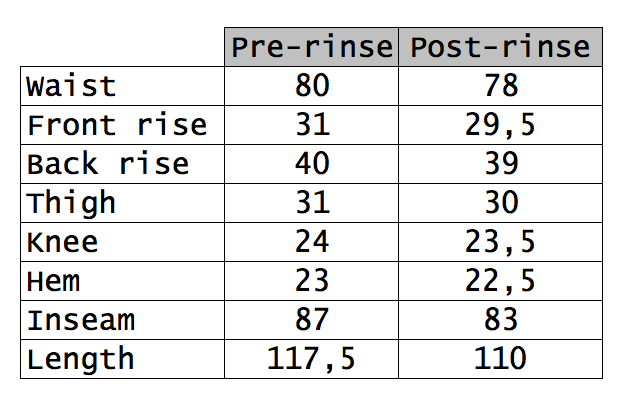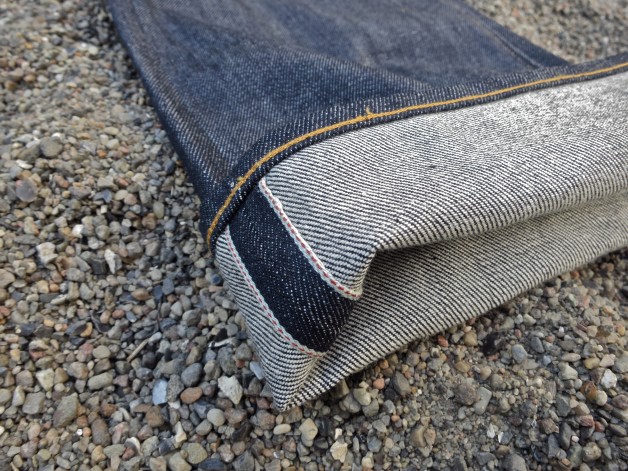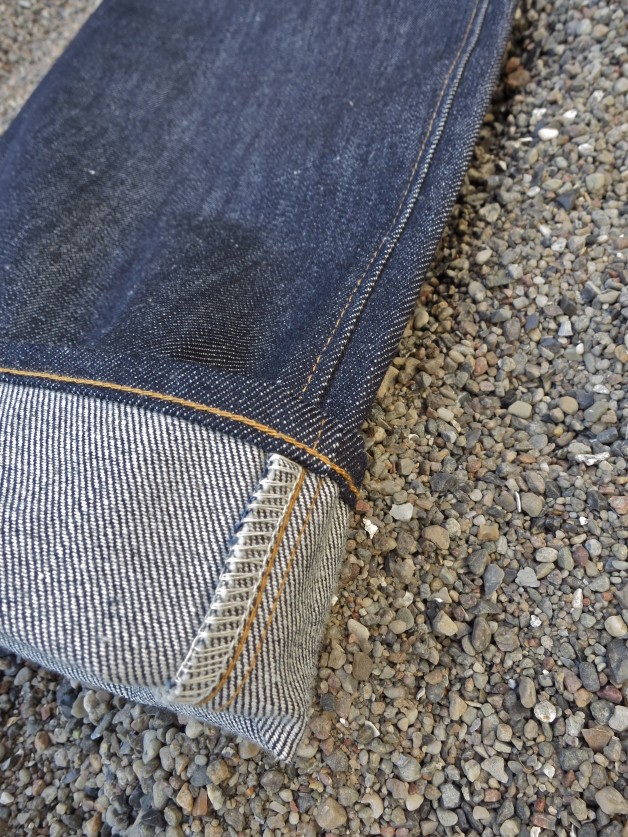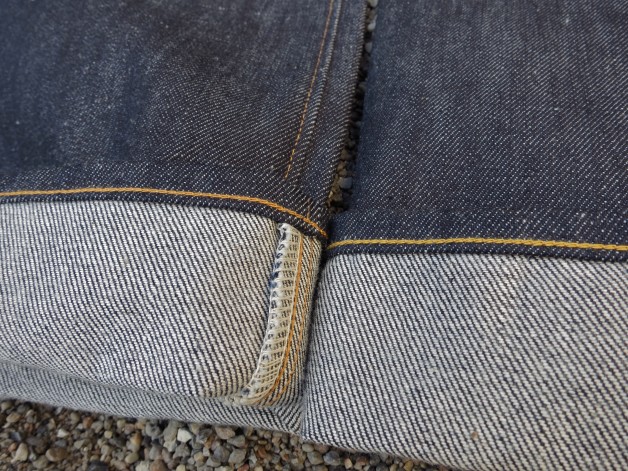 One interesting detail I noticed was that the colours of the hems and the inner seams are not completely the same. It turns out that this is a design developed by owner and designer of Mister Freedom, Christophe Loiron.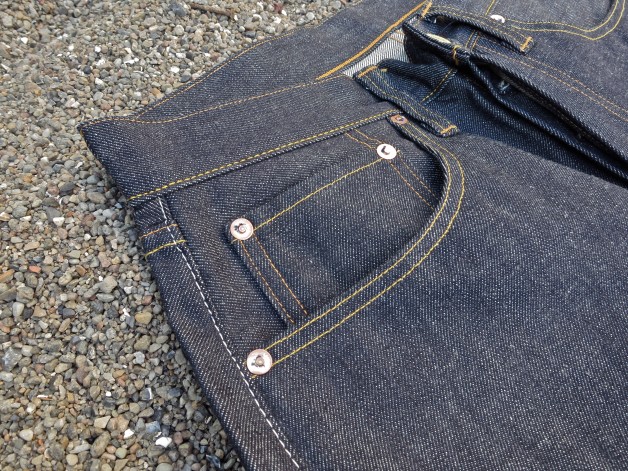 Trims include unmarked copper flat top rivets and original Mister Freedom casted combo metal fly buttons with steel backs.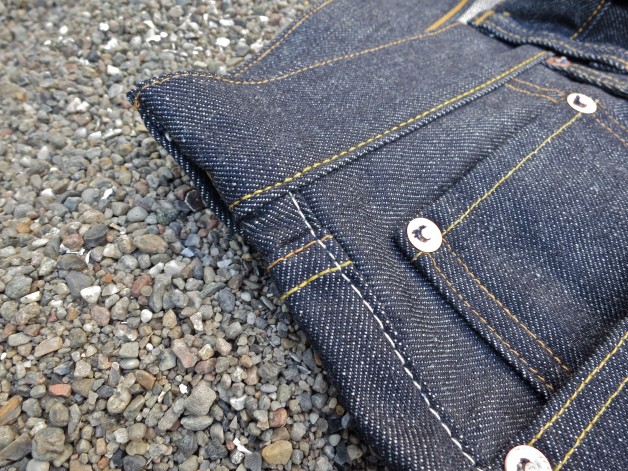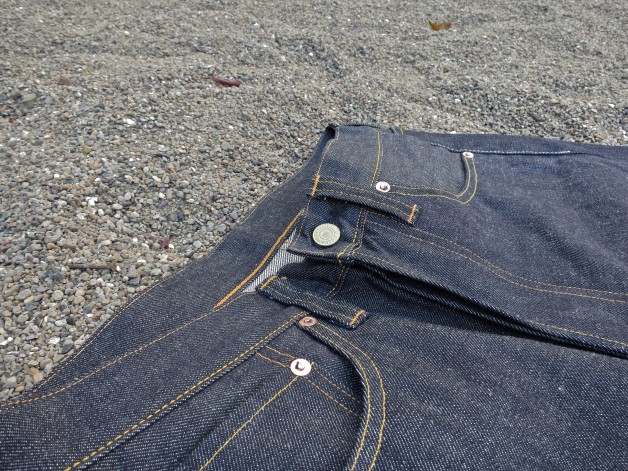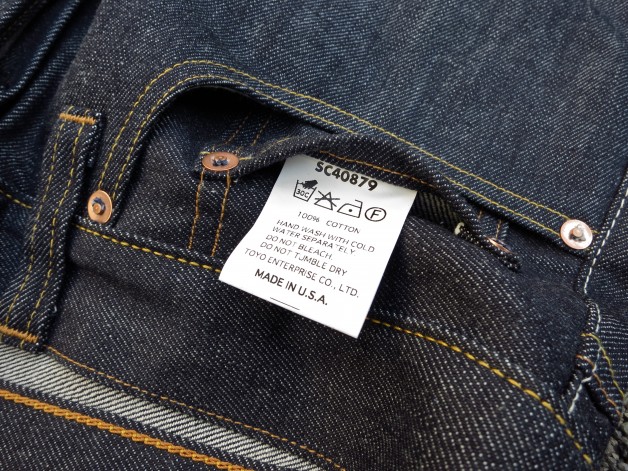 Toyo Enterprise Co., producer of Sugar Cane jeans.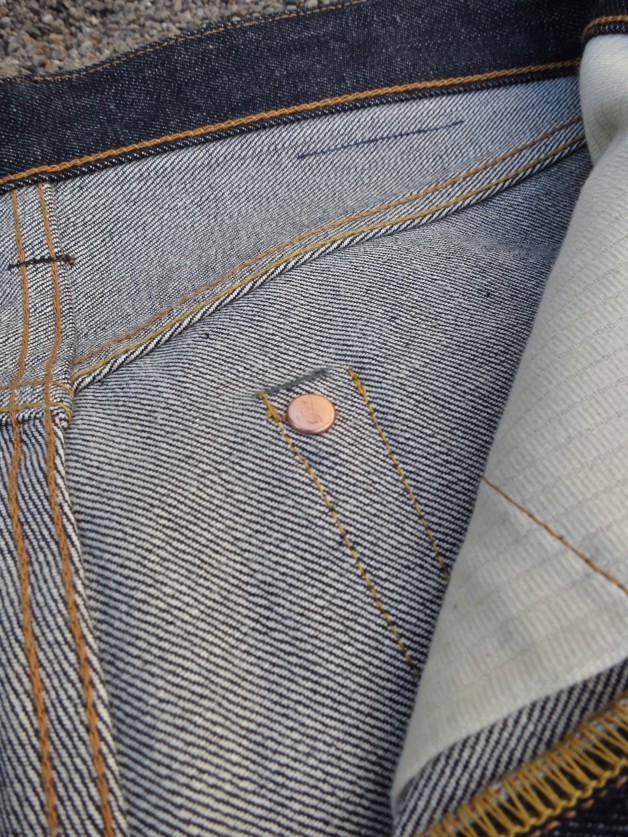 Naturally the jeans have hidden rivets on the back pockets.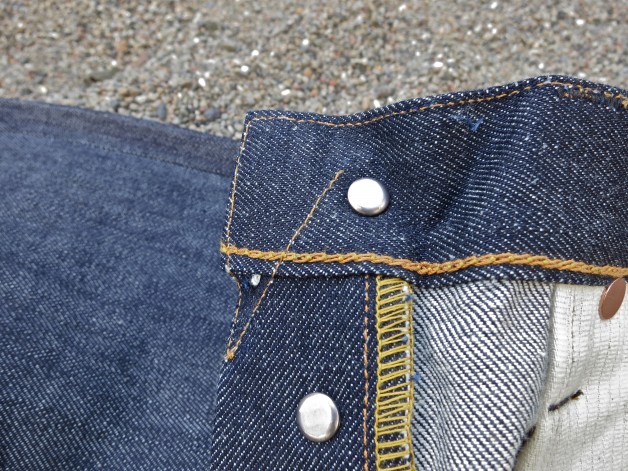 V-stitch; tribute to Levi's.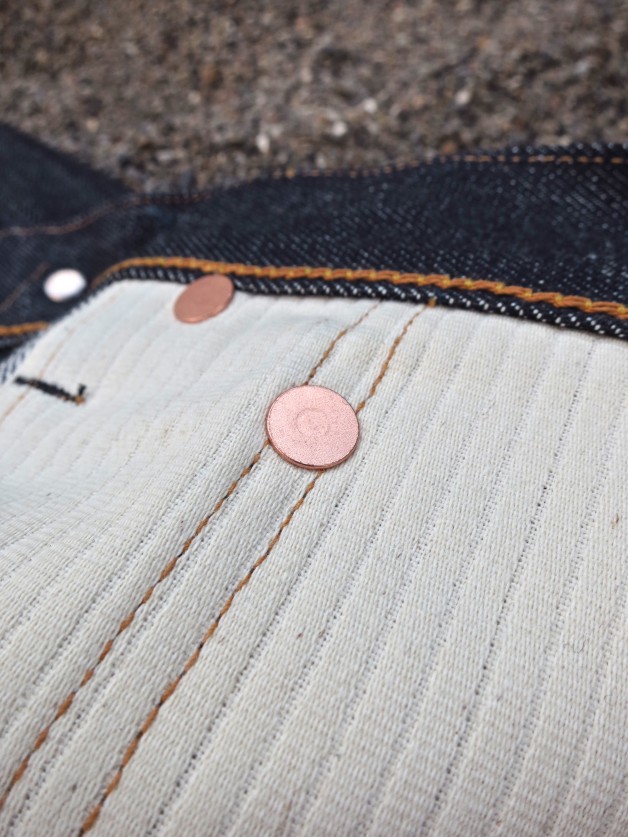 Another Leiv's tribute: single lock stitched back pockets.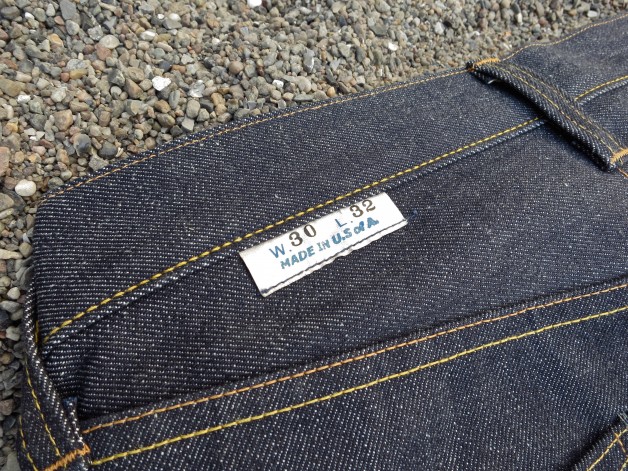 Here's how a waist size 30 fits Christophe Loiron.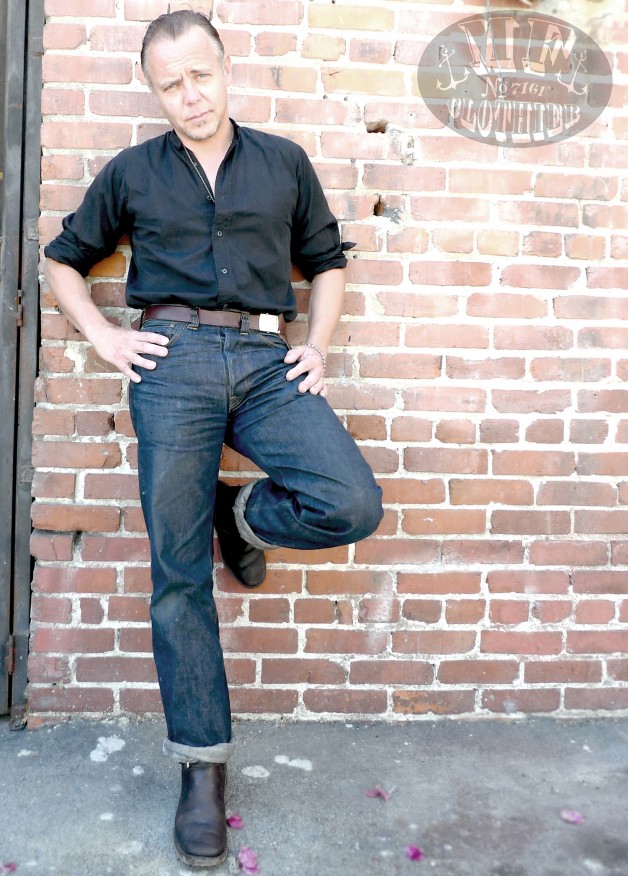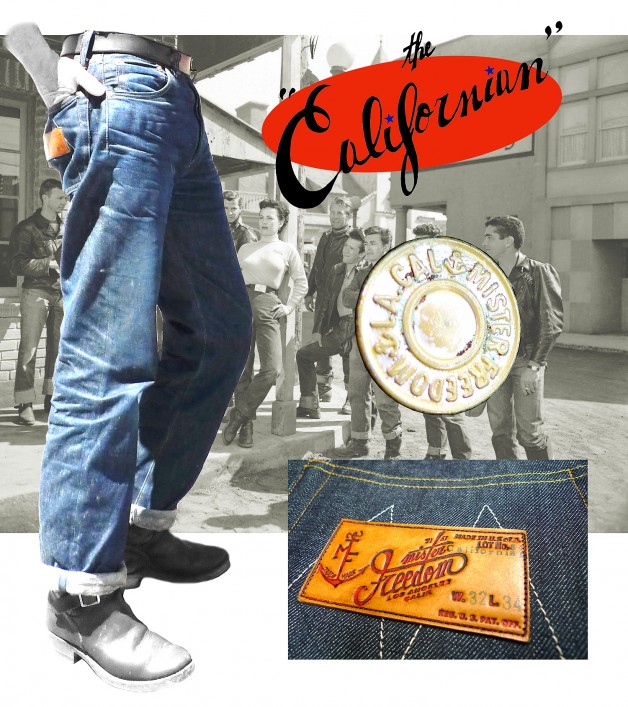 Get your own pair while they last! Like everything else from the Mister Freedom Originals production, the Lot 54's are limited and almost 100% sold out. Mister Freedom only manufactures a certain number of items a season, and once they are sold out, they are forever sold out. In other words, this is already a collectors item.
If you don't find your size at the Mister Freedom website, try out Okiya in Antwerp.
Words by Thomas Bojer.