Brand Profile: For Holding Up The Trousers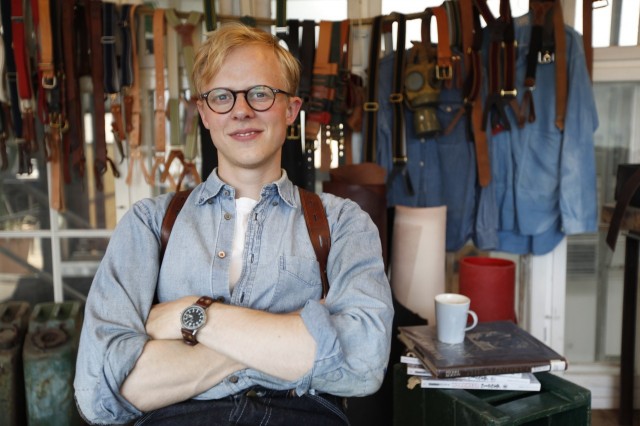 We all need something for holding up our trousers, at least some times. As you've probably heard before the devil is in the details and the right accessories completes your outfit. If you're wearing Japanese ring-spun selvage jeans, handmade British leather shoes and fine shirts of Egyptian long stable cotton, your belt (or suspenders) should naturally also be of equivalently high quality. Copenhagen-based one-man brand, For Holding Up The Trousers offers a solution to this issue with roughly crafted hardwearing belts and suspenders that will last you a long time and only get more beautiful with wear.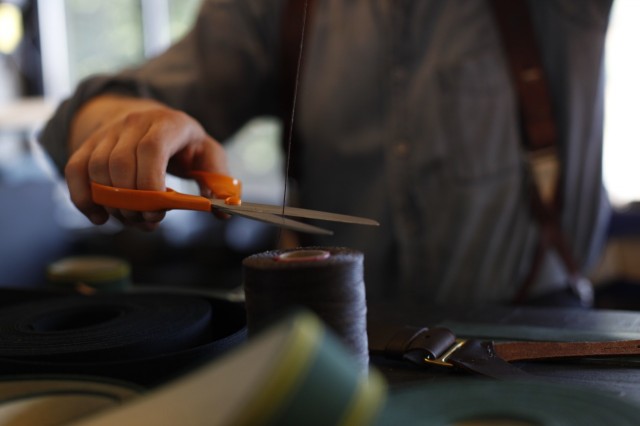 Behind the illustrative yet slightly cryptic name taken from Webster's dictionary's description of "suspenders" is a man with a passion for well crafted things made with attention to rugged details. His wardrobe is filled with clothing from Mister Freedom, outerwear from Nigel Cabourn and boots from American brands like White's and Wesco, but he's in no way a braggart about it. He just doesn't like compromises. His name is Morten V. Kristensen.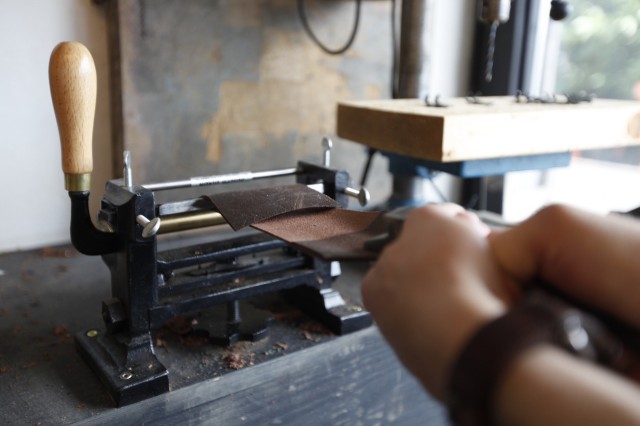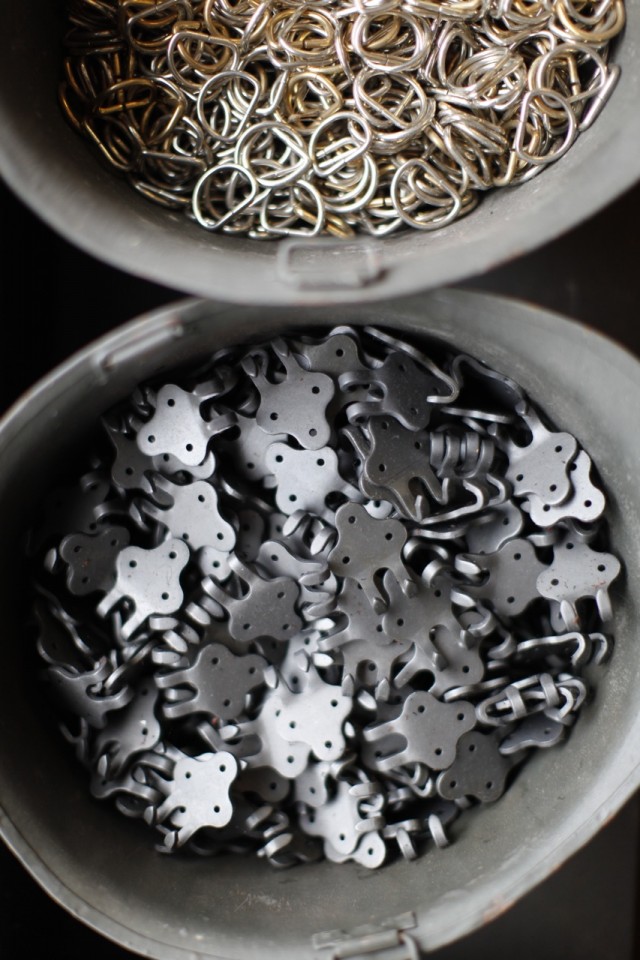 Morten grew up on a former farm close to Blåvand on the southern west coast of Jutland. Both his parents are ceramicists and Morten himself has also been into crafts and arts. He actually made his first belt back some odd 8 years ago. Still, for a while he thought he should pursue a career as a film director and in 2007 attended the European Film College in Ebeltoft.
Upon seeing There Will Be Blood and the wardrobe of the unpolished gold miner-turned-oilman, Daniel Plainview (portrayed by Daniel Day Lewis), Morten found his true calling. In the autumn of 2009 one of Morten's friends was looking for a belt supplier for his shop in Copenhagen and asked Morten if he could make some. It lit a spark and Morten really got a taste for creating unique and exclusive leather goods.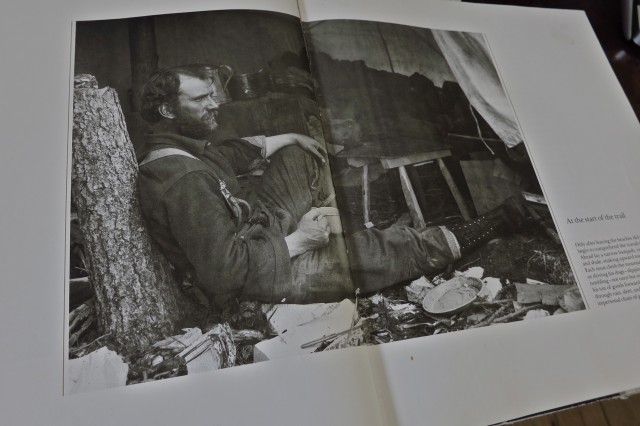 Morten is inspired by the suspenders the man is wearing in this picture found in the book The Klondike Quest – he often finds inspiration from old pictures and movies that showcase the late 19th century Americana, but he also uses Japanese magazine like Workwear to get ideas.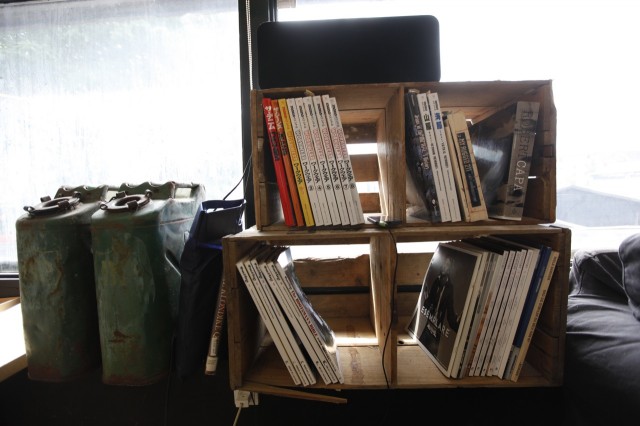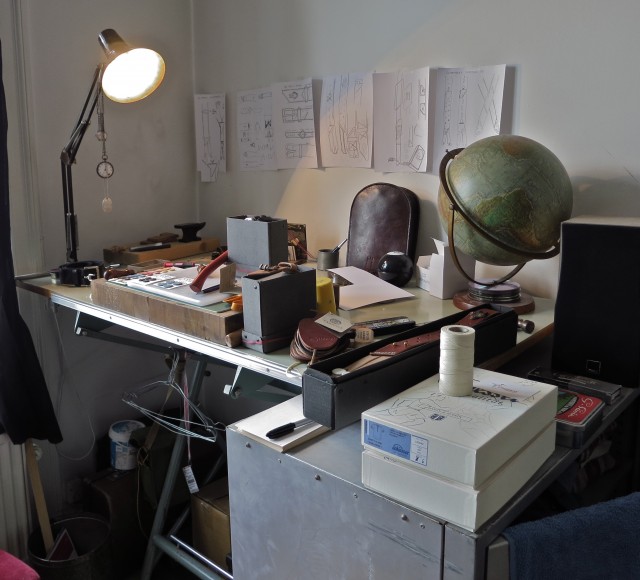 In the early beginnings Morten had his 'studio' in a apartment in Vesterbro, Copenhagen (above). The first thing you noticed when entering was the quite heavy smell of rough leather. Today Morten works out of a workshop in the Wrenchmonkees garage in Amager.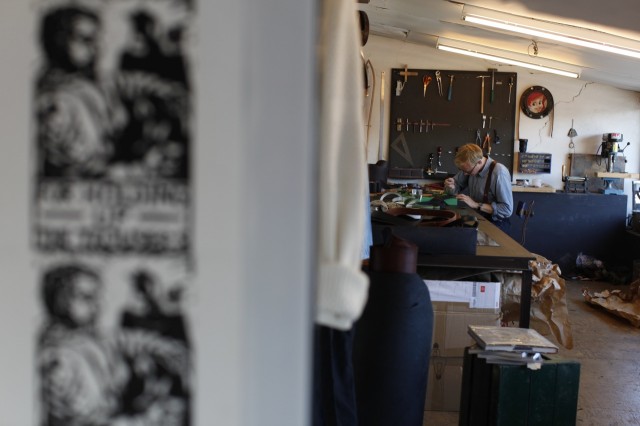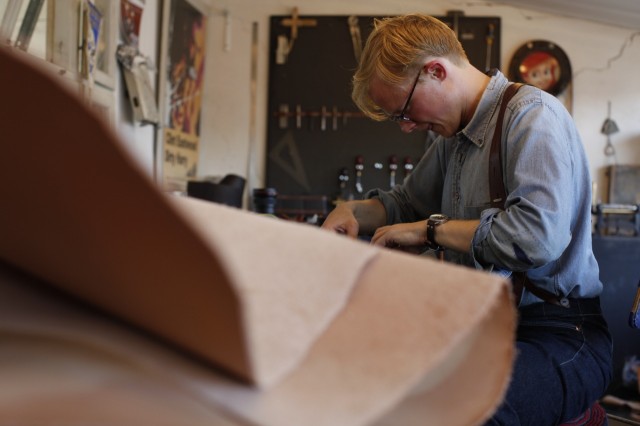 In 2010 Morten moved to London to attend the London College of Fashion, but being the nerdy outsider who only wanted to do things he would wear himself Morten soon realized that he didn't want to be part of the traditional fast moving fashion industry. He quit school and worked part-time as a intern for Tender and owner William Kroll.
Morten is eternally grateful for his time with Tender, "without William I probably wouldn't have made it anywhere," as he put it. Among other things William Kroll introduced Morten to his present sales representative in Japan. To pay the rent while he lived in the expensive British capital, Morten worked as a stooge for a horse race bookmaker. Today, even though the public reception of For Holding Up The Trousers has been overwhelmingly positive, Morten has a 9 to 5 job to make ends meet.
The materials used are sourced from suppliers known to deliver quality components, like Swedish tannery Tärnsjö.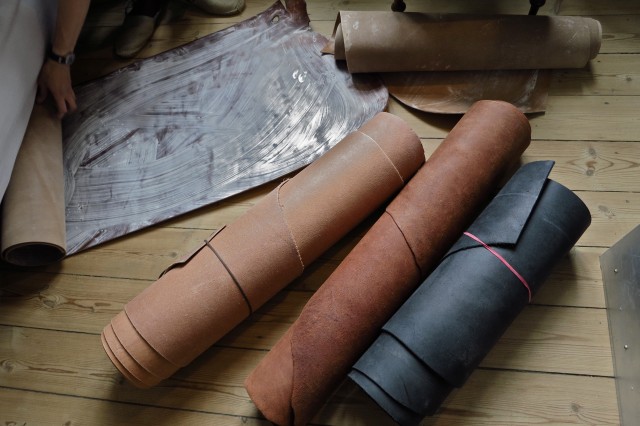 All products come in heavy cardboard boxes and suspenders are accompanied by ceramic buttons made by Morten's mother.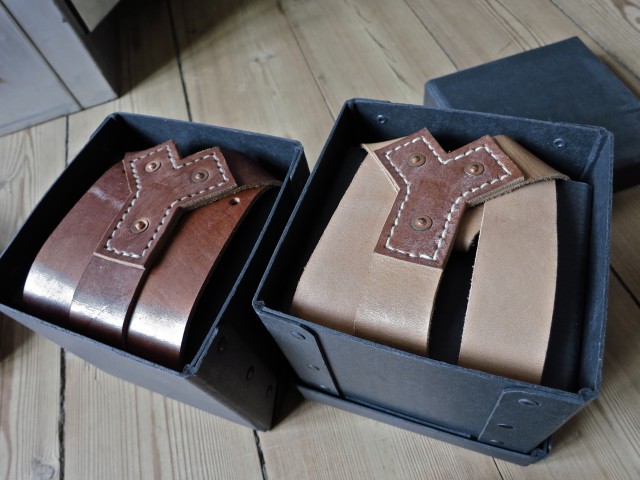 The rivets are (naturally) punched in by hand. On some of the products you will find a little stamped in "m" like it's the case with the suspenders above. At one point Morten mostly stamped all his leather products with the number 3715, which was the identity code of his childhood home from when it was a pig farm. Back then they used a special devise (below) to stamp the pigs before they were sent off to the slaughterhouse.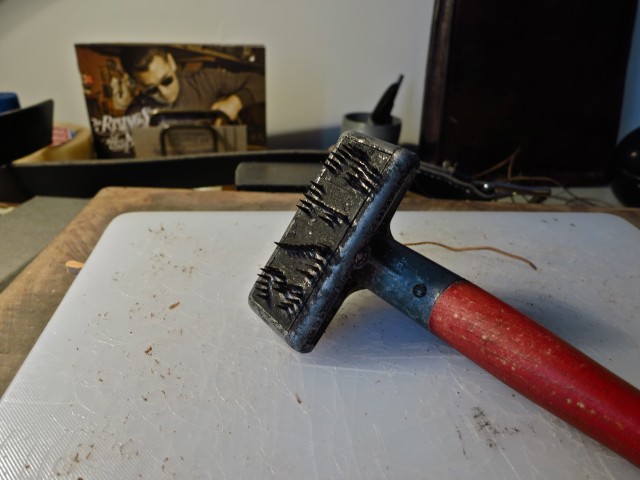 For more info visit For Holding Up The Trousers' website – and follow the FHUTT on Facebook. For a complete list of stockists click here.