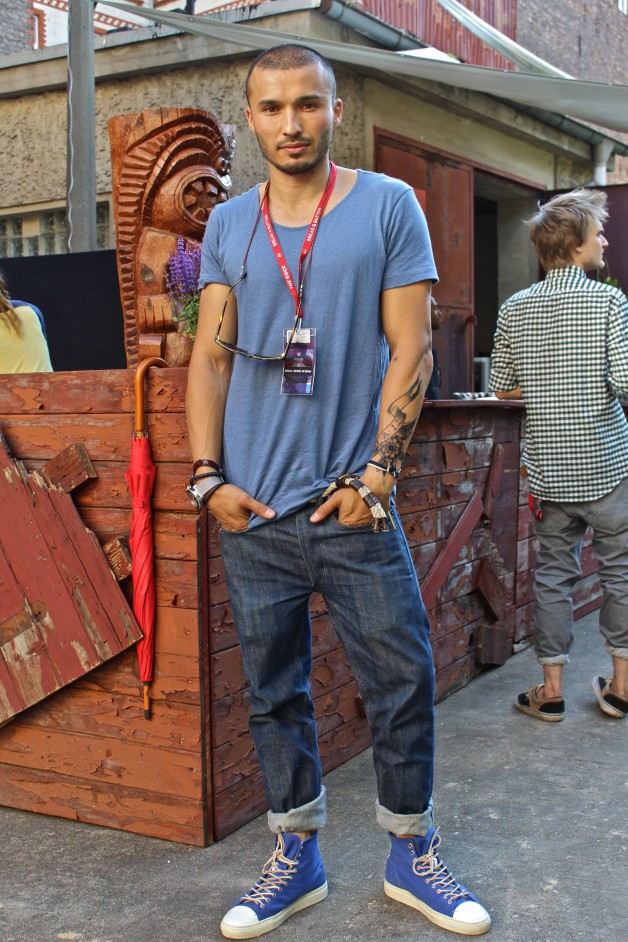 How do you get a job as the store manager of one of the world's leading fashion at the age of 28? You probably need a bit of luck, but more importantly you need a whole lot of confidence in yourself and motivation like your life depended on it, but for Gods sake don't be overeager to show it. Add to that a cool and catching charm and you might end up like Daniel Werner who has been store manager of 14 oz. for the past 4 years. I had a very pleasent chat with Daniel during the Bread & Butter show in July, now it's your chance to get to know him.
How would you define yourself as a manager?
"I would say that I try to lead my team like a father would lead his children, like a big family. This is also why I didn't start working for a big company; I wanted to know everybody who's working with me and to have a good relationship. Sometimes it can be a little bit tough when you get close and have to make difficult decisions, but in my opinion a store like 14 oz. works the best when the whole team is really close together. This is also the managing style Karl prefers."
Even though Daniel is the store manager of 14 oz. Karl-Heinz Müller is very involved in the shop. They do the buying together if it fits Karl-Heinz's schedule and he gets daily updates about the store. In total with the Bread & Butter tradeshow, around 100 full-time employees work with Karl-Heinz and Daniel. About 30 of these work in 14 oz.
"The concept of the store is rather straightforward; we want to build up a closet of the "basic" pieces every man needs. You have to have your perfect pair of jeans, maybe 4 or 5 pairs – some have more – you have to have your field jacket, your parka, and all this stuff. And this is exactly what we're trying to do: we're trying to get a closet together of what in our opinion are the best basics. That's why we don't care about fashion. If army parka go out of fashion we don't care, we still have to have it in the shop, because for us it's a basic."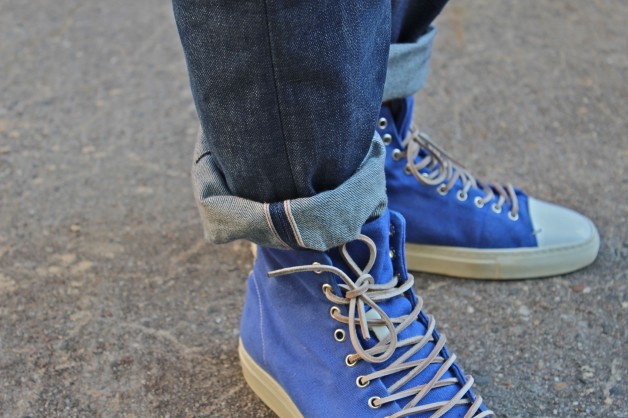 How did you get the job?
"This is actually quite funny. I've always been into design and I wanted to study architecture and during my studies I needed a little money, so I started working in a clothing store. After two years of spending more time in the store than in school my boss offered me to do some studies for him, which led me a 'dual-study' where I was working for 3 month and attending classes for 3 months."
"In the end I studied textile management instead of architecture; I realised that even though I'm good at drawing, building houses was too technical for me, and I totally fell in love with clothes. I was already in love with shopping, but as the shop in which I worked back in 2001 carried high-end premium denim brands like Jean Shop, Evisu, Levi's Vintage Clothing etc., and through the passion of my boss I also fell in love with denim. He taught me everything and I also studied denim in school."
"After 3 years of studies I thought about going to Southeast Asia, where my roots are, but then I got this offer from Karl-Heinz. A friend of mine was already working for him and she called me up and said, "my boss is opening this store, it's all about denim, I think this is the right job for you." So I applied for the job and had a nice talk with Karl-Heinz. Funny story, I was only in Berlin for 3 hours, so I though 1 hour for the interview would be enough, but Karl-Heinz was talking for 3 hours and I almost missed my train. I think I said one sentence and he did the rest of the talking. But in the end he thought I was too young for the job as store manager. But nevertheless, I got a job in the 14 oz. and it only took me 2 month to move up the corporate ladder from denim manager to store manager."
What do you do at 14 oz. to stay ahead of your competitors?
"We travel a lot. Karl-Heinz always wants to get inspired and he always spends his employees around the world to stay tuned with all the vibes. We're going to New York pretty often, Tokyo, Paris and London as well, and what he really wants his managers to know the different styles in the cities, the different clubs and bar, the art scene and everything. So we're pretty well informed."
How did you manage to come out this strong of the financial crisis?
"The thing is, if you have a clear-cut shop concept and the customer really knows what you sell then it's easy. Most other stores have the problem that they don't really have any idea about what they should sell, so they just have everything from super cheap to super expensive—all different kinds of clothes and all different kinds of brands. That doesn't make sense to me. We have a super-shop concept and the customer already knows what he's going to get inside the store."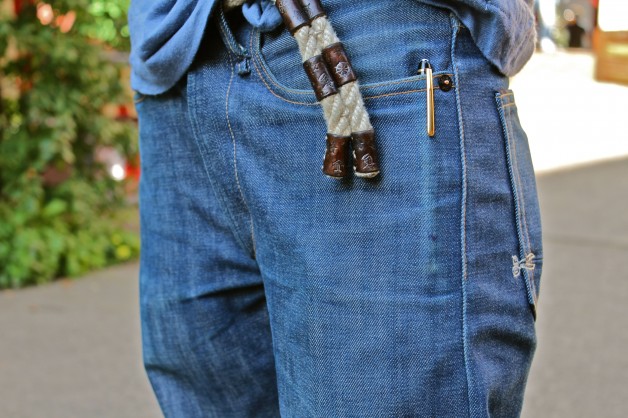 What's the next big step for 14 oz.?
"We're going to open a second store at Kurfürstendamm. Our biggest problem with the currant store at Neue Schönhauser Strabe is that the retail space of 300 square metres is getting too small. The new store will be double that size. We have so many super good brands in store and it's not easy to present the products in the way they deserve. We thought about cutting away some of the brands to get more space, but then all of a sudden we found this new space at Kurfürstendamm, which is way bigger."
"Other reason for us to open a second store in the West of Berlin is that the city is still divided. At Neue Schönhauser Strabe we get the tourists and Berliners living in the East, but we don't get the rich people living in the West. It's totally stupid, but I've been living here for 4 years and I've been to the West maybe 10 times. We have different clubs, we have different bars, we have different shops—it's a totally different lifestyle actually. So we thought, why not teach them how to dress up."
If you were to name another shop that you admire, which would it be?
"Actually, I like the Burg&Schild guys, I think they're doing good job. I also love the RRL stores and the Denhem store in Amsterdam, Tenue de Nîmes is good too—the usual suspects."
Do you remember your first pair of jeans?
"My first pair of raw denim was a pair of Levi's 501 from the 90s when they did a commercial with a really big turn-up, I think it was a length 38."
Why do you think denim has become so popular?
"A jean is a perfect basic. The good thing about jeans is that you can wear them with whatever and they will always look good. In my opinion, jeans should really fit and they should be heavy, as soon as you start doing fashion jeans you're not going to be a long-lasting denim brand. Jeans will always be a little be wild and this is why jeans have become so successful—who wants to be boring?"
What did you dream of becoming as a boy?
"I dreamt about becoming a car designer. I love the old Aston Martins."
What's your favourite denim brand?
"For me Levi's is still the mother of jeans and I always have a pair of Levi's in my suitcase when I'm travelling, always. I love the 1878 Pantaloon, which is my favourite from Levi's at the moment. I like young denim brands like Denham as well."
Do you collect anything?
"Not really, I started collecting sneaker when I was younger. Now I just collect beautiful things to be honest, I love good furniture, good jeans, and watches—if it's a well-designed and well-made quality product."
Are there any up-coming or unknown denim brands you think it worth looking into?
"It's not unknown, but Momotaro is doing really good for us. There are doing a super good and honest product, it's not too expensive for a pair of Japanese jeans, and most importantly they are doing good fits. Most of the other Japanese brands do vintage fits, but our customers are requesting modern fits. Even more importantly they are following up on what we do and how we sell it, and they're constantly teaching us about the products. I think this helps selling the products."
You can read more about 14 oz. here.