A Reader's Story: Getting Into Japanese Denim – My First Momotaro's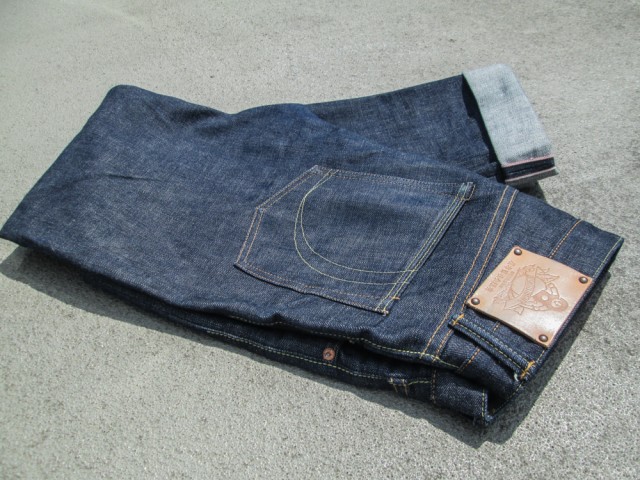 This is the story of how a "regular guy" was introduced to raw selvage denim and how he fell in love with his Momotaro's. Russell Huggins is a 36-year-old Briton working in London in Facilities Management – not exactly his dream job, but it pays the bills. Three years ago, a friend of Russell's who held a senior position in a very well known American clothing company left the USA and moved back to the UK with his family. He was obviously a well dressed guy and Russell immediately noticed how well his jeans fit and the details on them. Another thing Russell noticed was the way he cuffed his jeans and the different coloured seam on his turn-ups. After quizzing his mate and a few internet searches Russell began to learn about quality raw selvage denim and he was hooked. This is his story.
"My first purchase was a pair of Nudie Hank Reys, which I bought directly from Nudie's webshop. I loved them but bought them too short in the leg and after the first wash they just didn't look right. It has taken me a while to fully understand the sizing of waist and inseams and the different shrinkage of different raw denim but I think I've now cracked it."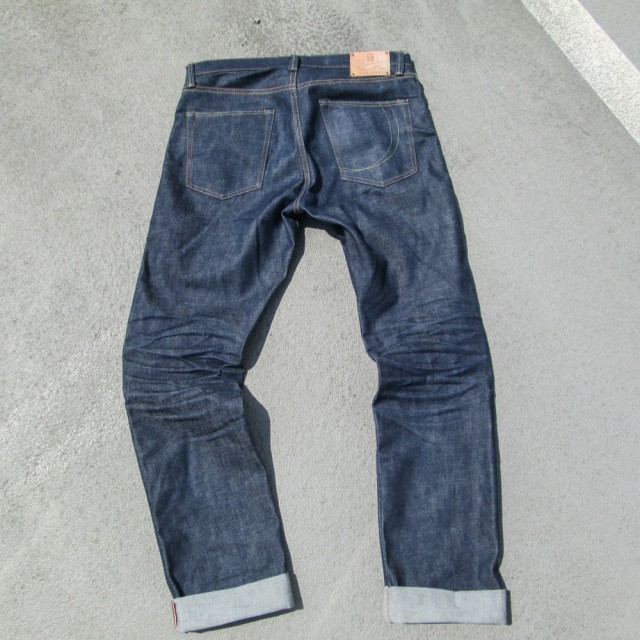 "I currently own about six pairs of nice raw selvage jeans, ranging from Edwin ED55s and Lee 101Zs to APCs. I have figured out when and if I should rinse or wash my jeans. I have had two pairs worn past the six months threshold that have returned very nice fading results after the first wash (although I don't think the six month rule is necessarily right and it should depend on the denim and the wearer when to wash)."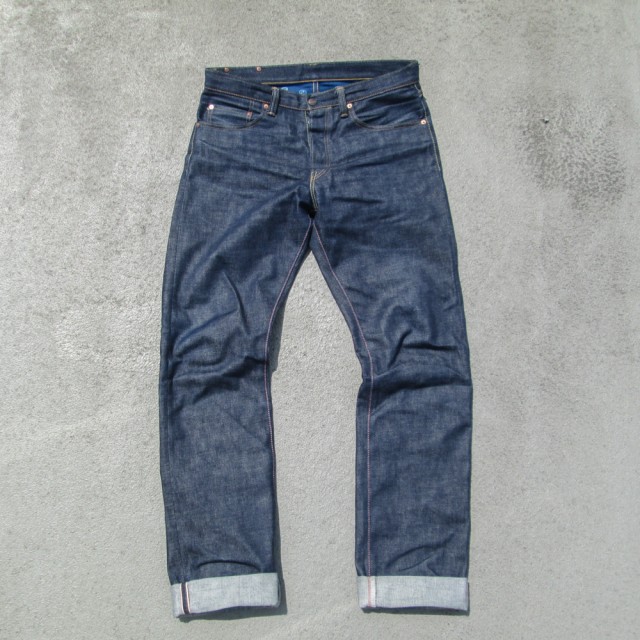 "So six months ago after much research I decided I wanted to buy what I consider a pair of top end, Japanese, raw selvage jeans. All my jeans so far have been in the £100 – £150 price range (with the exception of some Levi's Vintage Clothing) so I gave myself a budget of £300 GBP and started looking."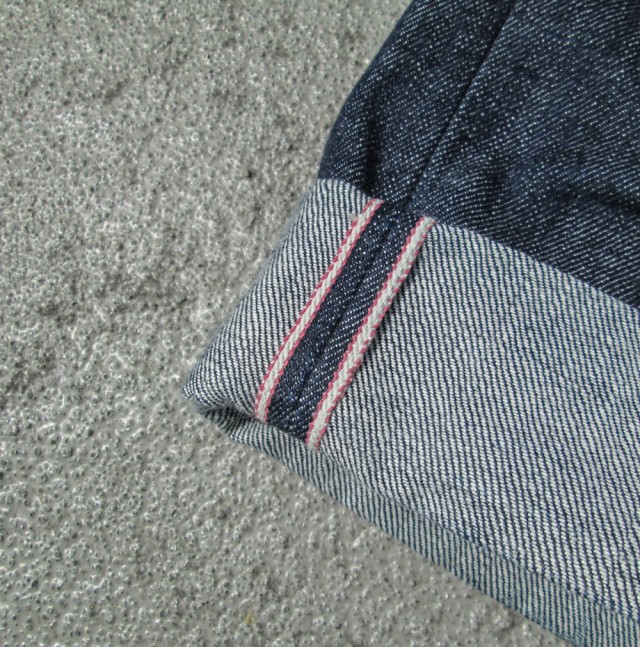 "I had bought a pair of Edwin's from Son Of A Stag in East London six months previous and I was so impressed with the staff I decided to return. I made sure I got the same sales assistant as before as he really knew his stuff. I have been into a few other premium denim retailers in London and have found the staff a little snobby, almost intimidating which seems ridiculous considering they are trying to sell you clothing. But this is not the case with Son of a Stag. I can't recommend them enough."
"The assistant who served me was an English guy in his mid-twenties. He obviously has a mad passion for denim and loves talking about it with his customers. I told him my search criteria: raw Japanese premium denim up to £300, with a medium front rise and a tapered-but-not-skinny fit in the leg. I was after some jeans I could wear and cherish for years to come, jeans that would get better with age. He went straight to the shelves of denim and started pulling pairs out for me to try on."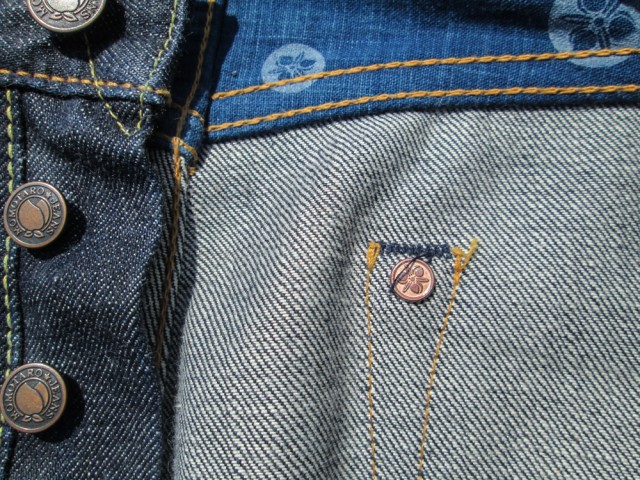 "He pulled out four pairs of different jeans, there was Studio D'Artisan, Full Count, Edwin Overworks and Momotaro. I tried on the Studio D'Artisans first which I straight away loved and nearly bought, the only thing was they were a bit slim fitting and the last pair I bought were slims. Next I tried on the Edwin Overworks which again were lovely jeans with beautiful attention to detail but they were a bit short in the leg and if I wanted to wear them cuffed they maybe to short after washing."
"Next I tried on the Momotaro, they were the Copper Label G004-MB and straight away I loved them. The denim felt thick and soft and almost had a hairy quality to it. The fit was just what I was looking for, the front rise was perfect. The blue fabric with the Momo print woven into the inside of the back yoke looked awesome and the lovely blue striped pocket bags. I also loved the pink stitching on the inseam and the back of the rivets had the Momotaro emblem embossed on them, I had never seen jeans with such detail on them. These were the jeans I was looking for! I tried on the Full Count which were also lovely but I preferred the Momo's, decision made!"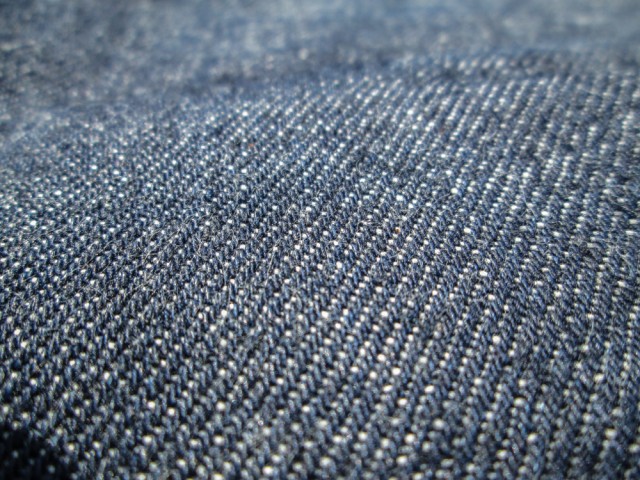 "I spoke at length with the sales guy (whose name I unfortunately don't know) about the first soak and wash, and his opinion on the best methods, as I carefully listened. He also told me that if I had any questions about the jeans or wanted any advice on the first wash to call the shop any time. He also offered a free chain stitching service in the future if I wanted any alterations done to the Momo's. You can't ask for better service than that! I had mentioned earlier that I'd like a nice navy or grey sweatshirt so he showed me a grey sweater by Merz B. Schwanen. He explained to me about the weaving process and how it had no side seams and once I tried it on I bought that too. All in all an expensive trip, but worth every penny."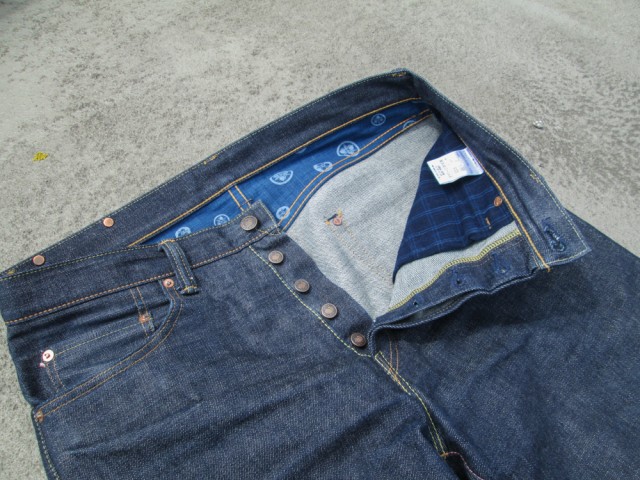 "I've been wearing my Momo's for two months now, on evenings and weekends. Although I wear jeans to work, I have decided not to wear these for work until the first soak or wash has taken place as I'm currently wearing them with a big 3 inch cuff which isn't suitable for work. They've already got some nice whiskering and I can tell they are going to look great in the future. They feel great and I'm looking forward to future adventures with them. My only concern is they are still a little snug in the waist so I may bath soak them while wearing them, and then wear them wet until they dry to avoid the waist shrinking too much (unless anyone has any other suggestions?)."
Writing and photography: Russell Huggins.