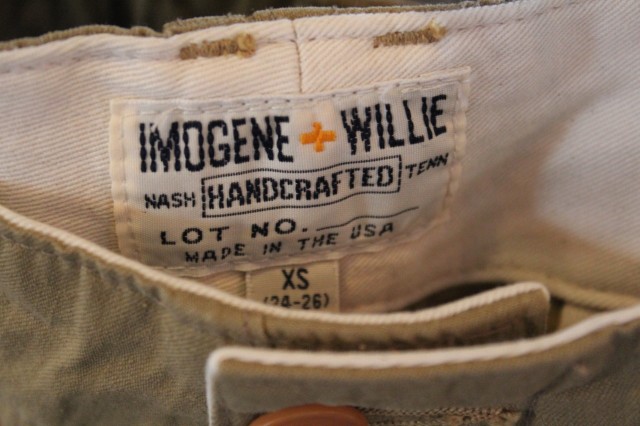 Five years ago Matt and Carrie Eddmenson found themselves out of work. They had both worked for Carries family business, creating fits and washes for the big guns in denim. With the range of experience in denim that they both had it would have been the simpler choice to find a job for one of the big brands. However, they chose the road less traveled; they chose to use the knowledge, experience and passion they had accumulated and poured it into imogene + willie.
The name imogene + willie stands testament to their grandparents who instilled in them all the values they needed to make the business a success, a day's hard work, the importance of quality and the value of truth, and yes this can extend to an item. Maybe the most valuble lesson was not to give up, and they didn't. Now alongside a small and dedicated staff Matt and Carrie have created a brand that can truly live up to these values. These products, alongside other well chosen items that compliment the clothing, now sit in perfect situé in a converted gas station in Nashville, Tennessee. Fitting in perfectly with the blend of vintage Americana and other items of curiosity from all over the globe. We interviewed Matt to learn more about the upcoming American brand.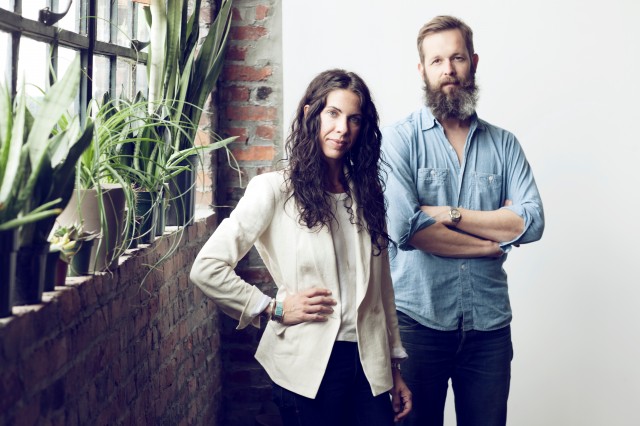 You clearly have a passion for clothing, how did it all begin?
"I have a lot of passions; clothing, well, it's a job now and any time you turn a passion into job it is sometimes hard to remember why you ever started. For me, my love affair with denim started when I took a job working for my wife's family's company Sight Denim Systems, a wash house in Kentucky. I fell in love with the history of denim and really loved identifying and dating vintage Levi's. Working for SDS gave me the opportunity to see vintage Levi's from the Levi's Archives. I have actually held the pair of Levi's that sold on eBay for 46,000 dollars. Of course I had on white gloves!"
Can you tell us a little about your background?
"My wife Carrie and I have known each other since we were 12 years old. We got married when we were both around 31. At Sights Denim Systems we both designed and developed fit and washes for RRL, Levi's, and a lot of other really big names. In 2008, that business closed and Carrie and I were left with some really hard decisions, either go work for one of the big names, or start something ourselves. We obviously chose the latter. It was the best decision we ever made!"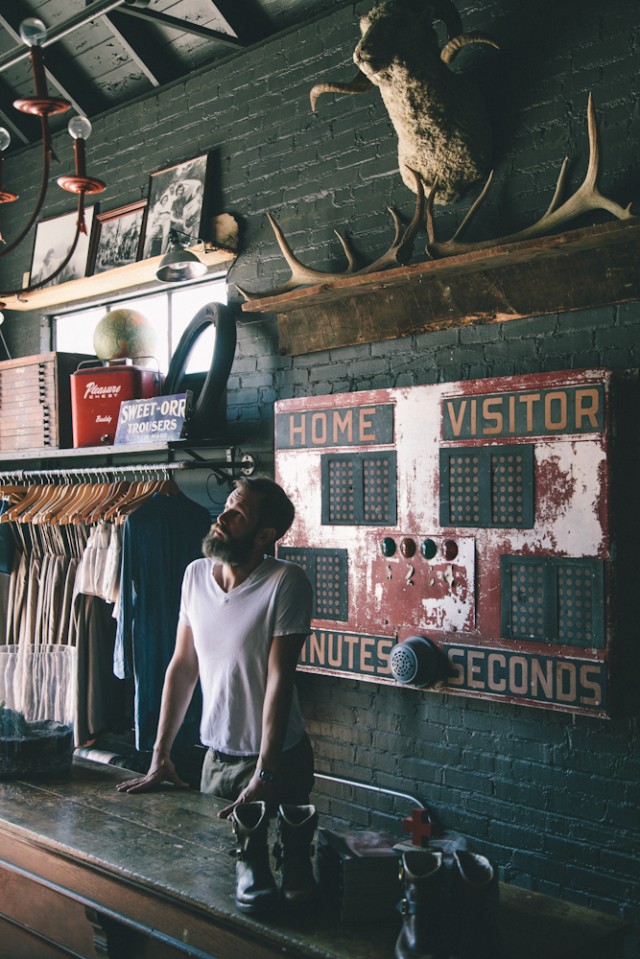 What is the concept behind imogene + willie?
"The brand is named after Carrie's paternal grandparents and the concept is simple; make garments that last and never go out of style. We believe in quality and although that road has been a very difficult one to travel, we strive to make clothes that not only fit well, but also could pass down generation to generation."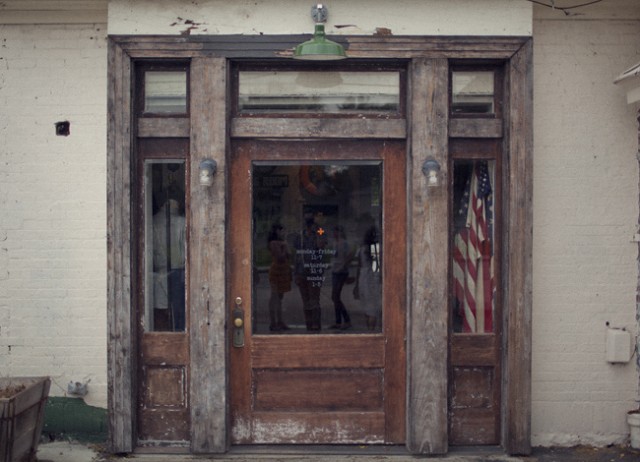 As well as the production of clothing you also have a store, is that correct?
"That is correct. We have a store here in Nashville, Tennessee. It's in an old service station from the 50s. The building itself has taken on its own role in our company. It's a great place to come and work every day."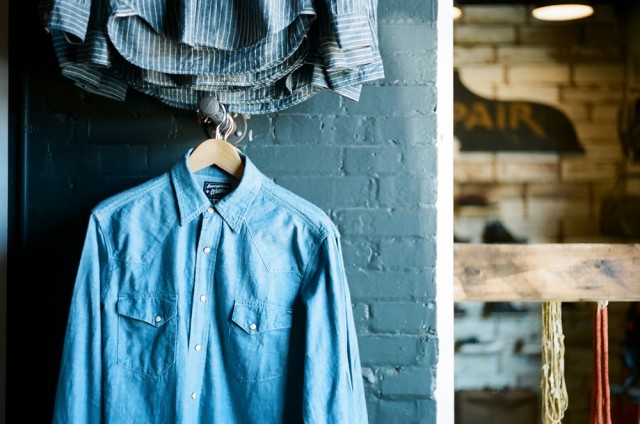 What was your motivation to open the shop and launch the brand, did the one spring from the other or was it done in tandem?
"At first we didn't know how the brand would be received. So we threw a few darts at different business models when we opened the shop. When we first opened we carried a lot of great brands that sat beside our jeans. We made a few shirts and dresses to compliment the jeans. We were also making limited edition pieces for RRL. As time went on, people really only seemed interested in what we were making in the shop. This gave us the motivation to only carry imogene and willie in our store. We still have other brands in our shop, but all those brands are accessories brands that again compliment the things we make."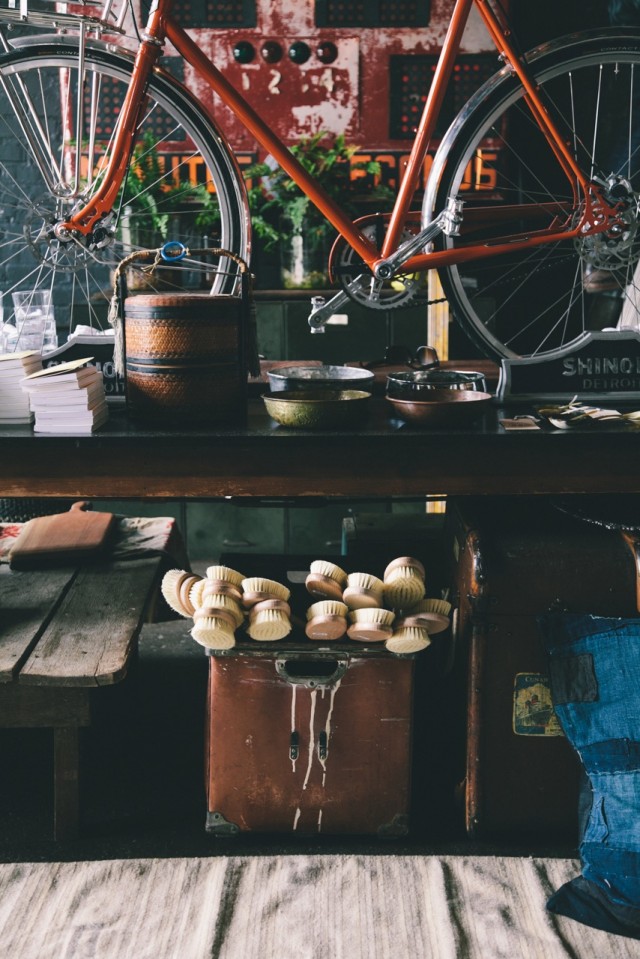 What inspired you for the look, feel and merchandising of the store?
"The inspiration for the store really came from our other business. Carrie has an amazing sense of style and taste. She lived in Istanbul, Turkey for four years and brought back some very unique pieces. We love to pair old and new. I grew up going to garage sales and have a real love affair with the local flea market. I pick up things here and there and that's how we have gone about decorating the store. It really is just a continuation of our home."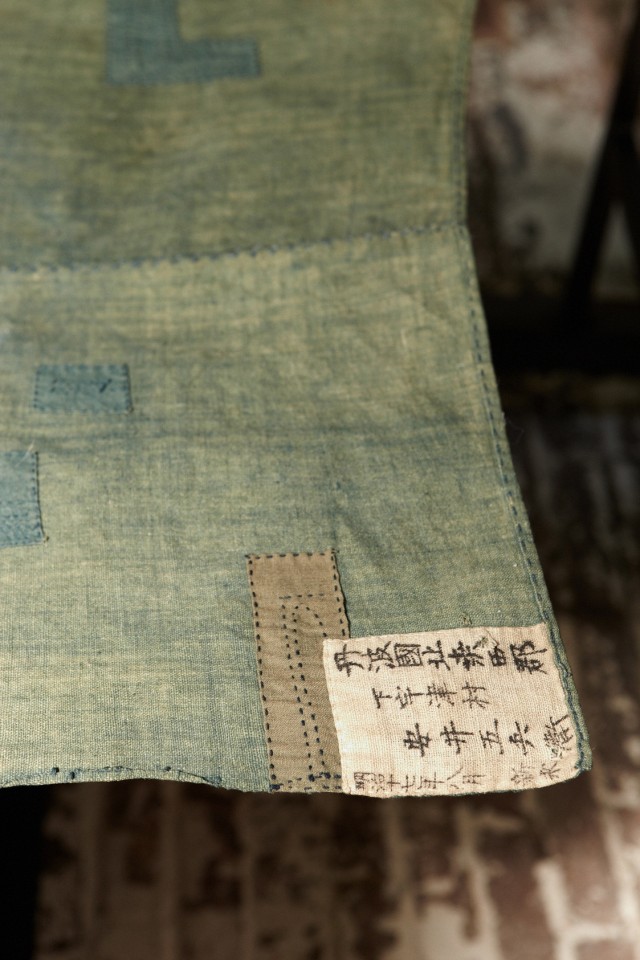 What has been the biggest challenge you have faced so far?
"I think the biggest challenge we have faced so far has been figuring out how to grow a business without losing sight of why we started the business in the first place."

Do you remember your first pair of jeans?
"I can't say I remember my first pair of jeans but I'm sure they probably had an elastic waistband. I do however remember the first pair of jeans that mattered to me. I went to New York City my first year of college and everyone was wearing Levi's jeans with a five inch cuff and fresh sneakers! I fucking thought it was the coolest thing ever. So of course I spent my rent money to buy a pair and rocked them for the better part of the year. That was until my grandmother washed them! Needless to say this was the first time I actually cried over a pair of jeans. Wouldn't be my last either."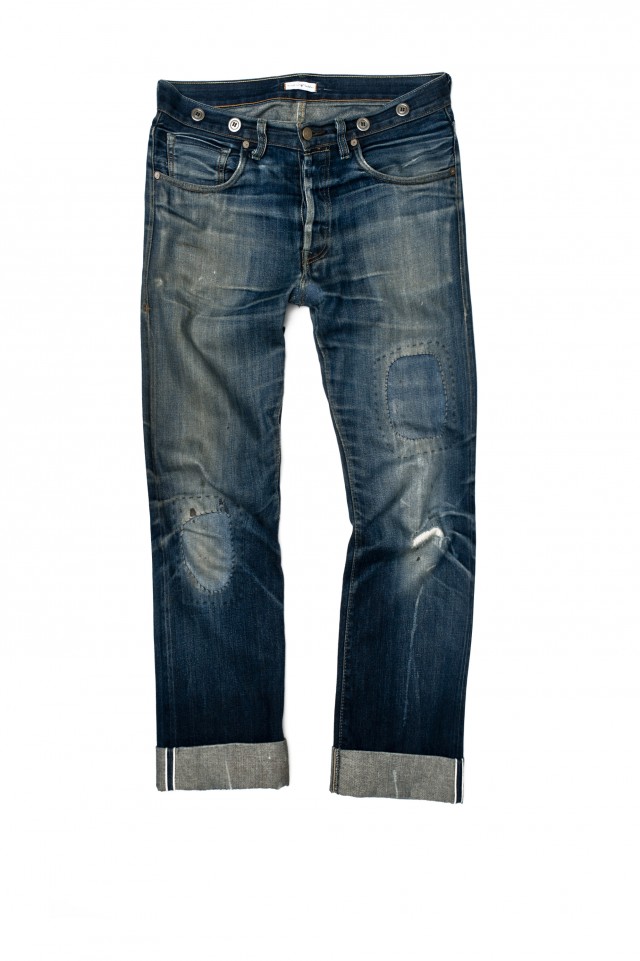 Why do you think raw denim has become so popular recently?
"Let's face it; wearing your jeans in from rigid is like an art project. It's really awesome to see this very gradual change that happens over time. I think people like the idea of waking up with not much thought behind "what" they are going to wear that day. Rigid jeans take care of that for them. I only wear in one pair of jeans at a time. This keeps me from being all over the place when it comes to jeans. I have unlimited access but when you wear several jeans in at a time, to me, it just takes the fun out of it!"
What do you love the most about denim?
"I think the thing I love most about denim is how much it changes over time. The very first day of wearing a fresh pair of jeans in sucks! Although I will say it's still fun, but I usually can't wait to take those bastards off when I get home from work. But by day 5, they feel great and by day 364, you never want to take them off. Denim becomes a sort of timeline to your life. I have spilled just about every condiment ever made on my jeans and I have to say, I remember what I was doing and whom I was with when it happened. What other article of clothing allows you to do that?"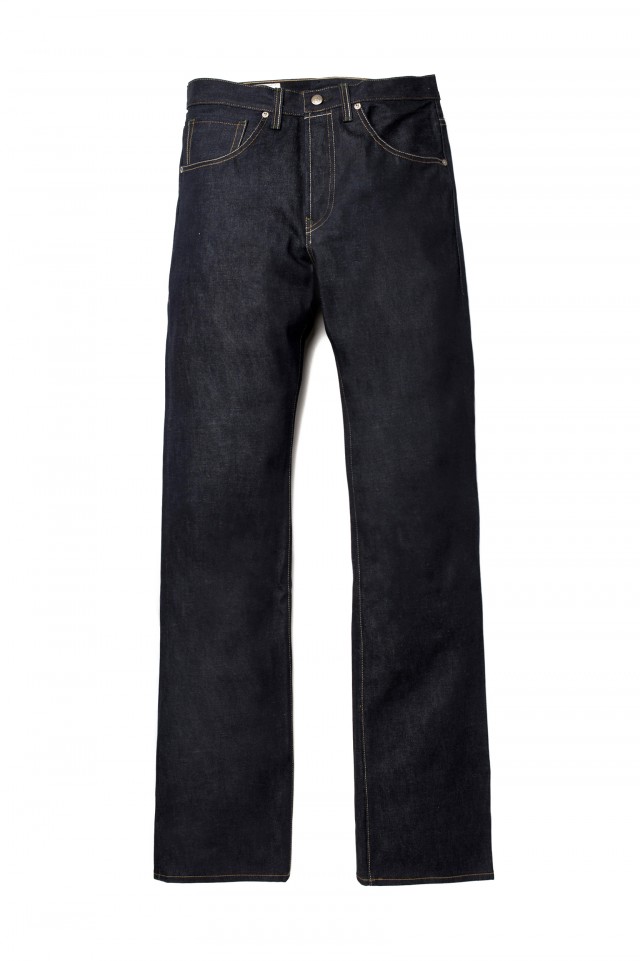 How do you wear and treat in your dry denim jeans – any special routines?
"Yes, I always start out by putting my jeans in the bathtub. I run lukewarm water, soak them for a few minutes, rinse them in cold, let them air dry until they are almost dry, throw them on and wear the hell out of them. For me, this does two things. One, they don't look like you just bought a new pair of jeans and second, by doing this you get the starch out of the fabric. This cuts down all the crotch holes. I have not only had the best results by doing this, but to me, it's probably more of a ritual than anything. It's almost like telling myself, 'Okay, here we go again!'"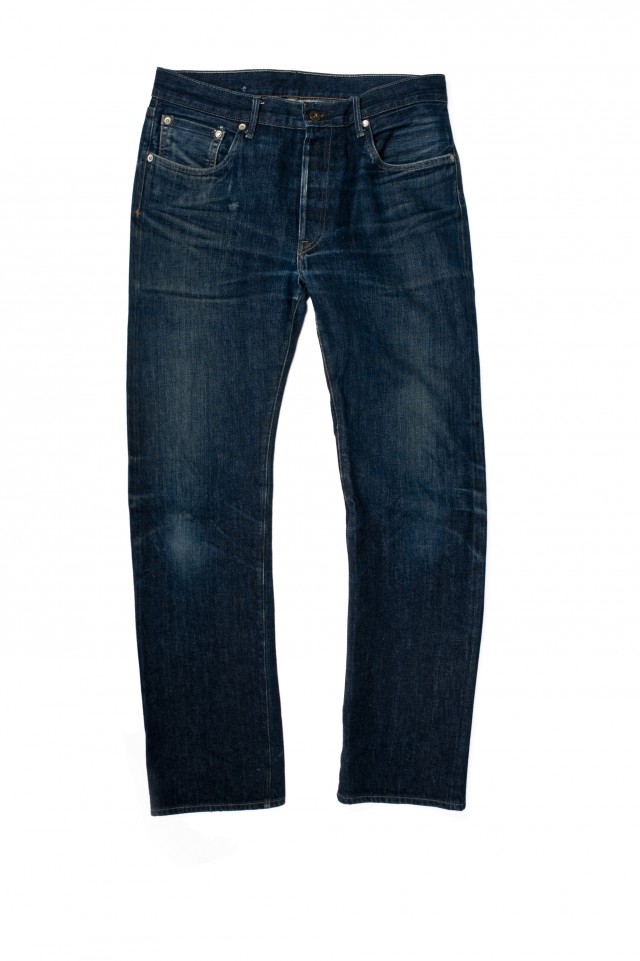 What do you recommend your customers to do regarding breaking in their jeans?
"I tell all our customers the same thing. Wear em', that's all! Don't be scared, just wear them. I also tell them that if they ever have any questions to call the shop and we will help with any of those hard decisions like, "to wash or not to wash?" That is the question."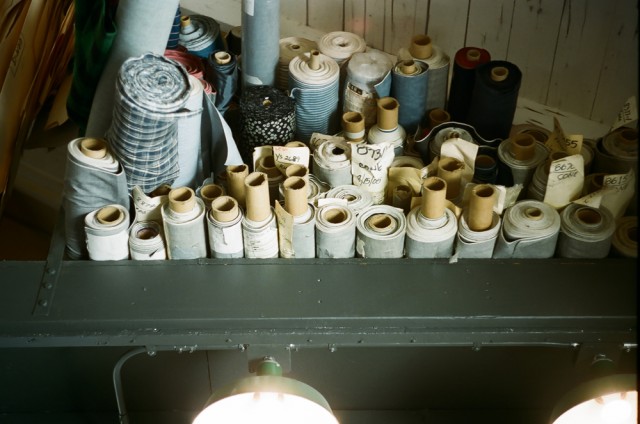 Do you collect anything?
"I do! I have a BAD motorcycle habit. I start every day off with educating myself on all different types of bikes. I love it! I would have a motorcycle in the bedroom if my wife would let me."
How many pairs of jeans do you have in your private collection?
"I have five pairs. One for each year we have been in business. I think people expect me to have thousands but I live by the same philosophy that I give to our customers. You don't need five pair of jeans, you just need one, and when those start to fade and break down, buy another pair … and so on … "
Which pair are you most proud of, Firstly your own personal pair then perhaps the pair from your collection?
"I have a really old pair of Wranglers that I am very proud of. They look amazing! I also have a pair of 1955 Levi's 501 that have a lot of repairs. I have retired those now. As far as imogene + willie goes, my go-to pair is the willie. It's the first jean I ever designed for myself but the pair I'm most proud of is the Barton. The Barton came out of "what was missing" from our collection. It's named after my brother-in-law Bart. Bart works for Levi's and wears Barton's to work every day (or at least I like to think he does)!"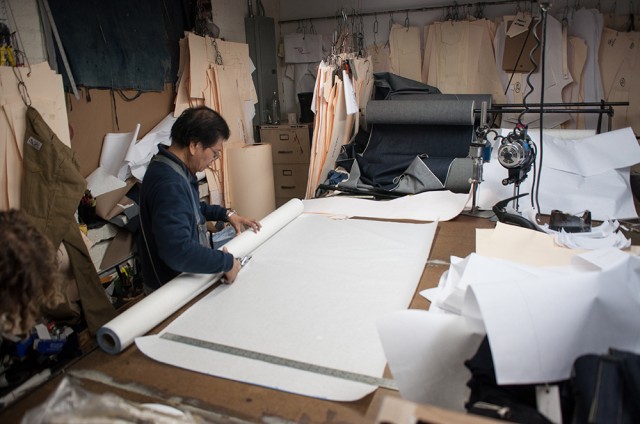 Are there any up-coming or unknown brands that you think are worth looking into?
"Nashville has become such a creative place for up and coming designers. One that stands out is Otis James. Otis and I worked on a project last year together where we made 25 limited edition hats made from left handed twill denim. The fabric was owned by one of the creators of Easy Rider Magazine. He used the denim fabric to cover his motorcycle seats. So awesome!"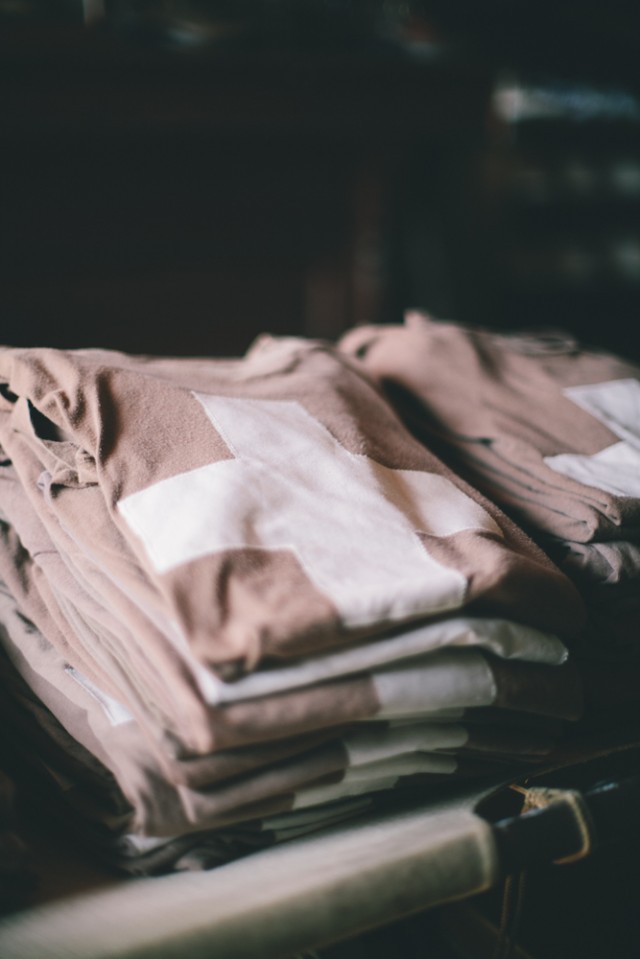 Where will imogene + willie be five years from now?
"Hopefully, around! We have plans to open another store either late this year or earlier next. We are using the next few months to lock in on a city. Stay tuned!"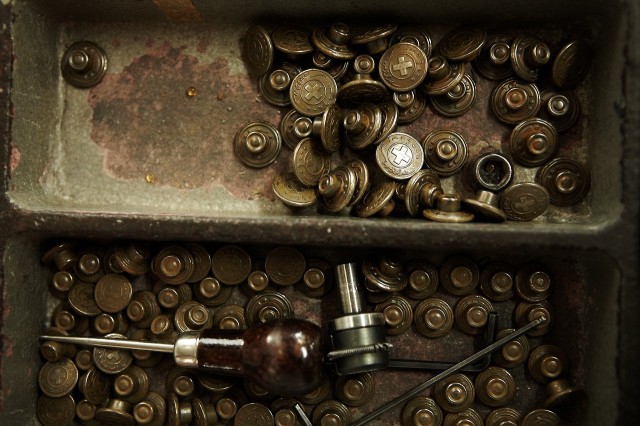 To learn more or get a pair of imogene + willie jeans visit their website.