Brand Profile: Paleo Denim
Paleo Denim produces high quality jeans, leather accessories, and bike paraphernalia out of Austin, Texas; the first jean producer in the Texan capital since operation started in 2011. Owner and operator, Richard Cole has been producing jeans for nearly six years. His urge to learn to sew came from the frustration with jeans that lacked character and fell apart after just a few washes.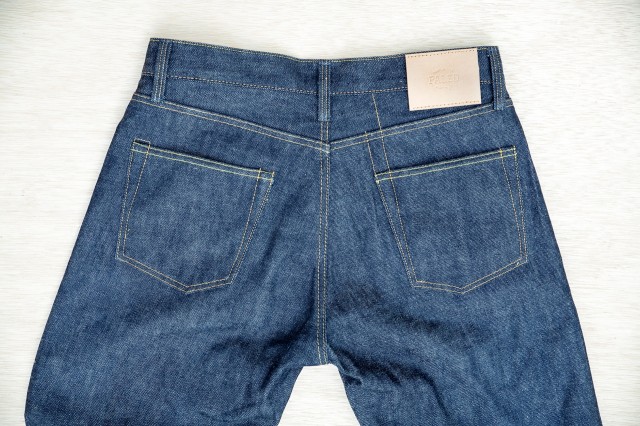 Before dedicating his time to making jeans Richard used to work in media, but he realised he didn't have any hand skills; that he couldn't create much in the way of physical objects. Finding meaning in using his hands Richard started to make jeans. A couple of years ago he decided to establish a brand in its own right out of it to justify to himself the expense of industrial sewing machines and to spare himself feeling ridiculous for his obsessive desire to learn about jeans. Today, Richard has a hand in every phase of the Paleo Denim production process from cutting the pattern to putting in the very last rivet.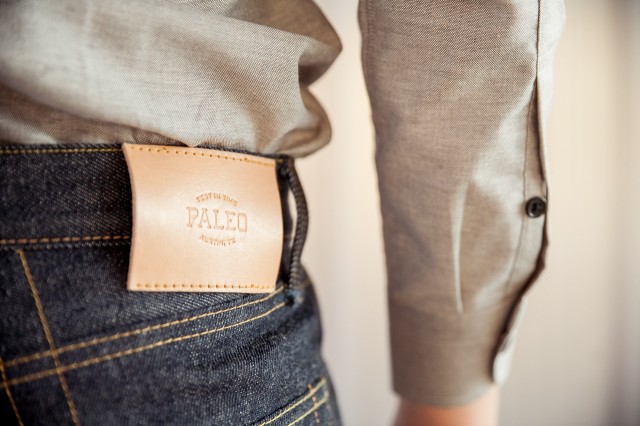 The name and spirit of Paleo Denim originates from Richard's memories of fossil hunting with his father, an amateur paleontologist. "The conditions you're in while hunting fossils really shreds clothing so everything must be very durable. Everything about the process speaks to change over time, development, and decay, all the things that make denim so fascinating as well," he explains. Every pair of Paleo Denim jeans is made with this philosophy in mind. Most fabrics and hardware are sourced in America, the denim is from American Cone Mills White Oak and Japanese mills like Nihon Menpu and Kaihara, and the use of high quality inputs creates goods that will last with time and beautify with age.
In between sewing jeans Richard found the time to answer a few of our favourite questions.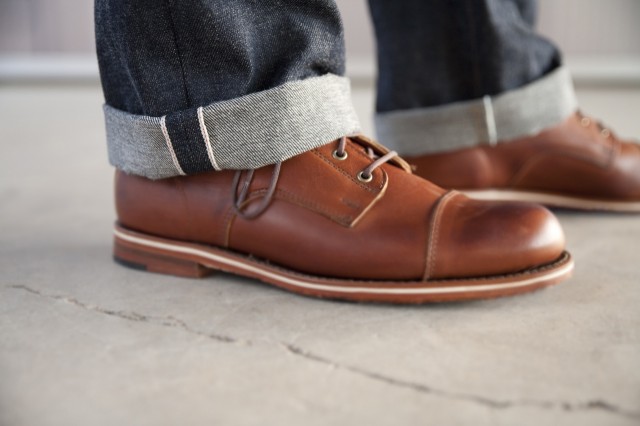 Do you remember your first pair of jeans?
"Not very well. I didn't own a pair of jeans until I was 18 or so. I remember the first pair didn't fit very well and didn't last very long. It was frustrating especially since I didn't know there was another option."
What do you think attracts people to denim today?
"It's been an ugly decade of uncertainty. Everyone can feel comforted by their favourite jeans, it's very accessible. The internet has also allowed a proliferation of microbrands and radically well educated consumers. There's more interesting things going on and more access to them than ever before."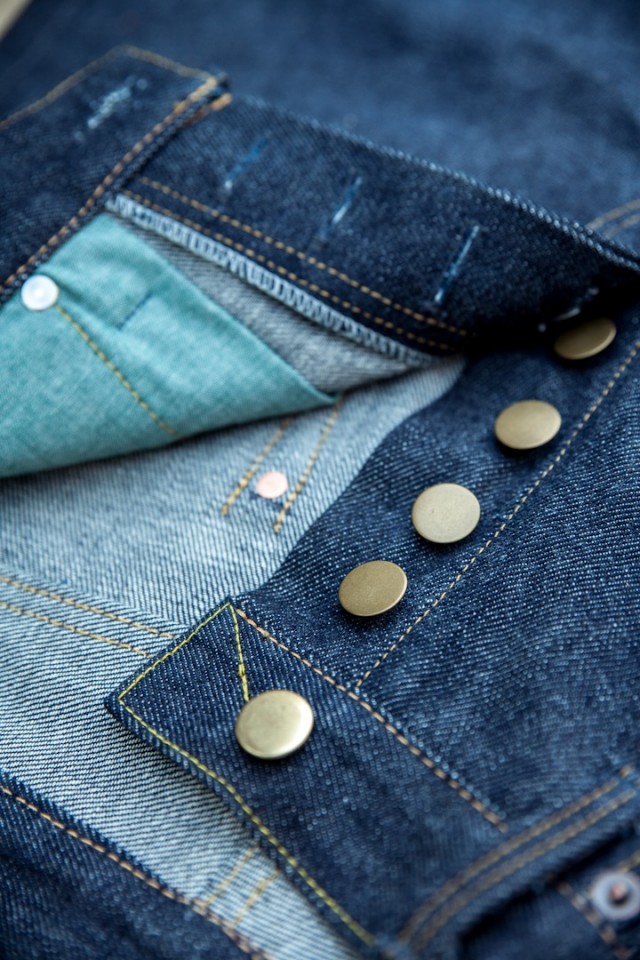 You must hear this a lot, but what do you love the most about denim?
"Probably the paradox between the durability and the transience (both in indigo and utility). Denim is hard to nail down, it seems to be on the move."
What would you recommend your customers when it comes to washing?
"I recommend a soak early on. Stiff fibres and coarse threads can be softened with a soak and improve durability."
What is your own wearing and washing routine?
"Nothing too special. Wear hard, repair early. I hand wash with Dr. Bronners Soap. I would advise against letting jeans go through the spin cycle on a washing machine. No clothing should go in the dryer – dryers destroy everything prematurely."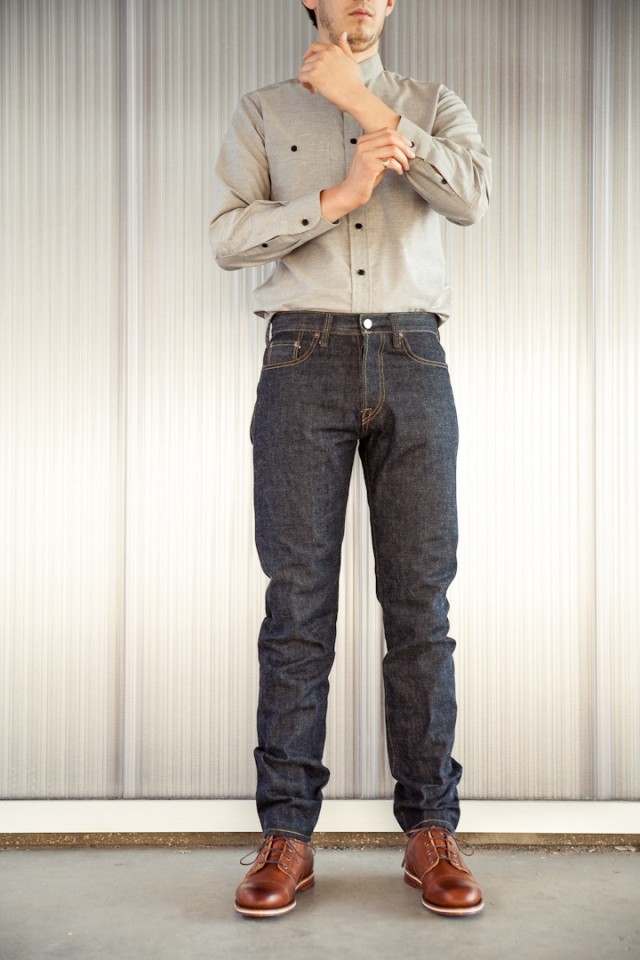 Do you collect anything? 
"I have a collection of batik, woodblock and relief dyed indigo textiles from all over South East Asia. The variety is amazing. I also keep a small fossil collection."
Which pair in your private denim collection are you most proud of?
"The first pair of selvedge jeans I made (below). I've been wearing them for about 5 years now, I had to put 7 more patches in them last week. I think I've patched them around 30 times in total. They started off as really unremarkable Cone denim but have turned into something very dear to me."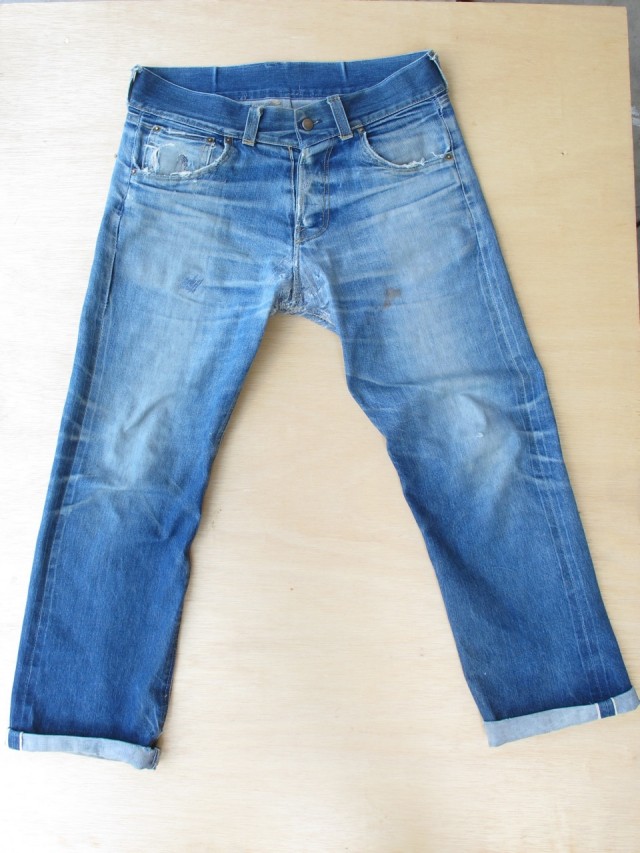 What's your favourite brand and fit?
"I have a soft spot for my Samurai 5000VX, they're very well balanced."
Are there any brands that you think are worth looking into?
"Plenty in America, we're headed to a very nice ecosystem of brands in the same way each city now has micro-breweries and coffee roasters."
Where do you hope Paleo Denim will be five years from now?
"Developing proprietary fabrics from American grown hemp and organic cotton."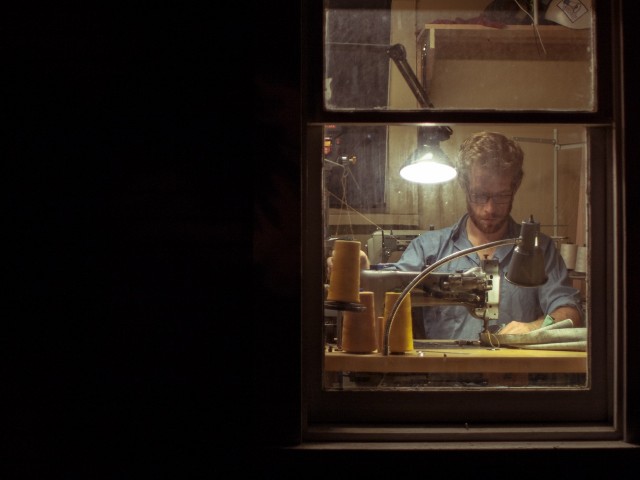 Visit Richard's website to learn more and remember to follow Paleo Denim on Facebook.