Hiut Denim Co.
It is funny how life works sometimes. You start a small thread and through no obvious rhyme nor reason more and more details fall into place, more avenues open up, and more information comes your way. Recently we featured the Nudie Production Guide in an article that briefly covers the demise of the West's ability to produce things. Yet that same article also hints that there is hope and that there are people, motivated people who are making the effort to bring back industry to their particular neck of the woods. Hiut Denim Co. represent one such group of people.
Now, when you think "demise of denim production in the West" you probably think of Valencia Street in San Francisco. You would never think Cardigan in Western Wales. However, there was a production facility there that churned out 35,000 pairs of jeans a week and had done for 40 years. That is a lot of jeans and a lot of knowledge, and in this small community denim became part of the heritage of the town. That was until 2001 when the factory closed its doors and 400 people lost their jobs. Nevertheless, the legacy of denim remains in the town, how could it not, and David and Clare Hieatt of Hiut Denim Co. fully intend to bring it back to Cardigan, one job at a time. 10 down, 390 to go.

David took some time off to take us through the concept behind Hiut Denim and tell us all about what he hopes to achieve and his own personal love for denim.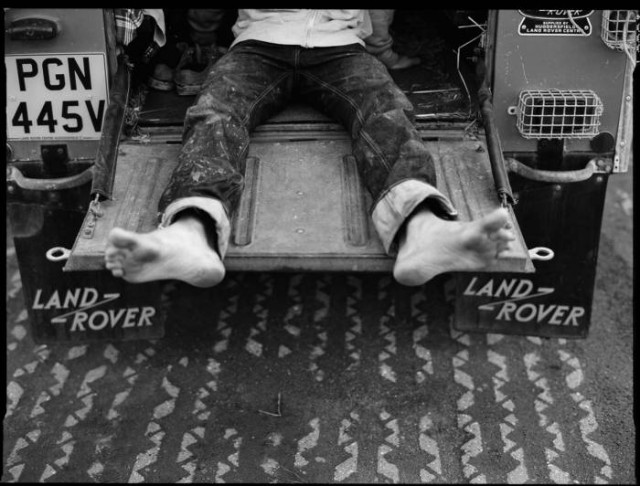 You clearly have a passion for denim, how did it all begin?
"I left school at 16. I borrowed £500 from my dad. That was half of his life's savings. I started selling sportswear from a market stall in the South Wales valleys. Within 6 months I had lost all his money. He asked me what I had learnt, and I told him that I had found something I loved doing. He said, in his gentle way, 'I should learn how to get good at it. That way, I could keep doing what I love'."
What is the concept behind Hiut Denim?
"My town knows how to make jeans. It made 35,000 pairs a week, every week, for nearly 40 years. In 2001, that factory closed down. So the reason we started the Hiut Denim Co. is to create a global denim company that can go and get 400 good people their jobs back."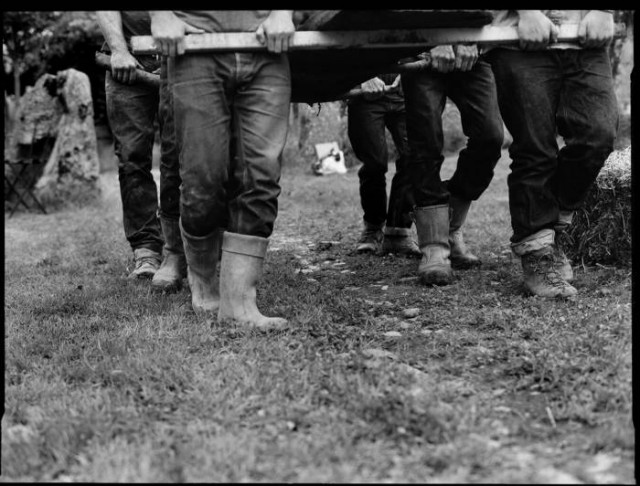 How many people are involved in Hiut Denim Co.?
"We started out with 5 people. Now there are 10 of us. Each day we come in and fight to create the other 390 jobs. Who said dreams have to be sensible?"
What are your backgrounds?
"Like I said earlier, I have always wanted to start my own thing from an early age. I got thrown out of college after my first year. The only industry that would employ me was advertising. I was taught by a non-conformist, a dreamer, a rule breaker who went by the name of Paul Arden. I was lucky to have him as my teacher. Although, it didn't feel like it at the time. Clare, who is my partner in life and at work, didn't get thrown out at college. We were from the same village in Wales, but we started living together in New York. She was a very talented writer and worked at some of the really inspiring companies in London including The Body Shop and Imagination. She runs the business side of things, but I would say she is the real business brain in the company. And as a partnership, it works very well. I do the creative. She makes us a business."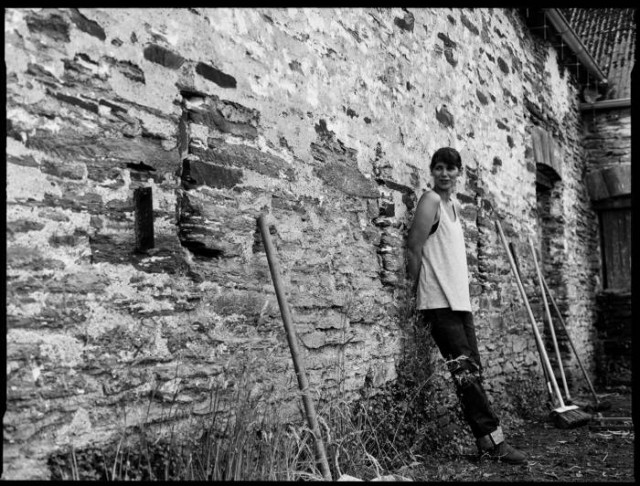 How did you get into the denim business?
"We had another company before Hiut Denim Co. We made jeans and fell in love with denim. We were lucky to work with Gideon Day who taught us all about the nuances of denim. Again, I was lucky to have had a good teacher."
What was your motivation to launch the brand?
"The motivating picture in my head is of 400 good hard working people smiling because they got their jobs back. That keeps me pushing forward."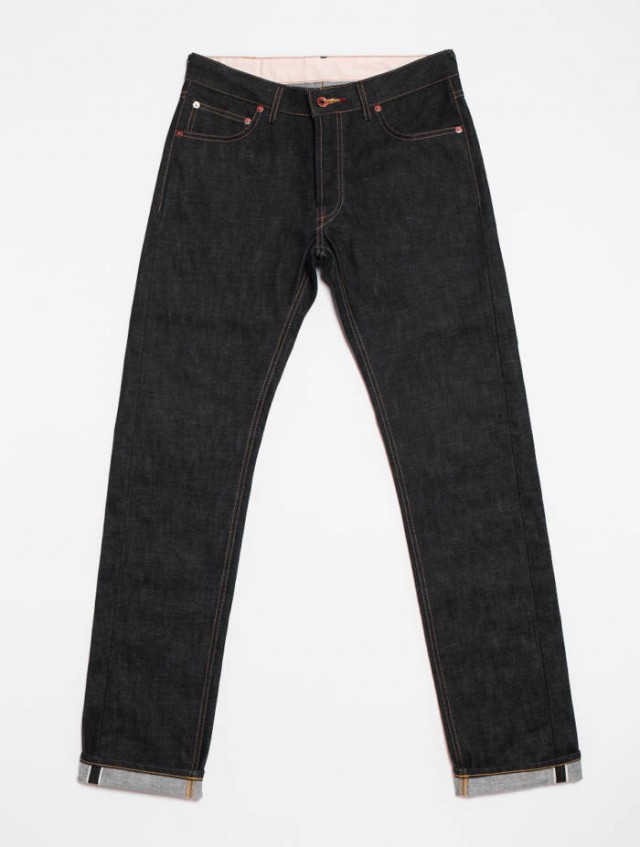 What inspires Hiut Denim when creating fits and style of the jeans?
"I love simplicity. I love it when something is so understated it fly's below the radar. Nobody is drawn to it. It doesn't get talked about much. It is just there. But it is, you know, right. And it endures. It doesn't seek attention. It doesn't shout. But there isn't anything you want to change. There is a great deal of thinking involved in making something as simple as you possibly can. I love simple."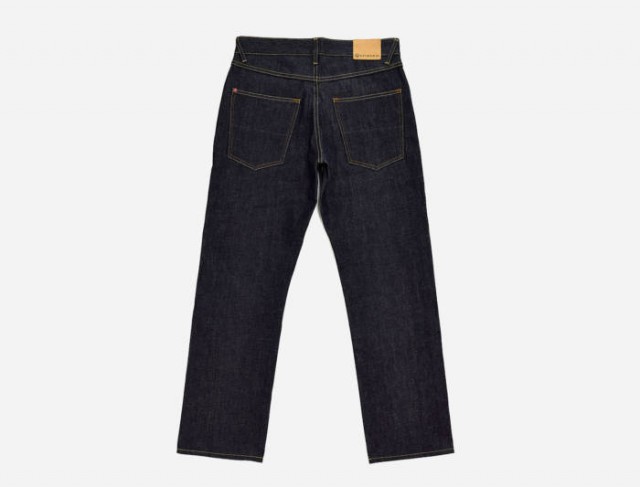 "As for fits, we are lucky. We have a team with over 200 years of experience of making jeans. The fits get a great deal of our attention. When we have a new fit to launch, the GrandMasters come together and we work on it for months. We make a lot of samples. We keep pushing it. We can go from pattern to sample in hours. But then we spend a good deal of time testing the new cuts using wearer trials. We don't have many styles, so we devote our time to getting them right. We launch them when they are ready, we don't give them a deadline. We are lucky. We have our own factory. We only make our jeans. It is a huge advantage for us. And, in the end, our customers, as we are so consistent."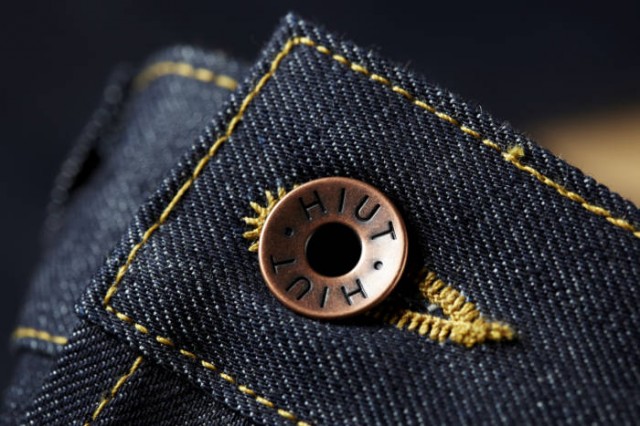 Which pair are you most proud of?
"The first one. Because it meant we had crossed the start line."
What do you recommend your customers to do regarding breaking in their jeans?
"We only sell raw denim, so for us, the longer you can leave them without washing, the more beautiful your jean will become.
We encourage our customers to join the 'No Wash Club.' That's a club for people who go 6 months without washing."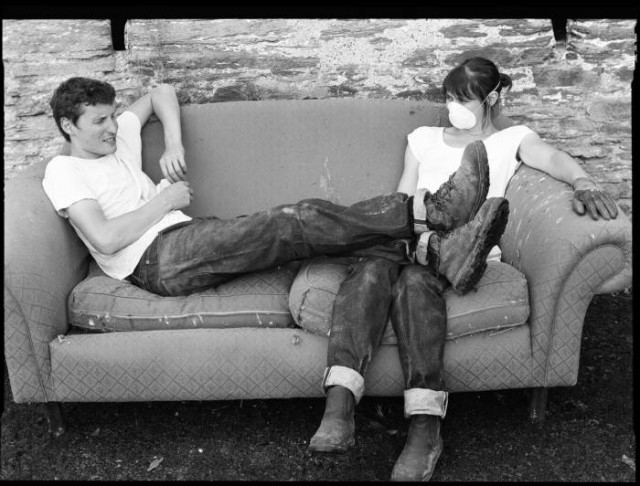 The No Wash Club rules:
1st rule: Six months without washing means six months.
2nd rule: No cold dip in the bath.
3rd rule: No showers.
4th rule: Rain happens. Get an umbrella.
5th rule: Freezing them is allowed.
6th rule: Airing them on a washing line is allowed.
7th rule: Rest days are allowed.
8th rule: If you are going to try, go all the way.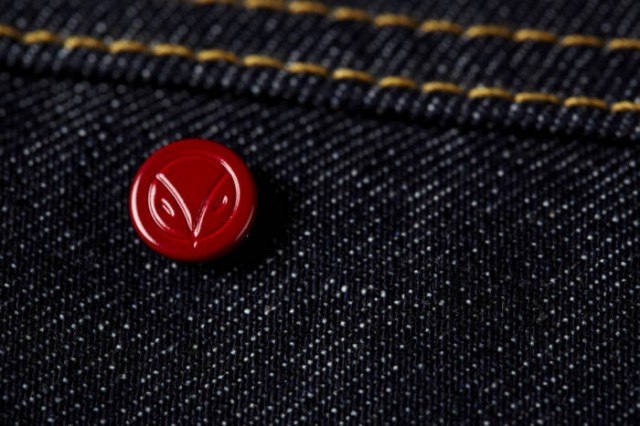 There used to be a production facility in Cardigan which manufactured jeans. Did you find that a lot of the expert knowledge still existed when you went into production?
"This town is like no other. The man (Claudio) who cuts our jeans has cut jeans for 39 years. The postman who picks our orders up each day, he has cut jeans for 20 years. If you go for a driving lesson, they could teach how to sew a pair of jeans. It is a small town, but the skill here for making jeans is just incredible. Hollywood has actors. We have jeans makers. Again, this was pure and utter luck."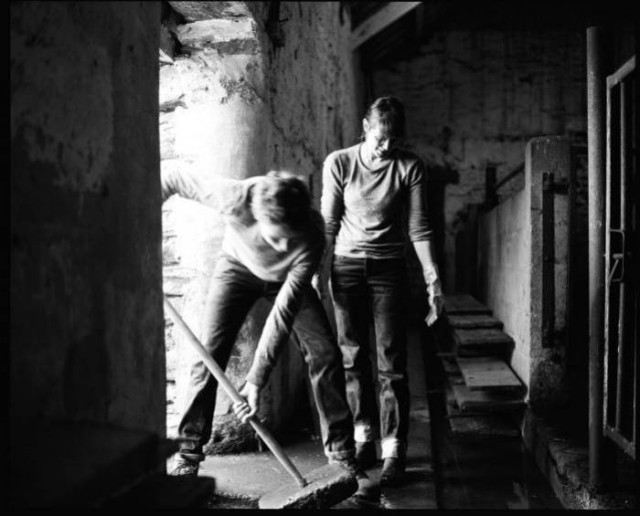 Were there still factories with the equipment and set-up or did you have to start from scratch?
"Alas, all of the equipment had long gone. So yeah in terms of machines it was a case of getting on the phone."
How has the local reception been, are people happy to see jeans being produced in their town again?
"I guess the town was so excited. Making jeans is what the town is world class at. Like humans, a town can lose confidence or its Mojo. Losing its biggest employer was a huge knock for the town. So now it wants to show the world that is back. And it hasn't forgotten the skills it took 4 decades to learn."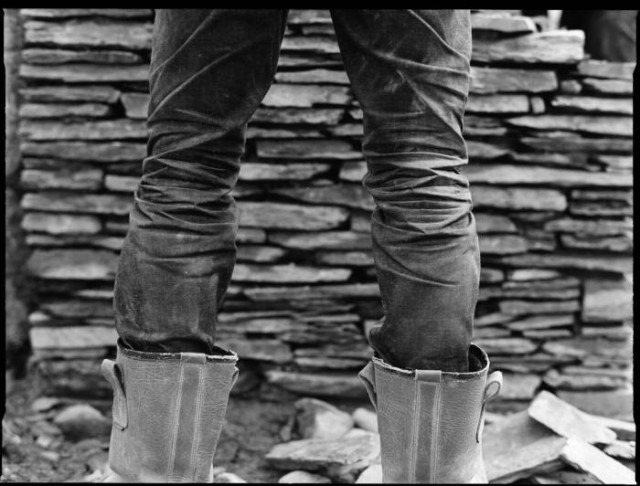 Why do you think denim has become so popular recently?
"If you think about coffee for a second: We demand great coffee now. We tasted it elsewhere, and now we want it back home everyday. The bar got raised. Once you taste great coffee it is hard to go back."
"And just like the coffee geeks pushed coffee forward, the denim geeks pushed the jeans forward. People have got used to quality denim now. So there is no going back. They know quality costs a bit more, but they have to come to realise that expensive works out cheaper in the end because quality lasts. I think we have learnt to admire companies who have a great skill. We admire the makers much more now than we ever did. I think bloggers have played a vital role in showcasing excellence and that has in turn helped to raise the bar in the denim world."
"For us at Hiut denim Co, it feels good to be accepted in the makers club. It is a very small club these days. But everybody is trying to help each other out with finding old machines and great mills etc. That feels good."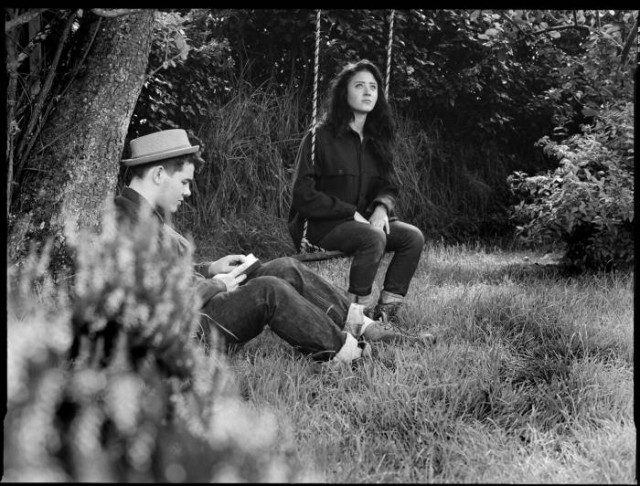 Do you remember your first pair of jeans?
"I used to write to Wrangler and Levi's as a kid and they used to send me free posters and stickers. Never underestimate the power of a free sticker to a kid. I had their posters on my wall as I grew up. I think my first pair decent jeans would have been a pair of wranglers."
What do you personally love the most about denim?
"I love how they age. And how they seem to get better with age. I wish I could say the same. I love the geeky-ness of the different mills and the different denims. In the factory, you can smell the real indigo when they are pressing the denim. It's a root vegetable with a very earthy smell. And I love how it has become a uniform for the creative man and woman of the world. For me those ideas people inspire me. The music they write, the films they shoot, and the companies they start from nothing. The change they make pushes this world forward. I would love to make jeans for these people."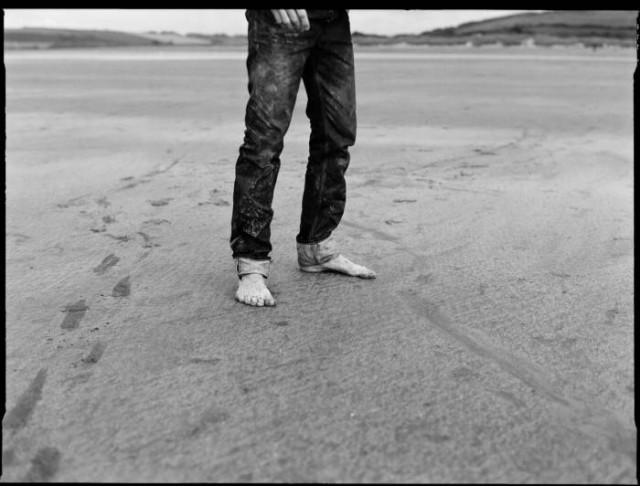 How do you wear and treat in your dry denim jeans – any special routines?
"I don't wash my dry denim for 6 months or so. It tends to get a bit interesting for us as we live on an old farm and mucking out. Then I wash them inside out in a cold bath. And put them on the outside table to dry in the sun."
How many pairs of jeans do you have in your private collection?
"I try to restrict myself to not having a new pair until I wear the old ones out. I have 4 pairs of Hiuts. I am given the prototypes for wearer trials so that's why I have so many. I mostly wear the Hiut Selvedge Slim Cut which I just love."

What's your favourite denim brand?
"Apart from Hiut, Nudie has my respect. And Jack/Knife over in San Francisco."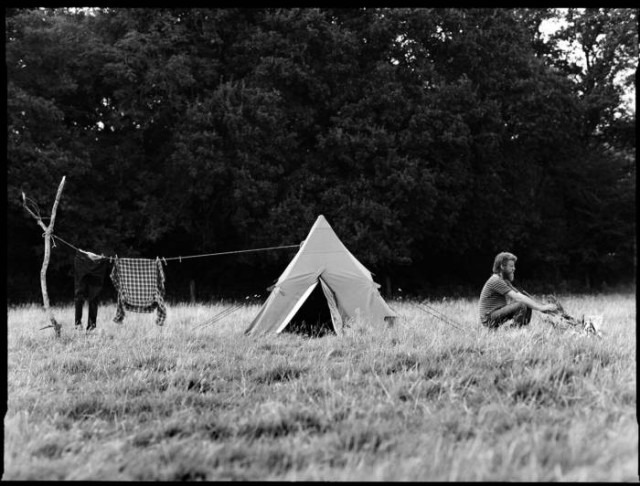 Do you collect anything?
"I collect Stanley Donwood prints. I think he is the most talented British Artists around. I told him I was going to collect his work. I only have two. Clare bought me one. And, I think, Stanley sent me one. I will start to build from there. Slowly, keeping an eye out for he is doing."
Are there any up-coming or unknown brands that you think are worth looking into?
"Noble Denim. He came over from America for 6 weeks and we helped teach him about getting the cuts and the patterns right. He is going to be a star."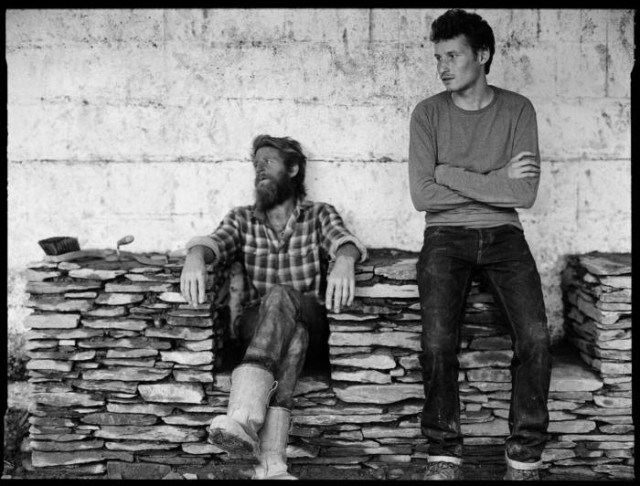 Where will Hiut Denim Co. be five years from now?
"I will judge Hiut Denim Co. not in conventional terms. I will judge it by the ideas it has and the change it makes. For me there is a strong correlation between how well the company does and how brave its ideas are. It will be our ideas that get people their jobs back. The denim industry had it most inventive day in 1873 when Mr. Davis and Mr. Strauss got handed a patent for a 5 pocket riveted jeans. If you look back, not much new has happened in the 140 years since then?"
"Like I said, our mission as a company is to bring ideas to the table. So when we launched the Hiut Denim Co, it was the world's first pair of jeans to come with a HistoryTag. It is a unique number, and when you register it online, it shows you 6 photos of your jeans being made, and then, you can update photos of where you go and what you did in them. Then one day, when they end up in a second hand store, their stories will go with them too. If we want our town making jeans again, we will have to do things that have not been down before."
We strongly advise you to head over to Hiut's website. Not only to admire the jeans but the site is also packed with information, pictures, details on groups and happenings as well as an interesting concept we will be covering soon. See if you can guess what it is!