Motor Circus at Mission Manx: There and Back
If you recall a few months back, you might remember the chat we had with the guys from Motor Circus.
They were a month away from a trip of a lifetime, taking their vintage BMW motorcycles from Berlin, Germany all the way over Belgium, the mainland UK and on to their final destination on the Isle of Man, just in time for the Classic TT.
They are now back safe and sound in Berlin with memories of good times, bikes and gear with a slight "patina" and a whole horde of good stories to tell. We sat down with Chris and Lemmi in the Motor Circus clubhouse, or "Herrenzimmer", to hear some of these tales, of course there was beer, maybe even a little whiskey but this time I was spared the scorpion.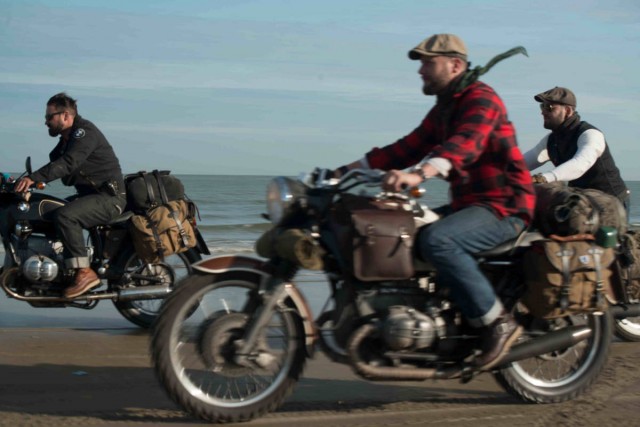 Ok, so first things first, how was the trip?
Lemmi: "Amazing, it was really amazing. Hmm, where do we begin, well. We expected bad weather but we had beautiful weather. We had heard that the food bad, most of the time the food was great! We didn't know too much about the people but everyone we met was lovely and really so friendly to us, always helpful and interested in our trip and our story. Because of this, because of the good weather, the great roads the beautiful landscapes we ended up doing so many more miles than we had first intended."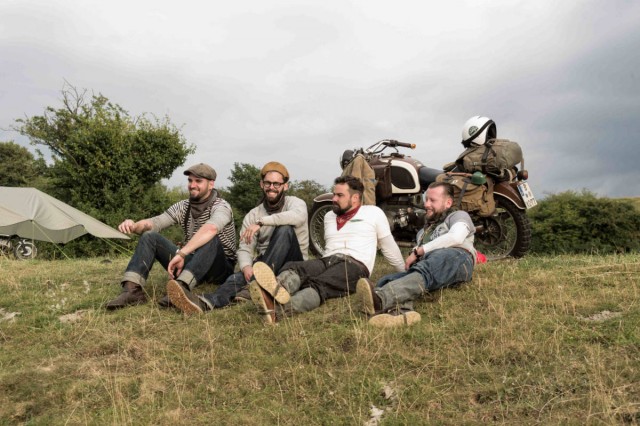 "We are all still friends, that's the main thing. There have been a few issues with the bikes but we all pulled together as a team with everyone taking care of each other. It was really good, really cool. When we finally arrived on the Isle of Man we expected a lot for sure, a lot of speed, a cool atmosphere but the first day just blew our minds, it was simply spectacular out on the road. We had our own spot on a really fast, slightly uneven part of the track. We were just blown away. We just stood there for three hours, smiles ear to ear and we did not stop laughing. You get this special smell from the Castrol R Oil, they came past so fast it was hard to see, they just flash past at 200 kph. Both wheels off the ground and all this with lampposts, letterboxes, houses, really just normal roads and these crazy guys blasting like hell through this. Just Amazing."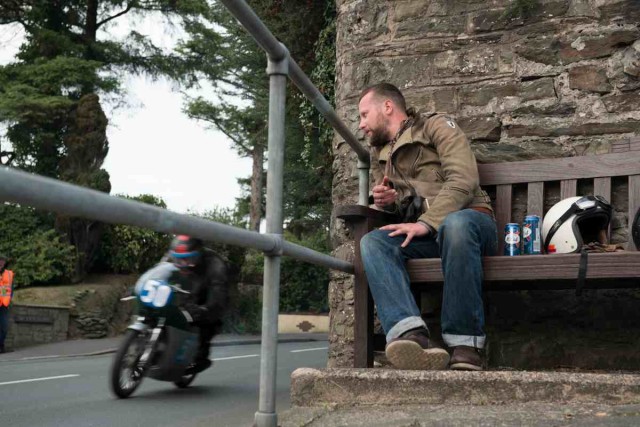 Chris: "The Isle of Man was certainly amazing but the trip as a whole is the real story. The places you see the people you meet, maybe even for only a few minutes or a few hours but you keep those conversations. During the whole trip, the time you are on your bike, you are alone on your bike. Certainly you have your mates around you but whilst driving you are almost meditating. It was also important that we do this without all the plastic, no Gore-Tex and all that. And it worked. Ok we had good weather but we felt it was authentic with the bags, clothes. Really in the spirit of the bikes. I mean, we just had the gear we carried with us on the bikes."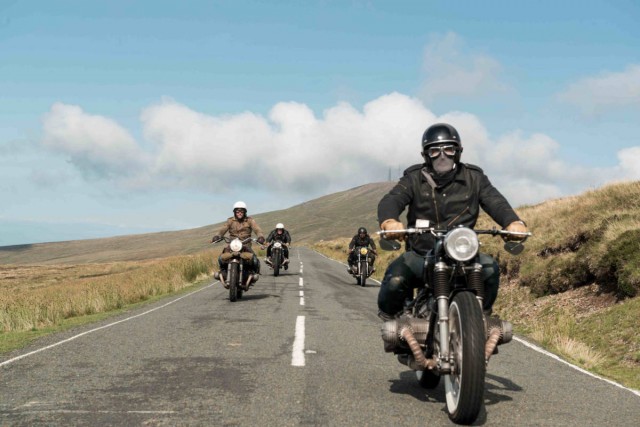 So, there was nothing you carried with you in the film car?
Chris: "We had a couple of spare parts for the bikes that did travel in the car but all the gear that each rider had was on the bike. So, clothes, cooking gear, camping gear, you know."
How many kilometers did you do in the end?
Lemmi: "Oh, more than 4000."
Are there any stories that really stick out?
Lemmi: "Oh, fucking hell. Too many stories but there was one thing that sticks out in my mind. There was always one fixed point on the trip. We had to be at Haysham, England on a certain date as we had booked our tickets for that specific day. So we thought of the worst case scenario, what if a bike broke down and there was no way to repair it? The rider would have say on and repair the bike but the others would have to move on, catch the ferry. So, come Sunday, the day before we had to get the ferry. We were on the motorway, we had done about 100 km or so when suddenly there was just this big bang on my bike and everything's out. Lights out, engine out something's fucked. So I just pulled on to the hard shoulder and saw that the battery was cooking. The regulator from the generator was really old and all corroded. It pumped way too much energy into the battery, there was a short and the diode exploded taking all my bulbs with it."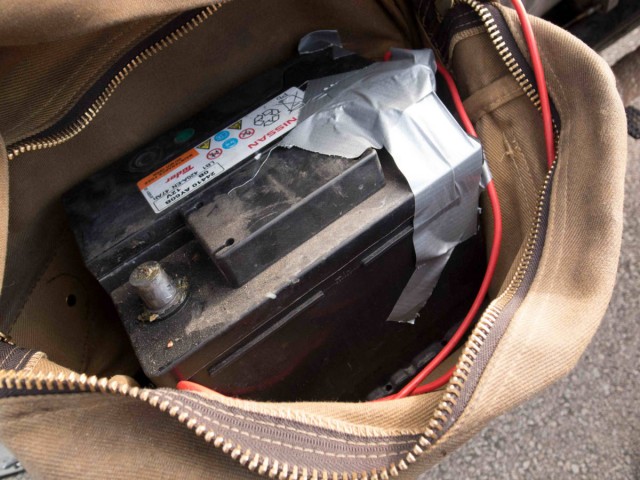 "Luckily Chris had a rope with him and he pulled me off the motorway to the middle of nowhere. All the other guys headed out in different directions looking out for something or someone who could help. I mean we needed another battery. I am not sure who it was, I think Torsten, he met a guy close to the motorway who had a service station. He was kind enough to give an old but charged battery to him, for nothing. This was really cool! Torsten came back with the battery, we took all the luggage from one of my saddlebags, threw the battery in there. Took all the cables from the generator off and led two cables from the battery to the ignition. Ok, so no light or anything but the bike ran. This is how we drove the last 300 km. Even when it got really dark, we went in formation with me on the left and all the guys around me. I had a torch Duck taped to the front but that was it. The team really pulled together, without their help I would not have made the ferry."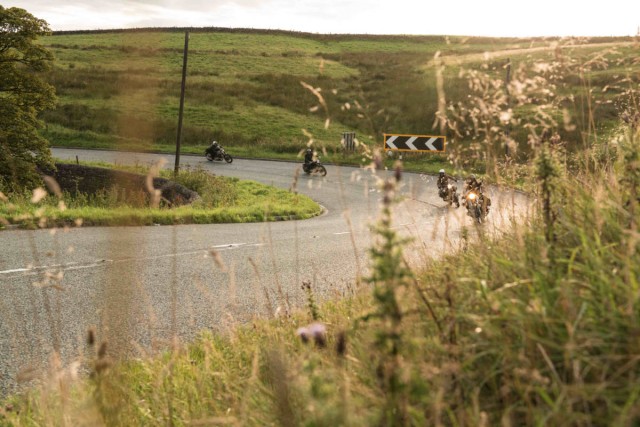 Chris: "We also heard a bunch of great stories from old racing drivers. The kind of "the fish was this big" kinda stories. (laughs) The atmosphere was so beautiful, the old retired racing drivers had such a good energy and we just soaked it all up like a sponge. It was not just the Isle of Man; there was also the Ace Cafe, we met the owner Mark Wilsmore, both on the Isle of Man and at the cafe, we had some really great times with him. We visited Brooklands, the first purpose built race track in the UK, this was an amazing spot."
Apart from the problems with the battery trouble, how did the bikes hold up?
Chris: "Just the battery problem but nothing else. They took us there, to our destination and back again. I mean, we are here, we did 4000 km with these old bikes we have many scars and scrapes on them. There's a patina on the bikes, like a shoe. You get your first little scratch and you say, oh shit! But then after a while every scratch is a story."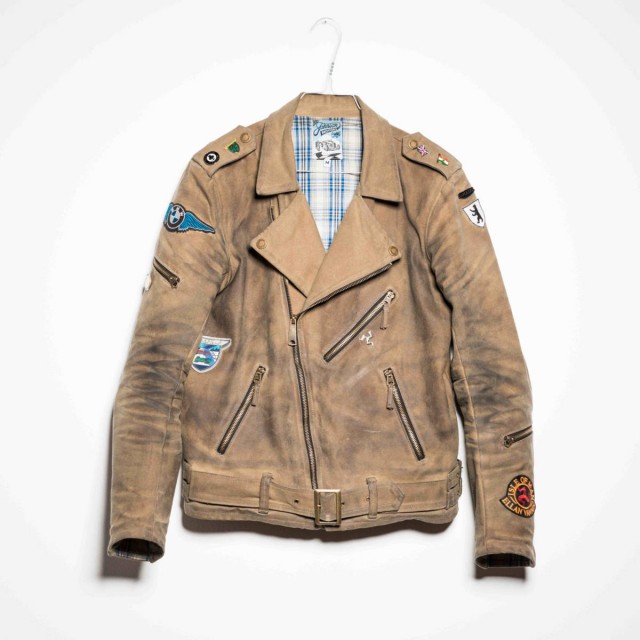 What about the gear?
Lemmi: "Just great. We got jackets from Johnson Motors and I have never had a better jacket. It is canvas, and to look at it you would never expect it to be waterproof. It came waxed but like we said we expected really bad weather so we waxed it a bit more. We hit some really heavy rain whilst we were still in Europe but not even the zip pockets leaked. The fit was perfect, little bit longer in the back and fitted, didn't flap around at high speeds.
The Filson Bags were really excellent too. Ok, they get a little damaged if you put too much battery acid in them but you know, they are not made for battery acid (laughs). Just like the bikes all the gear, the bags the boots the jackets did their job very well."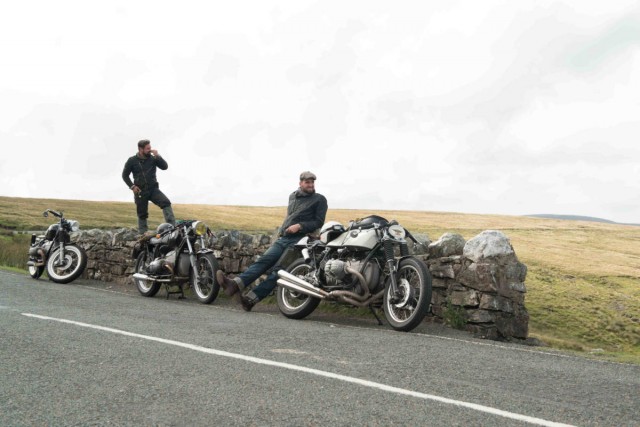 What's next for Motor Circus?
Chris: "We have a few plans and ideas in our heads. Motor Circus is still young. We want to catch up with people, make many new friends. Hopefully be an inspiration to people to do their own trips, in their own way. Our way is with the old bikes and the authentic gear but it is up to you to find your own way to feel the freedom that two wheels brings you. Of course in the next year we will make some other journeys, North, South, East, West… we don't know."
Lemmi: "We also have to finish our movie, we have about 15 hours of footage and we want to cut it down to a 10 minute film, a short Road Movie not a documentary, it's our first movie and the main thing is to convey the feeling of the open road, that's enough for the first movie."
You can check up on the progress of the film and any other news on their website here and of course we will keep you up to date with the release of their movie and any other happenings from the guys, even if the scorpion makes a return.
All Photography: Tim Adler.