Tulp Jeans Is the Classic Story of Boy Meets Jeans and Falls In Love
At every fashion show, there is always an overwhelming array of styles and collections. At the Blueprint Denim Show, I spotted a particularly good looking "cowboy style" raw denim jean from Tulp Jeans. The design intrigued me enough to make it my business to learn more about the jeans and the guy who makes them, Dutchman Jesper Remmerswaal.
I was lucky enough to secure an interview with Jesper in his home. Here he showed me the amazing collection of machinery he uses to make his jeans. But let's start at the beginning.
Jesper told me that he was a really inquisitive, creative child. From an early age, he had an interest in knowing how things were put together and have a go at making things himself.
He was fascinated with jeans, and he even experimented with the different effects to make holes, bleaching, and stains.
When he grew a bit older, he enrolled for a course in tailoring. But studying wasn't really his thing, as he puts it, but the field suited him. It soon became apparent that he wasn't interested in any clothes other than jeans, and he would spend his spare time trying out one of his many experiments. During this time, he also bought myself an old industrial sewing machine so he could carry on working on his projects at home.
During this time, he also bought himself an old industrial sewing machine so he could carry on working on his projects at home.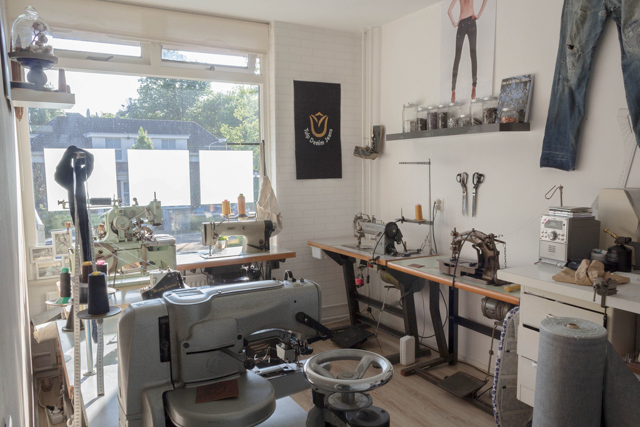 How Tulp Jeans Settled On a Design Direction
Jesper started making jeans under the name 'Serge denim.' He changed the name after learning about Tenue de Nîmes and chose 'Tulp Jeans' to refer to something quintessentially Dutch.
The tulip is universally recognised as being a Dutch symbol, and the shape of the flower itself inspired some of the modifications to his designs, particularly in respect to the curved lines.
Getting Gear Up With 'Real' Jeans Machines
Over the years, Jesper has become a collector of vintage denim sewing machines. His favourite machine is the Union Special 35800. Sewing on it, feeling the power and hearing the sound it makes always puts a smile on his face. It is a genuine 'jeans machine' and, as such, very difficult to find in The Netherlands. It weighs over 15o kilos and can stitch through multiple layers of fabric like it was butter!
In addition to the Union Special 35800, Jesper's machine park includes: a Union Special 39200 overlock machine, a Reece 101 'the Iron Duck' (picture below), and a Union Special 6900 belt loop machine.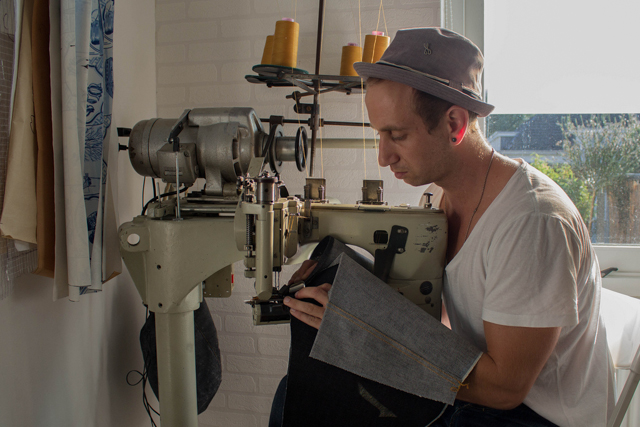 The Future of Tulp Jeans
It's great to see a one man denim operation like Tulp Jeans being built on a nation brand that is not America.
For the future, Jesper hopes to have his jeans for sale in some select stores in The Netherlands and perhaps a few overseas. He also dreams to have his own style atelier where customers can walk in and spend some time interacting and contributing to the designing of their own pair of unique customised jeans.
I hope Jesper's dreams come true. If you want to get yourself of pair of Tulp jeans you can get in touch with Jesper via e-mail and Facebook or visit his website.