Mister Freedom was the last thing I expected to talk about when I pulled into Asheville, NC for a weekend trip.
Asheville is a small city nestled in the Blue Ridge Mountains. It has a reputation for being crunchy, home more to tie-dye, dreadlocks, and mandals than high-end denim.
And yet, within five minutes of walking into Old North Clothing on Lexington Avenue one of the owners, Wren Kelley, was showing me Mister Freedom samples – and we were both pawing at the small patch of untanned cow leather from a campus jacket.
Old North might be one of two places on the east coast you can purchase Mister Freedom in person, but it's so much more than that.
The next day I sat down with the other owner of the shop, Wren's husband Jack Roche.
Roche and Kelley seem to have lived a hundred different lives before opening their store. They've worked in the service industry – he worked for a spell at Lucasfilm, and they were both working as tattoo artists in Los Angeles when a friend of theirs, Blair Lucio, was setting up General Quarters.
The couple learned the ins and outs of setting up a denim shop from Lucio before they packed their bags and moved across the country.
The store has been open since February and while Roche admits there are some challenges working with a demographic that has a history of spending its money on patchouli oil and Phish tickets, they seem to be winning over locals through their passion and dedication to educating their consumers.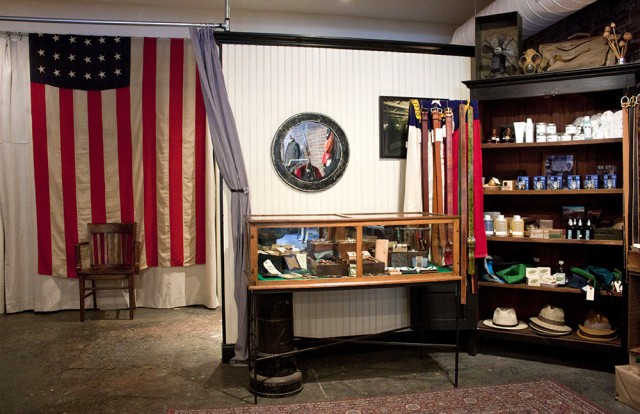 "Asheville's really a kind of gypsy heritage suspender folky kind of town, I'm hoping that people will grow into it," Roche said.
Residents of 'Ashvegas', an appellation I heard at least one hippie use, seem to be growing into it as the couple has sold over 350 pairs of jeans since hanging out their shingle. On the days I visited, a steady flow of shoppers ranging from curious, a little confused to enthusiastic passed through the doors.
I watched Wren fit out a beanpole of a college kid in a pair of Railcars. While he checked out, wearing his new jeans out of the store, Jack gave him some advice on shrinking back the waist on a pair of stretched out RRL's.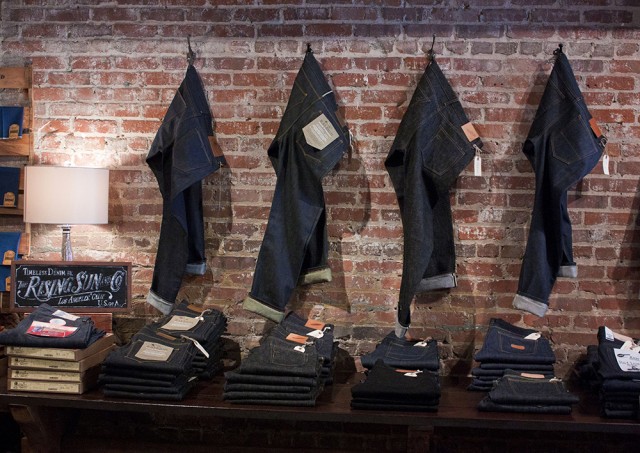 Roche and Kelley know their market and are actively engaged in making it accessible to young people in the area who predominantly work in the service industry.
"We don't want to be on the high side, even though I know there's a psychology behind expensive things. We like the ability to be offer something that has a lot of quality," Roche said.
Old North offers denim from Tellason, Stronghold, Rising Sun, locals Raleigh Denim, and Railcar Fine Goods; though it's the Mister Freedom Lot 64's that push Roche's buttons as a denim fan.
"I've gone from super reproduction collecting, to the simplest. The Mr. Freedom is the epitome of all the details I truly love in old school jeans," he said.
Roche hopes to bring this attention to detail when he launches his in-house denim line, Ruby City, next year. Ruby City will launch with a basic five-pocket jean and a double-front duck work pant with open pockets, cowboy backs and a high waist.
Roche wore a prototype of the pants under a Tellason denim jacket the day we spoke. Based purely on his enthusiasm and the tag and logo designs he showed me, I was ready to hand him my wallet on the spot.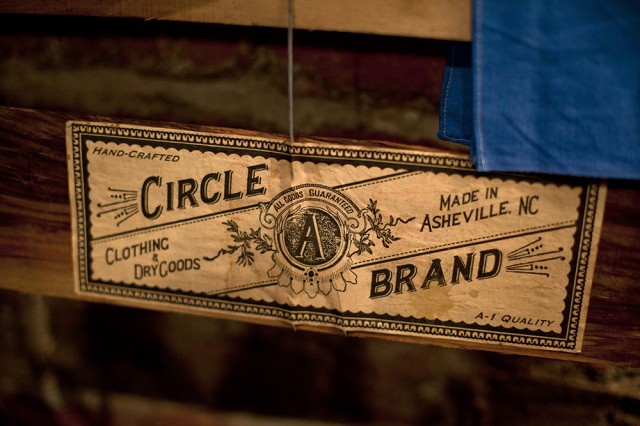 Old North's offerings are rounded out by shirts from Gant, Life After Denim, outerwear from Filson and Herschel bags. Locally, they have belts from Jake Barbee, soon to be featured on the cover of "Man of the World",  that they will cut to size for you and hankies from Russell Shurtz's Circle A Brand.
Roche said LVC is coming to the store next year. When he talks about the future of Old North and Ruby City you can see the wheels turning behind his eyes. He talks about outerwear and hoodies and t-shirts before finally settling on making anything that interests him. Regardless of what they end up making, it should be a rousing success if they apply the same philosophy they've applied to the store:
"We want to sell classic things that any guy can where at any time all the time."
If you aren't planning to pass through the Blue Ridge Mountains any time soon, visit Old North's website and remember to follow the shop on Facebook for regular updates.
Photography: Betsy Seymour.