Setting up shop in the historical birthplace of riveted blue jeans comes with a certain obligation to deliver something unique if you want to make a name of yourself.
The San Francisco Bay Area is home to world famous shops like Standard & Strange, AB Fits, Unionmade, and of course Self Edge. 
While San Francisco is experiencing a second technology boom, Oakland is booming with non-tech entrepreneurs. There's another side of the city not often reported on the news; a strong spirit of both individualism and community.
Tommy Mierzwinski of Oakland's Two Jacks Denim exemplifies both.
Two Jacks Denim is a shop for the guy who appreciates and values timeless made-to-last-menswear handcrafted by artisans in America. The heart and soul of the shop is small-batch, artisanal selvedge denim. Being of a literary bent, Tommy Mierzwinski named his shop after two writers who have had a great influence on his life. The two Jacks in Two Jacks Denim are Massachusetts' Jack Kerouac and California's Jack London, both rugged individualists and adventurers who chronicled life in America for two different generations. Jean Louis Kerouac was a French-Canadian American who took on the nickname 'Jack' after his favorite writer, Jack London. In fact, Tommy grew up not far from Kerouac's hometown Lowell in Massachusetts, and he has lived in Jack London Square in Oakland for more than nine years.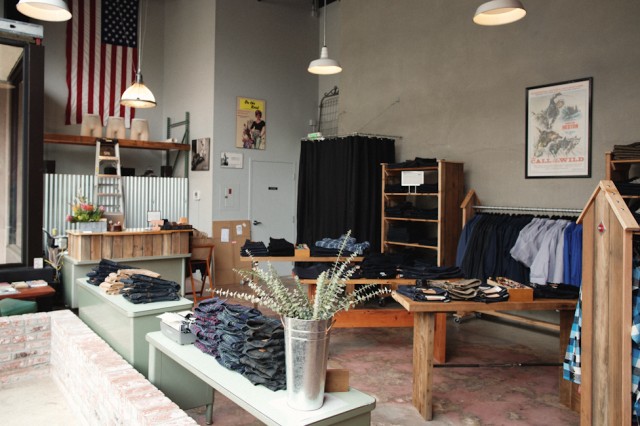 Tommy has a rather varied and eclectic background. He as worked as a newspaper boy, bus boy, stucco labourer, bouncer, bartender, machinist, machine builder, PR flack, and corporate word wrangler. You could put him in a roomful of bikers, or priests, or Wall Street financiers, or construction workers, and he could relate to all of them. On the entrepreneurial side, he co-founded a wholesale natural foods company. His retail experience includes a brief stint in the Macy's Christmas Shop in San Francisco's Union Square. So how did he find his way into the denim business? Answering the question Tommy asks another question, "what's more American that denim jeans?" He explains further:
"Jeans will undoubtedly always be part of American culture. Like with food, shelter, furnishings, jewelry, and so forth, there is resurgence of artisanal craftsmanship in denim. There also is a resurgence of menswear with more and more guys caring about their appearance enough to wear clothing made with a good fit and premium materials that reflects their personality and personal aesthetic. Americans are increasingly conscious of the negative social, economic and environmental impact of goods cheaply produced overseas. Artisan, denim, menswear, and made in America seemed like a solid foundation for a shop in Oakland."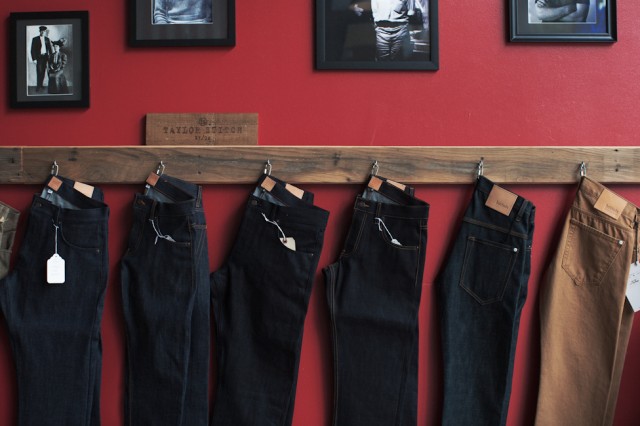 Tommy is half Italian and half Polish. His Italian grandfather always wore three-piece suits. 'La bella figura' was important. So his passion for clothing is in his genes (pun intended). Back in junior high school Tommy wore 501s shrunk to fit in the bathtub, benchwarmers (three-quarter length wool coats with rope and wooden cylinder buttons) and Jack Purcells. In the '60s it was bell-bottoms, Indian shirts and Frye boots; in the '70s it was back to 501s, never washed with a greasy sheen, and engineer boots, when he rode his motorcycle. In the corporate world, he did his best to subvert the dominant corporate casual paradigm by eschewing pleated chinos, button-down oxfords and tasselled loafers. Tommy even had a designer denim phase. However, recently he discovered, or rather rediscovered, the selvedge denim of his youth.
How do you wear and treat in your dry denim jeans – any special routines?
"This may sound like sacrilege but I don't put my jeans in the freezer or wear them in the surf. I wash them when they need it. My recommendation to my customers is to wear them as long as possible before the first wash so the jeans mold to the shape of your body. Hand wash in cold water inside out with a mild soap and line dry, as needed. I hang my jeans by the legs at night with a wooden clamp trouser hanger and sometimes put them in the bathroom while I'm showering to get the wrinkles or barbecue smoke odor out."
Tommy collects shot glasses (everyone who buys a pair of jeans at the shop gets a Two Jacks Denim logo shot glass), cat toys, vinyl records, and jeans of course. His own private collection consists of about a half-dozen pair of selvedge jeans and a pile of "regular" jeans, artifacts from his designer denim phase. His favourite brands are all on the inventory list of Two Jacks Denim; 3sixteen, Baldwin, Railcar, Rogue Territory, Taylor Stitch, and Tellason.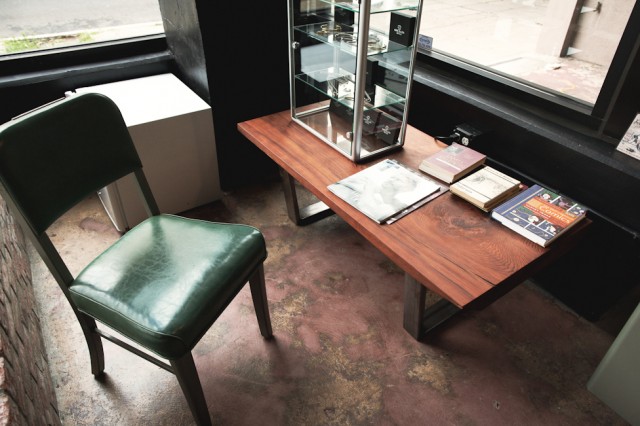 After being laid off from a corporate job, Tommy decided to create his own job. As he got deeper and deeper into the business plan, I got more and more excited about the possibilities that opening his own denim shop presented. Part of the initial process was meeting with a few of the companies whose denim he had targeted. Anthony Masters at Taylor-Stitch was the first. Anthony introduced Tommy to Tony Patella at Tellason and Karl Thoennessen at Rogue Territory. Since opening the shop in December 2012, Tommy has also developed strong relationships with both Steven Dang at Railcar Fine Goods and Andrew Chen and Johan Lam at 3sixteen.
Where do you see Two Jacks Denim five years from now?
"Five years from now, Two Jacks Denim will still be thriving in Oakland and, hopefully, in a few other locations. I thrive on challenges and doing what others tell me can't be done. So the sky's the limit. In the words of Jack Kerouac, "… all the golden land's ahead of you and all kinds of unforeseen events wait lurking to surprise you and make you glad you're alive to see …"."
Remember to follow Tommy and Two Jacks Denim on Facebook for regular updates.
Photo accreditation: Two Jacks Denim and Taylor Stitch.