An "Original" A2 Flight Jacket You Can Beat Up Without Worrying
The A2 flight jacket is something of a style icon.
Issued to American flyers from 1931, after WWII – as with many other items of military clothing – its stylish yet rugged utility meant that surplus stocks were rapidly adopted by civilians. The nostalgia factor has ensured that the A2's popularity has endured. In fact, a modified version is still in service with the US Air Force today.
Vintage examples are now as rare as hen's teeth, excessively priced and too fragile to wear. So reproductions are your best bet. There are several companies out there to choose from, but one of the best is Eastman Leather Clothing (ELC).
When visiting my home in London in the fall, I caught up with ELC's founder, Gary Eastman.
Gary started the brand 30 years ago from a stable in Devon with only £300 in his pocket, a 1930's Singer sewing machine and a passion for WW2 militaria. He began making flight jackets owing to their scarcity.
"They were essentially collectibles. It was hard to really wear them with conviction as one was afraid of damaging them. A jacket style like that looks best if you wear it the way it was intended – as a utility garment, in the rain or fixing your bike and not worrying. You just couldn't do that with an original – not if you valued its antiquity."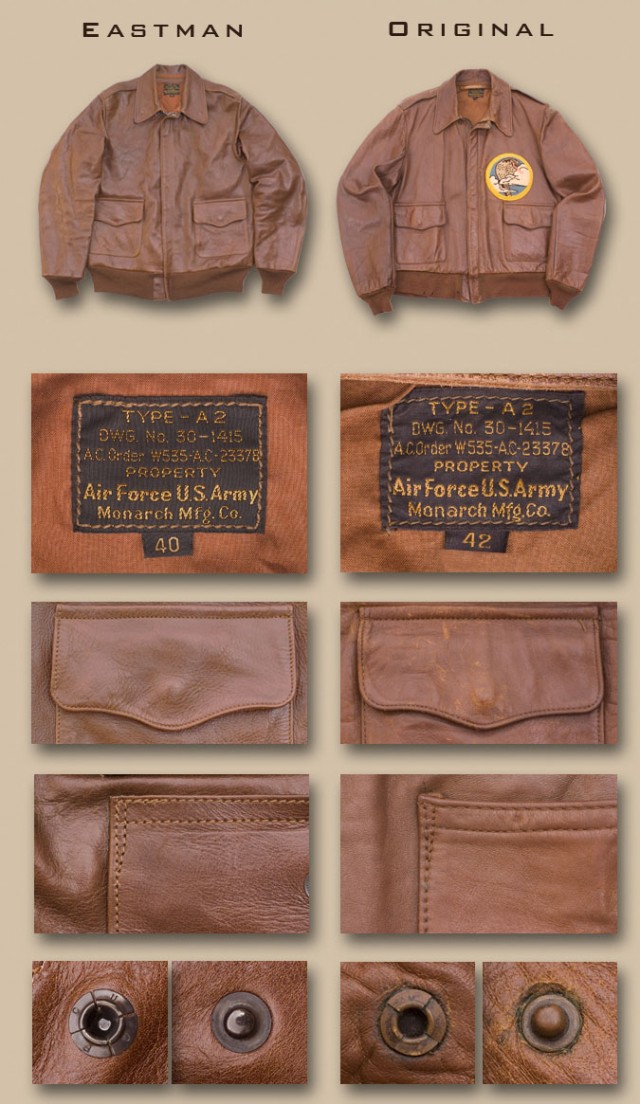 Another reason was his dissatisfaction with the quality of reproductions available at the time – a key point that would go on to define ELC as it is known it today. The reproduction companies that sprang up in the 1970s weren't getting it right.
"They didn't really pay enough attention to detail, and the materials were modern versions of what was originally used. I felt it needed to be taken down a route where the essence of a true vintage garment was better represented – to do this would mean finding original sources of raw materials."
This meant sourcing traditionally tanned horsehide, instead of off-the-shelf commercial hides. He had to bin nylon or polyester linings in favour of cotton, and use the correct colour 100% wool plain-weave knit for the cuffs and waistband. On top of this there was finding the correct model zips, press studs and other fasteners.
Achieving all this was not easy – especially back in 1984 when such information couldn't be found at the click of a mouse. That year, after completing a pattern cutting and grading course, Gary made his first five jackets. They sold within a week and he hasn't stopped making them since.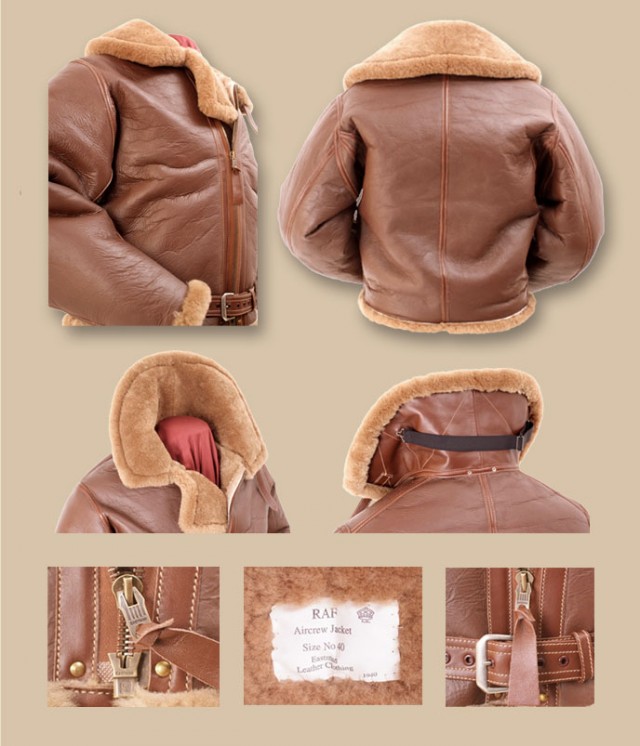 Today, ELC is one of the biggest suppliers of reproduction flight jackets, with an extensive range of A2's. The line up is divided between the Original Maker / Elite Unit Jackets, painstakingly researched stitch for stitch recreations jackets made by different US War Department contractors, and Eastman's own jackets. Gary characterises the latter as jackets done in his own house style,
"if we had been a war-time contractor, this is how our jackets would have looked."
Passion Over Profit
So exacting is the research, development and production of Original Maker jackets that profit isn't the top priority.
"It really isn't – I will spend whatever it takes to get a detail right, because I know our customers will appreciate it. I want to see the end product come out like I'd like to find it in shop if I were the customer. I want to go, 'wow! I want one of those!' "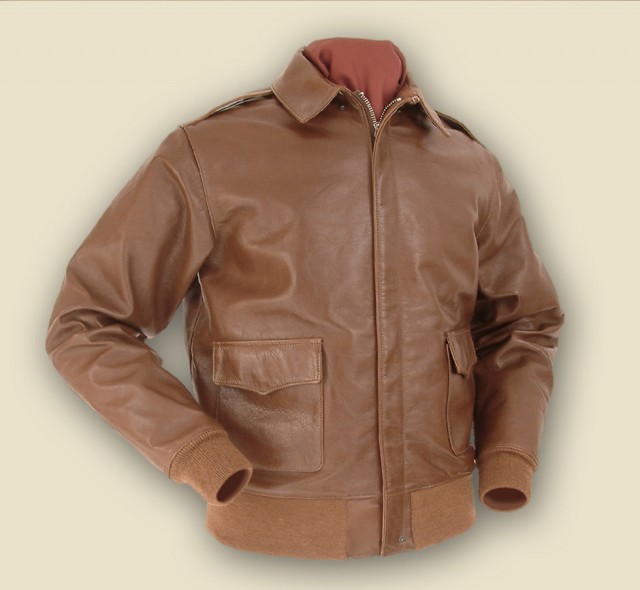 All of the jackets like the Werber contract "Original Maker" A2 above are bench-made locally in Devon, the hides hand-cut then sewn by a single machinist. For Gary this is crucial.
"A tremendous amount of credibility is placed upon the fact these garments are made at our very own factory – the production of which is completely overseen and orchestrated by us. I think customers love to know these are proper bench-made products, by a company they can feel in-touch with because it is traditional, and not mass-produced. Heritage products like this have to carry honesty, because the customers are as passionate about owning them, as we are making them – it goes hand in glove."
The fact that Eastman supplies Buzz Rickson's is indicative of the level of detailing that goes into these garments. The pair have been collaborating since 2003, something Gary is rightly proud of.
On top of all this, Eastman also offers a small range of British and German flight jackets, accessories and civilian jackets like the Thunderbird Field below; a civilianised version of the earlier A1 popular with flight instructors.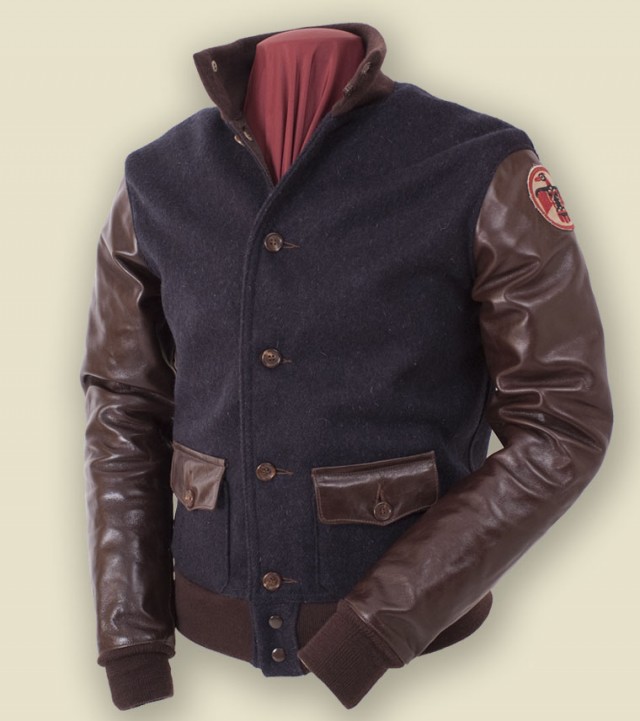 A New Direction
The expansion led Gary to recently launch the sub-brand ELMC – Eastman Leather Motorcycle Club, which takes inspiration from the iconic the mid-20th century American West Coast motorcycle club culture.
Again, these jackets Roadster in American Walnut are bench-made in Devon to the same exacting standards using vegetable tanned horsehide, custom produced for Eastman mostly by tanneries in Italy.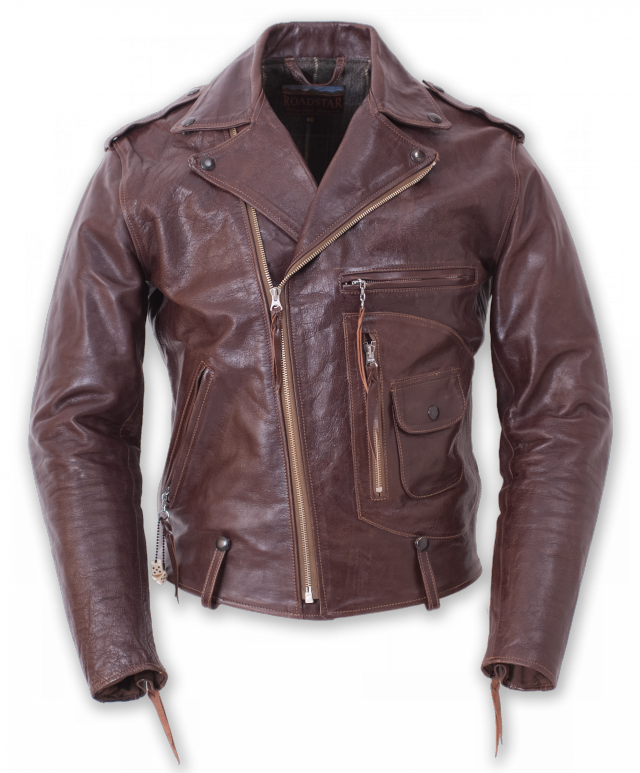 Also available is an extensive range of other apparel and accessories, including T-shirts, footwear and sweatshirts. All the fabric garments are produced exclusively for Eastman in Japan.
"The best place on earth to get true vintage-quality products produced in Japan. These are all made through the eminent John Lofgren workshops, to precise detail: body-size tube construction, specialist yarn cottons, all made on old vintage loop-wheel looms."
Flying The Flag 
It is exciting to see a British brand be daring enough to expand like this. Clearly, Eastman's pedigree is in flight jackets, but given the production expertise and passion with which they are made ELMC is bound to meet similar success.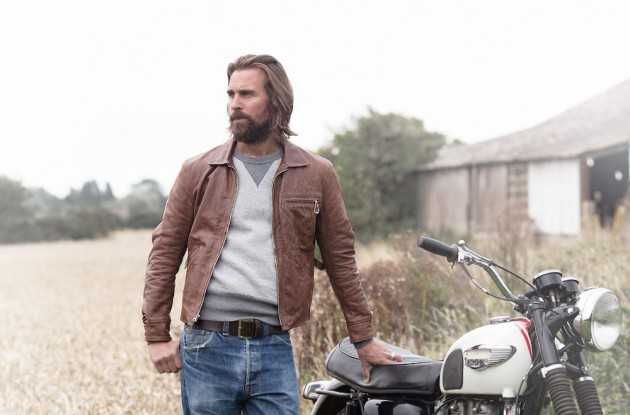 So how does Gary see Eastman as a whole evolving over the next few years? He's charmingly relaxed about it:
"I am happy with how it is – we have been busy from the first day we started, so I want to keep it like that. If the demand is there, we will follow it up as closely as we can. ELMC is a new pasture, so who knows where that will go – onwards and upwards is certainly the trend."
Which jacket is he most proud of? Hands down, it's the ultra rare A1, only in service from 1927 to 1931.
"The grandaddy of all American flight jackets."
In 30 years of collecting he has only seen three of them, and the one Gary managed to snag for himself was totally original. So Eastman was able to match every detail for the very first time. So much so that other manufacturers use the pictures on Eastman's website for historical reference. As far a Gary is aware it's the only reproduction A1 that is 100% accurate.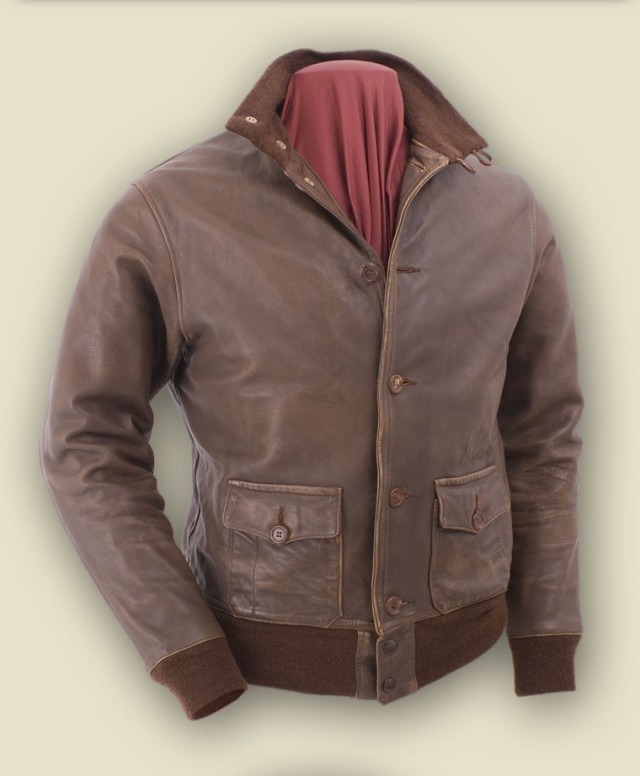 By now you should be convinced that ELC stand for pure dedication.
If you're looking for meticulously researched and produced flight jacket you can do no better than an Eastman. I speak from experience. I've had my own A2 for eight years now. It's broken in beautifully and, unlike me, is only getting better with age.
Gary says we shouldn't be precious about wearing his jackets.
"Wear it like it was intended – a utility garment. Wear it in the rain; down the pub; driving; walking the dog; or falling over walking back from the pub. The more you wear it, the more it will become you."
I don't have a dog, but I can vouch for the rest.
If you're interested do have a look at ELC here. More on Eastman Leather Motorcycle Club soon, but you can have a look at the range here.
(With thanks to Gary for taking the time to answer all my questions. All images courtesy of ELC.)