Papa Nui: There's Aloha In Every Stitch
Papa Nui is a representation of founder John Tesoriero's love of utility, military and surfing.
Inspired by his father's service in the South Pacific, a love of vintage, and his fascination with the resourcefulness of GI's who often modified their gear to suit the environment of their deployment.
"All Papa Nui products are developed from a specific need and chosen to reflect my heritage and influences. Papa Nui isn't about convention, it's about celebrating the uniqueness of the individual. It is a brand, a persona and a state of mind."
John is a surfer, vintage clothing aficionado, and collector of 1930's and 40's workwear, militaria, denim and Hawaiiana. He's also author and curator of the blog Papa Nui Says, and currently resides on the beautiful, golden coast of the South Pacific Ocean.
His design projects include: former senior menswear designer for Levi Strauss & Co, Japan, collaborations with brands such as The Real McCoy's, John Lofgren & Co, The San Fernando Valley Mercantile Co and various international surf labels – and now the launch of his own line, Papa Nui.
First Project: Men of the Battalion
In 2012, Papa Nui created a limited edition run of 30 hats – the Combat Beach Battalion Hat. The hat was a rebuild of the iconic Daisy Mae of the 1940's, made from 100% cotton Herringbone twill (HBT) in vintage USMC frog skin camo; exclusively sold online through the Papa Nui Says blog and in-store at Right Hand Distribution in Adelaide, South Australia. John Tesoriero explains:
"I have been buying surplus gear for near 30 years and incorporating that into my beach garb. But after sitting under the Australian sun you start to think about how you can make improvements. This was how the Combat Beach Battalion Hat, and later the Corsairs Cap, came about. Both were developed and enhanced from original garments to fit into my worldview."
The four panel, multi-layered soft brim hat was a success, selling out soon after release. Requests for backorders were coming in; requests that did not go unanswered. A second run of 34 additional hats was announced for late 2012 and sold out once again.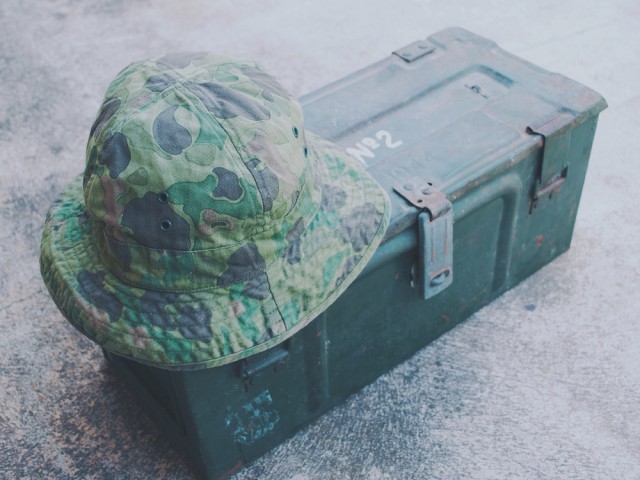 Second Project: Tour of Duty
With interest in the brand growing rapidly, Papa Nui packed up his surf trunks and braved the cold, heading to Right Hand Distribution for 'A Night with The Papa' – an event giving local denim enthusiasts a chance to meet with the brand founder and hear his thoughts on the industry. Rare vintage and one off items from the Papa's personal collection were also on display.
"For me Christophe's approach to Mister Freedom is perfect. Make things that you love and be true to yourself regardless of market trends. This has always resonated with me, what I do is not unlike GI's in the field, taking needle and thread to standard issue gear and customising it to suit their needs. 'Field made', to suit the individual and his environment."
Papa Nui later released a small batch T-shirt commemorating the event. Using rag house rescue tees, hand-picked by Canadian-based vintage clothing dealer Kirby Fisher, the T-shirts featured artwork by local Adelaide graphic designers Anthony Gagliardi and Tobias Blackwood and hand printed by hardcore Queensland rockers.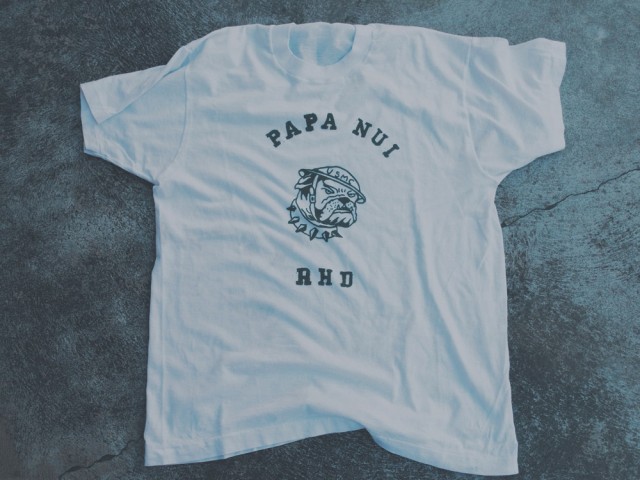 Third Project: All Japan Manufacture
On the eve of 2014, Papa Nui announced the online release of his Combat Corsairs Cap, manufactured in Japan by exclusive arrangement with John Lofgren & Co. This low-profile aviators cap is an adaption of the WWII USAAF Type A-1 Sun Visor and four panel ball caps of the era.
"My long-time friendship with John Lofgren has been instrumental in changing the potential of what The Papa can do. John offered me his facilities after yet another unscrupulous manufacturer had screwed me over for the second time on a new product line. This was an enormous leap forward as I now have a product that is stitch for stitch comparable to the Japanese brands."
The Combat Corsairs Cap comes in two colourways, Beach Landing Brown and Jungle Patrol Green. It is limited to 100 pieces (50 per colourway) worldwide. The hat comes in sizes 57cm through to 61cm and each comes with a hand-stamped logo and hang tag, pressed by The Papa himself.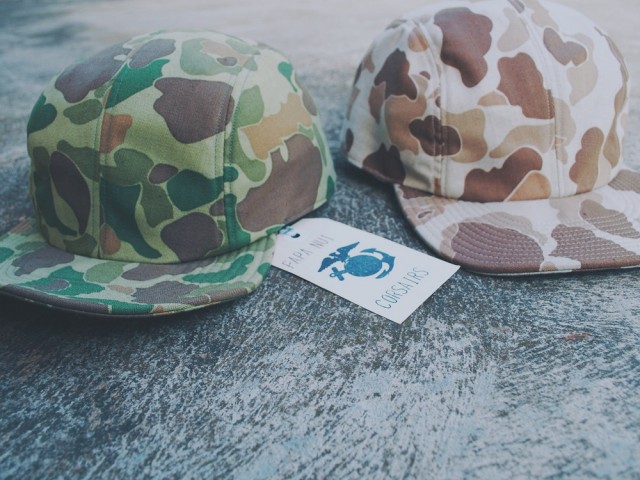 Fourth Project: Knit for Victory
Papa Nui's latest product is ready for deployment– Papa Nui's Convoy Cap, not your everyday watch cap. Based off an original Red Cross wartime pattern, all 25 of the limited run watch caps are hand knitted by a veteran– A 79-year-old Australian woman who in her youth knitted socks for the allied war effort.
"The Convoy Cap is as close to the real thing as possible. It is made with the same love and hope that was enclosed in those Red Cross parcels that were sent to our boys on the front line."
Made from 100% Australian merino wool the Convoy Cap comes in Deck Watch Black (free-sized) and features a woven WWII Red Cross label as well as a period correct pocket topper.
To support the release of the Convoy Cap another t-shirt will be produced. This tee will see The Papa join forces once again with graphic designer Anthony and Tobias and vintage clothing dealer Kirby Fisher.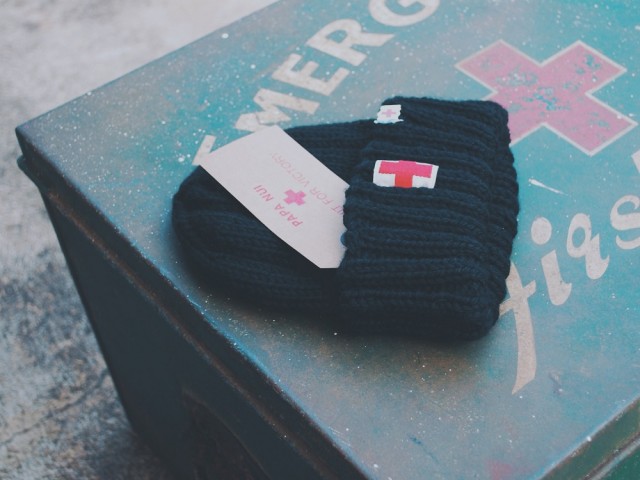 What Does the Future Hold?
Papa Nui will continue to make small run specialised products, staying true to his ideals.
With future projects manufactured via John Lofgren, this once beach hut fantasy is sure to make some big waves. However it's one day at a time in John's world as The Papa only surfaces after his day job is done allowing him time to sit and think.
"Was there a need for Papa Nui in the market? In my world there was."