Anyone involved in hip hop in the late 1990s will have heard of Maurice Malone. Chances are most others haven't. And that's not something that bothers the designer who would much rather let his work do the talking. Since 2011, that work has been his raw denim brand, Williamsburg Garment Company.
Prior to that, Malone was the man behind different urban labels like Maurice Malone Designs and Mo Jeans.
Originally from Detroit, Malone moved to Williamsburg, Brooklyn in 1995 and instantly fell in love with the neighbourhood. Now he has a brand named after it. Born out of the designer's love for the area, all jean styles are named after streets in Williamsburg and aim to reflect the essence of each.
The philosophy behind the brand is designer jeans at an "intelligent" price. In order to keep costs down Williamsburg Garment Company started as a one-man operation with production in China.
Today, the company has begun the process of phasing out all imported styles and moving production (back) to the US. With no substantial impact on their prices, I might add.
More Than Jeans
While the focus is on raw denim, Williamsburg Garment Company also like to experiment with prints and washes. Apart from jeans, they offer a small selection of chino shorts and shirts. The company produces both selvedge and non-selvedge denim and in some styles you can choose between Made in the USA or imported (until the imported styles are fully phased out).
And Malone's newest endeavour caters to both sexes, with a pretty good selection of women's jeans as well. However, like many other brands Williamsburg Garment Company don't offer selvedge options for women.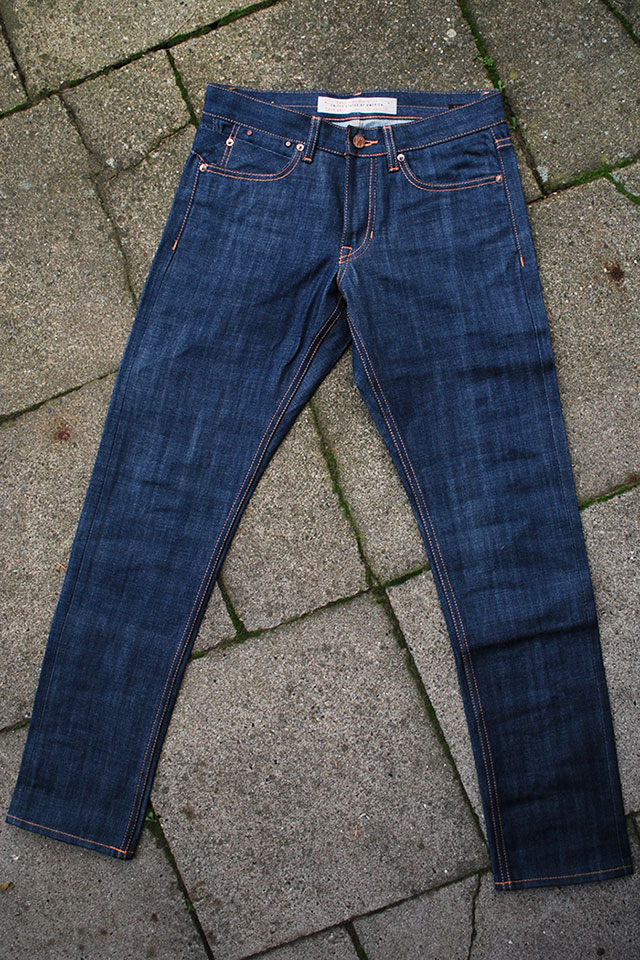 The Grand Street
One of the jeans that is offered as either selvedge or non-selvedge, and as imported or Made in the USA, is the "Grand Street." It's a slim tapered jean that narrows from the knee down while being roomy around the thighs. A good looking and very comfortable fit – especially if you plan on riding your bike in them every now and then. Since raw denim doesn't stretch much in the thigh area it can be hard to find a jean that has a slim silhouette but doesn't become too tight. The Grand Street jean definitely succeeds at that.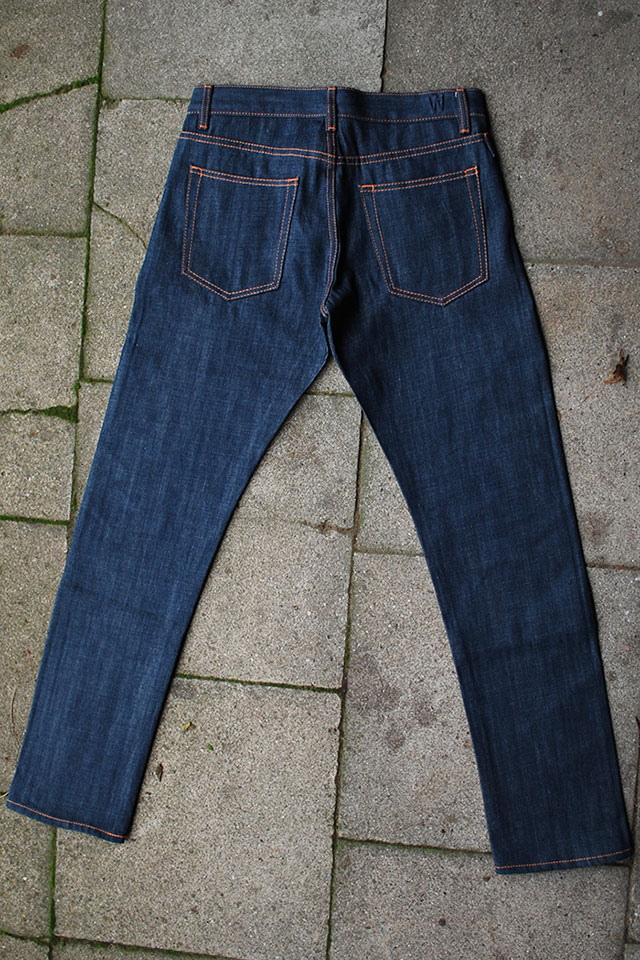 Grand Street (Niagara Blue Raw Selvedge denim jeans)
– Slim tapered
– Imported – Made in China (Made in USA also available)
– 13.5 oz. 3×1 RHT (Right Hand Twill)
– Woven with sulphur overdyed indigo yarns
– Unwashed redline selvedge denim
– Contrasting orange stitching
– Zip-fly
Unbranded Branding
The branding on Williamsburg Garment Company's jeans is at the same time subtle and significant.
Instead of a leather patch, a small "W" is embossed on the waistband at the back. A very neat and subtle form of branding that I, for one, haven't seen from other jean brands.
The coin pocket is the big telltale here; it's what distinguishes a pair of Williamsburg jeans from all other jeans. Being split in two, the pocket is quite large and visibly different from your regular coin pocket design. However, it does seem to serve more as a kind of unbranded branding than a real practical feature. -It is a coint pocket, after all. In any event, it makes the jeans stand out from the crowd.
Great Entry Level Choice
For someone looking for a nice pair entry level jeans – or even just a very well fitting pair of raws with a slim tapered silhouette – you will not go wrong with The Grand Streets from Williamsburg Garment Company. The Niagara Blue version (pictured here), with the contrasting stitching and greenish sulphur overdyed indigo, retail directly from Williamsburg Garment Company at $129. At $147 the American made Cone Mills version sets you back only marginally more.
Sizing note: While they do seem true to size in the waist, inseam length is a bit on the short side. I wear a standard L32, which usually gives me ample room for cuffing. With these, cuffing would mean showing off more sock than I like to do. And that's before washing.  So, if you plan on showing off that selvedge ID my advice would be to size up lengthwise.
See all fits and styles at williamsburggarment.com.