RPMWEST Launches Limited Edition Kickstarter With 5 Japanese Denims
RPMWEST is celebrating their 1st anniversary with a new Kickstarter campaign. They offer a special limited batch of 5 fine Japanese selvedge denims, including a denim used by the famous A.P.C.
RPMWEST was kind enough to give Rope Dye an exclusive first announcement on this limited offer.
The new Kickstarter campaign will begin today (Tuesday, 22 April, 2014.)
And you have to be quick. As you may remember from their first Kickstarter campaign last year, RPMWEST's goal was $20,000, but they received over $100,000 in pledges in 36 hours.
The new campaign is separate from their über successful and ongoing standard home try-on system, and will only be available for pledges during the 40 days the Kickstarter campaign is live – or until each of the 5 denim stocks run out.
I had a chat with founder Manuel Rappard who explained that,
"this campaign is aimed at, and in response to our customers. The denim connoisseurs who have already purchased jeans from us. From listening to their feedback, I found they want another pair of jeans in a different type of denim."
During the past year Manuel researched, made new connections, and also crowd collaborated through social networking. Through this he discovered the types of denim fabric his customers were most interested in.
The 5 Limited Edition Denims
So here's the lineup, and the limit on each denim. Shipping will begin in July.

KAIHARA #4508: <200 pairs limit
A 14 oz. sanforized Japanese dry indigo selvedge denim. This is the same denim that A.P.C. uses.
KURABO #1380: <100 pairs limit
A slightly heavier 14.5 oz. sanforized dark indigo selvedge with red selvedge ID.
KUROKI #4539: <100 pairs limit
A 13 oz. sanforized light gray selvedge denim with red selvedge ID.
KURABO #6782: <200 pairs limit
A deep indigo dyed 15 oz. red selvedge denim.
KURABO #6782: <200 pairs limit
A special black-on-black 15oz red selvedge denim. Jeans made from this denim will come with black trimmings and a black leather patch.
The black and the grey denims are a direct response to social networking polls that Manuel posted for additional customer feedback.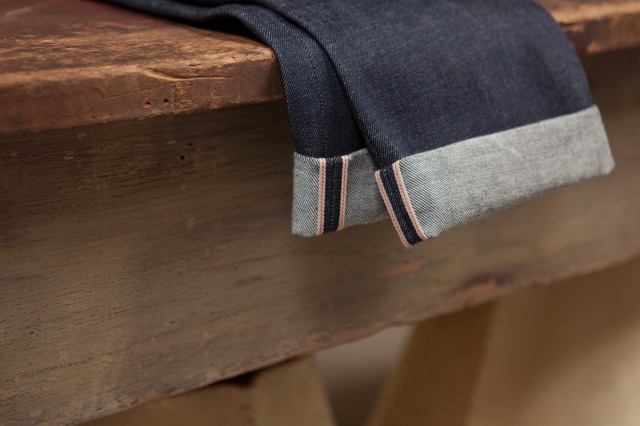 Earlybird Special
Another bonus is "The Earlybird 100 Special," as Manuel called it. The first 100 pledges will receive their jeans with a unique limited edition number from RPMWEST.
All of the denims listed above are sanforized and according to Manuel you should order in your normal size. Another point to remember is that RPMWEST offers two cuts, the Classic, which has a standard rise and a straight leg, and the Slim Straight, which has a lower rise and a slimmer silhouette from the hip to the leg opening.
Customer service and crowd sourcing of customer feedback are the top priorities for RPMWEST. This new campaign demonstrates their convictions.
Once again, if your are interested in the opportunity of getting one or more of these 5 unique denim choices, the Kickstarter begins today!
Oh, and the price: still the amazing $95! For European customers, the euro exchange rate against the dollar is still in your favour, so that price is even lower.
Head over now to pledge and get hold of one of these limited denims!