The UK denim scene is on the rise.
Over the past few years a select number of Britain-based designers have been championing the "Made in England" stamp of approval.
Independent labels like Tender Co., Huit Denim Co. and Dawson Denim are admirably jump-starting UK denim with small scale domestic productions using local resources and artisans to craft their jeans.
STORY mfg. is the latest addition to the list.
Slow Manufacturing and Season-less
The brand is the brainchild of Katy Katazome and Bobbin Threadbare, partners in both life and denim.
The couple launched STORY earlier this year. They focus on slow manufacturing and season-less product drops, which means that items have been released gradually and will continue to do so. So far we've seen a classic five pocket jean rendered in stunning 5 dip indigo from India and two vegetable dyed utility jackets in green cast indigo and faded red madder.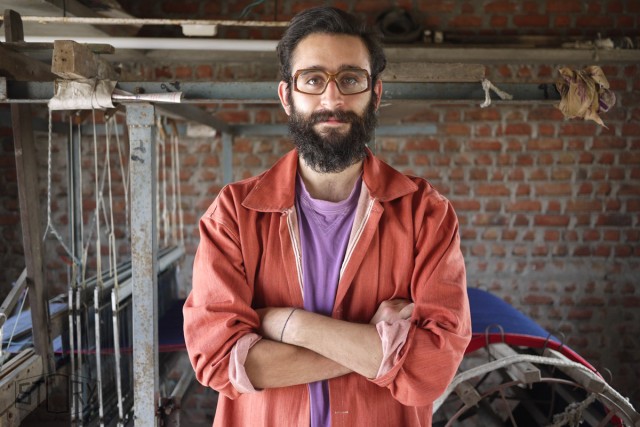 Bobbin is a technology researcher and writer. He's particularly interested in future design and manufacturing. Katy has a background in denim design and she spends her days looking for the next big trends, brands, fabrics, and concepts at WGSN. STORY is the perfect side project to unleash all the pent-up creative frustration from spending her days looking at other people's designs.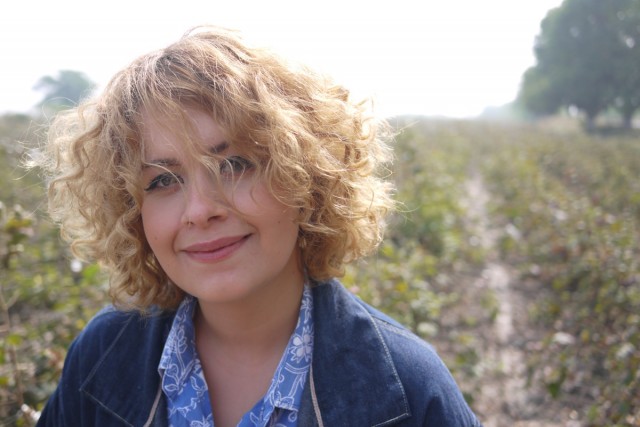 STORY mfg. Principle: Be Unique
One of the principles behind STORY mfg. is that they do not want to create anything that is currently out there.
Nowadays, the market is saturated with Japanese and US raw denim.
To give something unique to their customers, STORY mfg creates garments from yarns dipped in a traditional indigo pit. These yarns are then hand woven into selvedge denim and then sewn by a factory that has probably forgotten more about workwear than any start-up factory can ever hope to learn.
Alongside this, STORY mfg investigate ways in which they can use technology that actually adds human interaction.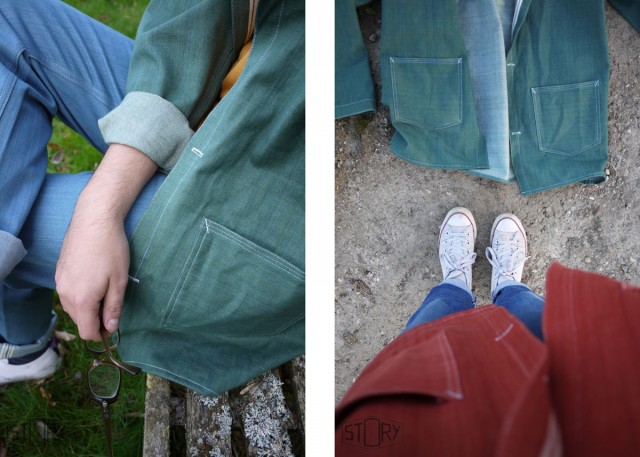 Slow Made and Unseasonal Products
STORY mfg. refer to their products as 'slow made' and being 'unseasonal.'
The two products they're honing right now are the 0 Jean and the Time jacket. Bobbin and Katy have been sharing the journey of these items on their website for months now, but the special details that make them really exciting are yet to be announced!
"We want our pieces to provide the perfect base for customisation and personalisation. We want them to grow and evolve with the wearer, so the idea is that your well worn and loved jacket can be 'upgraded' each season."
STORY mfg. will be offering a couple of upgrades per season and currently including internal pockets, removable buttons and personalised embroideries.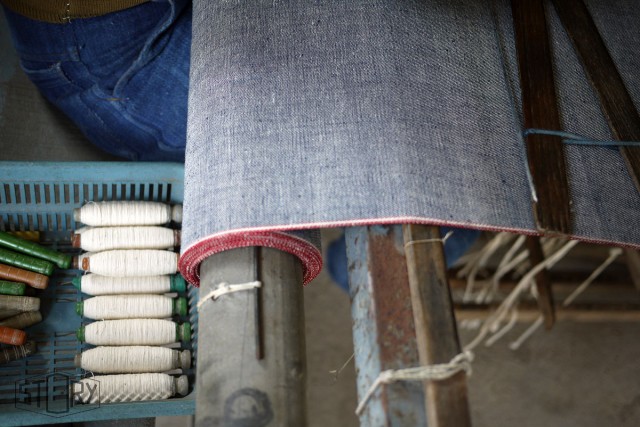 From Baby Dungarees to Handmade Spectacles
Bobbin and Katy are both big fans of vintage and everything they've designed for STORY started out as a vintage piece. Katy is even planning to develop her mum's 1970's Orange Tab Levi's jeans into a STORY girl's fit in the near future.
For other new designs they are talking everything from baby dungarees to adult overalls, and from shoes to dog bandannas. They also have two handmade spectacles in the pipeline.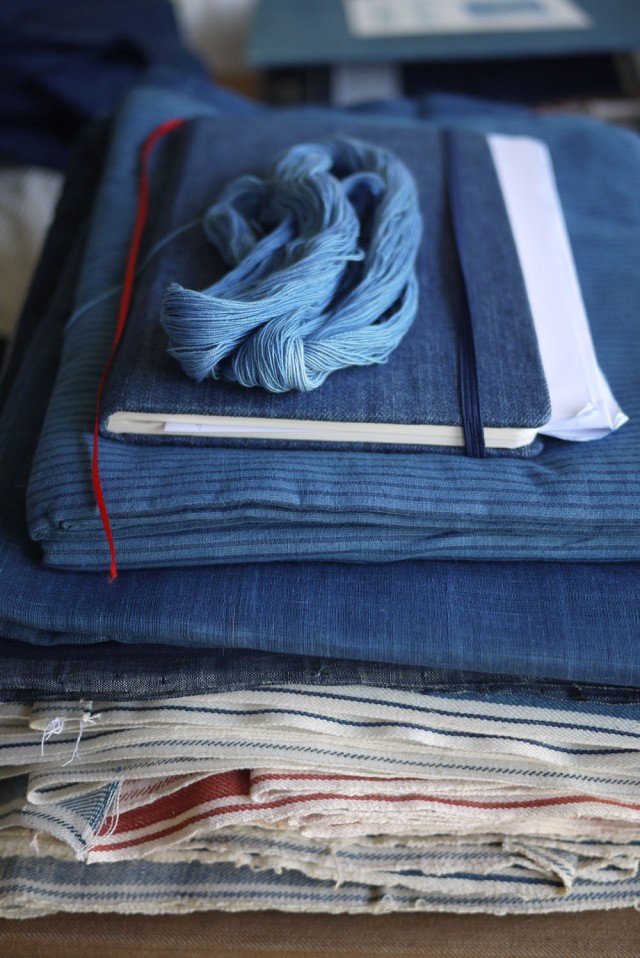 Proudly 'Made in England'
STORY mfg. is proudly adding a 'Made in England' label to everything they do. They are working with the company Cookson and Clegg who have been making workwear for decades. As Katy argues:
"I think there is a misconception that 'Made in Japan' or 'Made in USA' is best and that's one of the reasons why we wanted to make in England. One of our STORY  'rules'  is to explore the denim and indigo heritage of other countries outside the established hubs of excellence."
At the moment Bobbin and Katy are looking for stockists to grow STORY mfg. with them.
In fact they want to collaborate with stores that have an identity of their own through the products they choose and curate.
Being small and focused STORY have the ability to be quite nimble and offer special runs with people they think we could work well with.
Head over to the STORY mfg. website for a full run-down of their products.
This article is an edited version of this Stylesight write-up.