The Dutch brand Scotch & Soda has been producing fashionable denim and quality garments since the 80s. What makes the brand interesting for a denimhunter is the special collection focusing purely on denim, called Amsterdams Blauw.
And Amsterdams Blauw (or Amsterdam Blue) just launched their latest brainchild, The Alchemy Blues; a collection that features a very special trucker jacket.
The background and inspiration for the Amsterdams Blauw denim line, which is already in its eighth season, comes from the colour used to paint Dutch porcelain in the Golden Century, between 1500 and 1750. The same intense blue colour can still be seen in the streets of Amsterdam.

Four Graphic Designers Captures the Alchemy Concept
With the Alchemy Blue project, Amsterdams Blauw finds inspiration in the ancient craft of alchemy with its endless pursuit of the fabled philosopher's stone. For the launch of the project, Scotch & Soda brought together four graphic designers, who were presented with the task of capturing the concept of alchemy and give it their own interpretation. What they did was to customise four Japanese raw selvedge trucker jackets.
There were no rules. The designers just had to keep in mind the four basic elements of alchemy: air, earth, wind, and fire. The result was presented at the Scotch & Soda headquarters in May during a press tour specially organised for the Amsterdam Denim Days.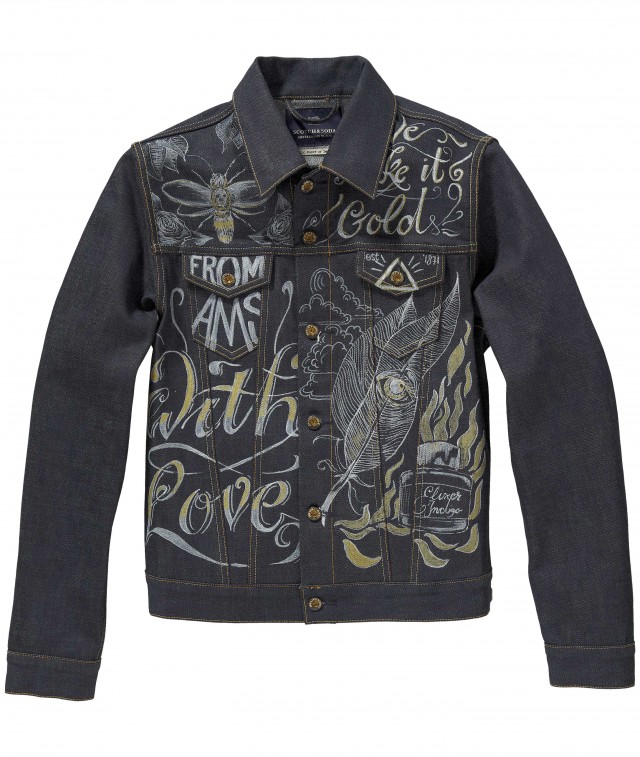 A Very Special Trucker Denim Jacket
To top everything off, the designers made a final collaborative work and created a fifth piece that is intended to go into production. This jacket will be available in selected stores around the world and online from mid-August.
A trucker jacket like this might not be everybody's cup of tea, but we think that the real intention of this project is to show that denim can easily be used as a canvas to express any kind of feeling, experimentation of creativity. The jacket will be officially launched at the gallery "Made My Day" in Berlin on August 14.
The jacket is limited to just 250 pieces worldwide, so you better be quick!