Shockoe Denim: Contemporary Handmade Luxury Jeans
For Shockoe Denim, "Heritage" Entails Quality and Experience, Not Cowboys and Workers
Shockoe is a luxury denim brand; they make distinctly contemporary jeans that one can easily wear in transition from work to a night out. But, according to Matt Rho, who handles the business side of things at the two year old American startup, "Shockoe Denim is not a heritage brand." He wants to make this very clear.
Rho's statement shouldn't be taken to mean that there is not heritage and history at Shockoe. It's just, here heritage means generations spent in the manufacture of upscale menswear and luxury fashion rather than turn of the century styling and designs.
We're sitting in Shockoe's retail and production space in downtown Richmond, VA. The shop, with slick concrete floors and sparse industrial furnishings, sits in a neighbourhood of repurposed tobacco factories and warehouses in one of the country's most aesthetically driven smaller cities. This neighbourhood is where the brand takes its name from; the Shockoe Bottom.
Anthony Lupesco, who serves as Shockoe's creative director, started the company in 2012 with the help, and experience, of his parents Pierre and Brigitte, who have over a half century of combined experience in the industry. They enlisted Gianni Santagatti as master pattern maker. He brings experience at Versace, Trussardi, Cerutti and others to the company.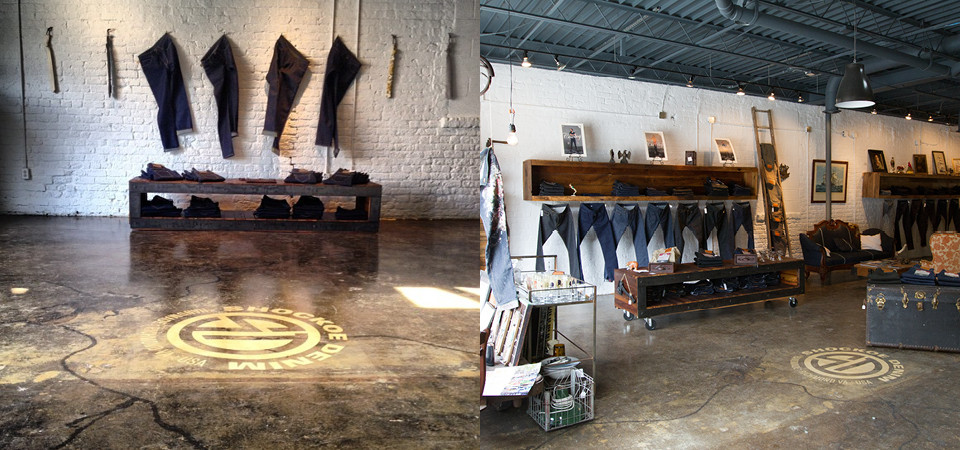 Experience Translates to Attention to Classic Details
All of this high-end experience manifests itself in the cut and construction of their product. Rho lays out a pair of Shockoe jeans and a pair from another well-known maker. He starts at the top block. He points out the choice to use a lockstitch, a double waistband and super tight overlock stitching; all done to reinforce and extend the life of the garment.
Rho moves through the jean, pointing out the copper hardware (finished in black that will gradually age, expose the copper, which will then oxidize and patina) and double-pronged rivets. For those able to physically visit the Richmond store or attend one of the custom denim events at one of Stockoe's retailers, there's also the opportunity to have a pair of bespoke jeans made.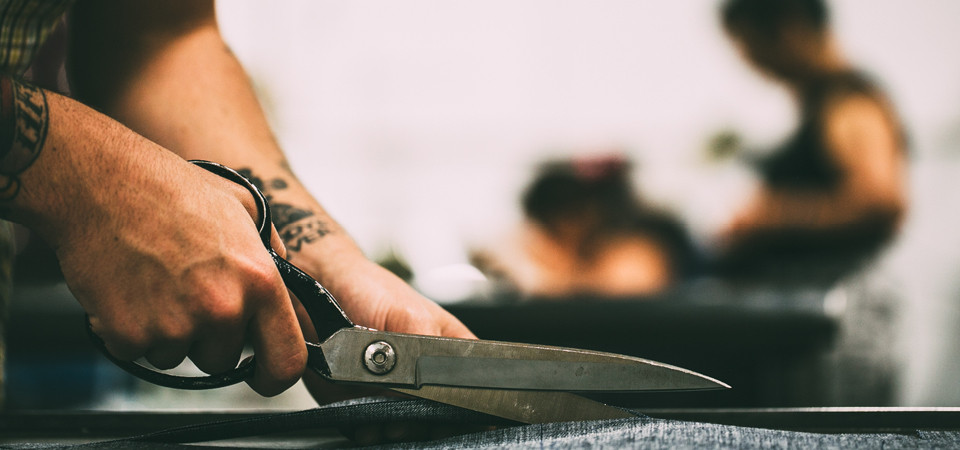 Traditional and Special Denims Are On Offer
Shockoe offers a wide variety of fabrics. They have a 13.5 oz. selvedge from Cone Mills. They also source fabric from Kuroki Mills in Japan. The Old Boy Elmore, in a 12 oz. grey selvedge, and the Old Boy Jarvis, in an 11 oz. natural indigo and persimmon selvedge, are two stand out options for anyone looking for something a little different than a traditional jean.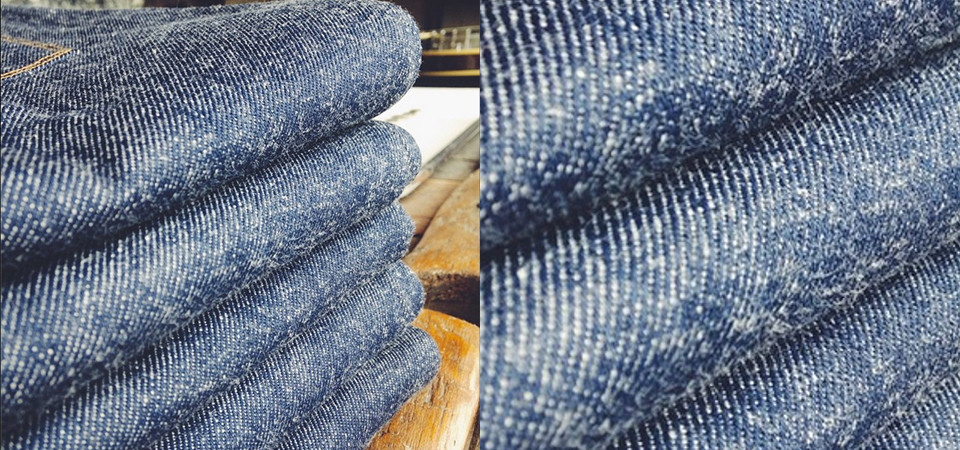 Cone Denim From 1971 Revived For the Petersburg Deadstock I
For their two-year anniversary on October 9 this year, Shockoe released something truly special: the Petersburg Deadstock I. They found a roll of Cone Mills denim dated 1971 in an old factory in Petersburg, VA. As far as they can tell, the factory made Landlubber bell bottoms. This fabric is spectacular. The denim is hairy, full of character and will age well. While it's not a selvedge, it is a 43-year-old Cone fabric.
Shockoe were able to make 50 pairs of jeans that they released at their anniversary party for the incredibly reasonable price of $125. Any jeans surviving the party, are be available in-store for $150. If you want a pair, you'll have to get to Richmond.
Learn More and Shop
Visit Shockoe's website to learn more about the brand or to pick up a pair of jeans from their webshop.
Photography curtesy of Shockoe Denim and RVA News.