The Now Successfully Funded SJC Kickstarter Campaign Has Introduced A New Product Bundle
Last month, we introduced the SJC Kickstarter campaign. Well, here's an exciting update, designer and mastermind of the brand, Simon James Cathcart, already funded the project. So if you want a pair of these jeans you'd best get in there quickly!
To re-cap for those of you that missed it, there are several historically accurate fits in the SJC lineup, ranging from the Big B Dungaree, a 1920s chino to the slim fit 1980s punk jean. For the lady denimhead in your life, Simon has also taken the brave step of making a women's jean and jacket; the Bad Kitty.
But, two fits in particular have proved popular; the high waisted 1930s style cinch back jean, the Brakeman, and the aforementioned Big B Dungaree. So popular, in fact, that people have wanted to order both pairs, which is why Simon added just that purchase option.
Excitingly, a bespoke option has also been added. So, for those of you whose dimensions are not exactly standard, you can get any of the fits cut in your size.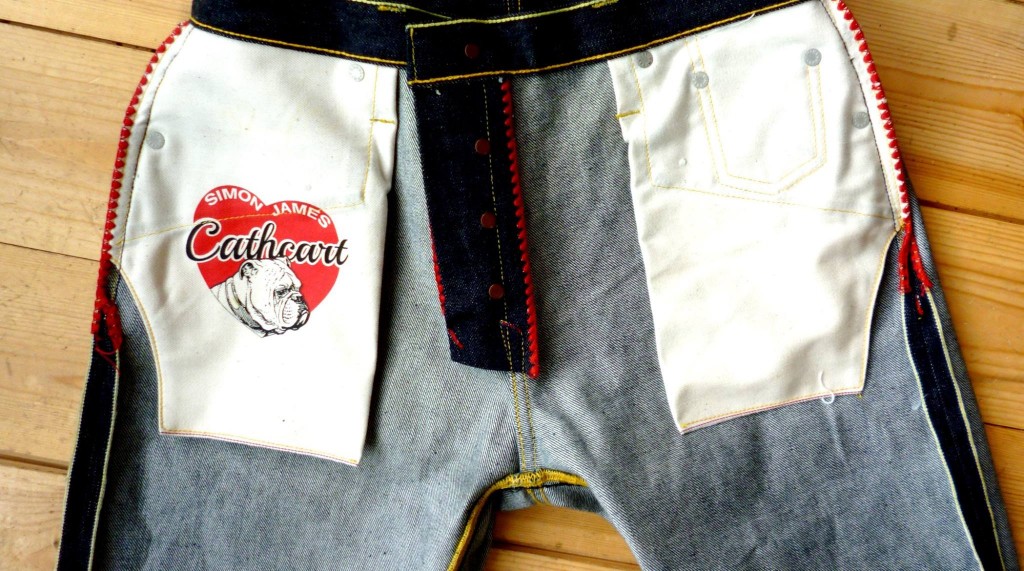 The Uncompromising Detailing of SJC Jeans
These are the features you can expect from SJC jeans.
All fits are made from either 12 oz. or 16 oz. ring spun Kaihara denim and one washed for minimal shrinkage.
The hardware and detailing are impressive too. The vintage patina buttons are YKK and the thread is 1080 gold, which is as close to the early 20th century as could be matched.
The pocket bags – printed with the SJC logo and chain stitched to the waistband – are super heavy 12 oz. selvedge. They are double stitched so they won't blow out. The back pockets are fully lined in the same material and have hidden rivets.
The upper inner block is finished with red scalloping, because, as Simon puts it, "the guys had a 1920's machine and, well, f*@k it, it looks sensational."
One of the last things to finish off is a brass stamp, so the jerky leather patch is embossed.
With delivery scheduled for January 2015, production is about to go into full swing.
A Brand With Proper British Bulldog Spirit
I get the impression that the SJC project is very personal to Simon and it's very much in the artisan spirit.
As Denimhunters' resident vintage buff, it always excites me to see a designer do something like this; producing a collection that emphasises uncompromised vintage fits over mere commercial appeal.
And, in case you haven't spotted the British bulldog patch yet, it's coming out of the UK. You still have a few days to get involved here.