Stay Safe Riding Your Bike Wearing Any Brand of Jeans
Now You Can Ride In Your Favourite Jeans Without Covering Them Up in Protective Pads
If you're a biker, you've probably faced this challenge: how do you stay safe riding in your favourite pair of jeans? Well, you can go unprotected and ride like a Sunday driver (which is both boring and no safety guarantee) or you can cover up your jeans in protective pads. Or, you can have Ruste Protection customise them with Kevlar. Obviously, that's the way we would go – and so would the Wrenchmonkee we asked to test the service. Find out why.
No Biker Without Denim
Denim has always been closely associated with motorcycling. In fact, denim-clad WWII veterans riding their bikes to get away from their realities inspired a certain Brando-movie that has had a huge impact on the exploding popularity of denim in the 50s and onwards.
But back in the 40s and 50s, traffic safety wasn't really a big issue – if you were riding your bike wearing jeans, safety probably wasn't your greatest concern.
Let's face it, these days, even the most rebellious biker surely wouldn't go for a ride without a little protective gear, which basically makes sporting your favourite jeans (without covering them up in protective pads) impossible. Until now.
The Birth of Ruste Protection
Enter Ruste Protection, a brand founded in Finland by Tuomas Nurminen who rides his bike anywhere he goes. He wanted to ride in his favourite jeans, but without ruining the way they looked with all kinds of protective gear.
He got online and quickly found a few brands offering Kevlar-lined jeans. He ordered a pair, but when they arrive the fit and construction quality wasn't to his liking. So, he decided to take matters into his own hands.
Tuomas met with one of Finland's best tailors to figure out how to make a pair of his own jeans fully protective without changing how they looked. A few months later, a sample was ready and soon his friends started asking if he could customise their jeans as well. That's when he realised the business opportunity and Ruste became a reality. This was in 2013.

How They Do It
The idea of the service is pretty simple: you arrange a pick-up of your jeans, Ruste's tailors add a layer of protective material to the inside of the garment, and they then send it back to you.
Now, anyone who has tried customising a pair of jeans knows it's not as easy as it sounds. You need to get the thread colour and thickness as well as the length of the stitching perfectly right – otherwise the tailoring will be instantly noticeable. As the pictures below show, Ruste's tailors do a pretty good job.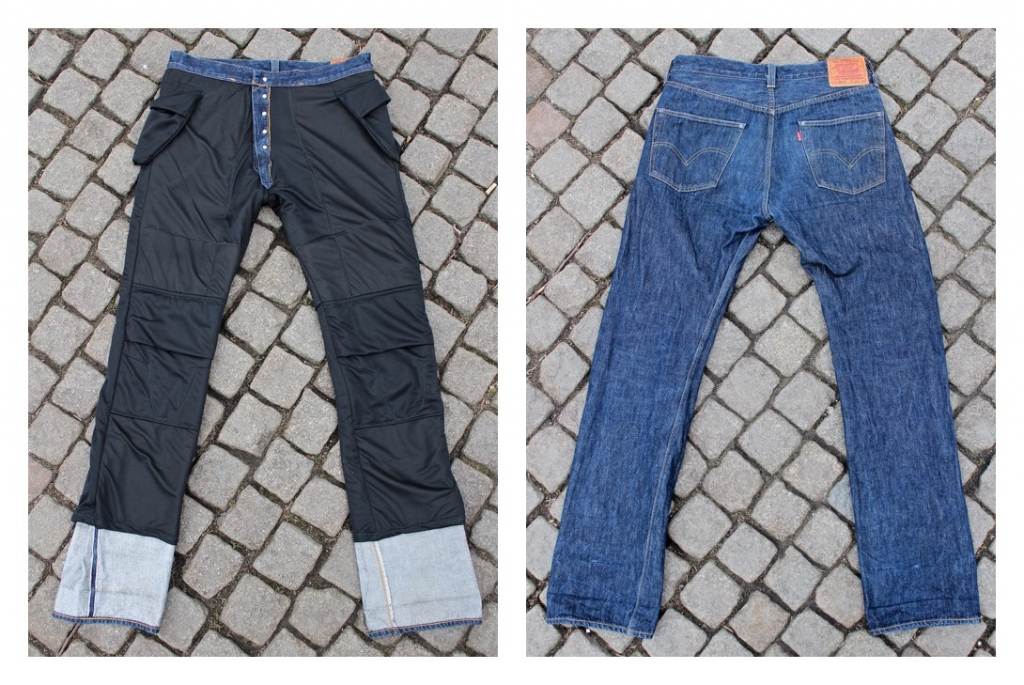 Wrenchmonkees Approved!
We asked Lars from Wrenchmonkees to try out the service and let us know what he thinks.
"On a scale from 1 to 10, I'd give them 7+. My experience with Kevlar-lined jeans is limited, but from what I know about the other options out there, I'd go with Ruste's solution."
Lars had a pair of Levi's Vintage Clothing 1947 501XX customised. They fit perfectly before Ruste got their hands on them and Lars feared they would be too tight once he got them back. Luckily they weren't.
"The jeans are extremely nice to ride in as the extra layers of material make them warmer and virtually waterproof."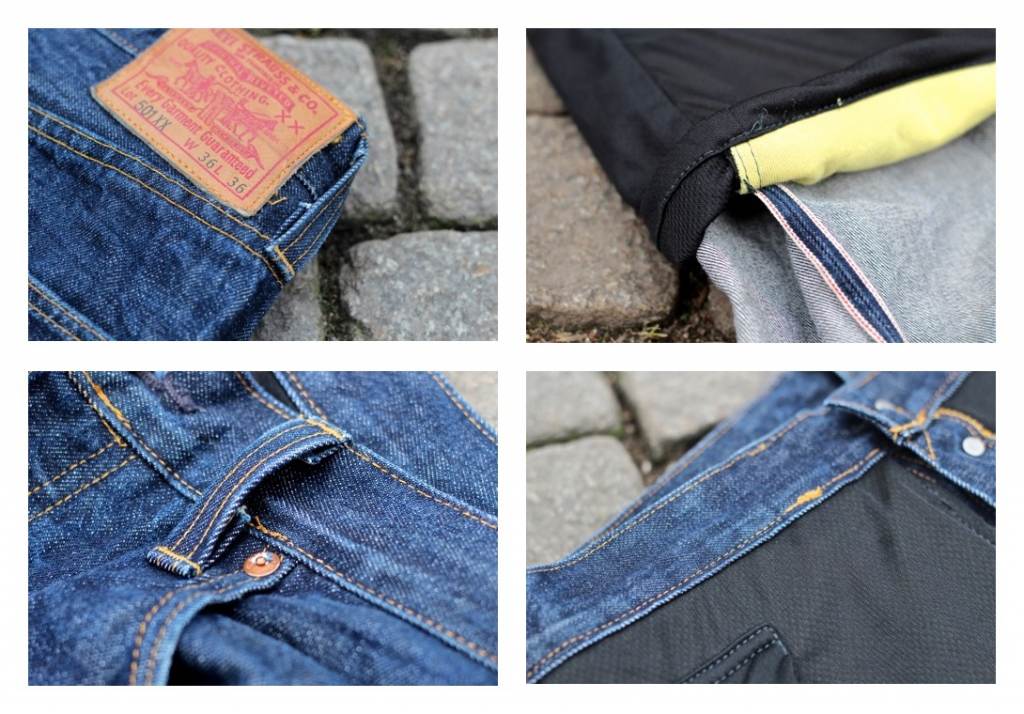 The thighs had gotten a little slimmer, but surprisingly the waist was completely unaffected. However, Lars did find it a little difficult to mount his bike, as the crotch had gotten tighter, but so far no seams have ripped.
"To get a better rating, I should probably have picked a jean that was one size bigger than my normal size [like Ruste suggests] and possibly a little looser than what I usually wear."
Ruste did a little testing themselves. Watch how the Kevlar keeps the wearer safe as he's pulled by a car driving 45 km/h, sitting on the ground!
How To Get Your Jeans Fitted With Kevlar Protection
First of all, you need a pair of jeans. It's likely you have a pair laying around, otherwise get a new pair in your preferable brand, denim, and cut. In any case, make sure that the fit is not too tight. If the jeans are shrink-to-fit, you need to shrink them down first!
The Kevlar protection covers the most vulnerable places of the lower body. Any fit can be customised, but for slimmer cuts Ruste recommends you go for stretch denim.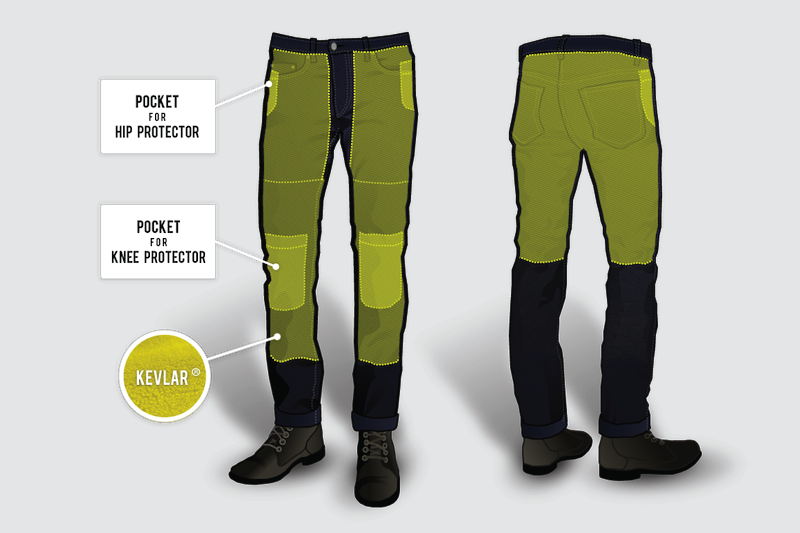 If you want even more protection against impact, Ruste can add pockets at the knees and/or the hips for protective pads. If you want this feature, Ruste logically suggest that you go for a cut with plenty of room around the hips and thigh.
The price of it all (including DHL pick-up and delivery) is €139 without the pad pockets and €149 if you want them there.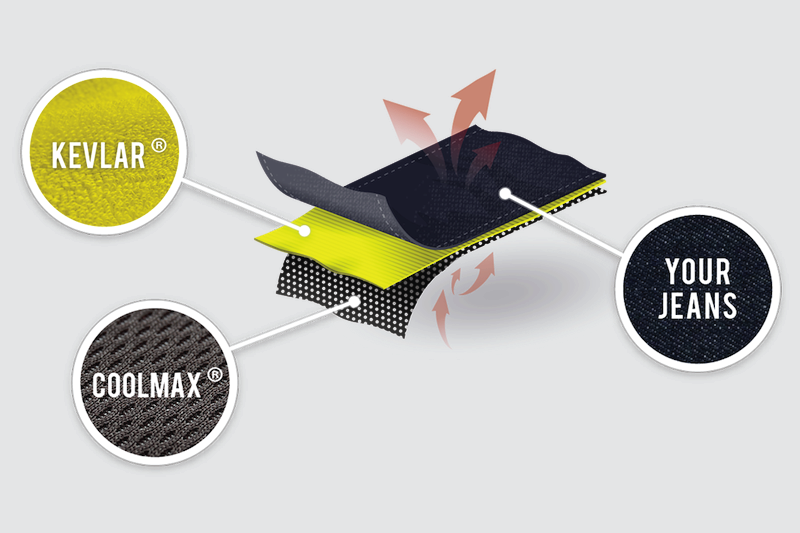 What Is This Kevlar and How Safe Is It?
Kevlar is the world's strongest synthetic fibre. Ruste only use the original DuPont™ Stretch Kevlar®, which is lightweight, flexible, and incredibly strong. The way it's knit also protects the skin from the excessive heat of friction. On top of the Kevlar, Ruste add a layer of COOLMAX® fabric, which will help you stay dry and comfortable.
Ruste can customise any jeans, jacket or shirt with Kevlar – visit their website to put in your order!