Maple Jeans wants to reignite the British made clothing industry with selvedge denim motorcycle jeans, delivered to you at half the price of retail
Have you ever wanted a pair of Maple Jeans, but thought that they were too expensive? A couple of thousand owners have already purchased a pair and we're quite sure that they will tell you that the jeans are worth every single penny.
These jeans could potentially save your skin if you were to ever come off of your bike in a crash. Plus you can wear them around town without looking like you just came from the race track.
But, we get it; these jeans are not cheap. Still, they come with that hefty price tag for a reason; they're built from high quality denim and have special Kevlar lining.
Now, founder David Fairbairn, a Canadian native living in the UK, has found a way to cut prices without compromising on quality.
Maple Jeans Turns To Kickstarter To Create UK Jobs
Maple launched a new line of jeans via Kickstarter on November 21, 2014. And, incredibly, they reached their £30,000 funding goal in two days!
The premium selvedge jeans will be made in Britain and delivered to you at half the price of retail. Here at DH, we are getting a little tired of brands using the "cutting out the middleman" sales pitch just for the sake of providing cheaper products. But Maple actually have other intentions than simply slashing the price. They want to bring jobs back to the UK, and they've teamed up with a manufacturing partner in Blackburn to do so.
Early Bird Specials for the Fast Ones
As a special early bird offering, you can get the Kevlar lined selvedge denim motorcycle jeans for just £148 (already sold out in the indigo version). The regular price is £178. You can also get the standard (non-Kevlar) jean for an early bird price of £78 while the standard price is £98.
The jeans are just as good as always; the price has just been halved. This Kickstarter has some legs on it and the jeans are selling really quickly.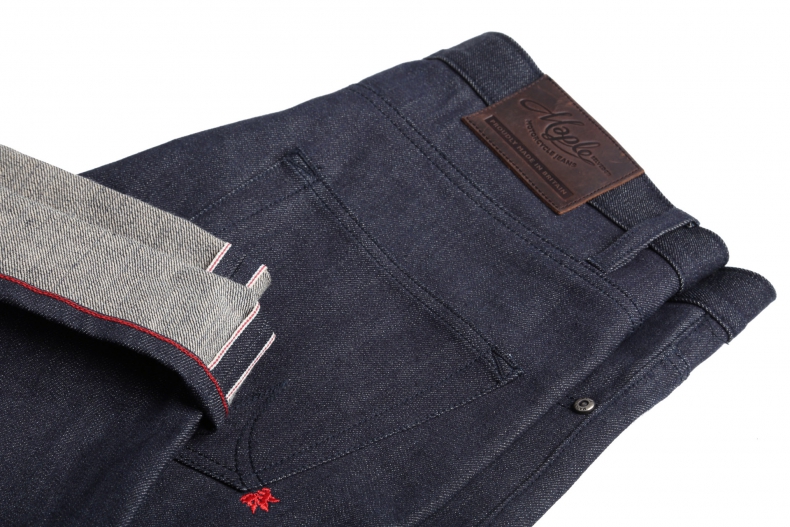 How To Get the Perfect Pair of Maple Jeans
To make sure you get the right fit and size, simply follow these four steps:
1) Choose your type, the regular jeans or Kevlar lined.
2) Choose your denim. You can get either a 13 oz. indigo blue denim or a 13.5 oz. black-on-black. Both are from the renowned Italian mill Candiani.
3) Choose your fit, either the slim 1976 or the straight 1945. Both have custom made donut buttons, hand hammered rivets, "ticket" pocket with exposed selvedge, hand pressed leather patch, and, of course, Maple's embroidered maple leaf. But, it's only the 1976 that comes with a wrench pocket inside the right back pocket.
4) Choose your size. This is easiest done with the help of Maple's size guide.
Head over to the Kickstarter to put in your order now! We also recommend you to subscribe to David Fairbairn's newsletter from his Oil, Sweat & Gear guide.