Indigo Kokeshi Is A Must Have Souvenir For Denimheads
The Son of Acclaimed Woodturning Master Paints Kokeshi Dolls With Indigo
Japan is known for its rich tradition in indigo cultivation, an art often referred to as Aizome. While indigo nowadays is most commonly found within the denim industry, the Japanese has a wide variety of indigo usage, one of which is the artisanal craft of Kokeshi.
Kokeshi is handmade wooden dolls carefully crafted by skilled artisans, known as Kijishi. Commonly known to be a wooden toy for children, most Kokeshi are presented as souvenirs for visitors of the hot springs, Onsen. The origins of these dolls and the artisanal craft dates back to the 19th century, where its roots are found in the North East of Japan.
I had the privilege to get an exclusive interview with Masahiro Sato, Kijishi master and acclaimed Yellow Ribbon Medal of Honour recipient, at his workshop in Sendai, Japan. Here he explained about the traditional craft, but also the birth of Indigo Kokeshi, crafted by his son Yasuhiro Sato.
It Took Him Eight Years To Become a Master
Masahiro-san graduated from high school in 1955. Due to his skilful hands he got introduced to a family friend and Kokeshi master who took him in as an apprentice, living and learning in the masters house for four years.
Focussing his skill and interest specifically on woodturning with the use of a lathe (wood-shaping machine), Masahiro-san went into another four year apprenticeship with a woodturning master, eventually taking eight years of being an apprentice before becoming an independent master.
"The art of woodturning originated from the South of Japan about 1200 years ago, but the actual Kokeshi craft was started by woodturners in the North. It's a mystery to date why it was only made in the North," Masahiro-san explains.
One might think that due to the use of a lathe, a woodturners work might be made simpler. However, regarding Kokeshi, this is not the case.
"A kokeshi master performs the entire process from beginning to the end on his own. Acquiring the wooden logs, stripping off the skin, dry and turn on a lathe, paint and varnish. There is no right or wrong in a woodturners skills and techniques, especially as the specs of a lathe differ per region."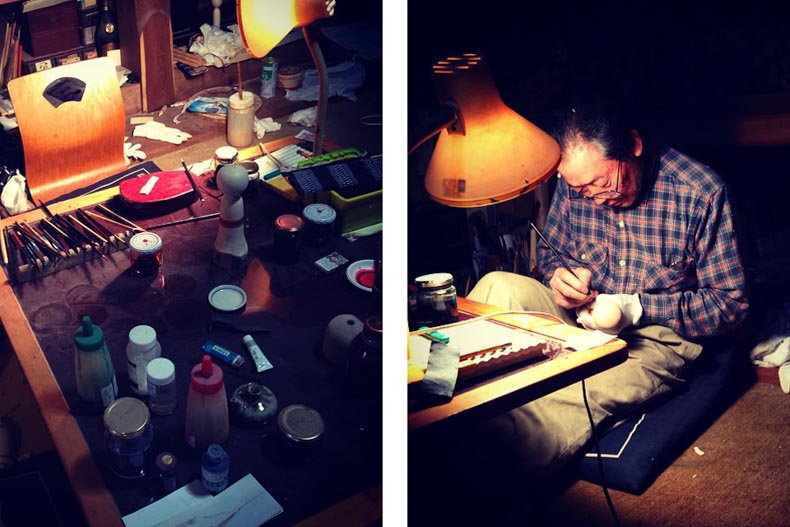 One of his most dedicated apprentices is his son, Yasuhiro Sato
Interestingly enough it is his son who specifically focuses on the use of indigo for Kokeshi, lovingly named Aizome Kokeshi. This new style of Kokeshi is even more challenging, as it has never been done before and requires repeated painting with indigo to sink the colour, whereas traditional Kokeshi are more or less fixed with colours such as red, yellow and purple.
Becoming an apprentice under the wings of Masahiro-san is only possible when one is truly committed.
"I will welcome anyone who is passionate and truly committed. However, making a living out of it is another matter. Many apprentices quit after four years of learning, and even those that pursue still struggle to make ends meet after decades."
Masahiro-san explains that he does not know when he mastered the skill, as he feels that artisanal craft is a lifelong learning, there is no ending. He does not see himself as an artist, but as a creator, an artisanal master.
His drive is not to become the best Kokeshi-master. Masahiro-san feels it is far more important to create a work from the heart, with passion and care. If by doing so he exceeds his customers' expectations, he sees that as his passion and drive.
Modern Times and Its Commercial Development Bring New Challenges
Woodturning is how Masahiro-san makes a living. Due to a growing group of artisans in his profession nowadays, they have to start determining the price for their work.
"Some artisans price similar Kokeshi dolls for 3-4 times the price of mine and get it sold [laughs]!"
This is already creating debate on how and if the commercial misuse affects this artisanal craft.
"This new side of business in our craft cannot be taught in any apprenticeship. It is a new way of thinking that slightly defies the ethics of our work origins." 
For the past two years, there is a project running in Sendai called TetoTetoTe. The project focuses on promoting Sendai artisans and traditional craftsmanship, and due to the recent collaboration between Yasuhiro-san, Keiko Kitamura and Terry Ellis (BEAMS). This has resulted in the Aizome Kokeshi being introduced and sold in the Fennica shops at BEAMS Japan where they focus on promoting Japanese craft and furniture.
The Future of Woodturning
While Yasuhiro-san's woodturning and the creation of Indigo Kokeshi are being applauded and raising great expectations in the woodturning field, he does however receive strong criticism as well. Many woodturners are afraid this new and different style will damage the already established styles.
Being a culture strongly focused on respecting tradition, the new and different insights to traditional, artisanal craft tend to be on the receiving end and only time can tell if Indigo Kokeshi will be truly accepted.