Updated: How Vegetable-Tanned Leather Is Made Plus How You Achieve The Perfect Patina
Back in the summer of 2015, we delved in to the luxurious subject of all things vegetable-tanned and with the recent launch of a raft of new products (especially Butts And Shoulders new boots line), we reckon it is high time to look back at our advice and sharpen our skills. After all, leather is probably the only material (other than denim) that can set a denimhead's heart racing.
It shares so many of the qualities of denim; it's durable, it ages with the owner, it builds up a patina (the leather equivalent to 'the fade'), and the best thing of all is it so perfectly complements denim.
For the purist, there is only one choice: natural vegetable-tanned leather. In this guide, we show you how to speed up the ageing process while preserving the leather.
How Leather Is Made
When we talk about vegetable-tanned leather, we talk about a specific way of making leather. Making leather is just as complicated as making denim. We asked leather expert Simon Tuntelder to outline the very basics of how it's done:
Kill the animal
Remove its skin
Remove the hairs (with lime and water)
Preserve the skin – i.e. tan it
Dry the tanned skin
Add a finish (aniline, semi-aniline or pigmented)
There are a number of finishes, but for the purpose of this article we will focus on aniline vegetable-tanned leather, which is the kind that will quickly and aggressively develop patina.
How Vegetable-Tanned Leather Is Made
Vegetable tanning is the archetypal way of tanning animal hides. Unlike chrome tanning, the other common way to tan leather, it can take as much as six months to turn the skin of an animal into leather.
In vegetable tanning, organic materials like tree bark are used to tan the leather. The only other ingredients are time, water, lime, and a lot of heavy machinery. The process requires soaking the leather in drums or tanning pits.
The colour, technically referred to as finish, of the most common kind of vegetable-tanned leather, natural, is usually light brown or sometimes almost white. With natural vegetable-tanned leathers you can usually see that it's made from real living animals; insect bites or scars can be fully intact (depending on the finish). Such imperfections are seen as natural characteristics that only augment the nature of the product.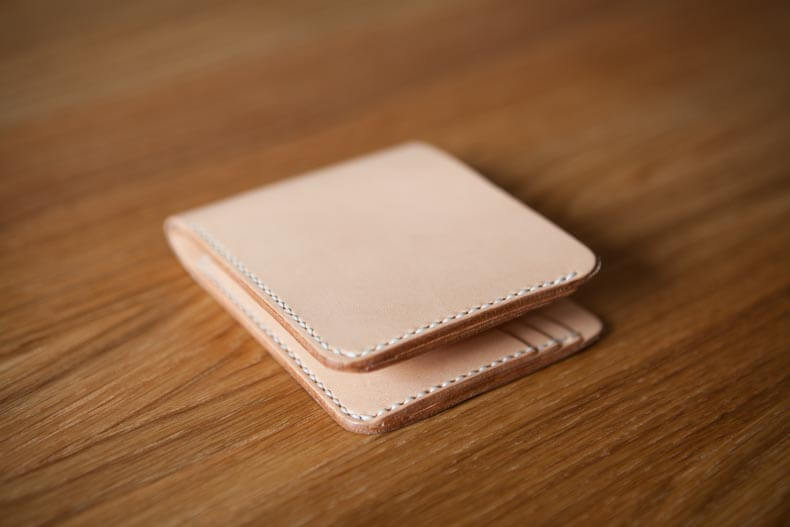 Lighten Up, It's All Natural
The most noticeable trait of vegetable-tanned leather is its decidedly light colour when new. So how does this age down to that deep, patinated brown we all strive for?
Well, like well-faded denim, the answer is simple; with use. However, also like denim, there are a few things we can do to get the leather off to a good start.
On page two, we will show you how to turn a virginal piece of leather, like the one below, into something that looks like it has lived in your back pocket for a decade.