The Secrets of Shrinking Unsanforized Denim
Rope Dye asked three renowned denim experts how they shrink down their unsanforized jeans. We found some surprising tips and tricks
When it comes to shrinking unsanforized denim, there are many myths out there. With the help of three experts, Rope Dye gets to the core of the issue.
A Denim for the Purist
Unsanforized denim is denim of the purist. It is the denim that the jeans of yore were made from. Before the days of sanforization, denim would shrink down to varying degrees.
It came off the loom and was sewn into a pair of jeans. It would be up to the customer to shrink the jeans down themselves.
What We Love About Unsanforized Denim
The shrinkage process that unsanforized denim goes through as it is washed leads to some of the things we denimheads love most about a pair of jeans. The famous leg-twist is due to the nature of the twill fabric. The roping effect on the hem is due in part to the chain stitch folder of the Union Special and in part to the shrinkage around the hem.
Myths and Legends
The "shrink to fit" nature of the early jeans has led to legends and rituals springing up all over. The most famous being the "wear out wet" method. You basically wear them in the bathtub until they have shrunk down to your size; you then wear them until they are dry.
This may be the most famous method, but it is also amongst the most ridiculous.
Ask the Experts
Rope Dye talks to three of the experts' experts in the denim world. People who have shrunk down dozens, if not hundreds of pairs of jeans over the years. Their methods vary slightly, but one thing is for certain; there is none of this bathtub nonsense.
First Stop: San Fran's Self Edge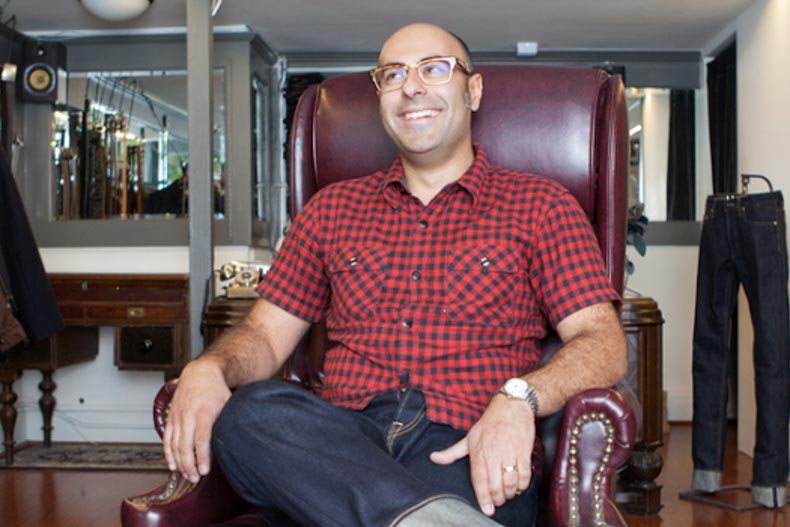 Our first stop is to San Francisco with Kiya Babzani of Self Edge.
Kiya's method is simple. Turn the jeans inside out and soak them for 45 minutes. You then take them out of the water and let them fully air dry before wearing them. The hotter the water, the more shrinkage you will get.
He has this to add about the wearing out wet method:
"Do not wear the jeans wet or damp as this causes knee bagging and/or will stretch the jean out in places you may not want (such as the waist)."
Rope Dye Say:
In principle, we agree with this method. It is simple and effective and will get you just the results you need. We will, however, add that we like to see as much of the shrinkage as possible come out of your jeans before you start wearing them. Using just cold water may mean that on the first machine wash (after wear) the jeans will shrink down further.
You may find your beautiful fades shifting or, the worst-case scenario, they may become too short if you've had them hemmed to a precise length.
On the Next Page Find out the Shocking Methods of Megatron 1505