Chinese Heavyweight Contender: 25 oz. Red Cloud R400SP (R424SP)
Red Cloud Go Up Against the Japanese Masters of Super Heavyweight Denim With This 25 oz. Denim
The Japanese sit on the throne of the most revered heavyweight denim and for good reason. It takes dedicated denim mills and manufacturers (as well as superior materials) to produce a fine pair of heavyweight jeans. Talking about contenders to the Japanese, we usually mention the Americans or seasoned European denim producers from Turkey or Italy. It's unlikely that a small, independent denim label from mainland China would be considered a contender. Red Cloud prove us wrong.
Chinese Super Heavyweight
Red Cloud's new super heavyweight R400SP jeans (also known as the R424SP) are sewn from a Chinese-milled, unsanforized 25 oz. denim; almost the heaviest denim there is. Only a handful of other manufacturers could boast heavier fabric in their line-ups.
Now, the contender has appeared, the stage is set, and the balance of power might just be shifting. Hold onto your seat; the heavyweight battle is about to commence!
The Fabric: The Raison D'être
Red Cloud went all-out with the production of this beautiful, deep dark-blue loom state 25 oz. denim.
Allegedly, Red Cloud's propriety denim mill had to drop all their staple fabric productions – the 17 oz. and the 14.5 oz. denims – to produce this fabric. The brand's owner, Raymond, was personally involved in the quality control process, which resulted in a very high rejection rate. This ensured that only the best fabric was used in the production of the jeans.
The resulting denim is a thick and hairy fabric made from long-staple Turpan Cotton, which has been indigo-soaked to the darkest blue shade. The weave is quite regular and is less slubby than other well-known 25 oz. fabrics. Being loom state, the hairiness and stiffness of the denim is readily apparent.
I gave my pair two (almost boiling) hot soaks to get rid of all the shrinkage. Once soaked, the fabric tightened and got a darker impression as the weft is less apparent, and the hairiness became even more pronounced.
At first, I did not notice the leg-twist common to unsanforized fabric, but I was wrong. The fabric is very thick and stiff as to prevent the legs from twisting on their own. After wearing them a few times, the expected leg twist has become more obvious.
Pre-soak measurements (inches):
W: 33 / FR: 11.2 / BR: 14.5 / TH: 11.75 / KN: 8.5 / LO: 8 / IS: 34
Post-soak measurement (inches):
W: 32 / FR: 10.5 / BR: 14 / TH: 11.5 / KN: 8.25 / LO: 7.75 / IS: 32
As seen, these do not have extreme shrinkage rate, but mine still shrunk a full size.
The Hardware: Red Cloud's Propriety, All Japanese Hardware
While the fabric is milled in China from Chinese long-staple cotton, all the hardware and cotton threads are Japanese-made and Red Cloud branded.
The buttons and rivets inspire confidence in the wearer just upon viewing. The buttons' backs and the rivets are very thick, and are securely hammered onto the fabric. In my experience, they can age really well. This is especially true of the rivets, which develop copper rust and patina with use.
The leather patch has changed from Red Cloud's previous iterations. Older models used Fullcount-made goatskin patches, but the newer lots are made from deerskin. The patch has a shiny finishing with all the graphics embossed on the leather. The lightly finished leather patch looks to age well. Just after hot soaks and an application of leather feed, it has already darkened up quite a bit.
All in all, the hardware gets a straight pass.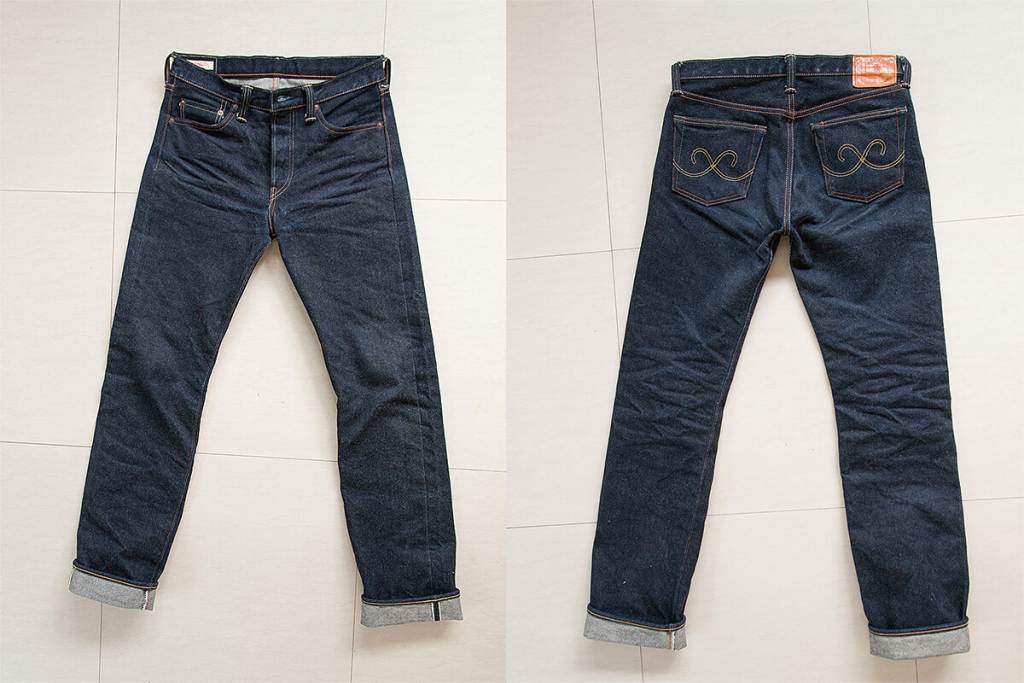 The Craftsmanship: Traditional, Artisanal Care and Constructions
My previous experience with Red Could jeans was with a pair of the 2012 lot R400, a former iteration of the 17 oz. blended weft jeans. Those jeans compared favourably well with the Japanese, American, and Italian made jeans I have worn, and the denim on the 2012-R400 was second to none.
Somehow, the R400SP exceeded the craftsmanship of my previous Red Clouds. I've been told that all their machines needed to be readjusted to work on making these jeans, which incidentally stopped the productions of all their other garments. So, they got a full-factory attention in their making.
Construction and detailing are that of the traditional 40s-50s-era jeans as modelled after the 1947-1955-era Levi's 501XX. Stitches are sturdy and clean with high stitch count. The all-cotton contrast stitching is especially beautiful on this pair. They also bear Red Cloud's already-iconic 'Wukong' arc, which is perfectly fitting for these jeans. I will get back to why that is.
My only slight complaint is the thing I found amiss from my previous Red Clouds; Wabash pocket bag. While the pocket bag of R400SP is made of sturdy canvas material, it cannot compare to the Wabash fabric, especially in term of aging property.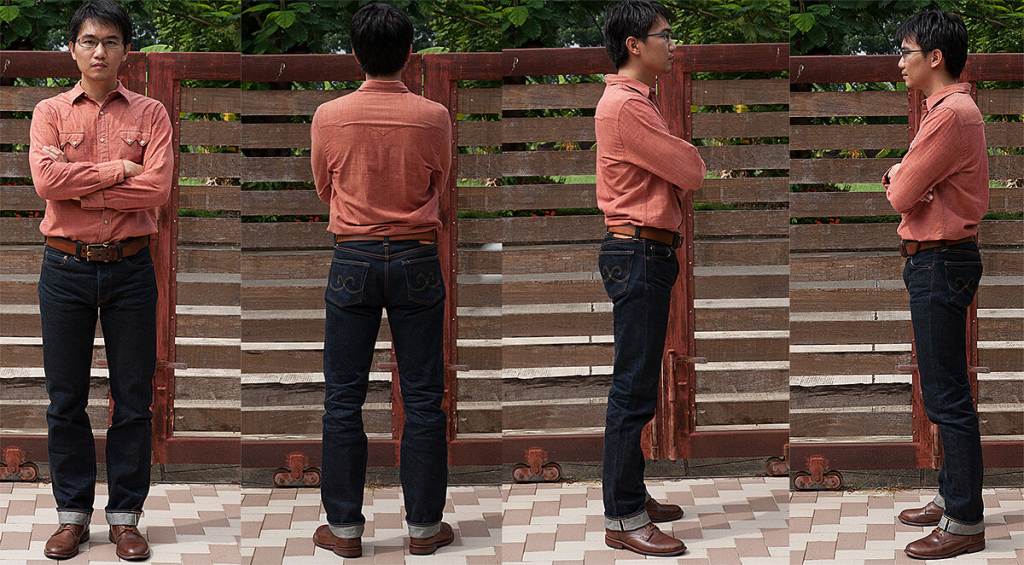 The Fit: Tried and Tested 47-Fit
The fit is a modified 47-fit. A classic slim-straight with a slim top block, narrow thigh and leg, and a medium rise. It is a versatile fit for both dressing up and dressing down. It can look equally at home with a sports jacket and button-down shirt or just plain white tee.
At 173 centimetres and 68 kilogrammes, I went true to size with these and got a waist 31. I could have sized down one to achieve a slimmer silhouette but, in the end, I decided that downsizing would be too uncomfortable with this heavy fabric. On the whole, I am quite satisfied with the fit.
The Experience: Airy Armour Amazement!
What is 25 oz. unsanforized denim like to wear, you might be thinking. Let's get back to that 'Wukong' arc. Sun Wukong, also known as the Monkey King, was a character in the famous Chinese classic novel 'Journey to the West.' In the novel, Wukong, a powerful god-like character, was made obedient when his master tricked him into wearing a headband that could tighten itself around his head. The shape of this headband serves as inspiration for the arc design.
There is no getting around the stiffness and unforgiving nature of heavy denim at the initial stage of wear. When I put these on the first time, it took so much energy that I didn't need to work out afterwards (and don't even get me started on what it's like buttoning them). After the first week, the denim started giving way and, about two weeks in, the jeans already felt like an old friend.
And, the jeans are full of surprises. The thing about this fabric is that the inside is also hairy, which makes the fabric fluffy and almost suede-like. Another thing is how breathable this heavyweight fabric is. In a breeze, you actually feel the wind blowing through the fabric and, in Bangkok's heat and humidity, this breathability really helps.
Altogether, even though the fabric is what it is, heavy and stiff, it is also far more comfortable than it looks.
Conclusion: Be Afraid, Be Very Afraid!
Competing in the Denim World Championship with this very pair of jeans, I'm up against contenders wearing jeans from some of the best heavyweight denim manufacturers. I am unfazed though.
The combination of amazing fabric, second-to-none craftsmanship and detailing, great fit, good substantiality and comfort give me confidence that, no matter what the next two years of this competition hold, my jeans and I will be able to take them with a smile.
Only time will tell how they hold up and age next to the kings of heavyweight denims, but if Red Cloud's past jeans are any indication, the Japanese should guard their throne.