It's Not Just Perfecto – It's the Nezumi Johnny Leather Jacket!
Classic Looks and Well-Thought-Out Design Details Make This Leather Jacket More Than Perfect(o)
I'll admit it; when this black leather jacket first popped up on my Instagram-feed, I thought it was a Perfecto. The picture was posted by Nezumi Studios, the Swedish brand that broke through the mainstream with their selvedge denim line a few years back. When I looked closer, I realised it was something else – and just what I had been looking for. I started saving up for it, and eventually I was able to buy one.
Johnny Who?
The Perfecto motorcycle jacket was introduced way back in 1928, and it might be one of the most classic leather jackets ever made. It's one of those garments you'll recognise at a glance. Details like the remarkable collar, chunky zippers, and the belt at the waist define it.
It was made famous in 1953 by Marlon Brando in the iconic movie The Wild One and since then it has been worn by all kinds of people. From greasers in the sixties to punk rockers in the seventies.
Basically, ever since Brando put it on the jacket has been a sign of rebellion, whether it is worn by a biker on the blacktop or by a celebrity on the red carpet.
Not many brands dare to take on a design like that – let alone try to make it even more perfect. Nezumi Studios did. Their take on the classic style is called "Johnny." The designer and owner of Nezumi, David Campo Cárdenes, jokes that it's up to the customer if the name refers to Marlon Brando's character in "The Wild One" or Patrick Swayze's character in "Dirty Dancing" – so who do you want to be?
Designed Out of Necessity
A week after I put in the order for my jacket, the mailman delivered a cardboard box to my door. When I opened it, I was hit by that distinct scent of new leather. Putting it on for the first time felt like getting a hug from an old friend, and I have every reason to expect that it will only get better in time.
When I asked David about his thoughts on the design, he told me that he always liked this type of leather jacket, but never really felt comfortable in it. That is a big part of the reason why he decided to do his own version:
"I designed it for me, but the response so far has been great, and it feels like a fresh update to everything else out there. I wanted to give the classic jacket a more modern silhouette and fit. Other than that, I have gone for a straight zipper, which goes higher up on the chest than on most of these jackets," David says.
The jacket is made in England from a premium UK full grain cow leather, custom developed for Nezumi Studios. It features heavy duty YKK-zippers and branded snap buttons throughout. The jacket is slightly longer than most jackets of this type, and that makes it stand out – for a tall guy like myself, it is an important detail. The single slanted pocket on the right side works well with the two pockets on the left. On the inside there is a black quilted lining and two pockets. Altogether a perfect combination of details.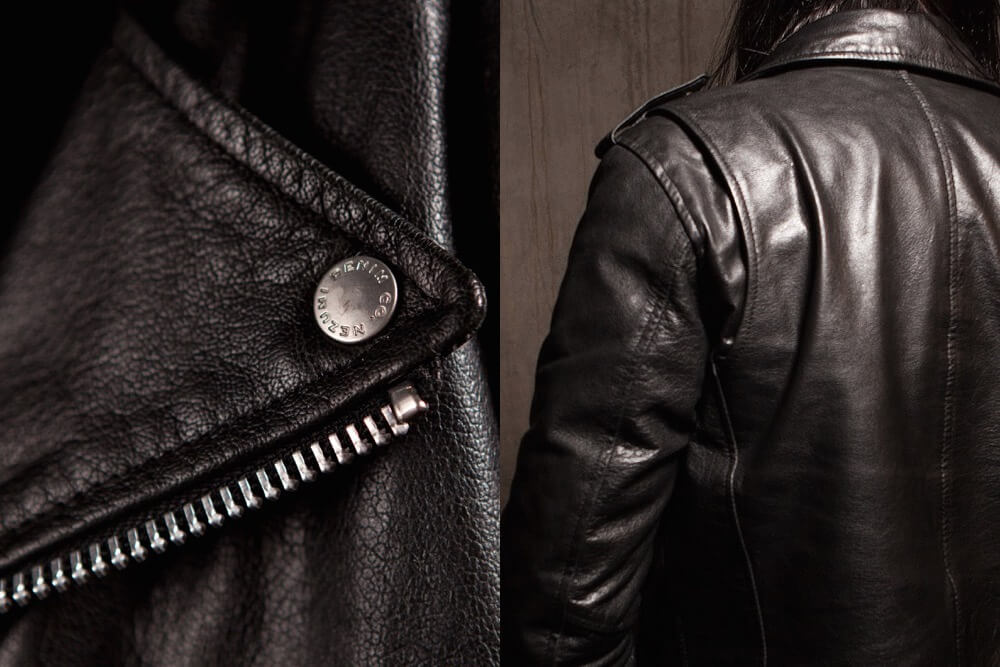 You Want It? You Can Get It!
If I've done my job right, you'll want one of these for yourself now.
The Johnny jacket retails for around €650. To get your hands on one, contact Nezumi Studios on [email protected] and they will send you a size chart. I compared the measurements on the chart to my Lee Rider denim jacket and the size I ended up with feels as if it was tailored for me.
The bottom line is that this jacket is so very classic that it'll work for almost every occasion and every outfit. To me, nothing beats wearing it with my favourite T-shirt and a pair of well-worn selvedge jeans – you know, keep it simple, stupid!