Pictured. Williamsburg Garment Company Records How Raw Denim Fades
Williamsburg Garment Company Explains All In Before-And-After Photos
If you're into raw denim and fades, chances are you've had to explain why you don't wash your jeans or why they all look the same (which, of course, we know they don't).
Apart from comments like "don't they stink?", you've probably experienced the "no way!" reaction when you explain that your perfectly-faded raw denim was once all dark and crispy. So what does this tell you? Well, obviously people need to see it to believe it. They need the before-and-after shot.
The Raw Denim "Evolution" – See It and Believe It!
Raw denim and the concept of breaking it in is often either oversimplified or overcomplicated. There's no one-size-fits-all way to get great fades. On the other hand, it's not really rocket science.
Most guys buy jeans (including raw denim ones) to look and feel good. If you really want to sell the idea of the fade, you have to show it.
That's exactly what Williamsburg Garment Company did.
Founder Maurice Malone recorded how his slim fit Selvedge Grand Street raw denim jeans changed as he wore and washed them over a ten-month period. The reason was simple; he needed answers to common questions he would get about stretching and shrinkage of the jeans. Based on what he learned from wearing the jeans, Maurice put together this chart.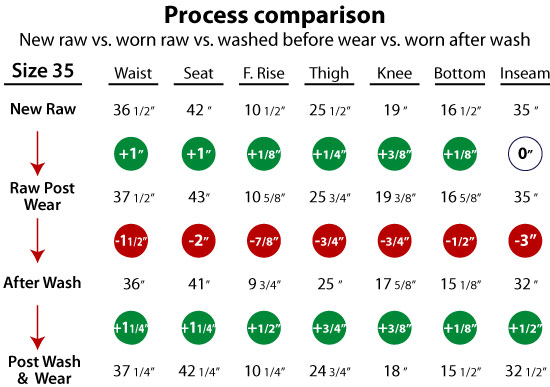 As a convenient added bonus, we can now witness the before-and-after raw denim evolution in the slider below. Maurice also merges pictures of the jeans as they look at birth and after nine months of wear without washing, as seen in the image at the top of this article.
Images in slider courtesy of Rawr Denim.
The Essential Factors That Influence the Fade
Now, even though the denim has clearly faded, the fades are not as pronounced as you would expect after nine months of wear or as you would probably get with these six jeans in the lightweight category. So why is that?
Well, Maurice has surely put in the work. He wore the jeans hard for four days a week around his office and warehouse to give them a good beating. However, the lightweight 12 oz. Cone denim hasn't changed all that much. At least not until it was washed.
After the first machine wash, he wore the jeans for another month before the second wash. At this point, the denim had turned into a more generic blue jeans shade.
So, this tells us that the factors that influence the fade are:
How you wear the garment
How you wash it and
What kind of denim you're wearing
If you want jeans that get a nice and subtle vintage fade, Williamsburg Garment Company's lightweight denim is a good choice (especially since these Made in USA jeans retail for only $148 right here!).
If you're looking for something that will get heavier fades, check out our guides to super heavyweight, heavyweight, middleweight and lightweight denims that will fade like hell right here.