Where does the denim loving handyman put his tools when he's working on his motorbike, working the garden or helping his misses put in a new light bulb. In his apron of course. With more than 15 years of experience working with denim, the two founders of Dawson Denim, Scott and Kelly, had been collecting and preparing to make something of their own for a long time.
In January, 2012, they set up their production and the first products were launched in September. Everything is handmade in Britain; actually they're the only manufacturers of selvedge workwear aprons in the UK.
They use a beautiful and dark 13 oz. redlined selvedge denim from Japan. It's produced by a family run mill that has been operating for more than 100 years.
The aprons included in the line are all based on historical garments that Scott and Kelly have been collecting. Each apron has a combination of copper grommets and copper rivets which are correct to their time.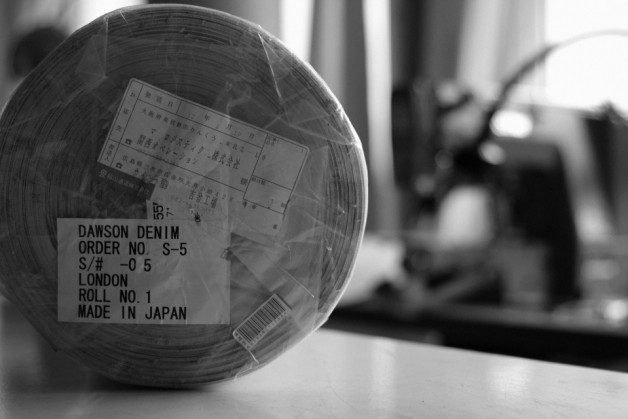 The Mercantile to the left below is based on ashop keepers apron from the 1950s. The Mechanic to the right is based on a US Army issue WW2 apron.
The Pinny is based on a 1940s lumber yard apron, originally made in Duck. The Carpenter is still used today.
Should the Unthinkable Happen and your Apron Break, You Can Get it Fixed For Free
When designing the products and especially the small branded elements, Scott and Kelly wanted the customer and user to feel like they had found a deadstock apron from the 1950s.
Each aprons is one of a numbered production run and they also all come with a "Log Book." The idea is that you can return your apron to Dawson Denim if it needs a repair service.
The repair will be done for free if it's within the first 6 months and Scott and Kelly will personally repair what's broken by hand in their workshop in Brighton, UK. However, they don't expect to have to do that many repairs as the products are in construction built to last.
"The threads we use are strengthened and thick, rivets at the pocket openings for added strength. With bartacks at all stress points, the webbing which crosses over the back for a snug fit is super thick and heavy weight," says Scott.
All aprons come in a stylish and decorative box made in card.
Besides aprons, Dawson Denim also makes two loomstate bull denim bags.
They designed the helmet bag for their own use having nothing to carry their helmets around with. The bags are silk screen printed in Brighton, fully lined with ticking stripe, and they come with a useful inside pocket and leather key tab.
Get your own apron or bag from their webshop.