Stocking "the world's best Japanese denim specialities," DC4 is the place to meet like-minded enthusiasts if you get the chills from the smell of natural indigo or the hand feel of an exclusive and slubby heavy weight Japanese denim. Established in 2004 at a time when no other shop in Berlin catered the market for premium Japanese denim, DC4 quickly built a strong reputation. The shop recently relocated to one of the oldest building on Torstraße a ten minute walk away form the touristy high street shopping area. We had a chat with owner Daniel Cizmek and his colleague Frank.
UPDATE, September 2014: On the night of January 14, 2014 DC4 was robbed. Since then the shop hasn't had a physical outlet and even though the webshop is still live it only has very little inventory.
Daniel grew up in Federal Republic of Germany ('the West") and before becoming a shop owner he studied fashion design. He was raised to loved denim and jeans by his father and according to Daniel the demand has been strong ever since jeans were introduced to the Germans by the American GIs in the 50s.
Still, in recent years there has been an increased focus on heavy Japanese denim and in Daniel's opinion this is mainly a result of competition between the Japanese brands to produce the the heaviest high quality denim possible. But weight is only one aspect of quality and what Daniel really loves about Japanese denim is the way it fades. Also, the manufacturers have realise that their highly valued and irreplaceable old shuttle looms are put under too much pressure producing that super heavy weight denim.
Walking by DC4 late at night you'll often find Daniel and his crew hanging around in the shop discussing how to improve the details or the fit of a jean. One of the improvements they've come up with is the selvage reinforcement on the back of the right front belt loop on the first DC4 Iron Heart collaboration jean. This seemly decorative detail comes in handy when wearing a wallet chain with a snap hook, which often tears through the overlock normally found on the back of belt loops. On the second collaboration jean they implemented the detail on both front belt loops as some like to wear their wallet in the left back pocket.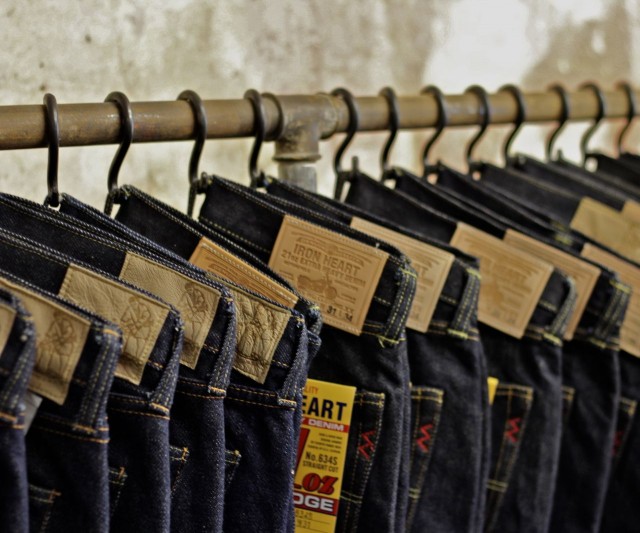 Besides Iron Heart and Flat Head DC4 stocks brands like Dry Bones, R.J.B, Pure Blue Japan and Samurai.
When discussing his approach to washing, Daniel quickly comes clean about his position on the matter. "It's like scientology today and everybody keeps telling you what to do. It's really blown up. I don't care about the "rules" – I have jeans that I haven't washed for 7 or 8 years and I have jeans that I wash every month. But basically you won't get those distinctive fadings if you wash your jeans too often," he concludes. "You will probably also hear people recommending you to put your jeans in the freezer to remove the smell, but it doesn't really work. Yet, we've tried to send some of your dirty jeans to a special facility in southern Germany that blows the dirt out of the fabric with high pressure. That worked."
Daniel collects flight jackets, army jackets, baseball tees, and Harley tees while Frank has a jeans collection of at least a couple hundred pairs, and even though he has a hard time picking out one perfect pair he is pretty proud of his deadstock pair of Lee Lady Riders from the 60s in mint condition with a $6-price tag and everything. Hopefully we'll get a glimpse of them next time we visit the shop.
As something unique, DC4 now offers a special soaking service; let the guys at DC4 soak your newly bought the Japanese shrink-to-fit jeans before they hem them using their original 1940s Union Special 43200. That way you won't have to ship the jeans back and forth for the hemming. They are also offering an indigo dyeing service and to top it off you can also get your very own customised leather patch put on your jeans.
The DC4 guys bought the machine from a collector in the States and they only use original thread from all their suppliers.
To find out more visit their webshop here and follow them on Facebook.