Denimhunting In India
"To travel is to live," is a famous quote by one of Denmark's greatest national treasures, H.C. Andersen. As a kid I simply adored his poetry. After spending a few weeks of the summer in modern day India, I'm tempted to rephrase mr. Andersen's famous quote to, "to travel is to survive." But in the midst of the overpopulated, bureaucratic mess with all its hassle, filth, and poverty it is possible to find an honest man doing a decent job that he's proud of. On my way through touristy Rajasthan I met two leather smiths who on a good day would fit that description.
As you may have already guessed, I didn't go to India on my own free will. I could easily have picked other destinations that would have met my expectations to a vacation in better ways. But when you're marrying a soon-to-be-doctor you just have to accept that you cannot always decide where you want to travel, especially not when there's work involved. On the 1st of May I sent her off to save lives and cure diseases in India, and after spending two and a half months alone in Denmark I packed my backs and headed out to meet her there. This is just a fraction of what I saw, I'll spare you of the main chunk of the personal snapshots of our camelback ride in Jaisamler, our visit to the Taj Mahal and the picturesque scenery in Udaipur.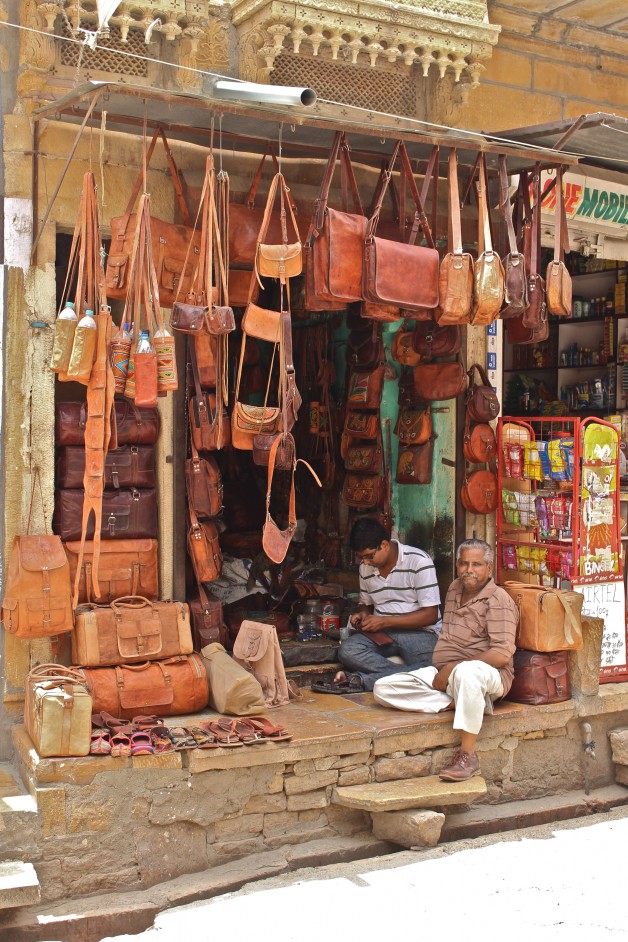 After an 18-hour train ride from New Delhi we arrived to the small desert town of Jaisamler close to the borders of Pakistan. Besides the heavy presence of the military and camel safari tour guides, Jaisamler had a flourishing leather industry. Taking us for leather importers, the owner of Vijay Leather Works (the old man sitting in the picture above) gave us the full tour of his "show factory" and his stock room. And of course we (read: my girlfriend) ended up buying a whole bunch of leather goods including the camel leather backpack below.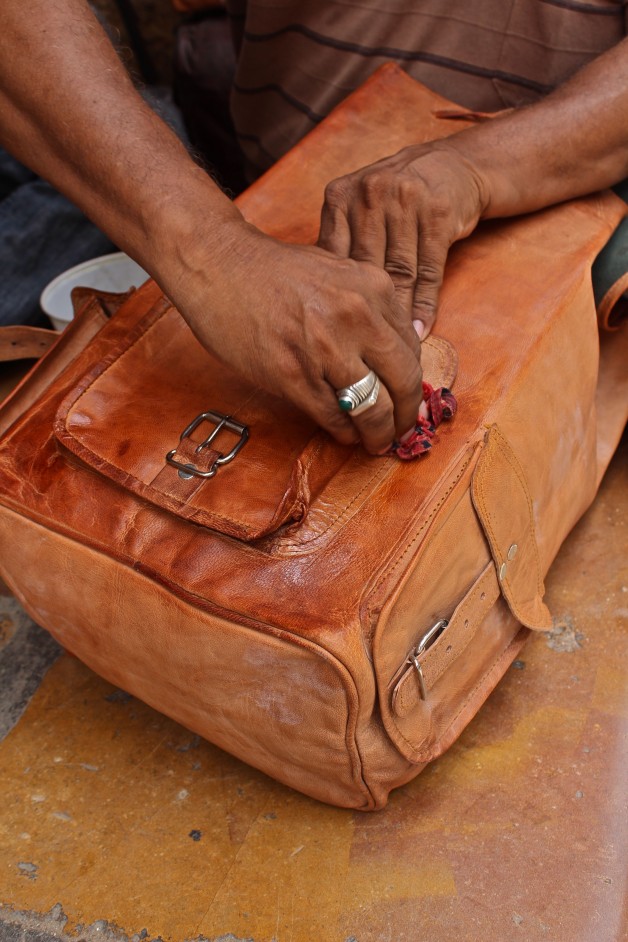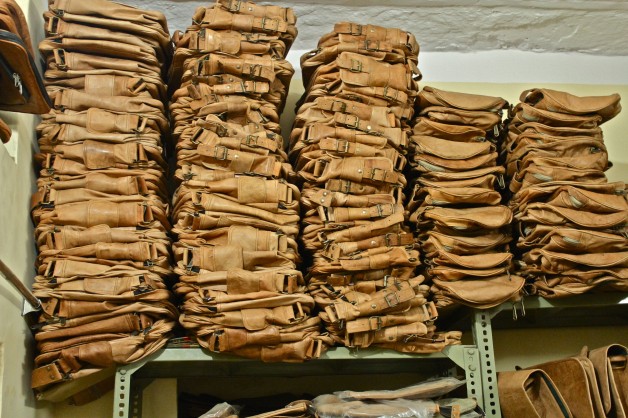 Located a 5-minute walk from the shop was the "factory." Clearly, this was merely a show for us tourists. Travelling through India you quickly become skeptical of everything and every idea they try to sell you, often with good reason.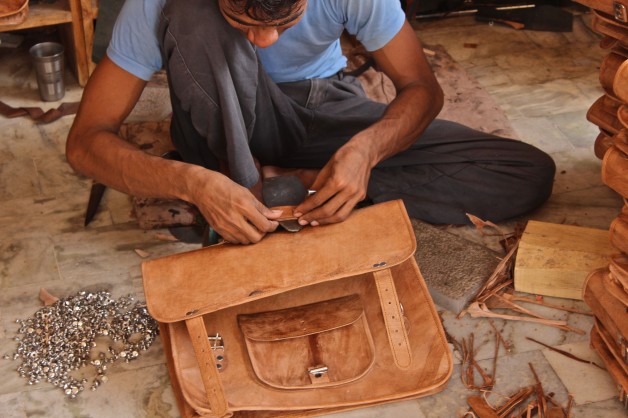 The thickness of camel leather.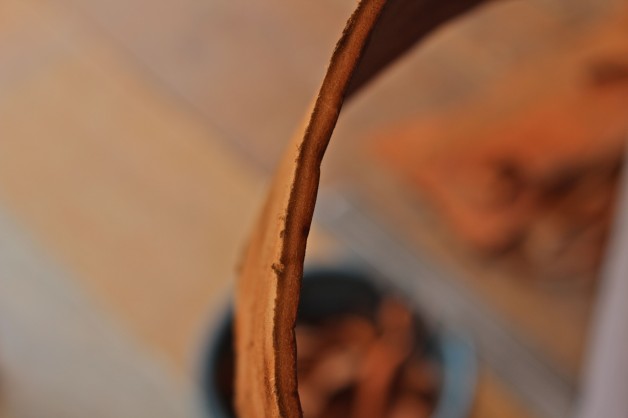 After a short stop in the Blue City of Jodhpur, we arrived in Udaipur, the Venice of India and main location for the filming of the 80s James Bond movie Octopussy. With a much cooler climate, cleaner street and slightly friendlier vendors, Udaipur gave us space to breathe. Especially the local leather craftsman Sanjay who served sweet chai tea in his Gajanand Handicrafts shop carved out a special place in our hearts – and our wallets.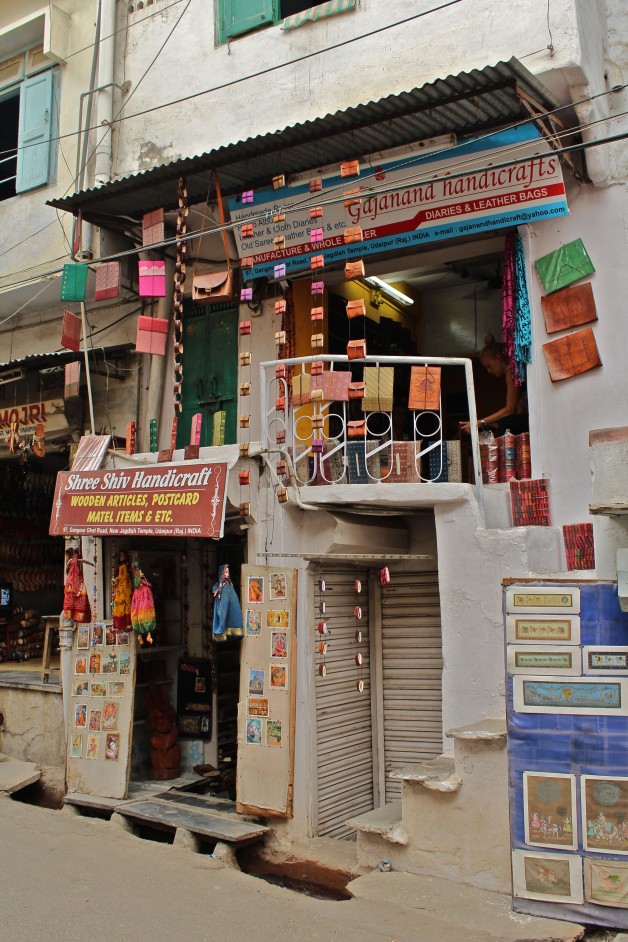 Girlfriend about the shoulder bags below: "I can't decide which one to take", me: "why not take them all?" So she ended up buying the two smaller ones and the big dark one. And why not, those three gorgeous camel leather bags only cost around DKK 250 (roughly $45), which is ridiculous. You easily get to feel like a millionaire in India.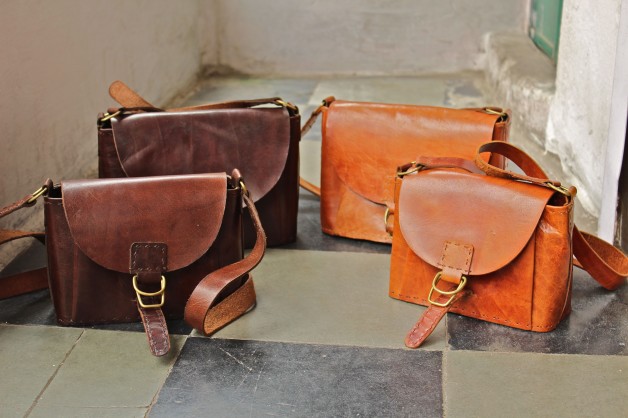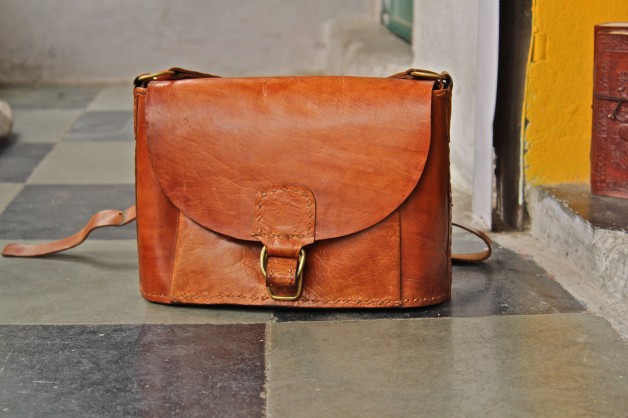 The stitchings are done with leather as well.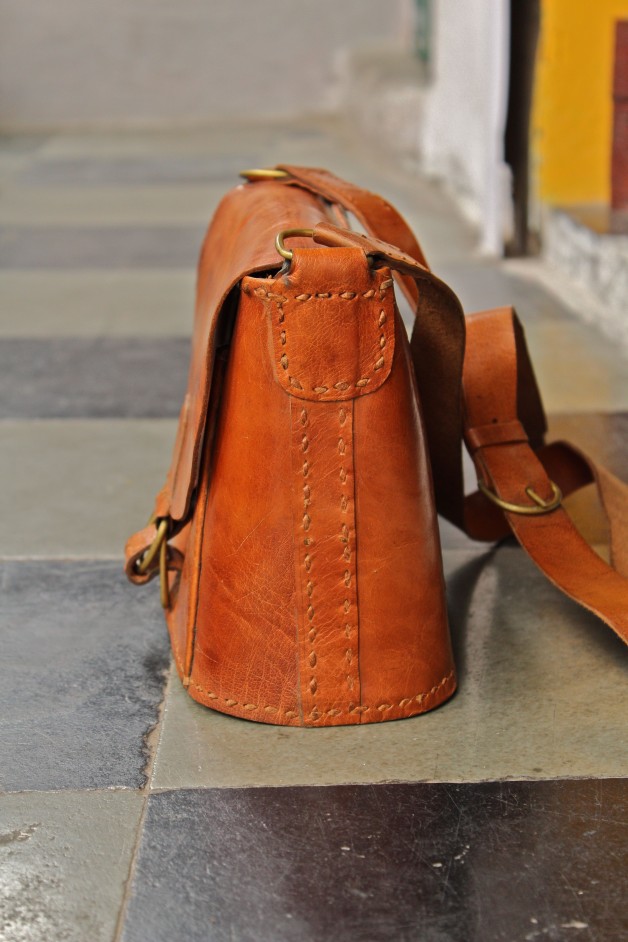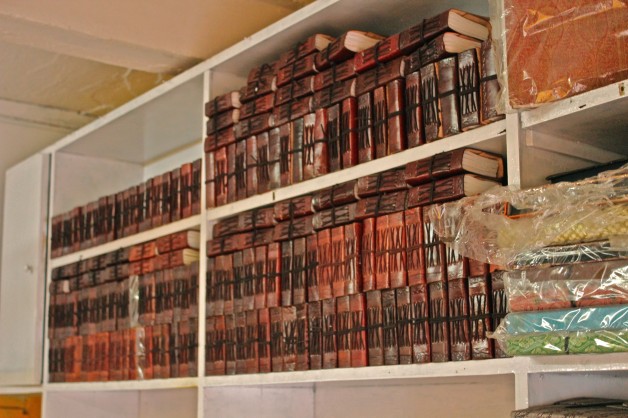 Sanjay also stocked quite a lot of diaries and as a special thank you for a the goods we bought from him we got a couple of miniature ones as gifts.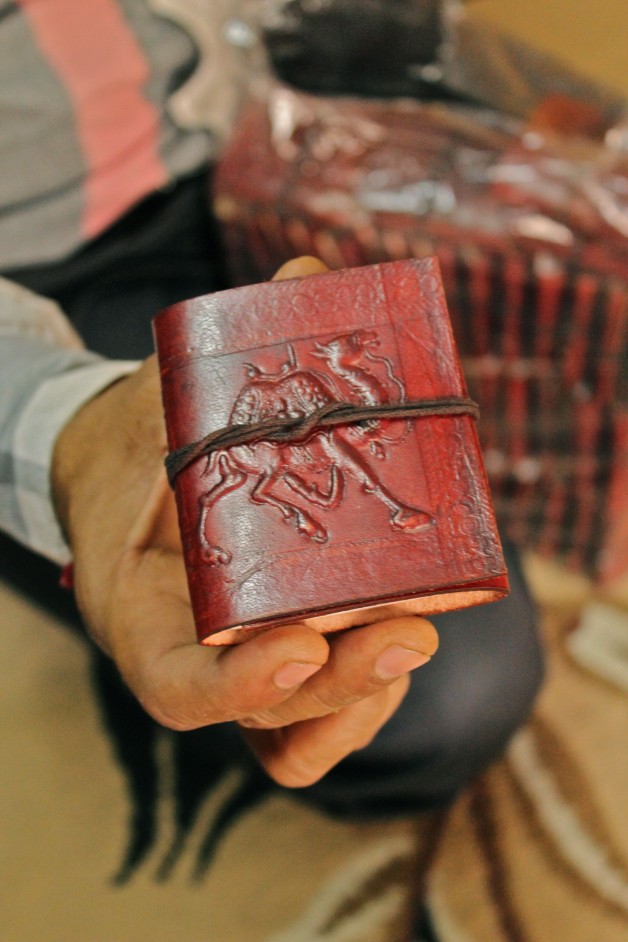 The amazingly hand painted photo album was the only thing I bought.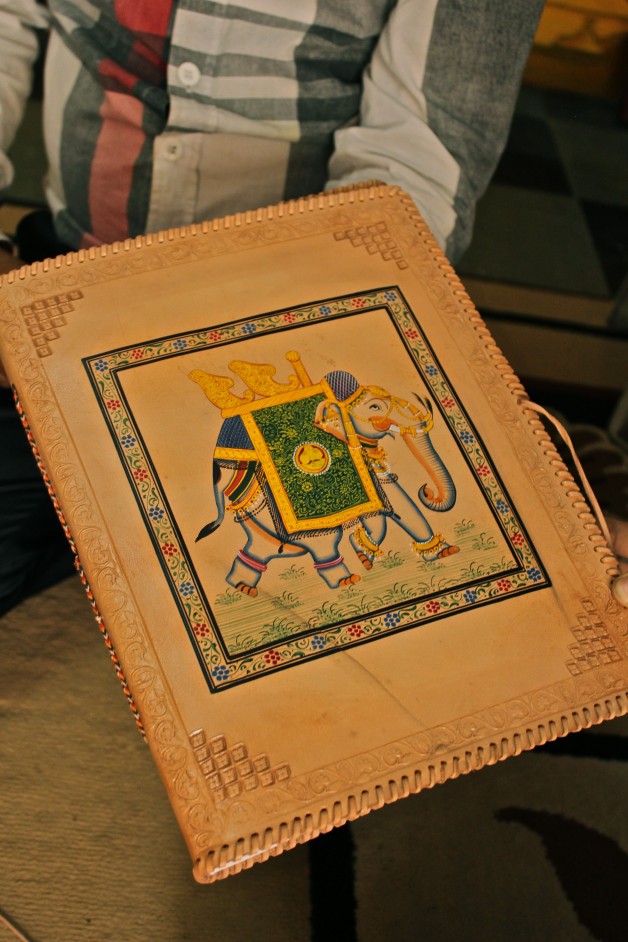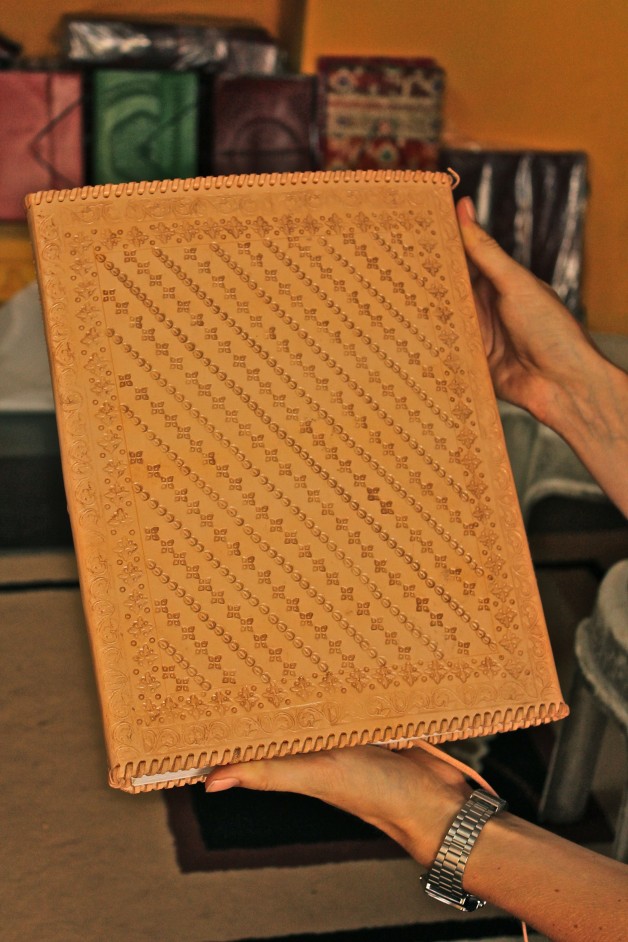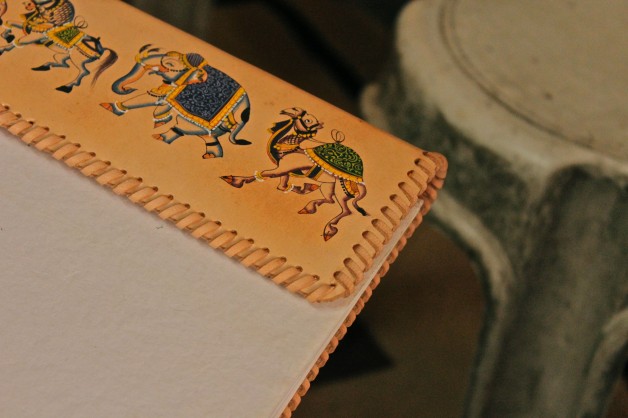 All in all, India was an experience that I'll never forget, but I don't need to go back anytime soon.
By Thomas Bojer