During World War II the famous Levi's arcuate of 501 jeans did its part for the war effort. We delve into the past to find out why the stitched double seagull, also commonly known as the arcuate, was painted on during the early forties.
War shortages meant that materials were rationed for most industries not producing military goods. This included the denim industry's metals and cotton. This caused Levi Strauss to make changes to their jeans.
The cutbacks on metals led to the cinch rivet and crotch rivets being removed entirely. The remaining rivets are then copper plated instead of copper silver. Cotton was also rationed and less readily available to the consumer clothing industry. Less cotton meant Levi's had to remove some extraneous features such as the cinch and the arcuate.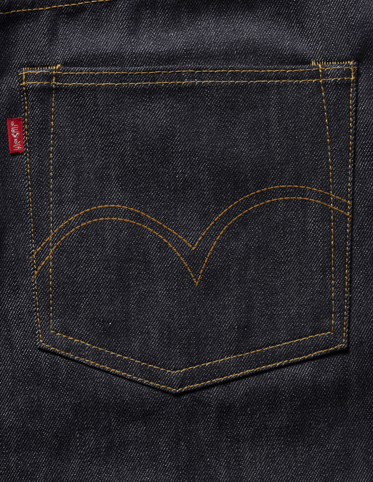 Patented in 1943, the arcuate had become maybe the most defining feature of a pair of genuine Levi's jeans, next to the rivets of course. Levi's was forced to remove the original stitched arcuates, their purpose was not seen as functional. Instead of abandoning the arcuate altogether, Levi's started to paint it on.
This allowed consumers to still recognize the brand while allowing Levi's to work with the rations. Since the arcuates were painted on they would often wear off with extended wear and tear. Levi's has always been known for it's innovative nature and this is no different.
The denim weight also changed because of the cotton rationing. The repros feature a 12 oz. denim compared to an earlier 12.5 oz. There is also pale yellow stitching featured throughout the jeans.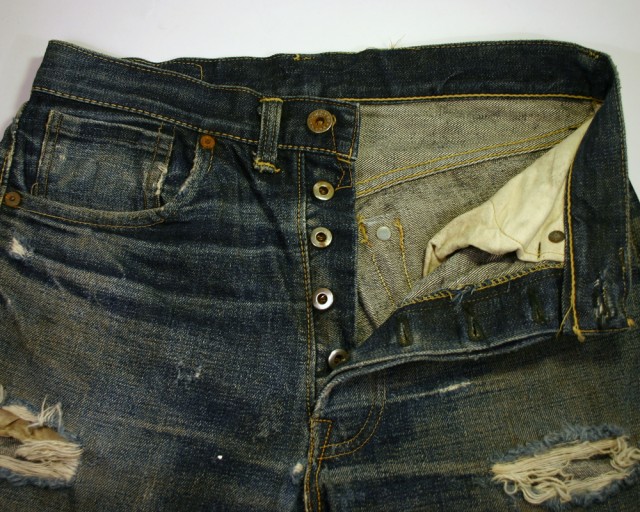 The reproductions of the 1944 S501XX feature some of the most unique details of any LVC reproductions. From the lighter weight, to minimal rivets, to the painted arcuate these jeans are nothing short of unique.