American made recycled denim crewneck? Check. Ring spun cotton t-shirts? Check. Selvedge denim available in two fits? Check. All these items ringing in at under $145 each? Check. Dyer & Jenkins is doing the seemingly impossible; offering high quality, American made basics at unbelievably inexpensive prices. Paul Matthew and Josey Orr noticed that it was becoming increasingly more difficult to find products that were American made, affordable, and high quality. "Many companies met two of these three qualities", co-founder Paul Matthew says, "but never all three". By embracing crowd sourcing, Kickstarter, and lean manufacturing, Dyer & Jenkins is able to produce high quality, American made basics at a fraction of the cost of its competitors. We caught up with the other co-founder Josey Orr to discuss the brand, the movie that inspired the name, and much more.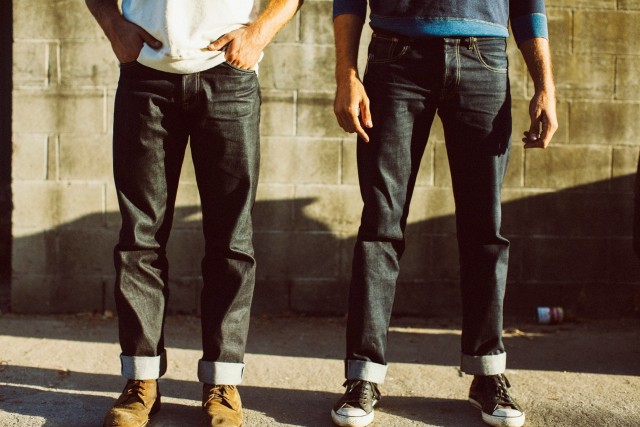 The lineup is made of three classic basics. First, a white t-shirt. A Los Angeles produced 100% ring spun cotton jersey fabric makes up the body while a 1×1 ribbing lines the sleeves and neck. The t-shirts feature a classic fit, perfect for all around wear.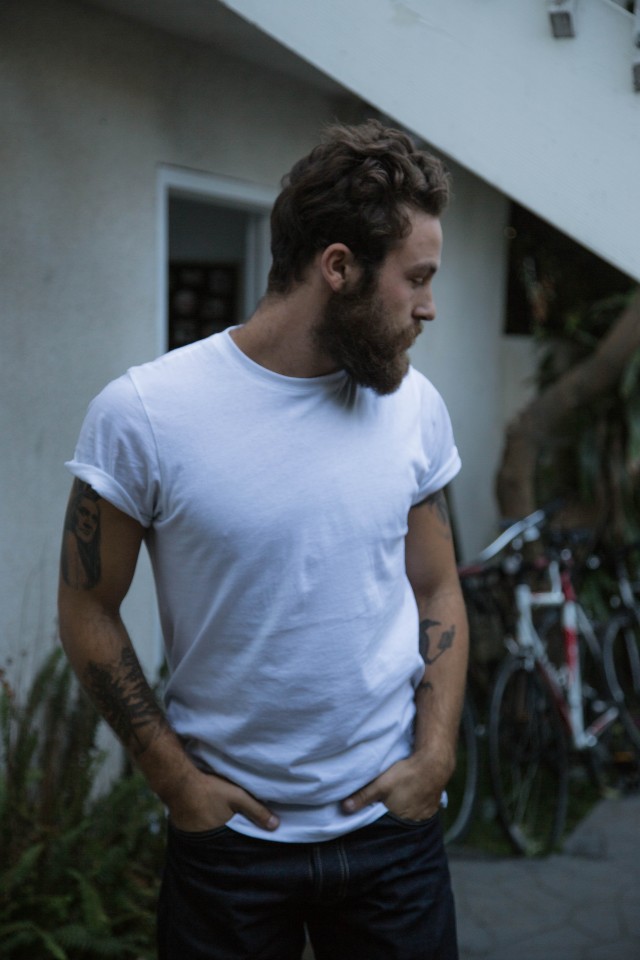 Next is a crewneck sweatshirt that comes in three different fabrics and one classic fit. A simple, American fleece fabric is used for their basic crewneck. The fabric is a 80/20 cotton poly blend for maximum comfort. This crewneck comes in at $35 for Early Bird purchase, a price unheard of for a high quality crewneck sweatshirt.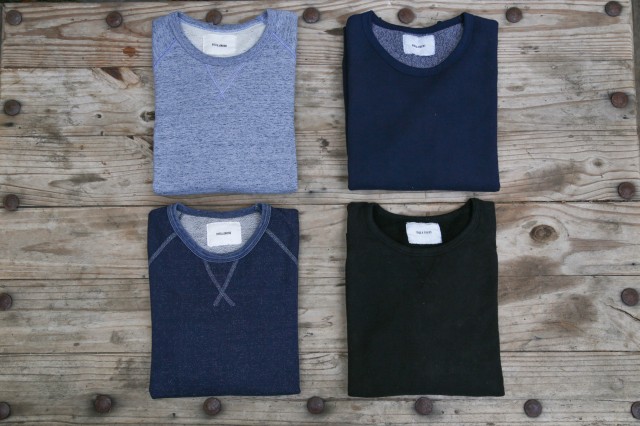 A yarn dyed indigo french terry fabric is used for the blue crewneck. Available in both washed and unwashed it is guaranteed to age well. Priced at an accessible $50.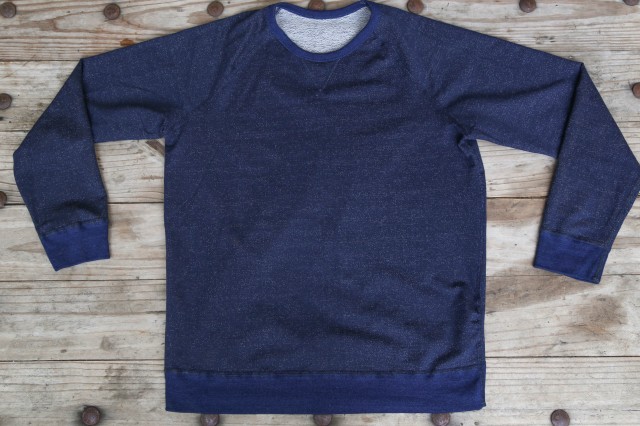 A 55/45 hemp cotton blend and a recycled denim terry are both used for interesting takes on the crewneck. Both feature the flat-lock construction and classic fit of the other crewnecks, but these boast an additional V-insert. Priced at $60 for the Hemp Blend and $75 for recycled denim.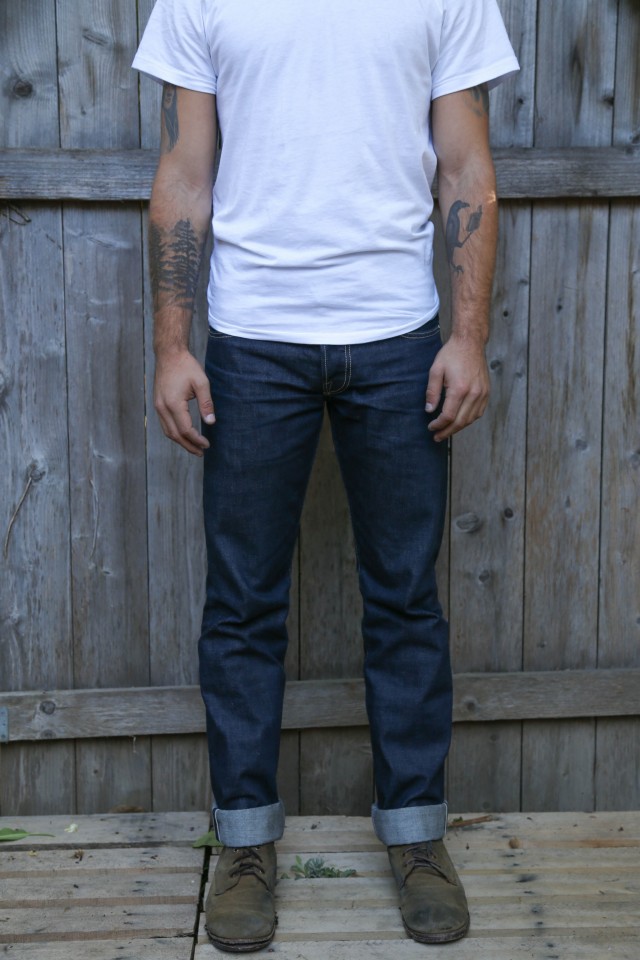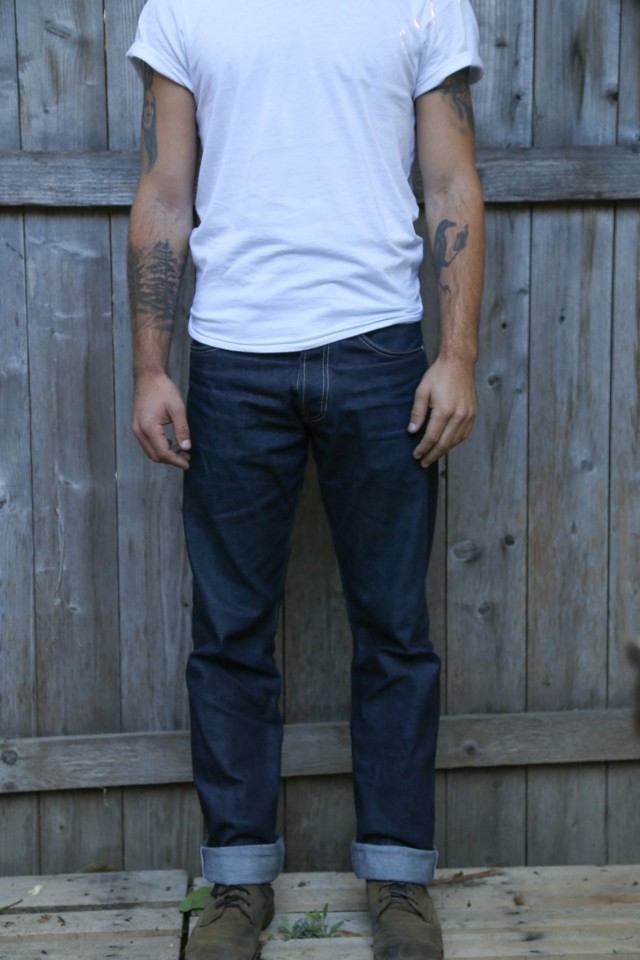 The denim lineup is strong, to say the least. Cone Mills and Nihon Menpu denims are offered in two fits; a mid-rise slim fit (left) for the more modern styled denimhead, and a high-rise straight fit (right) – a rare fit that will please denimheads searching for classic styling.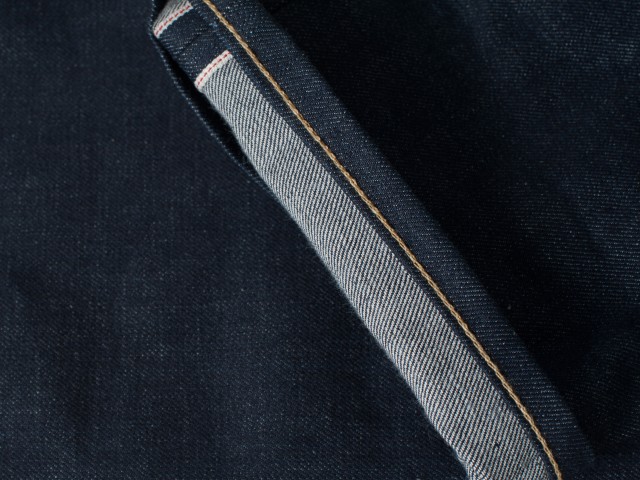 Both denims are sanforized and 100% cotton selvedge. With the Cone fabric weighing in at 13.5 oz. and the Nihon Menpu weighing in at 13 oz., both fabrics and fits feature a Y-stitch bartack, selvedge coin pocket, felled inseam, and chain stitched waistband and hems. At the incredibly accessible price of $95 for the Cone Mills fabric and $145 for the Nihon Menpu fabric, this denim may be some of the best bang-for-your-buck out there.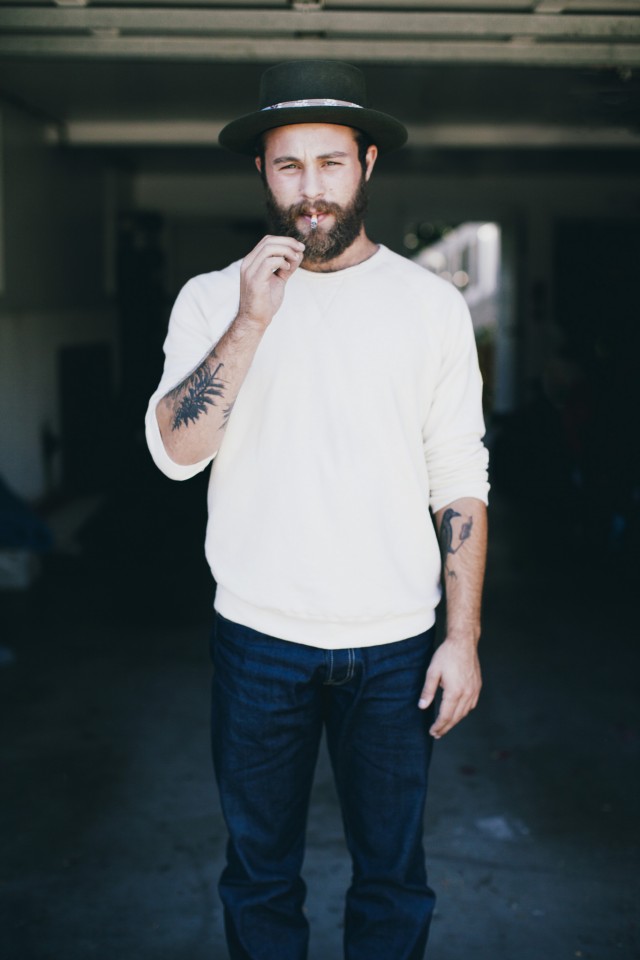 Now, such a great lineup with almost unrealistically low prices instinctively made us want to know more about how they do it. Co-founder Josey Orr (above) explains.
In your own words, what is the concept of Dyer & Jenkins?
"It's really simple, we just want to make great clothing at great prices and manufacture every piece in the US."
What's your background?
"I grew up in rural Pennsylvania and had very little knowledge of menswear. My father owns one of the oldest scrap yards in the country and that's where I worked full time until I moved to Los Angeles. When I got to LA a few years ago is when I really started to get into menswear and it's history. It was quite the change going from holding a blow torch to 'fashion'."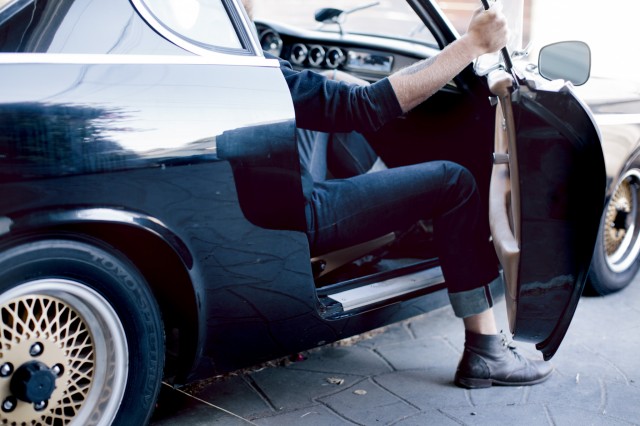 What was your motivation to start Dyer & Jenkins?
"My first foray into E-Commerce was with a men's retail store. I really wanted to carry American made goods, but it was difficult to find brands that were affordably priced and made in the States. I know that there are a few other brands out there saying this exact same thing, but that was my experience. I wanted to create a "Best in Value"-type brand and I wanted to make everything here and create some jobs in the process."
What is the story behind the name Dyer & Jenkins?
"The brand is named after the Clint Eastwood movie "The Outlaw Josey Wales". In that movie the protagonist walks into a store called Dyer & Jenkins Dry Goods. When we walks out he says the famous line, "are you gonna pull those pistols or whistle 'Dixie?'", so we named the brand after that."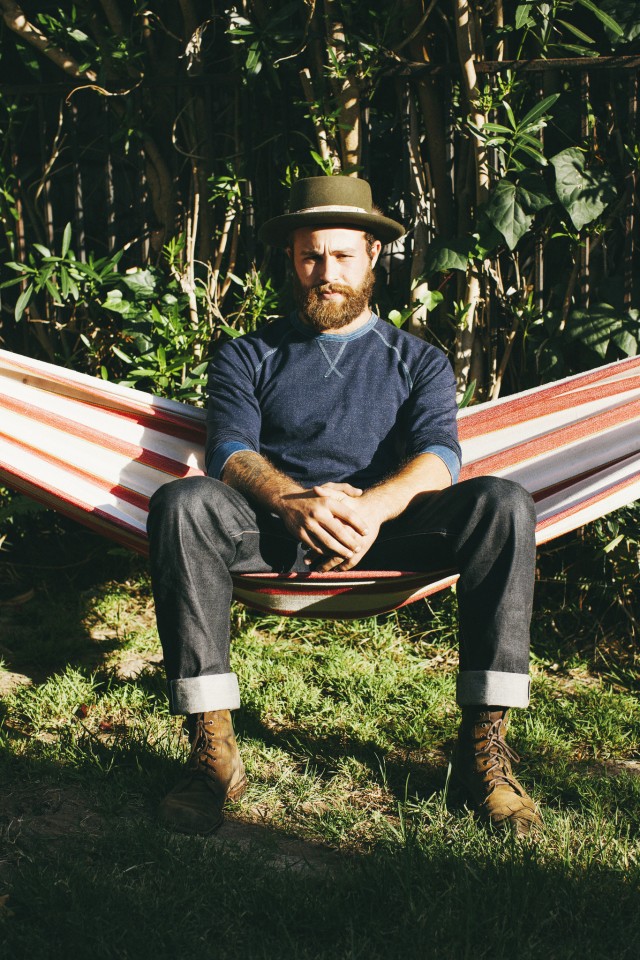 How do you keep your prices so low?
"Well, we are currently offering lower prices for Kickstarter. After kickstarter the knitwear will basically remain at the same price level and the denim will go up a tad. For example, the standard 13 oz. Cone will probably go for around $115 instead of $85 and the Nihon Menpu will probably go for $180 instead of $145. Nothing is set in stone. I will say that it isn't our goal to be the cheapest brand out there we just want to maintain a price point that is reasonable. If that means we can't sell certain items to retailers because we won't have the mark up – so be it, but I'm not going to sit here and say we will never sell to them."
Can you explain lean manufacturing and how this keeps your prices accessible?
"Basically, we aren't creating a gigantic inventory, which can kill a new business with a small customer base. So, we are creating a small batch of inventory, but if we get the funding we can constantly release new batches. We plan to have a store that is one part traditional E-Commerce and one part crowd funded. So, by starting small and selling online, we can remove some of the costs typically associated with starting a brand."
Your products are made in the USA, something that was pretty uncommon until a few years ago. Why do you believe in producing goods in the United States?
"Manufacturing in the USA is good for the country no matter which way you look at it. It doesn't matter if you are making machinery or clothing or anything in-between. It's not so much a selling point for us as it is a bottom line for the company. We want to create as many jobs in this country as we can and that is the ultimate goal. Less than 5% of apparel sold in the U.S. is made here, compared with 95% in 1960. Imagine if we shopped consciously and got that number up to say, 20%. Imagine the jobs that would be created! It's a shame that all of these great "American" brands like Levi's, J.Crew, RL, etc. barely make anything in the United States anymore."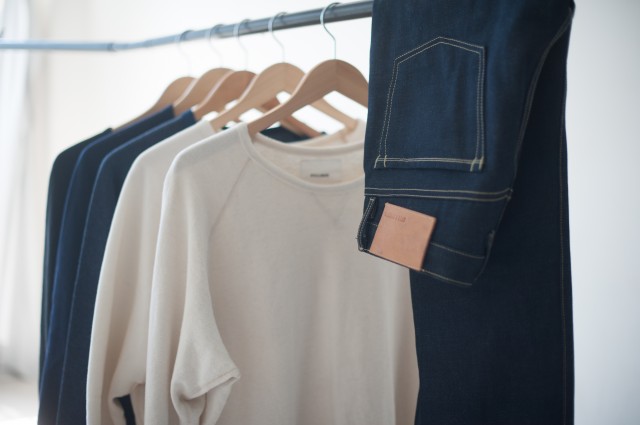 How did you become interested in denim?
"I've always been the type of guy who lived in jeans. There is no better item of clothing and there never will be. When I first started buying raw denim I loved the whole concept of breaking them in by living in them. It's like starting off with a blank canvas and painting it with experience. I don't understand anybody who wouldn't be interested in that."
How do you wear and care for your dry denim jeans – any special routines?
"I like to keep it simple. I just wear them until they stink. Then I'll give them a soak in the tub with a little bit of detergent and hang dry them outside. I just go about my normal life and wear the jeans. If I'm working on my car I wear them, If I'm walking to the coffee shop I wear them, If I am going out on the weekend I wear them. What I don't do is treat them like they are some high end fashion item. Fuck that. Denim was built to be worked in, it's not a three thousand dollar suit we are talking about here."
What other denim do you plan to offer in the future, if any?
"Well, for starters we are about to release a pair of black denim jeans on our Kickstarter. If we reach our Kickstarter goal, we can really branch out and start hunting for different kinds. I'd really love to let our customers have a big hand in what we offer. I think social media will allow us to do that in a big way."
What are your future plans for Dyer & Jenkins?
"We really want to offer so many different things. We want to constantly bring out new colors, fits and weights of denim as well as knitwear. If we can do well on Kickstarter, we should have some room to experiment and consistently release new offerings. We hope to do a lot of limited edition collaborations as well. Maybe we can do one with Denimhunters?! We'd like to offer basics for women too."
At the time of publication, the Dyer & Jenkins Kickstarter campaign has already received 44% of it's goal in only a few days. At $20,000, D&J can obtain the fabric and start production. At $40,000, D&J can produce a full line, source new fabrics, and add new designs. To help Dyer & Jenkins start production, head over to their Kickstarter and back the project! Products can be expected by December of this year, just in time for the holidays. You can also keep yourself up-to-date through their Facebook page and their Tumblr.