The History of the Vintage Denim Banner
The colourful and eye-catching banners of mid-century denim advertising are getting a significant resurgence at the moment. The banners are popping up at trade shows as well as being re-embraced in stores, design studios and among collectors alike. So how did they come about? Our friends at Stylesight did a little research on that matter.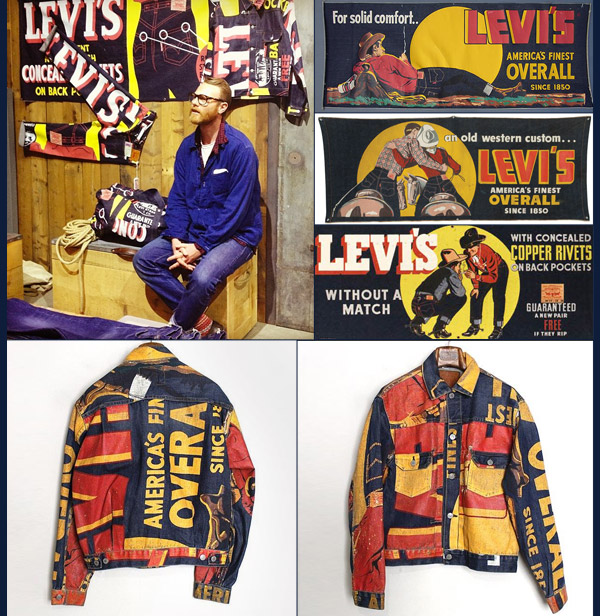 By the early 50s, Levi's wanted to grow the brand and broaden the audience for their jeans – aside from the typical cowboys and workmen who were most associated with denim.

In order to market their wears to the general public they came up with the idea to create a selection of stunning denim banners that would sit alongside their pants in stores. Selling the romance of the American West, the banners were designed to entice the average folk to begin to adopt their patented jeans as a staple item of their wardrobe. The motive was often the then iconic American cowboy (championed by Western heroes like John Wayne and Gary Cooper) depicted in serene sunset scenes on horse back or smoking a cigarette in their Levi's.

Each banner would feature slogans like "America's finest overall since 1850″ (which we know today is incorrect) and funny tag lines like "Without a match" or "For solid comfort..". And they came in epic proportions too with each banner reaching anything from seven to ten feet in length.

The imagery was delicately printed onto narrow double ring spun selvedge denims using a silkscreen process. While this created beautiful high quality visual, the rugged character of the denim meant that they were only able to get a couple hundred prints before the screen broke down – so they were only available in very limited numbers.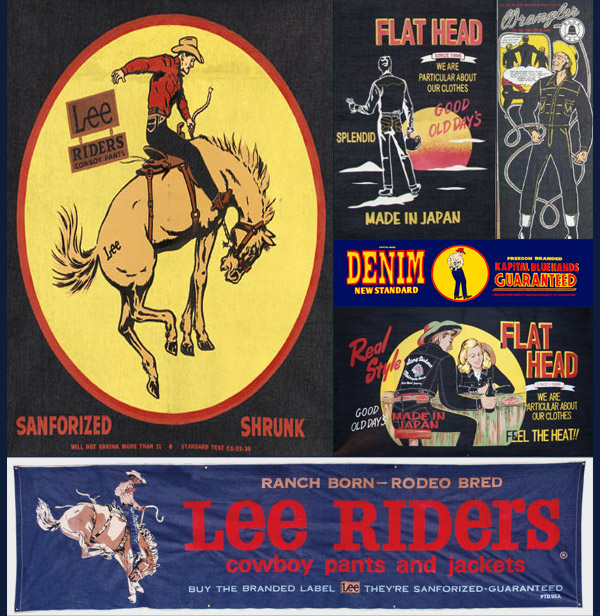 Today, these iconic pieces have become a must-have collectors piece for denim and vintage enthusiasts alike. Take a look on eBay, Japanese vintage sellers websites, and even renowned auction houses, and you'll see the demand for these relics with rare items reaching into the almost absurd prices.

In early 2000s, Levi's Japan came up with the ingenious idea to remixing these amazing visuals with some of Levi's iconic silhouettes. A super limited-edition run of Type II jackets and pants were released throughout Japan and were immediately snapped up by collectors.

Fear not though, for Fall/Winter 2014, Levi's Vintage Clothing's design director Miles Johnson revisited this story, creating a collection of similar Type I jackets, 1937 5-pocket jeans, as well as a bag using some of the archive prints. LVC has also commissioned British artist, Mark MacDonald to recreate a selection of the archival designs for their launch events.
It wasn't just Levi's that produced these banners; competitors like Wrangler and Lee also knocked up their own versions. More recently, purists brands like Kapital, The Flat Head and Studio D'artisan have produced their own tributes to the concept too.

At this blog by Mohsin Sajid of ENDRIME you can read more about the denim banner and watch a YouTube clip from an antiques roadshow where experts talk through the history of the banner.

Text: Stylesight. Photography: Stylesight, expect featured image: Mark Larner