London Purveyors of Rare Denim Rivet and Hide Opens Retail Space
Rivet and Hide, purveyors of rare Japanese denim, opened their long awaited retail space on April 17th.
Founded as on online business in 2012, partners Danny and Junior progressed to an appointment-only workshop in Parsons Green. In that short time they've built a reputation as one the best places in England, possibly the world, for Japanese denim.
Danny has always said that if the support was there R&H would take the next step and open a brick and mortar shop. The fact that they've now achieved this goal is indicative of growth on the English denim scene.
The idea took hold in December of last year and it's taken a few months to come to fruition.
Rivet and Hide pride themselves on stocking only small batch and rare denim that meets their exacting standards. From From the Flat Head to Steel Feather and Pure Blue Japan; they have it.
Danny argues that there are plenty of other places in London stocking LVC and other big name brands, leaving him free to concentrate on the rarer Japanese brands that he loves.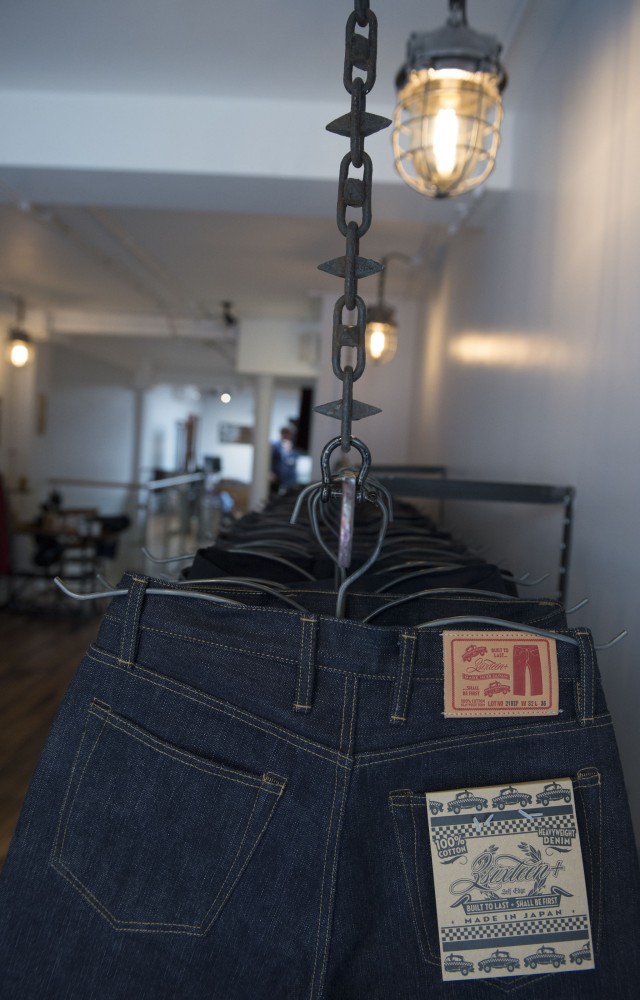 It's not surprising that the almost obsessive attention to detail that goes in to Japanese denim has gone in to fixtures and fittings for the shop.
"We used reclaimed timber and beach groyne wood for the interior. Everything in the store is hand made to reflect the clothes that I sell. Even the hangers have been made by hand and bespoke for Rivet and Hide," Danny explains.
And it doesn't stop there.
The hanging rails were hand-forged by a friend of Danny's. The chains they hang from are antique London railings.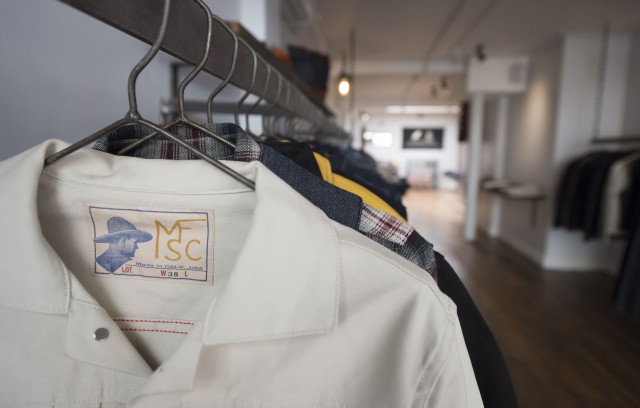 My personal favourites in terms of furnishing are the leather chairs – modelled on the pilot's seat from a Lancaster bomber, complete with riveted metal panels; great to lounge in whilst friends wriggle in and out of stiff selvedge denim. (Or for hungover fashion journalists to recover in.)
Of course the vintage 43200G Union Special is there too – ready for Junior to attend to all your custom hemming needs. Rivet and Hide are one of the few places in London to offer this service, and Junior is a highly skilled operator of the famous machine.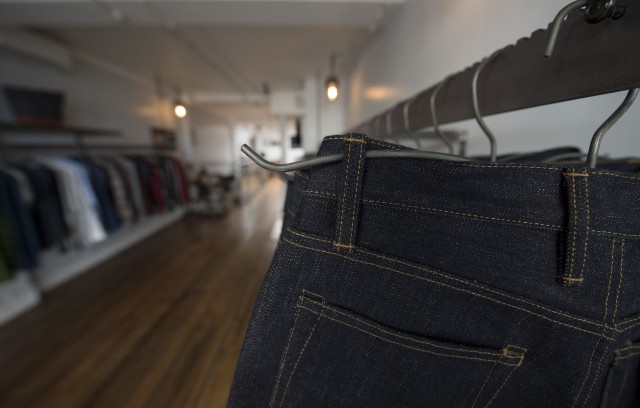 It might have been hard work but I get the sense that the guys have had fun furnishing the shop.
Yes, it reflects what they sell, but it's also distinctly London: a friendly and intimate space that any denim fan will love. The move from Parsons Green to villagy Fitzrovia is a great step forward for Rivet and Hide.
Why not pop in to the shop at 5 Windmill Street to have a look?
(With thanks to Danny and Junior for showing me round. All images ©Mark Larner.)