You've just stowed away your beloved peacoat in the back of the closet.
Spring is coming, however it still isn't warm enough to go jacket-less. Why not go for something that remedies those light chills without compromising your Navy-style. Enter: The CPO shirt.
The CPO takes its name from the US Navy rank of Chief Petty Officer. The woolen jacket, or 'overshirt,' was a wardrobe staple in the 60s and 70s.
With an eye for classic and functional apparel, Copenhagen based Wrenchmonkees are now bringing this classic back to life.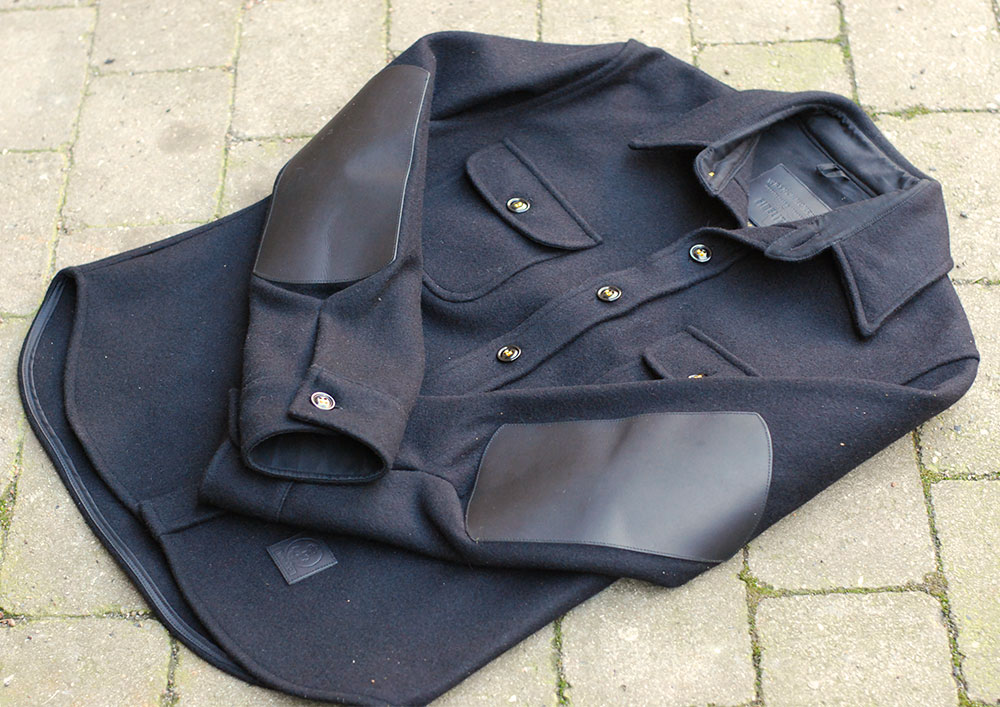 In collaboration with Fidelity, Wrenchmonkees Motorcycle & Apparel Co. (WM A.C) have created one of the better interpretations of a modern CPO.
The cut is boxy and slims a bit just below the chest, and the 22 oz. melton wool makes for a beautiful heavy garment. It's an ideal shirt during the colder months, and when it gets warmer you can wear it as a jacket.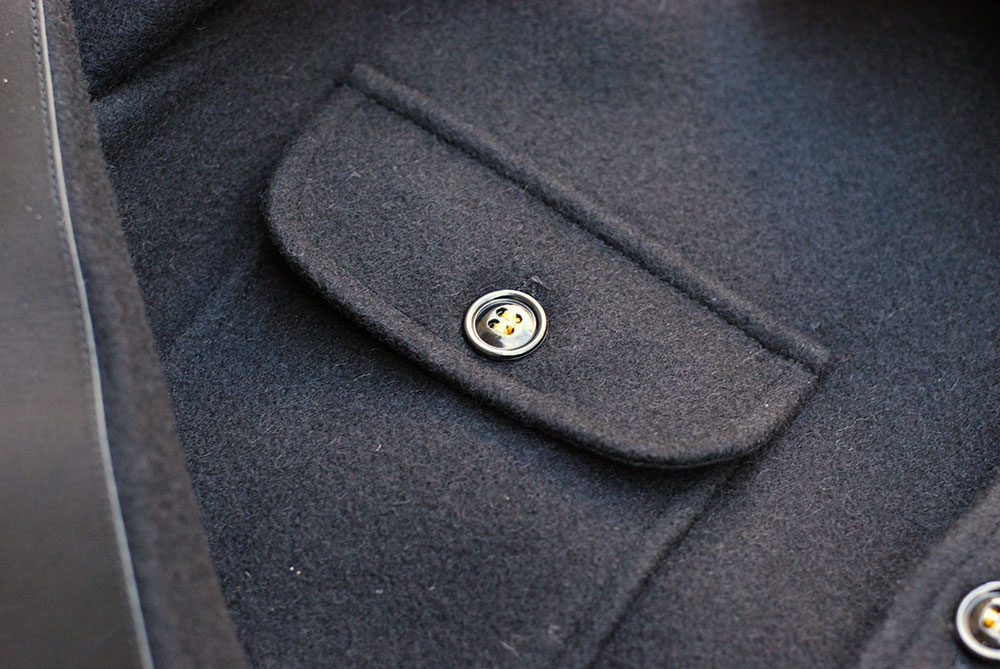 The shirt is made in USA and has the same overall look and feel as the original. Something that comes as no surprise given the joint effort with Fidelity.
At a closer look, the WM A.C CPO reveals some great details that almost make it stand out as a piece in its own right. The yellow button stitches are one of those.
A leather patch with the company's logo on the front and a collaborative patch on the inside are some of the more subtle ones.
But the one detail that sets this shirt apart from other CPOs is the large leather patches on the elbows.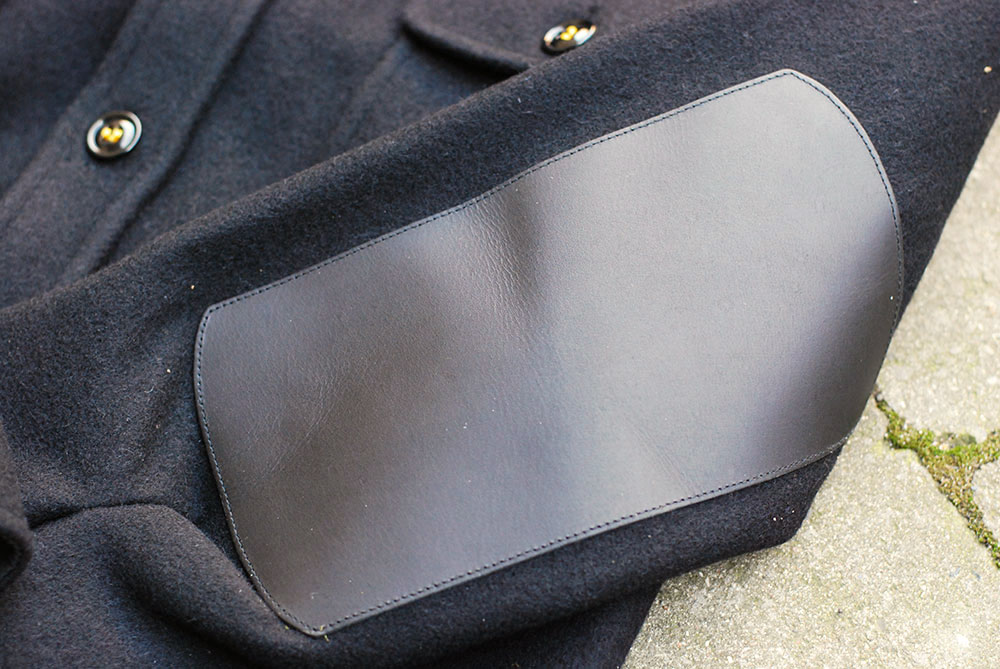 With respect for the original, the black patches give the shirt a raw, unbreakable look befitting of motorcycle apparel.
No doubt, the Wrenchmonkees' CPO would serve any biker well offering both style, warmth and light protection.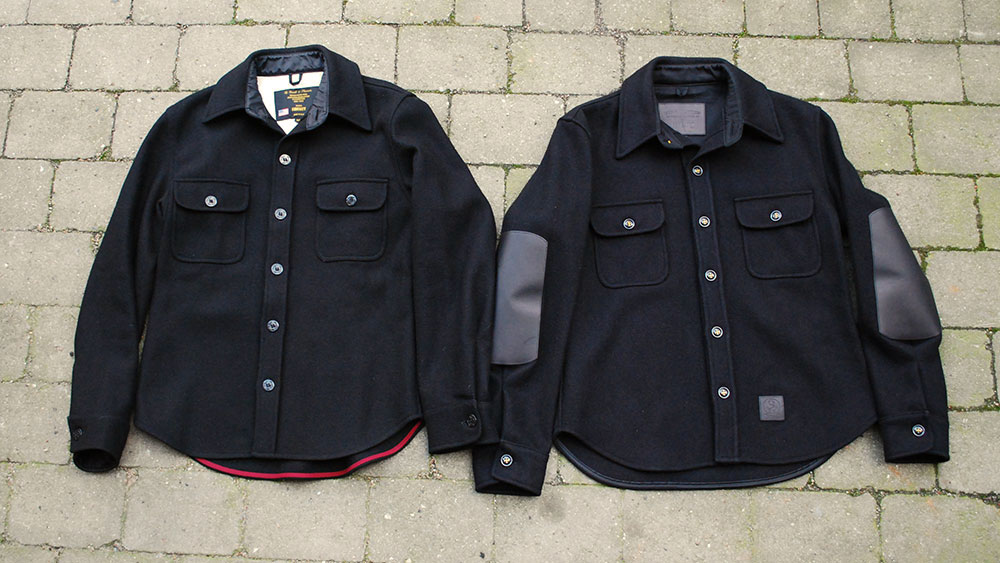 The original Fidelity CPO next to the WM A.C CPO.
Obviously, the Wrenchmonkees brand is first and foremost about motorcycles and the culture surrounding them.
Still, with this CPO they prove that their sources of inspiration go far beyond the realm of bikes. And it's because of that fact, combined with their knack for recreating timeless pieces, that their clothing line appeals to a much wider audience.
Pair this beauty with a ball cap, your favourite pair of worn in jeans, and your choice of boots or sneakers and you're good to go.
Get the WM A.C CPO directly from Wrenchmonkees' webshop. Also, remember to check out our recent profile on Wrenchmonkees Motorcycle & Apparel Co. if you want to know more about the brand.