Last year RPMWEST had a runaway success with their Kickstarter campaign.
They offered to cut out the middleman and bring us raw selvedge denim at wholesale prices. A business plan that has become quite popular lately.
For 2014 RPMWEST are back for another round. This time offering a wide variety of denims in their two fits. We were curious to see what $95 gets you when it comes to raw selvedge denim, so they sent us a pair to review.
To give you an idea of what to expect, I've thoroughly reviewed the fit, denim, leather patch, hardware, pockets, and overall construction of the jeans. All in all they are a good mid-range-price alternative, but they do not compare to $250 jeans that they were originally marketed as.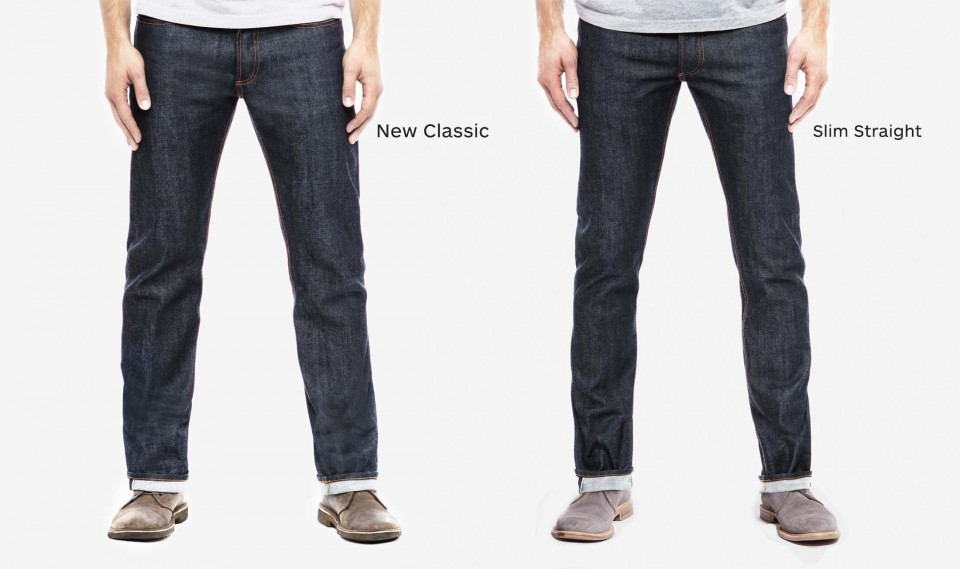 The Fit: New Classic Is the Safe Bet
RPMWEST offer two fits. The New Classic and the Slim Straight. I chose to go with the latter. I have tried on a few slim straight jeans from burgeoning brands and it seem this is the cut they have the most trouble nailing down.
RPMWEST have done a good job. I would liken the fit to the A.P.C. New Standard or perhaps the Nudie Grim Tim. Well fitting, flattering and will resonate well with the coffeehouse crowd.
I went for my standard waist 30 (true size 33) and they fitted perfectly. The top block has enough room for ease of movement whilst maintaining the flattering silhouette. The rise can best be described as falling between medium and low but is certainly high enough to maintain dignity when bedding over.
The Denim: It Won't Give Up Its Indigo Easy
These jeans come in a midweight redline selvedge denim sourced from Japan. I believe it is around about the 14 oz. mark, maybe slightly lighter. Out of the box, the denim has a crisp hand which takes about a week of wear to soften up.
The denim is very stable, very uniform, and from what I have seen in the last couple of weeks of wear, will not give up its indigo easily. Great for your white furniture but not if you are looking for fast fades. I can't imagine that the denim is exclusive to RPMWEST. It is more than likely an inline fabric.
As always at Denimhunters, even a sanforized denim gets an initial soak. This is the first pair of jeans where I saw no loss of indigo or that unidentified brown colour that sometimes appears in the water. The jeans came out of the bathtub looking exactly the same as they did when they went in. No shrinkage at all and no change in hue.
If there was any change, then it was to the hand of the inside of the denim, it became slightly softer and less likely to pull the hairs on your legs.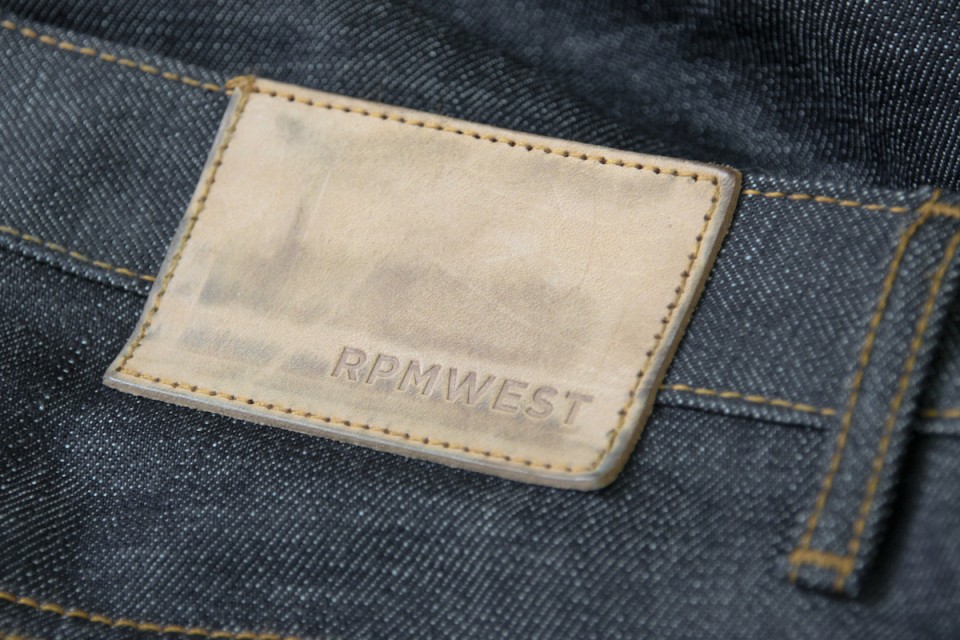 Leather Patch: The Question of How It Wears
The patch is from natural tanned leather, simply stamped with RPMWest. It looks of decent quality although I am unsure if it is full grain leather I believe it will age down nicely along with the denim.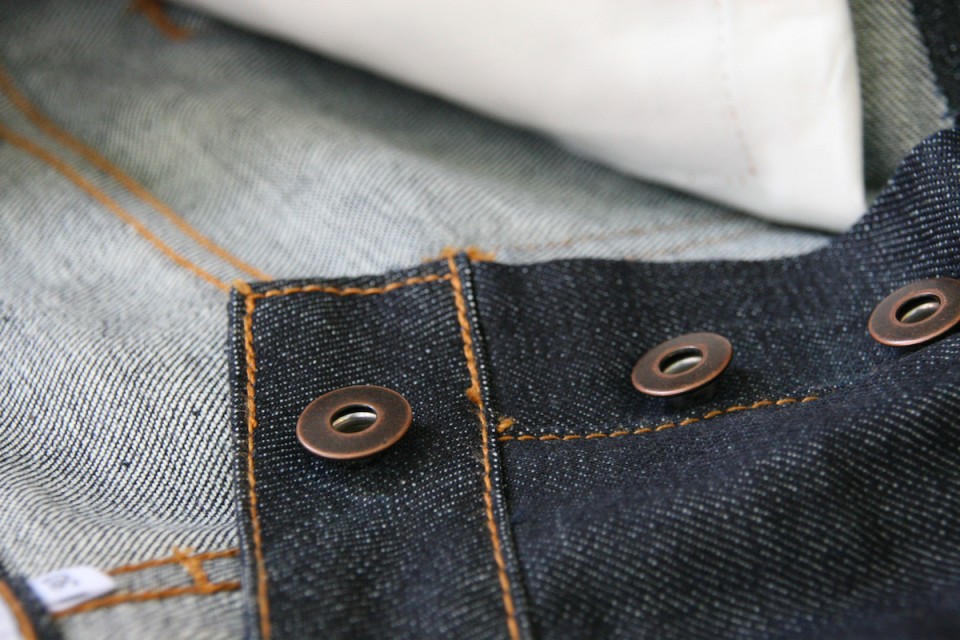 Hardware: Suits the Denim, But Questionable Quality
Sadly, this is where the corner cutting starts.
The buttons look decent enough from afar and admittedly suit the denim and the choice of thread colour. But on closer inspection they seem rather flimsy.
The burnished copper on the top of the buttons is only loosely attached to the backs leading to a considerable amount of movement and although it doesn't seem that they will come apart anytime soon it just doesn't feel like a quality button.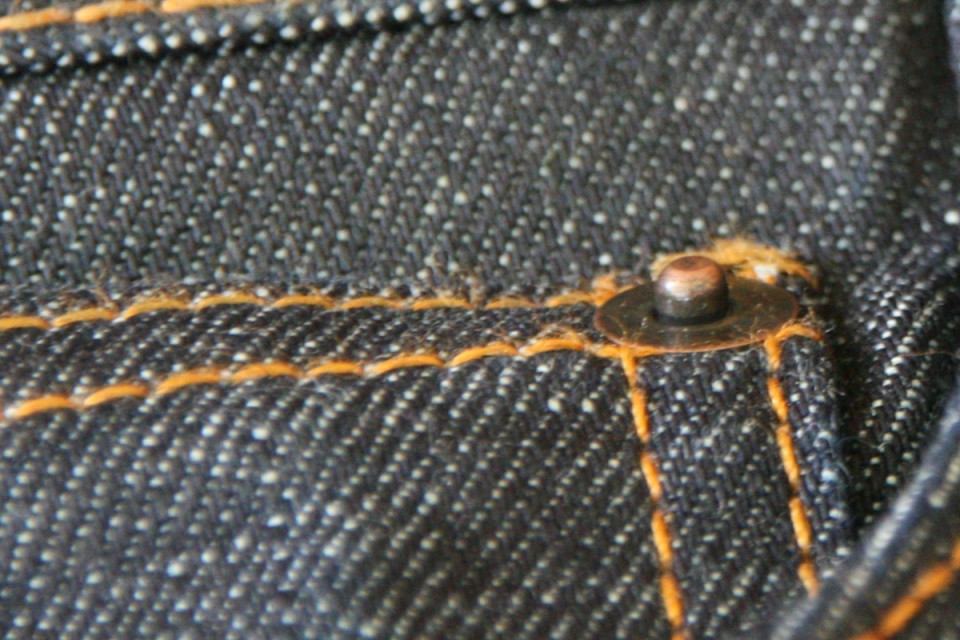 The rivets are similarly disappointing.
They are the "top hat" variety and not the pin and plate seen in higher end jeans. This is evidenced by the lack of the "tuft" that results in the rivet being punched through the denim.
In a similar way to the buttons, the rivets just lack that look and feel of quality.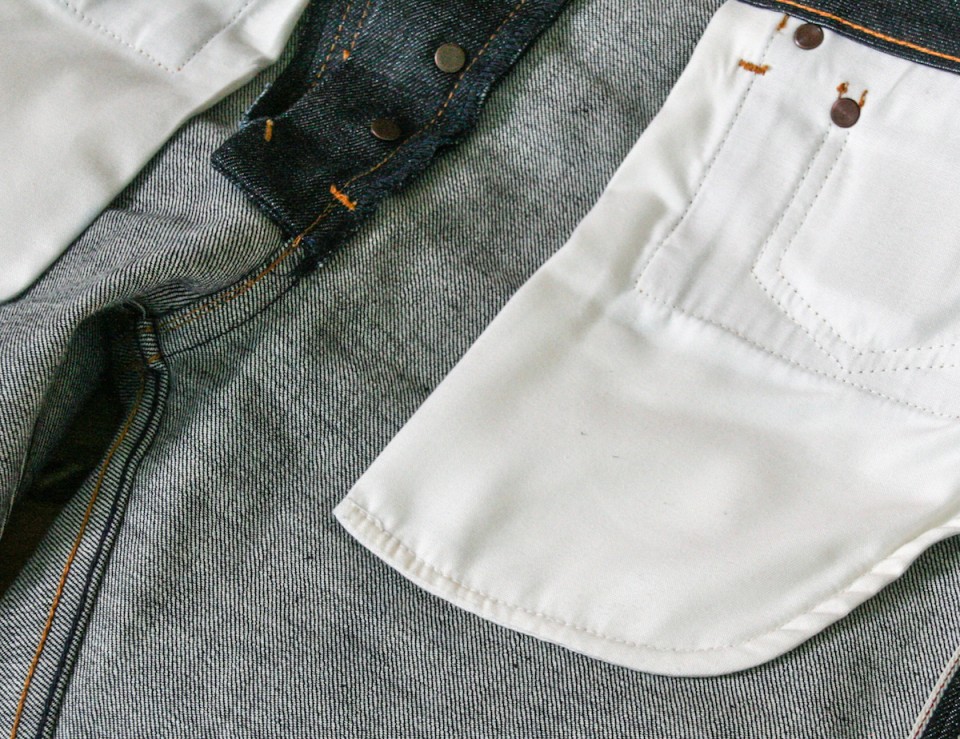 Front Pockets: Good Size, But Flimsy Quality
The front pockets are of a decent size and the pocket openings actually make it remarkably easy to access your phone or whatever else you may be carrying.
When it comes to the pocket bags, it's unfortunately yet another area where I feel too much compromise on quality has been made.
I am unsure if they are 100% cotton or some synthetic mix, one thing is certain; they are too flimsy. I am certain that these would be the first thing to go on the jeans and probably quite quickly.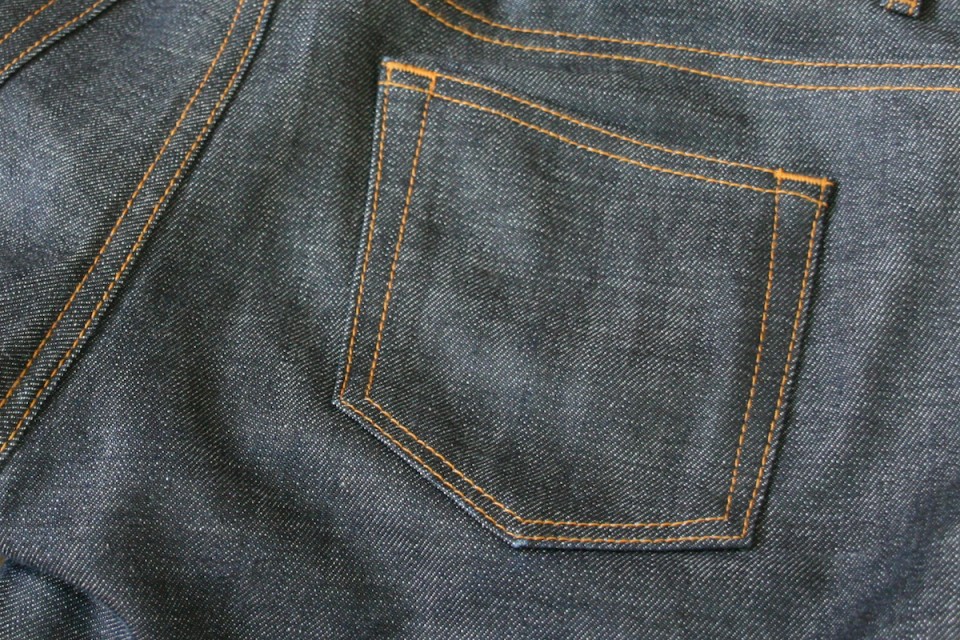 Back Pockets: Big Wallets May Not Fit
As to the back pockets, they are simply too small for me.
From an aesthetic point of view, proportionally they don't fit the jeans. Unless they get much bigger in larger sizes this will only become more evident in the bigger models.
From a practical stand point the size really limits you in what you can carry in your back pocket. Admittedly I do have a mid-sized trucker wallet but I did try moving to my old "average" sized wallet but this still ended up poking out the top. Easy target for the Berlin pick pocket.
I ended up having to abandon my wallet and simply carry cash and cards around. Not ideal.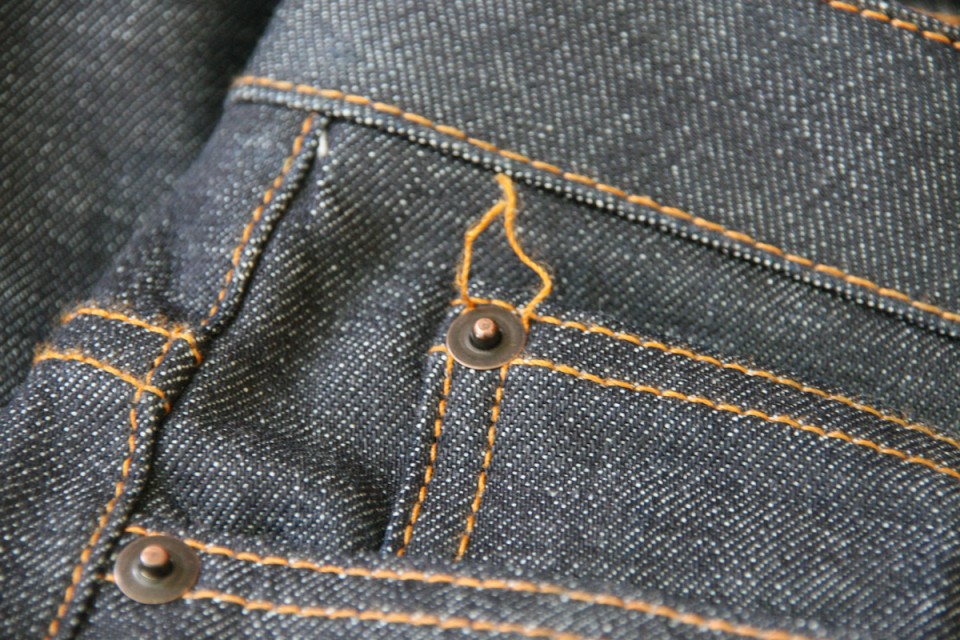 Overall Construction: Solid But Lacks Finish
The construction of the jeans overall is not too bad.
Chain stitches where you would expect to see them, felled seems, and better than average button holes. Again though, the finish just falls at the final hurdle.
There are loose threads that are simply not necessary. Around the watch pocket for example and on the waistband this is very obvious.
Although I am sure these obvious loose threads are only an aesthetic quibble and won't affect the durability there are some instances on the inside of the jeans that do give me cause for concern.
The overlocking on the pocket bags is not finished properly and could potentially unravel with time. It is a similar story with the fly construction.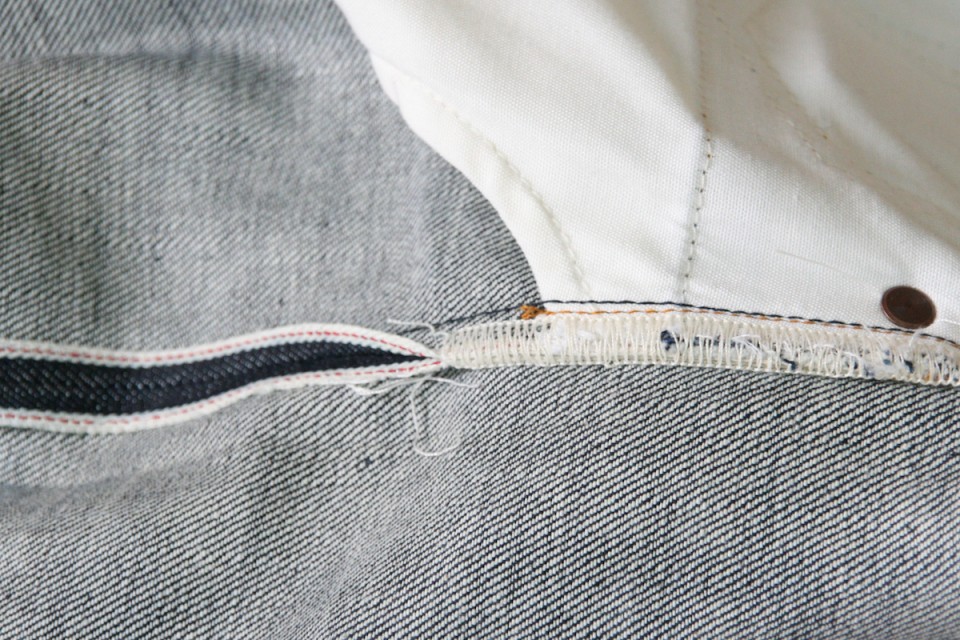 The Final Verdict: Could be a Decent Beginners Raw Jean
It may seem that I have been unjustly harsh on this particular pair of jeans. However, RPMWEST have been pitching these as $250 jeans and I have been judging them with this in mind.
For $95 dollars you are getting a decent pair of jeans. The denim is above average and the construction is on par with jeans you could buy on the high street. However, they are missing some of the finer details that would bring them up to the standard I would expect from jeans at $250.
The negatives aside, there are some very good aspects of these jeans. For one thing they are made in the US, which hopefully means ethical manufacture and provides local employment. There is also the try on at home program available for US customers. RPMWEST send you three pairs and you see which one fits you the best. You simply send the other two back. Great for people who don't live close to a store with a decent denim offering.
All in all, RPMWEST provide raw denim jeans that won't break the bank. Making them perfect beginner jeans for those on a tight budget or who are simply curious about raw denim.
You can check out the new denim offerings through the Kickstarter page here.