Guide How To Soak and Shrink the Loom-State 3sixteen Kibata Denim
To Soak or Not To Soak? 3sixteen Has the Answer
How long should I soak, if I soak? Should I sit in on the soak? Is this soak a joke?
Confused? Well, so are a lot of people when it comes to whether they should soak their raw denim jeans. It doesn't get any easier with shrink-to-fits. So, Andrew Chen of 3sixteen lays down the law of the land of soaking unsanforized denim, exemplified with the loom-state 3sixteen Kibata denim.
Why We Soak and How We Do It
Here at Denimhunters, we are soakers.
If the jeans are sanforized, the soaking steps are pretty simple:
Get jeans that fit
Throw them in a tub of warm water for about 30 mins
Hang to dry in a well-ventilated area. Job done.
The benefit: The starch is gone along with other nastys lurking in the denim. You have also prolonged the lifespan of your jeans. Read why that is here. And no, you have not ruined the fading potential!
Unsanforized denim is a different kettle of fish.
Same steps as above, but a little more thought needs to be put into the sizing and fit of the jeans when you buy them. This is where it usually gets messy. But, of course we also have the answer to that.
A while back, we asked three industry experts about the best ways to shrink down your unsanforized raw denim. Check that out here.
The Backstory of 3sixteen's New Guide To Shrinking Unsanforized Denim
The guys over at 3sixteen have taken shrinking unsanforized denim to the next level with their new guide. A fully interactive, step-by-step guide to shrinking down their Kibata denim. Complete with fantastic images and helpful tips.
Like every good guide, it is pretty self-explanatory. But, it did get us pretty curious about the jeans that inspired the guide. A few emails back and forth and Andrew had answered all our questions.
We find out all about bringing the loom-state 3sixteen Kibata denim into the brand's lineup.
Tell us about the denim, Andrew
"The denim is a 14 oz. loom-state fabric custom produced for us by Kuroki Mills. For those who are familiar with our jeans, the warp threads are the same as what you would find on the 100x and 120x sanforized jeans. But that's where the similarities end.
We wanted to provide a totally different wear-in experience from our sanforized denim so we elected to have this denim woven at low tension for a rough, textured hand feel. The denim has not been singed, calendared, mercerized or skewed so you're getting a fabric that has been untouched once it comes off the shuttle loom. And, just to keep things special, we have given it an all-new double redline selvedge detail.
The 100xk is a traditional indigo warp, white weft denim while the 120xk is an indigo warp, black weft denim. We added the k at the end to denote "Kibata," which is the Japanese word for loom-state. Of course, the jeans also sport all new trims and artwork to further differentiate from our other offerings."
What made you introduce an unsanforized denim into the catalogue?
"This is a great question. We have many customers who are very happy with our sanforized offerings and have continued to come back to them time and time again. Sometimes they will step up to our 17 oz. heavyweight jeans for colder months, or drop down to our 12 oz. rinsed jean for the summertime.
But, all our jeans thus far have been sanforized. The only exception to this would be our 3sixteen+ 11BSP and 21BSP jeans that were designed in conjunction with Self Edge. These jeans are fully made in Japan and feature a super-slubby 18 oz. loom-state denim, gold thread selvedge ID and special construction details that are only found on the 3sixteen+ models. We spared no expense on this style and thus it retails for over $300, more than anything else we make.
With the Kibata jean, we wanted to introduce an unsanforized selvedge denim jean that would give our customers all of the nuances of higher end unsanforized jeans at an affordable price: this jean retails at $230. For customers who have been journeying with the brand for some time, we wanted to give them an opportunity to try something new and experience what a completely unprocessed jean had to offer, one that you could shrink down and achieve a more customized fit."
In what fits is this denim available?
"We've made this jean in our flagship SL (Straight Leg) and ST (Slim Tapered) cuts. These two fits have been in our line-up since 2010 so our customers are quite familiar with them."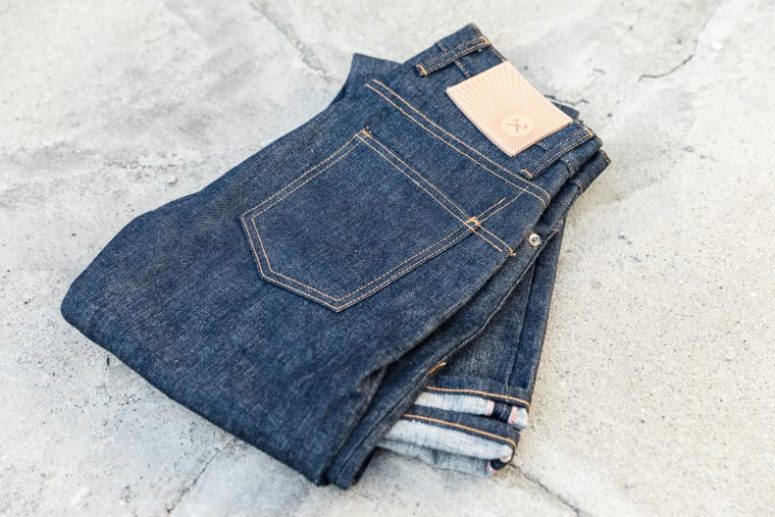 Did you have to alter the cuts in any way to accommodate the shrinkage?
"We did not. What we've been finding is that customers have simply needed to size up one from their usual 3sixteen size to accommodate for shrinkage, as the unsanforized jean's waist measures the same as our sanforized counterparts.
In other words, if you wear a size 32 in our ST fit, we've been advising customers to take a 33 to account for the shrinkage on the initial soak. But the overall silhouette has been preserved."
Anything else you would like to add?
"Just that we're thankful for the opportunity to grow our denim offerings over the years. The support that we've received allows us to be able to offer new jeans, new fabrics and new experiences that tie directly into what we are personally excited about.
Quite frankly it's easier to sell a sanforized jean because the mystery of shrinking them down has been removed. But, we believe that an unsanforized jean can fit better and also wear in better over time. That's why we worked so hard to put together a simple soak guide to try and make the soak process as unintimidating as possible."
Visit 3sixteen's Shrinking Guide Here
Every denimhead goes through the rite of passage that is their first soak. These xk jeans are going to give the 3sixteen tribe the means and the motivation. Expect to see some sick evolutions coming through in the next months and years.
Head over to 3sixteen's website to experience the step-by-step guide to shrinking the 3sixteen Kibata jeans.