Burg&Schild Partner With Indigofera To Bring Us "Iconic Items"
The Understated Aesthetic of Military Practicality: The Hoodie
No biker would be without a proper hoodie to protect him from the elements. The Iconic Items hoodie is about one of the best I've come across. It is heavy, and I mean really heavy. It's made from a 16 oz. Japanese jersey fabric and comes with a zip closure.
The fit is a little bit wider than what you usually see, and the hoodie is lined with thermal knit fabric. The idea came from an old military piece that Shane found, which was lined with a similar kind of thermal knit.
Unlike the T-shirt, the hoodie is totally devoid of ornament. No logos, no motifs. This brings me to my favorite detail in the Iconic Items collection. If you open up the hangtag of the hoodie you find a patch – it's your choice if you want to be "patched." Shane gave a great deal of thought to the design of the patch. It had to perfectly represent where the collection draws its main inspiration from.
"What is the symbol, what is very important for the old motorcycle clubs? It's the diamond; the one percent diamond."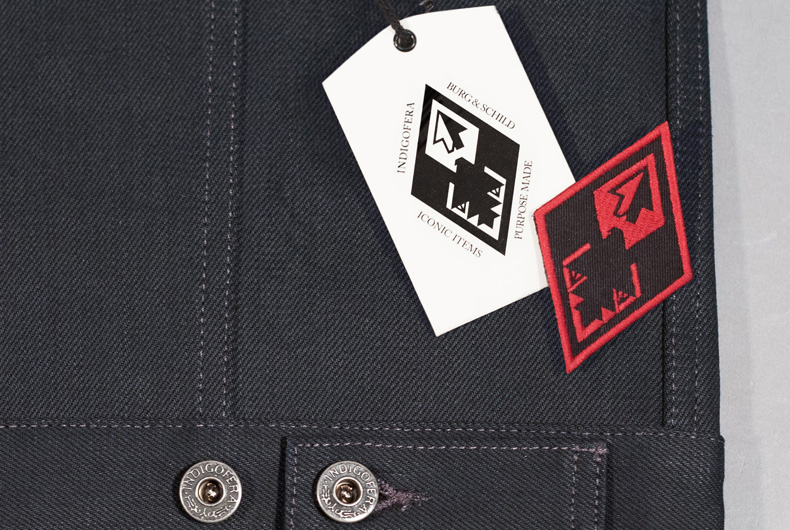 Making the "Cut": The Vest
You will also find the patch with the vest, which is made from Indigofera's almost legendary Gunpowder denim. The vest is intended to be a constant companion on the road and will wear in beautifully.
The cut is boxy, it could easily be worn over the hoodie or sized up to wear over a leather jacket. Similar in detailing to the Levi's 557xx, it has two flap pockets and the distinctive V's running down the front.
Open up the pockets and you get a flash of colour. On the underside you will find Pendleton wool lining. It is a fantastic detail. Not flashy. Not indulgent. Something for the wearer.
Again showing his experience for the practicality of clothing. Instead of buttons, the vest uses snaps. Far more practical with cold hands or wearing motorcycle gloves.
Anywhere you lay your head: The Blanket
Last, but by no means least, we come to my personal favourite part of the Iconic Items collection: the blanket. The motif for the collection is rolled out with the Burg&Schild colours. It is bold, simple and unabashedly cool.
Indigofera are famous for their woolen blankets. And deservedly so. Manufactured in Norway from the finest wool, these blankets are equally perfect for camping under the stars or wrapping on the sofa.
Go To Page Three To Find Out Where You Can Get the Iconic Items!