This Pair of Unbranded UB221 Jeans Were Worn for One Year and Never Washed
At one stage or another, it's likely you've considered what would be the best way to document the fade evolution of your raw denim. 29-year-old Thomas D. Krebs from Albany, NY came up with a pretty neat way to turn one year of wear into a five-second visual testimonial.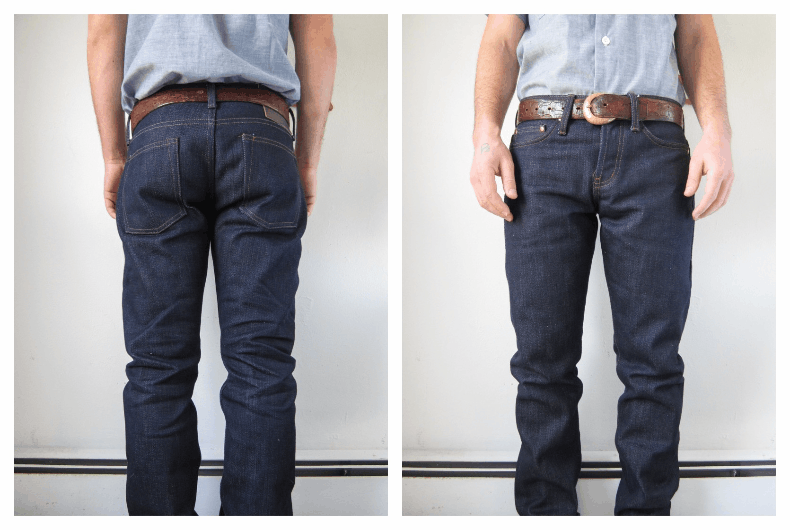 Sleeping on Dirty Floors Faded the Jeans
The GIF he* put together, shows how the jeans (which were in fact Thomas' first raw denims) went from dark indigo blue to nicely faded with good contrasts over the one year he wore them. Although he wasn't as vigilant with the photography as he would have liked, he managed to take first six photos with roughly a month in between while there's a five-month gap between number six and seven and then another two months to the last one.
Thomas owns the shop Memory Vintage in Albany, NY, but he also plays in a few bands. He wore the jeans touring around the US a couple times last year.
"They sat in a lot of dirty bars and slept on a number of dirty floors."
Nevertheless, he never washed the jeans and he isn't planning to do so any time soon.
"I plan to soak eventually. I haven't washed yet simply because they haven't become dirty enough but mainly to minimise wear."
Thomas deliberately wears the jeans when he's expecting to do physical work. As part of his job running the store, he occasionally explores attics and abandoned houses and barns for clothing, and he trusts the 21 oz. armour of denim to protect him from rusty nails and the like.
His favourite thing about raw denim is the idea that it's made in a pure form, "the fades are just a bonus and a happy accident," he says.
What's the Verdict on the Jeans?
All in all, Thomas has been satisfied with the jeans as his 'first raws' and the they are especially great if you like the no-frills approach to denim. He likes the tapered fit but he would have preferred a higher waist and easier access to the front pockets.
"I've read that they designed the pockets to create a better look when worn but I'd rather have a functional front pocket first and foremost with a comfortable waist."
These are the key features of the UB221:
Roomier fit through the seat and thigh tapering down to a narrow leg opening.
Made from heavyweight 100% cotton sanforized 21 oz. rope dyed indigo selvedge raw denim (uh, that's a lot of info).
Features include button fly, hidden rivets, chain stitched hem, and leather patch.
Free chain stitch hemming on online orders.
Made in Macau (to keep the price down).
Price: $110
The jeans are available at Unbranded's website.
Have Your Faded Jeans Got What It Takes?
Do you have a pair of well worn jeans laying around that you think should be up in our gallery of faded denim? Then fill out this short questionnaire and send us your best pictures to [email protected].
*In all fairness, this isn't actually the original GIF; we got all the pictures from Thomas, merged them with PhotoJoiner and created a new GIF (that fit our layout) with GIFmake.com. Both highly recommendable online photo tools.