Dyemonds Are Forever: Meet the Founder of Dyemond Goods
How Ugliness Changed the Game For Dyemond Goods
We are all individuals seeking our personal style. Search the web and the streets for it, and we see others rocking niche premium denim, Alden loafers, and that sweet, vintage bag. But what if you look for something you can't find? That's how Mike van der Zanden felt. So, he took matters into his own hands and decided to create his own brand; Dyemond Goods. We had the pleasure to sit down with Mike to hear his thoughts about the current market and talk about his special range of bags for the Rope Dye online shop.
Starting On the Right Track
Before starting your own brand, you need to make sure you are on the right track and in the right direction. It didn't take Mike long before he knew where he was headed:
"I've been in love with denim ever since I got my first pair of Levi's, 15 years ago. I always felt I had to do something with denim, but school was never really my thing. I tried my hand at Art School and the Amsterdam Fashion Institute, but I felt it was focused too much on concepts and high-end fashion.
Luckily, I discovered the Jean School, which was still relatively new at that time. Following their courses really gave me the foundation and knowledge to start something I've been dreaming about ever since that first pair of Levi's 501s."
Now, the name Dyemond Goods; besides the obvious pun, there's a pretty cool story behind it:
Like diamonds, leather and denim are both raw in their natural state and they need quite some work before they reach a stage of perfection. Polishing, tanning, and dyeing will turn it into a divine form, captivating the eyes and souls of many.
When Mike was sharing his knowledge about the dyeing process to a friend, it suddenly hit him: Dyemond Goods!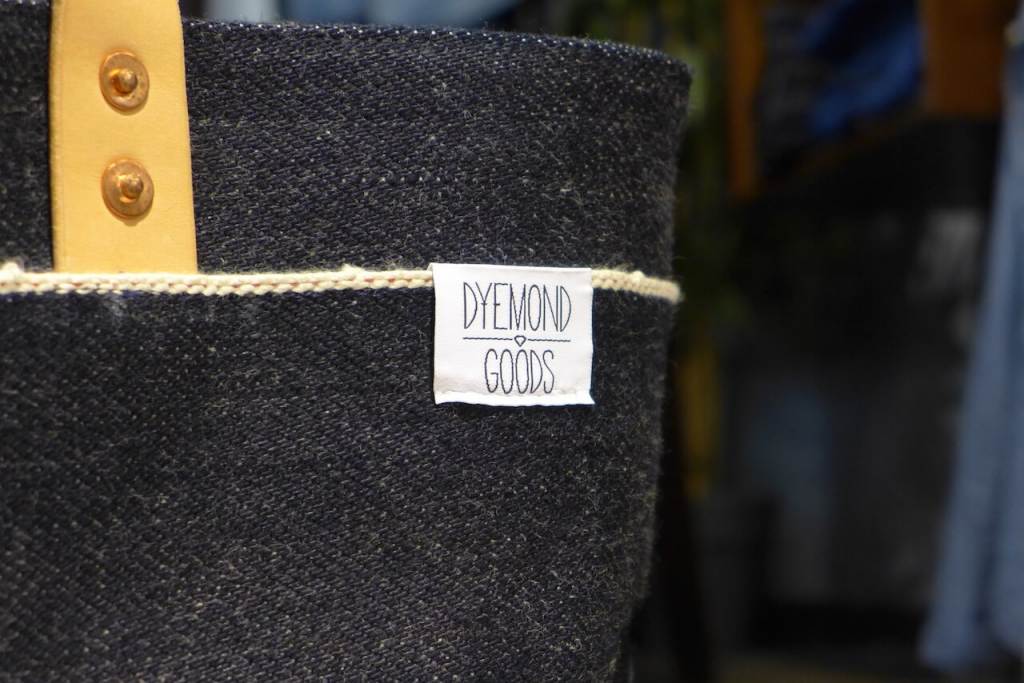 Finding His Niche and Filling A Void At the Same Time
One can hardly imagine that in the current market, someone still cannot find a bag that appeals to him or her. Brands are creating the most creative styles, getting their hands on "dead stock" fabrics and collaborating with creative designers all over the world.
Yet it seems that Mike still wasn't satisfied with the offerings, which eventually led him into offering it himself:
"I was looking for a bag that combined my love for selvedge denim and vegetable tanned natural leather. But I just couldn't find any! Which surprised me, as there was a huge demand for and offering of selvedge denim jeans but hardly any selvedge denim bags. So, I decided to just do it myself.
Doing and learning, step by step. I stitched my first bag by hand and looking back it was a very ugly one, but definitely a game changer for me. It made me more aware of the direction I wanted to go in and develop my skills to a higher level. Now I only work with the best available materials and this quality will be key to all my upcoming collections."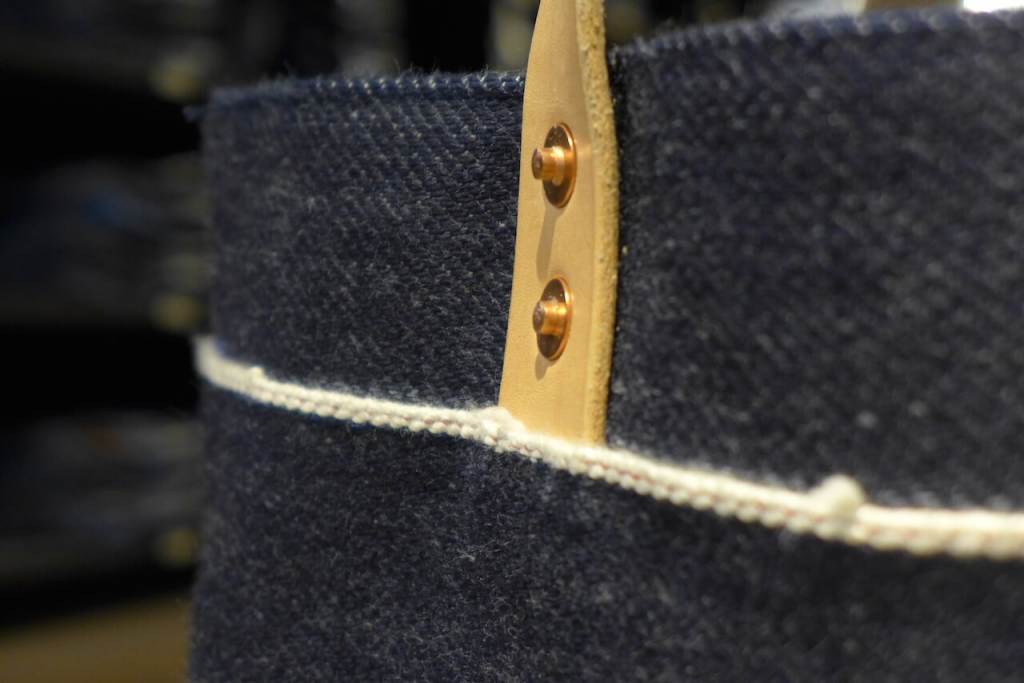 Developing A World Exclusive Collection
In times when the market is flooded by "one-day heritage, next-day hipster" brands that offer various styles, Mike was wondering what the best way would be to his collection out in the open. Luckily for him, the Rope Dye crew reached out to him and discussed options on retailing Dyemond Goods on a larger platform.
Venturing into retail and especially the denim market isn't an easy task, but it becomes even more of a challenge when the retailer puts up a request for an exclusive collection:
"I've had talks with many people and stores in the past, but for me it felt like the best fit to collaborate with Denimhunters. They have a steady and growing following, a good network, and their online shop fits Dyemond Goods perfectly. But it had to be something special, and exclusive.
So I designed two new styles, The Classic Tote and the Daytripper. I sourced a beautiful 17 oz. heavy slub denim from Japan, which will get an insane shade after some good wear. Furthermore, it has a 5 oz. Japanese selvedge chambray lining and 3.5 mm vegetable tanned leather details.
The leather was actually sourced at a century-old tannery in Belgium and will develop a great patina over time. But it would be best if you look up the products at the online shop and buy them!"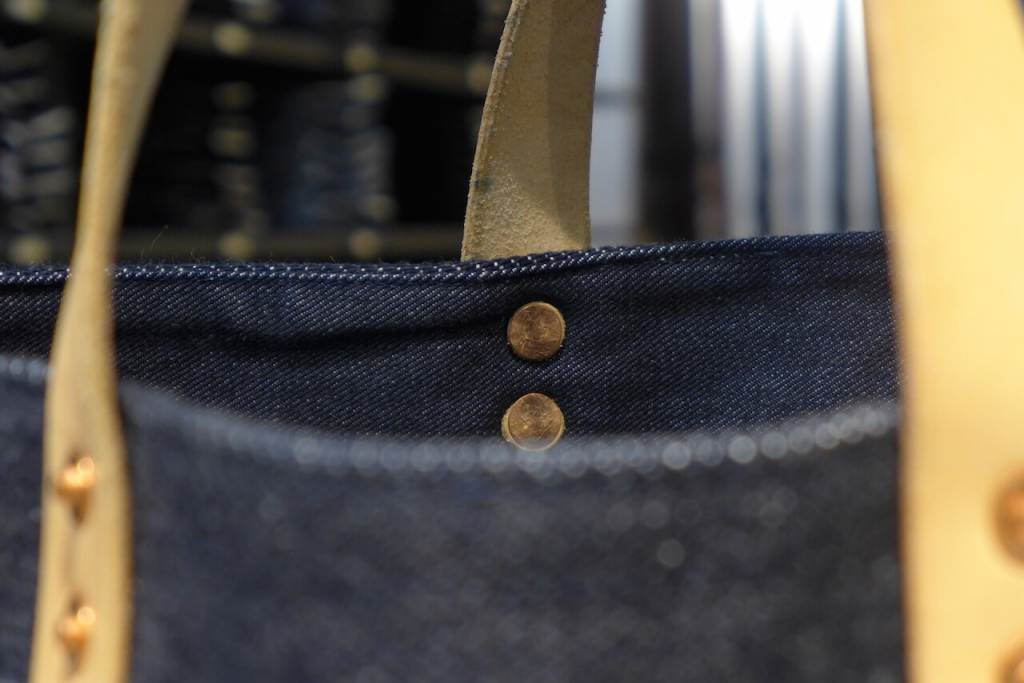 Ode To the Big Three Is the Next Step
So, clearly Mike has really put his heart and mind into Dyemond Goods, developing his skills and his brand. One might wonder what next he will do, and how long we have to wait for it. Rumour has it that Mike is developing hand-woven garments.
Speaking quite secretively about it, Mike did share some teasers with us. But, we feel it wouldn't be fair to Mike to spill the beans on it just yet. All we can say is it will involve hand-woven on wooden looms, no limitations, an ode to the big three, and craftsmanship all the way.
Curious now, are we? Well, Mike will present his Dyemond Goods garment collection at Blueprint during the 2015 Amsterdam Denim Days. Be there!
The pictures for this article were shot by Michael van Hal – the bag was custom-made for him.